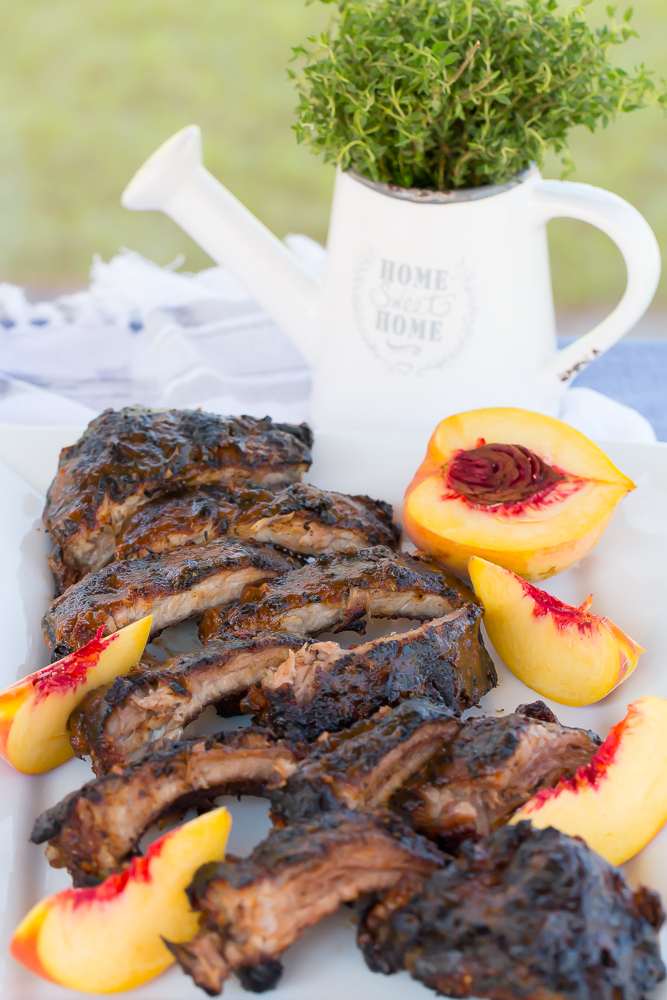 Oh my gracious, are you guys in for a treat this week!  With Labor day cookouts on the horizon, I am sharing these delicious bourbon peach grilled ribs to get your holiday spread started.  Now, I'm no pit boss for sure, but these ribs are mighty tasty if I do say so myself.  I just know you, and yours will love them too!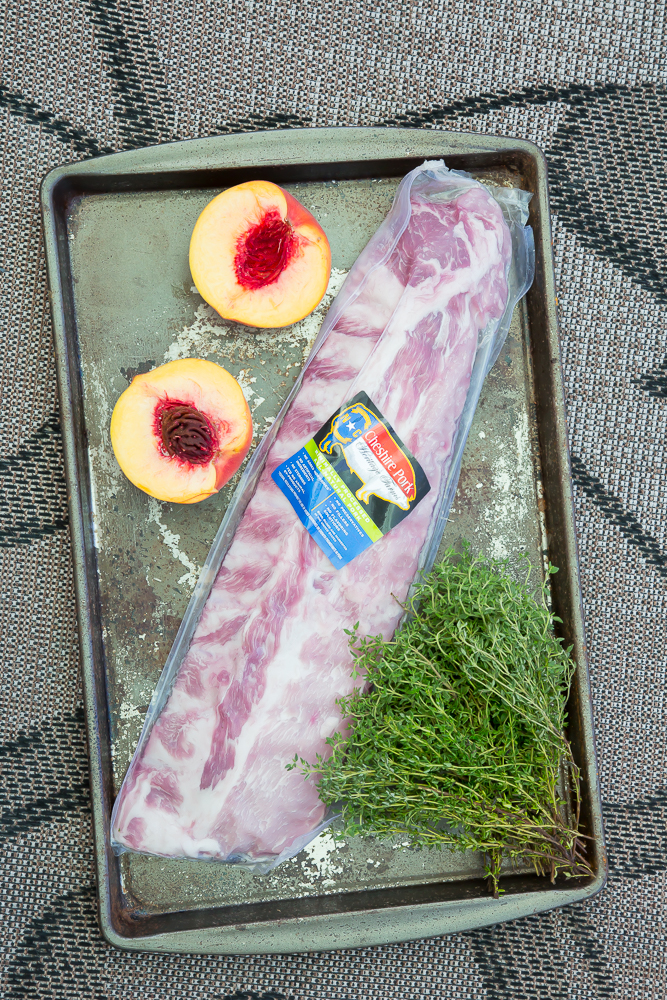 There is a big debate in my family about whether ribs should be smoked or grilled.  I love smoked ribs, so I get the appeal. However, I don't always have time to tend to the smoker.  And, well, there is the little kink that my smoker broke a few months ago, and I have not replaced it.
So…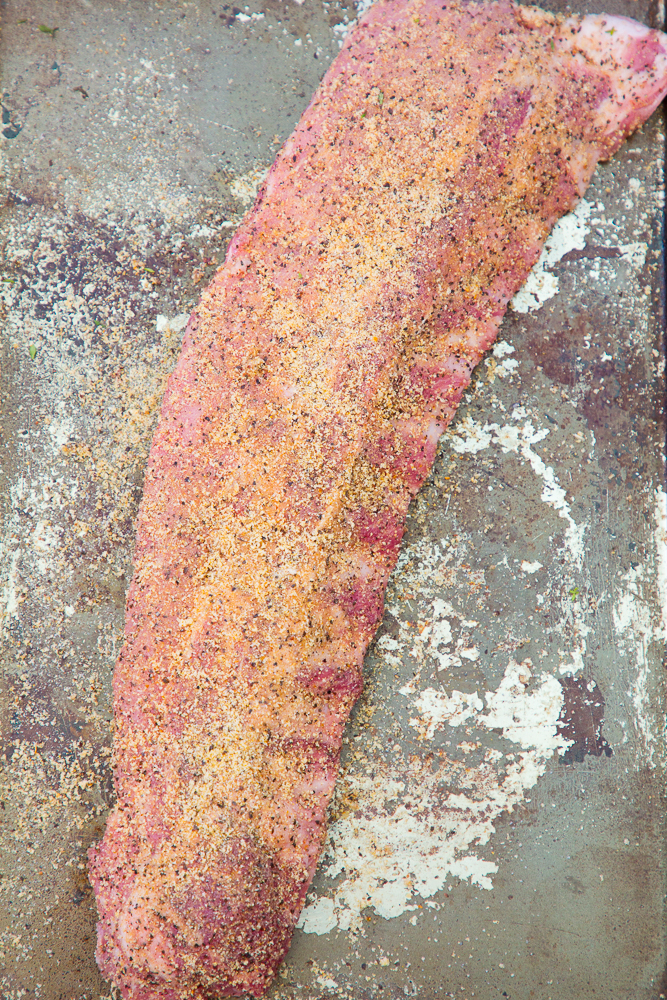 I grilled my ribs.  The key to grilling ribs is to control the temp to the best of your ability.  Keep it low and slow and don't keep opening your grill to check the ribs causing constant fluctuations in temperature.  In the words of John Lennon, "Let it be".  Opening the lid too often lets out the heat and since you are keeping the temps low, it allows your grill to cool off tremendously.  Also, make sure you are cooking your ribs on indirect heat.  I have a three burner gas grill and turn two burners on medium heat (350 degrees- ish) and place the ribs over the third burner.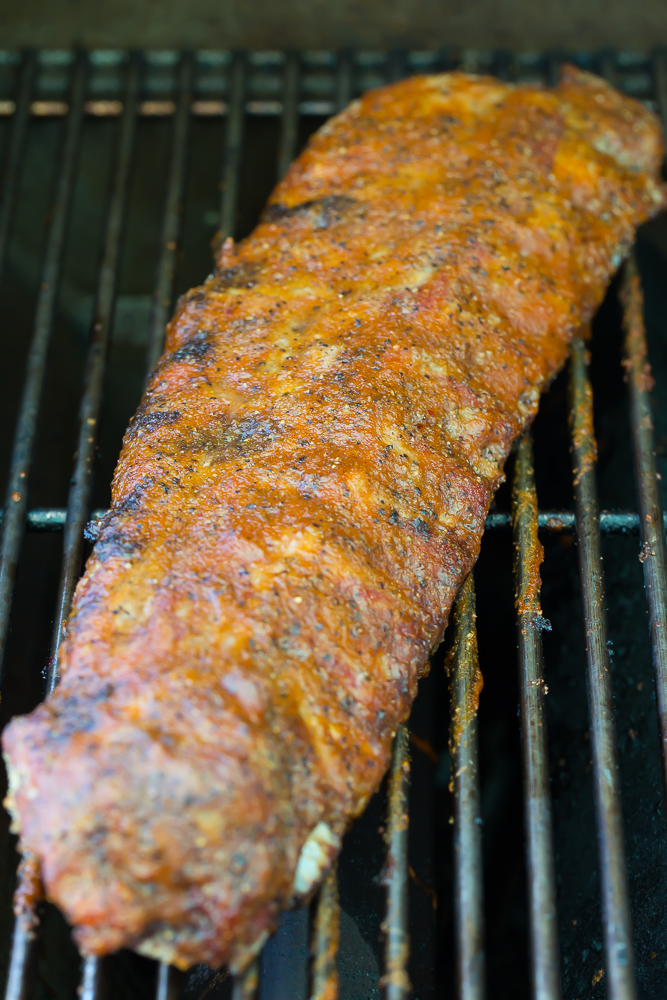 I'm sure I just heard a few of you gasp, lol.  Yes, I said I have a gas grill.  Another debate in my household is gas vs. charcoal.  For me, as a busy mom, gas is easier.  My husband still adores and prefers his charcoal grill.  As does my father.  I simply don't have the time to wait for and tend to a charcoal grill.
Little did I know that when I purchased my Genesis II earlier this spring, I would deny myself my night off from cooking.  My husband used to do all the grilling, and I loved not having to cook for a night.  It always seemed to take double the time that he said it would though.  Anyone else go ahead and double the time required for their hubby's endeavors?   I have to do this with my dad too, lol.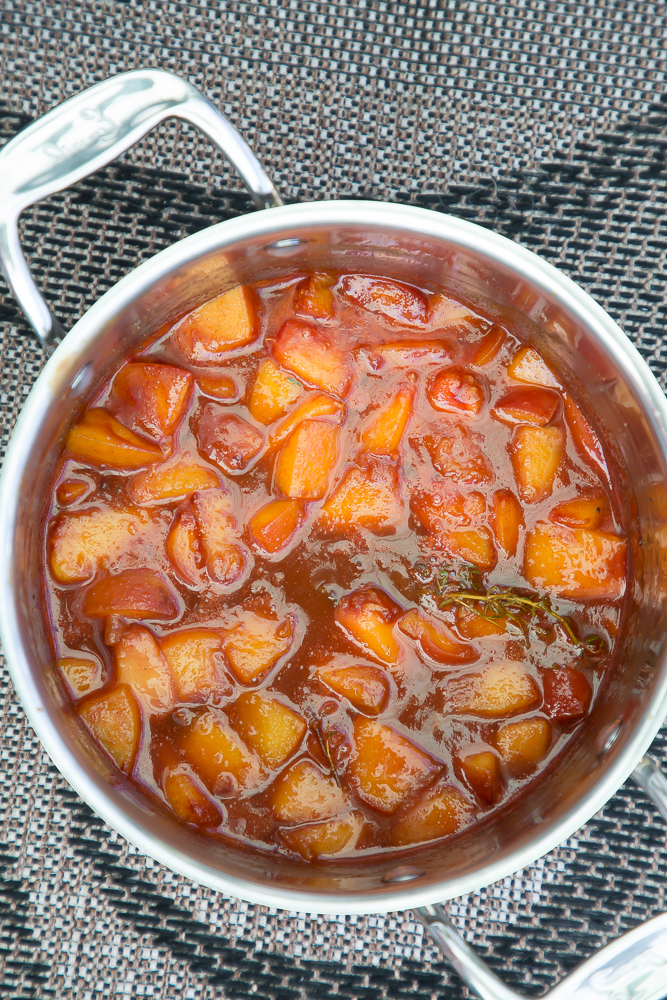 Men's optimism is refreshing and endearing though, don't you agree?  I would be scared to start a project mid-afternoon on a Sunday when it really should take all afternoon.  I'm a constant overthinker, so I spend way too much time thinking and not enough doing.  I need the balance in my household for sure.  Gotta love the ones that just jump right in!
I divulge.  Let's get back to these ribs that, yes,  I grilled on a gas grill.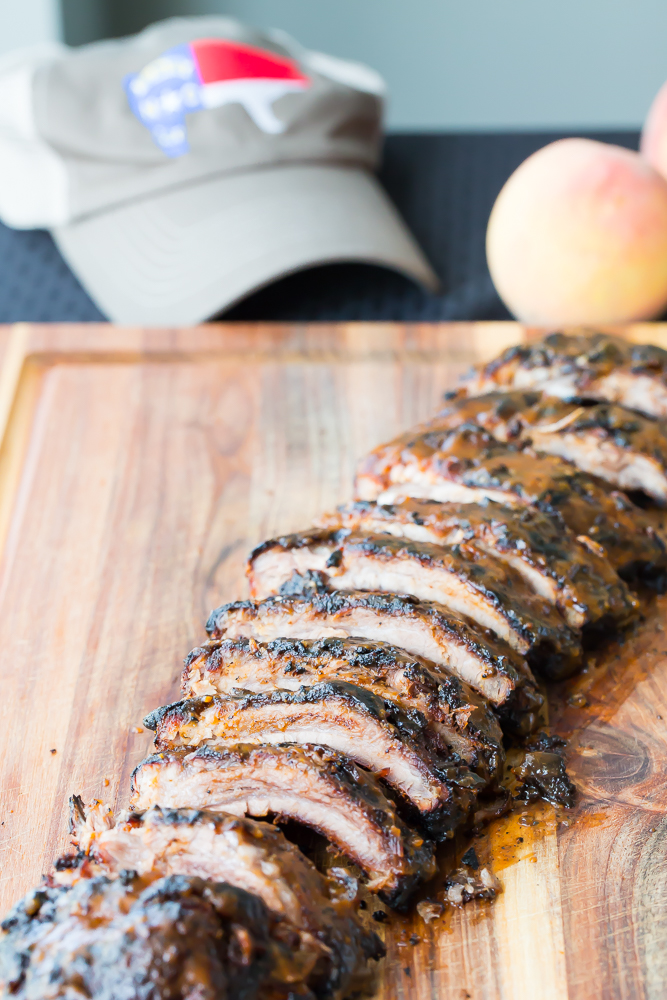 Cheshire Pork gifted a lovely pork basket to me to try out their products and create a recipe for them.  Guys, I adore this company.  This heritage pork has terrific flavor, beautiful color, and fantastic marbling.  They even sent me the cutest pigswag.  My son laid claim to the awesome hat immediately, and my husband snatched up the t-shirt.  Both sport their NC pig items proudly.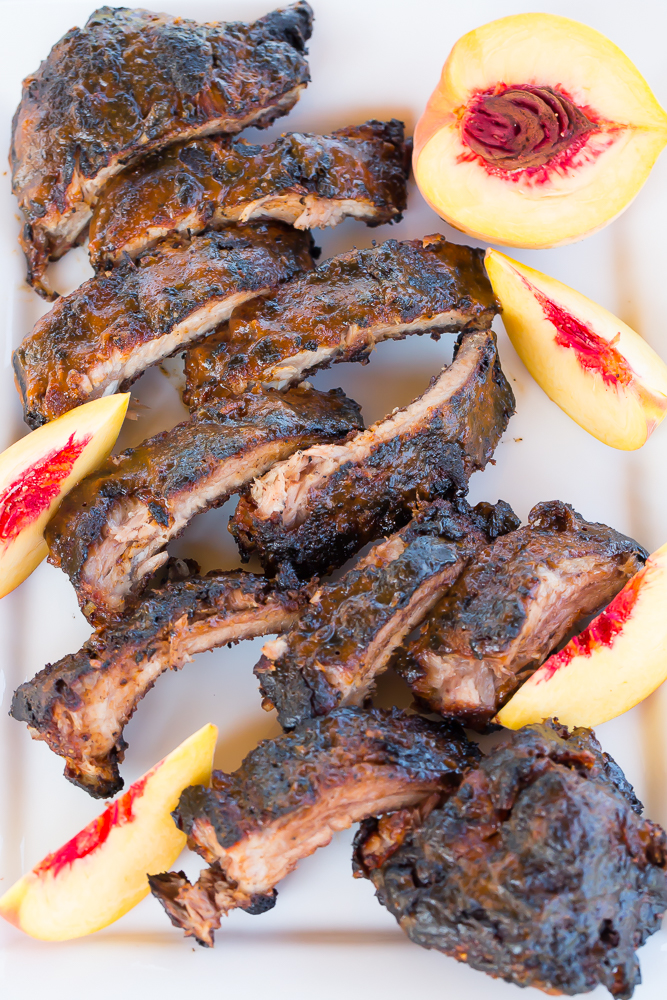 I was thrilled to find ribs, a roast, and breakfast ham in my package.  I knew immediately I wanted to share this bourbon peach bbq rib recipe with you.  It does take some time, but it's so good, that in the end, you won't mind the time 🙂  And, it's not constant hands-on time, so it's manageable while you switch between your mom hat, chef hat, and whichever hat you need to don this afternoon.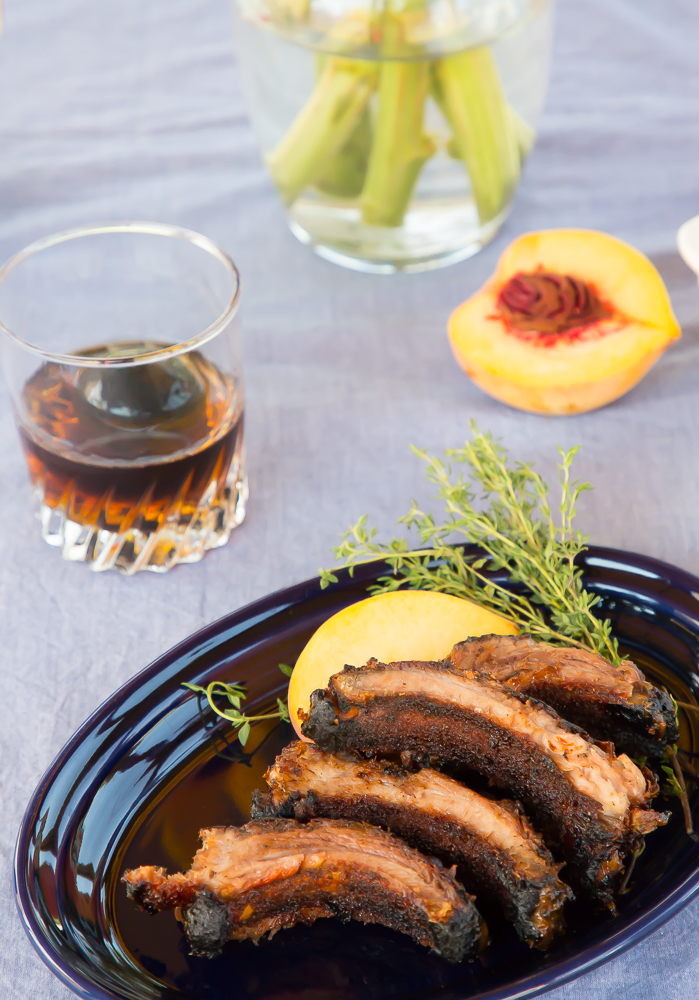 Ready to start grilling these bourbon peach ribs?

If you love this recipe, remember SHARING IS CARING!  Also, be sure to check out these other great Labor Day Grilling Recipes: Grilled Corn Salad, Cucumber Dill Salad, and Homemade Pickle Chips.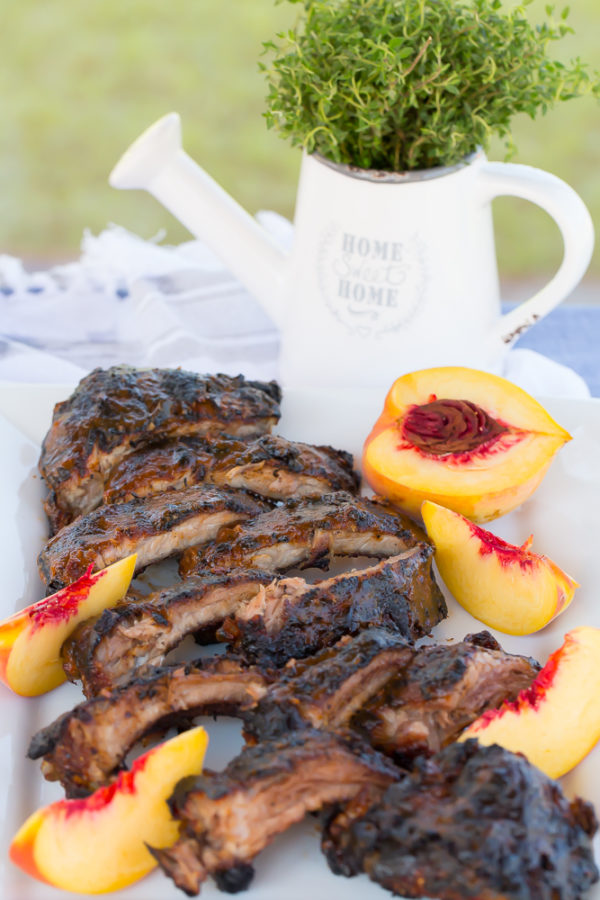 Bourbon Peach BBQ Sacue- makes 3 cups of sauce
| | |
| --- | --- |
| Bourbon Peach BBQ Sacue- makes 3 cups of sauce | |
Preheat grill to about 350 (medium heat) leaving a spot to cook ribs over indirect heat

Massage dry rub into ribs and let rest until grill has been heated up and cleaned

Place ribs over indirect heat and cook for 30 minutes on each side

Begin basting ribs with sauce (recipe below) and cooking for 20 more minutes each side over indirect heat

Move ribs to direct heat and baste again, cooking for about 20 more minutes on each side until ribs are fully cooked

Remove from grill and allow ribs to rest for about 10 minutes before slicing and serving

Serve with a dish of extra sauce and veggies of your choice. Pairs perfectly with a glass of sweet tea or bourbon
Add all ingredients into a medium sized sauce pan

Reduce heat to a simmer and cook for about 1 hour or until peaches are tender and falling apart

Discard thyme stems and blend sauce with immersion blender until smooth. Sauce is now ready for basting
ALL DISTILLED LIQUORS ARE SAID TO BE GLUTEN FREE AS THE DISTILLING PROCESS REMOVES THE GLUTEN.  PLEASE USE YOUR BEST JUDGMENT.  I HAVE FOUND I DO NOT REACT/ SUFFER ANY EFFECTS FROM DISTILLED ALCOHOL AND CONTINUE TO INCLUDE IT IN MY DIET (IN MODERATION).