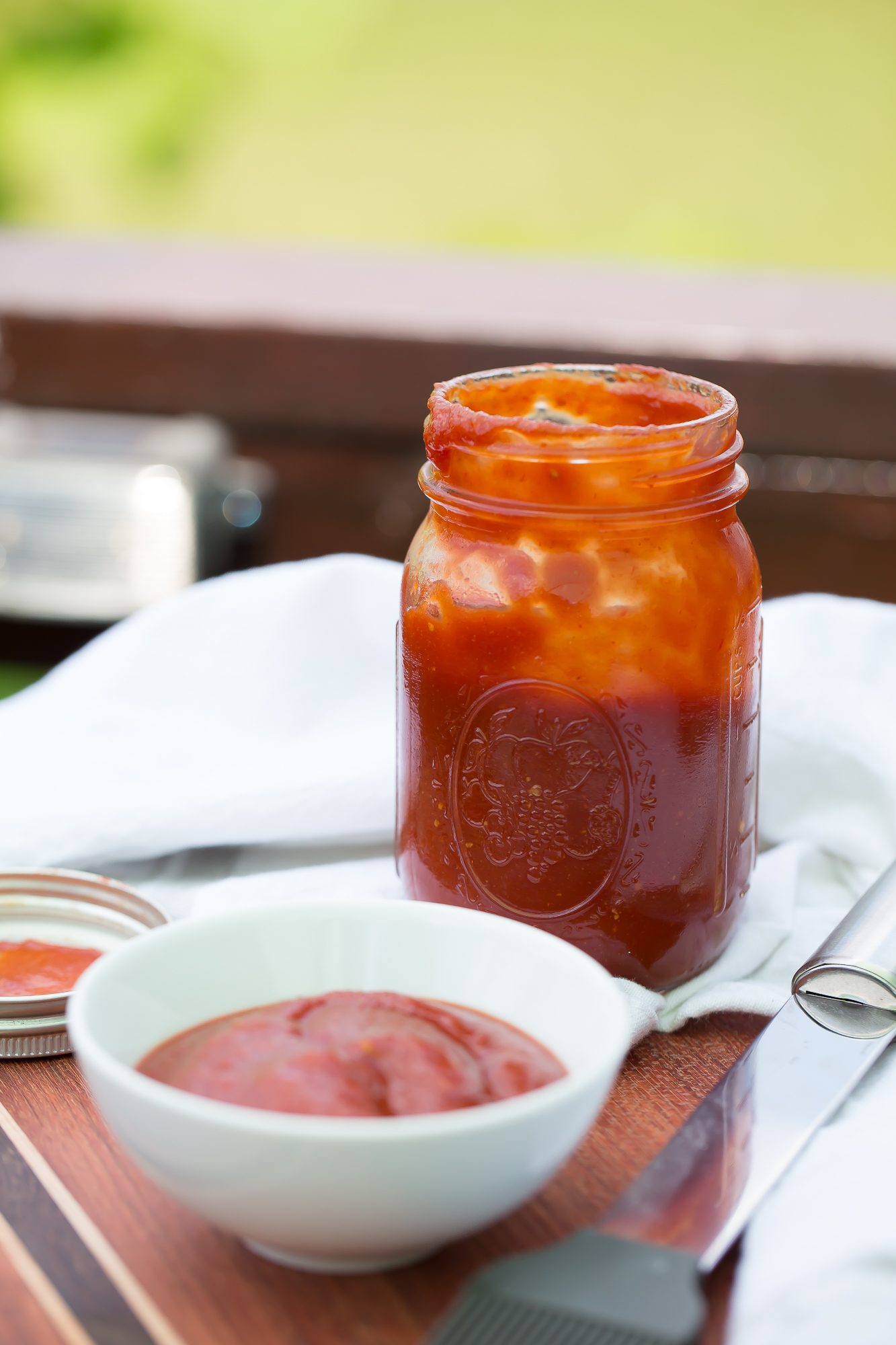 This post may contain affiliate links that help to support my blog at no additional cost to you. 
With the upcoming Independence Day holiday, there will be cookouts galore.   Delicious meats, veggies, and desserts will flow abundantly in celebration all day long.   Are excited?  I know I am.  What I'm not looking forward to is watching everyone else eat.  Eating out or at others' houses can sometimes be difficult.
Condiments, including barbeque sauce, are one of the items that often include gluten. So, what is a girl to do when she adores summertime grilling and sauces?  That is where most of the flavor comes from, right?
To avoid the problematic gluten, I whip up simple recipes like this sweet and spicy barbeque sauce.
Now, there are a million and one ways under the sun to make homemade barbeque sauce.  My personal favorite is a tomato-based sauce.  Another popular option in my neck of the woods is a vinegar based sauce, but I'm less of a fan of that version.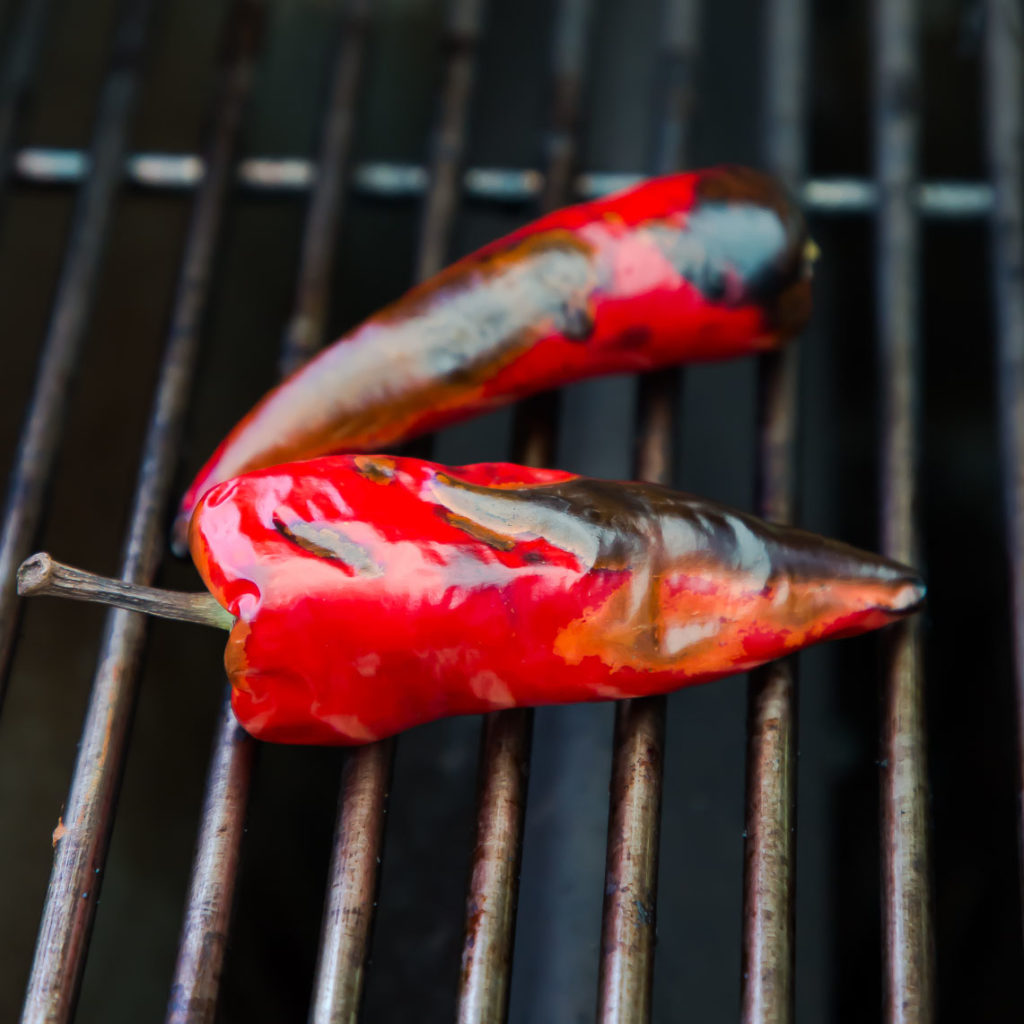 Once you have picked your base, you need to choose your flavor profile.  Do you want heat?  Do you want actual hot and spicy heat or a milder heat?  Any sweetness?  Spices, sweeteners, herbs, and mustard are all common additions to homemade bbq sauce.
Today, I wanted a little heat.  My opinion of heat and my husbands differ though.  He likes the "nuclear melt your face off heat" and I like a nice consistent warmth with flavor and spice.  Not just heat for the sake of heat.
For these reasons, I chose to use a fresno pepper.  This pepper has a fruity and smoky taste while delivering a slightly spicier flavor than the jalapeno pepper.  On the Scoville Scale of heat, the pepper ranges from 2,500-10,000 Scoville heat units.
Initially, I blistered the pepper on the grill.   I have a gas grill, so this was quick and painless.  If you are working with charcoal, you may want to pop the pepper on the grill the night before (if you are grilling).  If you have a gas stove you can blister the pepper over the gas indoors as well.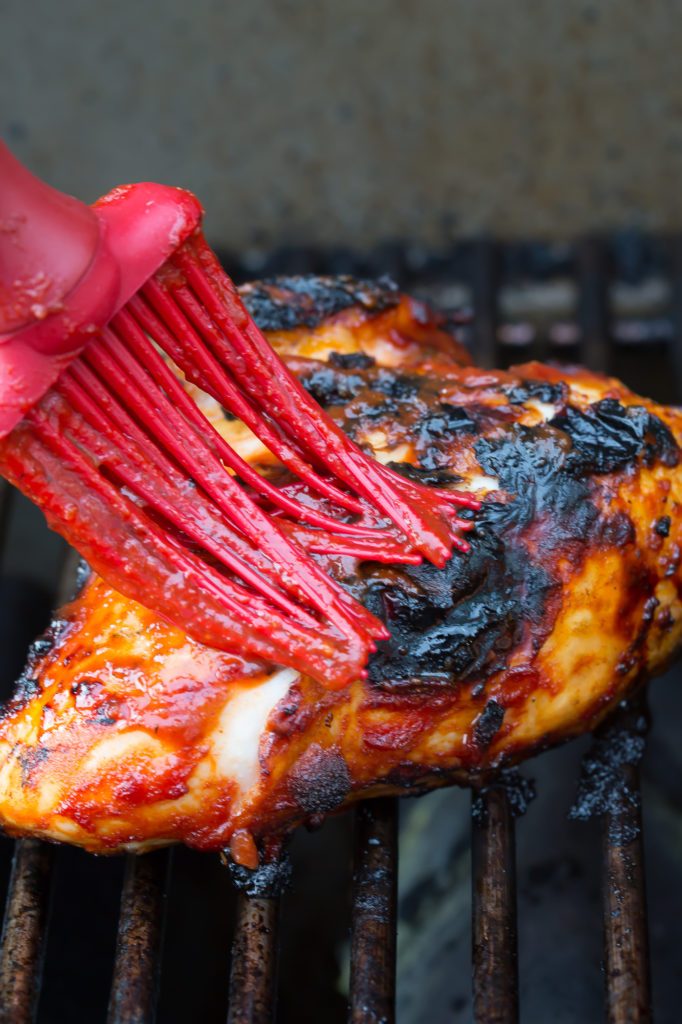 Once the pepper is blistered, remove from heat and set it aside to cool.  The skin will slip right off once the pepper is cool enough to handle.   Please be careful when handling hot peppers.  Wear kitchen gloves to avoid transferring the oils to sensitive areas.  Even after you wash your hands the oils can remain.  And, if like me, you rub your eye an hour later, you can still burn the dickens out of yourself.
Skip the dramatics, wear gloves!
Using a small food processor or blender, you need to puree the pepper.  I used my handheld immersion blender since I made such a small batch.
Once your pepper work is complete, it is time to gather the other ingredients.
Add the tomato paste to your saucepan and allow it to bloom before adding your other ingredients.  This will be evident by a color change.  Your paste will start out bright red and when bloomed it will resemble a dark brownish red color.  This blooming process concentrates and develops the sugars in the paste making for a better tasting sauce.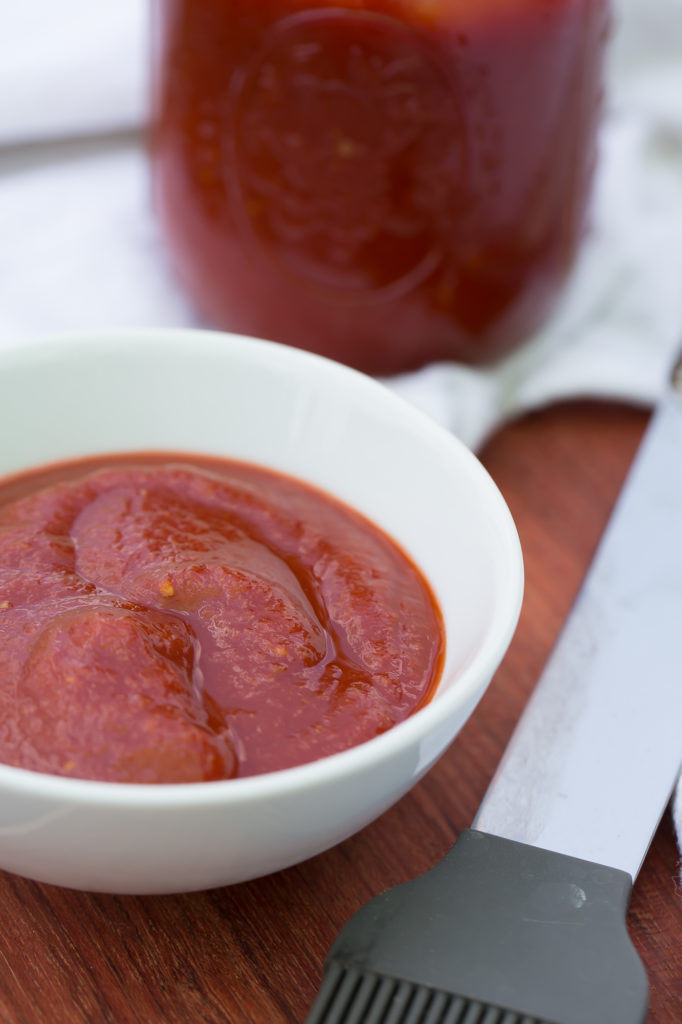 This "blooming" technique should be used anytime you are working with tomato paste.  It really makes such a difference in the end result.
Now, combine all the ingredients in a saucepan, stir to incorporate,  and bring to a boil.  Lower the heat and keep the sauce at a simmer for 45 min- to 1 hour.  This will reduce the sauce, thickening it and concentrating the flavors.
This sauce is delish on chicken, pork, and even grilled shrimp.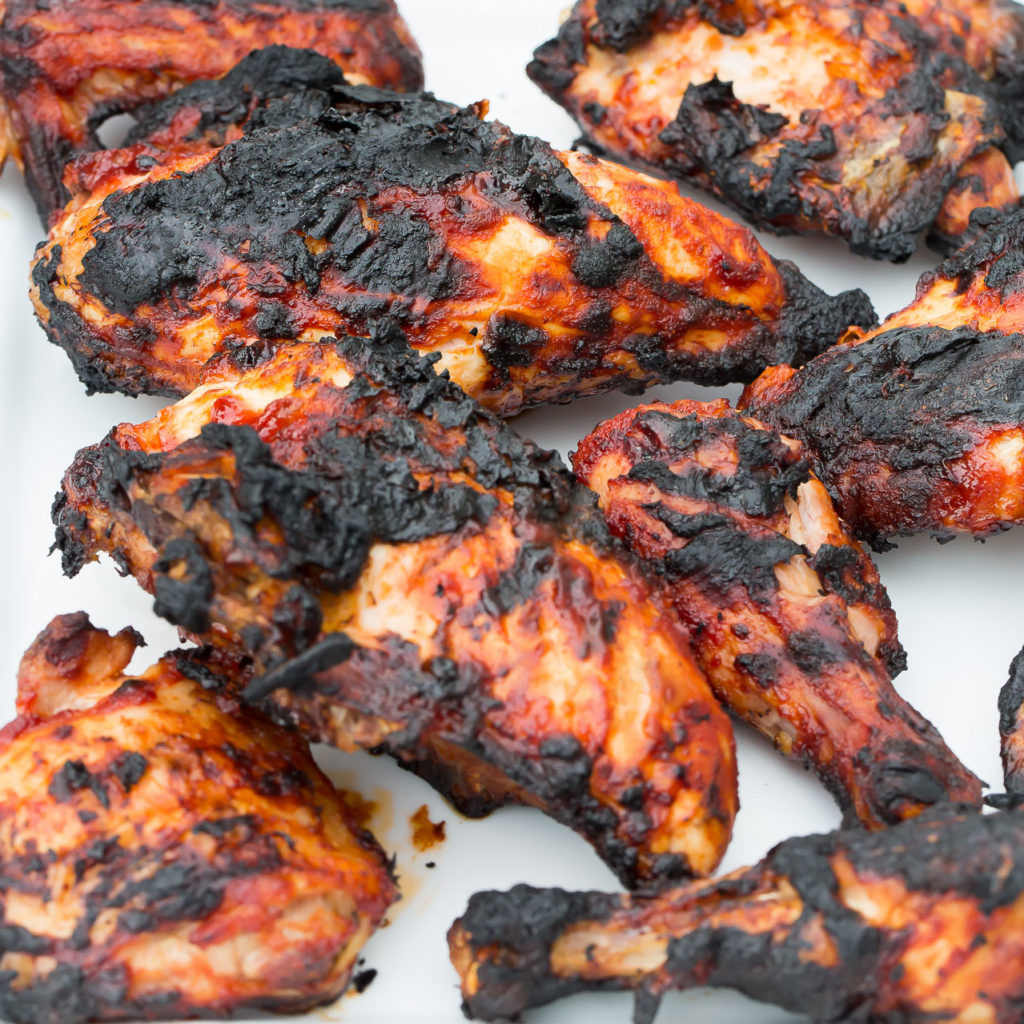 Love this sweet and spicy BBQ sauce recipe?  Be sure to share and check out these other summer recipes: Dill Pickle Chips, Cucumber Dill Salad, and Shrimp Po'Boy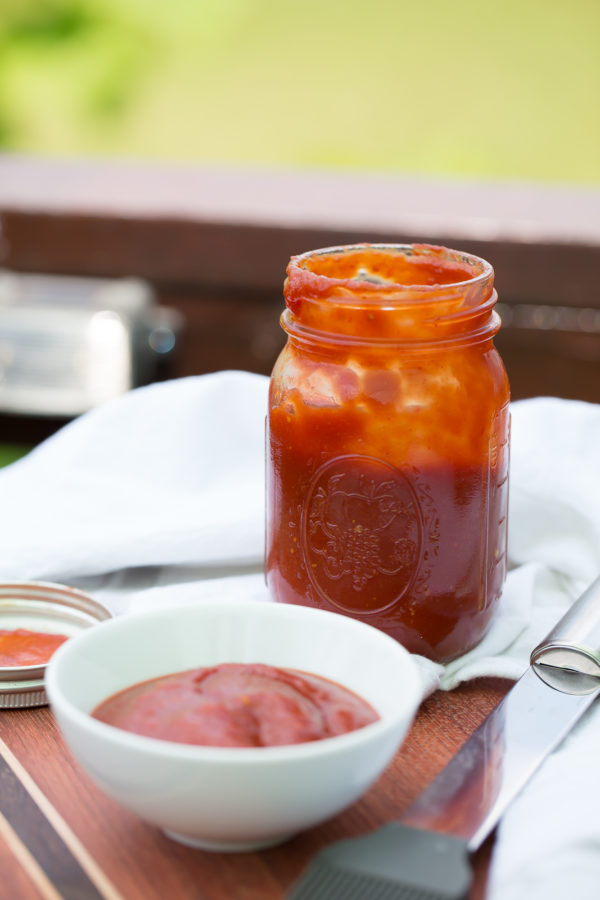 | | |
| --- | --- |
| | |
Blister a fresno pepper on your grill, stove, or oven.

Skin and puree pepper once cool

Add tomato paste to a sauce pot and allow to bloom over medium heat, stirring occasionally

Add water and stir to combine

Add the remaining ingredients, stir, and bring to a boil

Reduce heat and let the sauce simmer for 45 minutes- 1 hour until thickened

Remove from heat and cool

Transfer sauce to a mason jar and store in refrigerator or use immediately