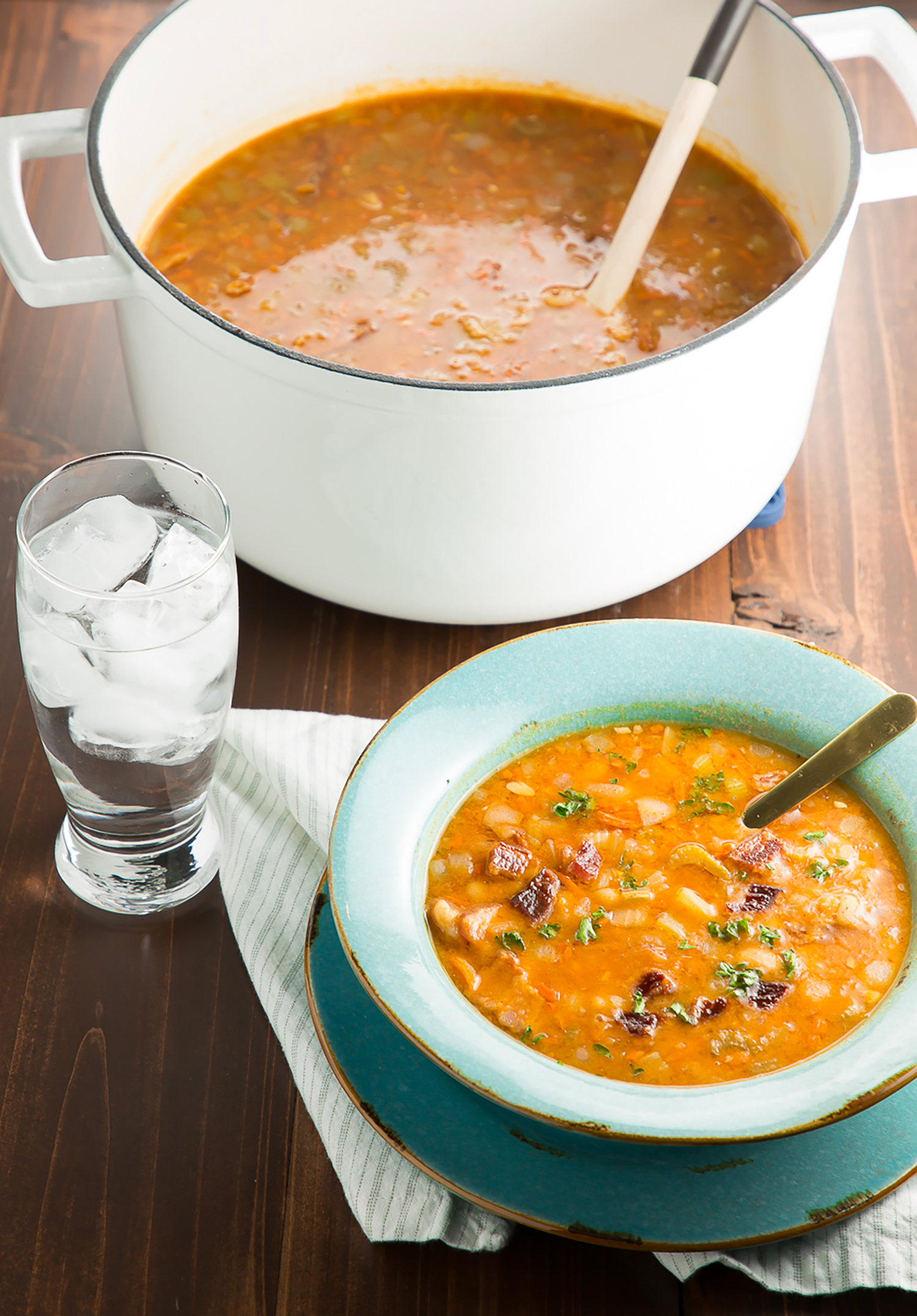 This post may contain affiliate links that help to support my blog
Baby, it's COLD outside…..So grab a bowl of this bean and bacon soup and snuggle up
With the cyclone bomb underway, the majority of the east coast is experiencing frigid temperatures and crazy amounts of snow and ice.  It is a bone-chilling 10 degrees outside right now.  Not the day to run errands, right?  It is, however, the day to make some yummy comfort food and to snuggle up by the fire.  Warming up is the goal here for sure.  In addition to physical warmth, this recipe brings the warm and fuzzies by way of nostalgia too.  Growing up this was me and my dad's  favorite soup.  In fact, it still is extremely high on the list.  Hearty and delicious, I know it will become one of your families favorites too. Seriously, it has bacon, what's not to love?  haha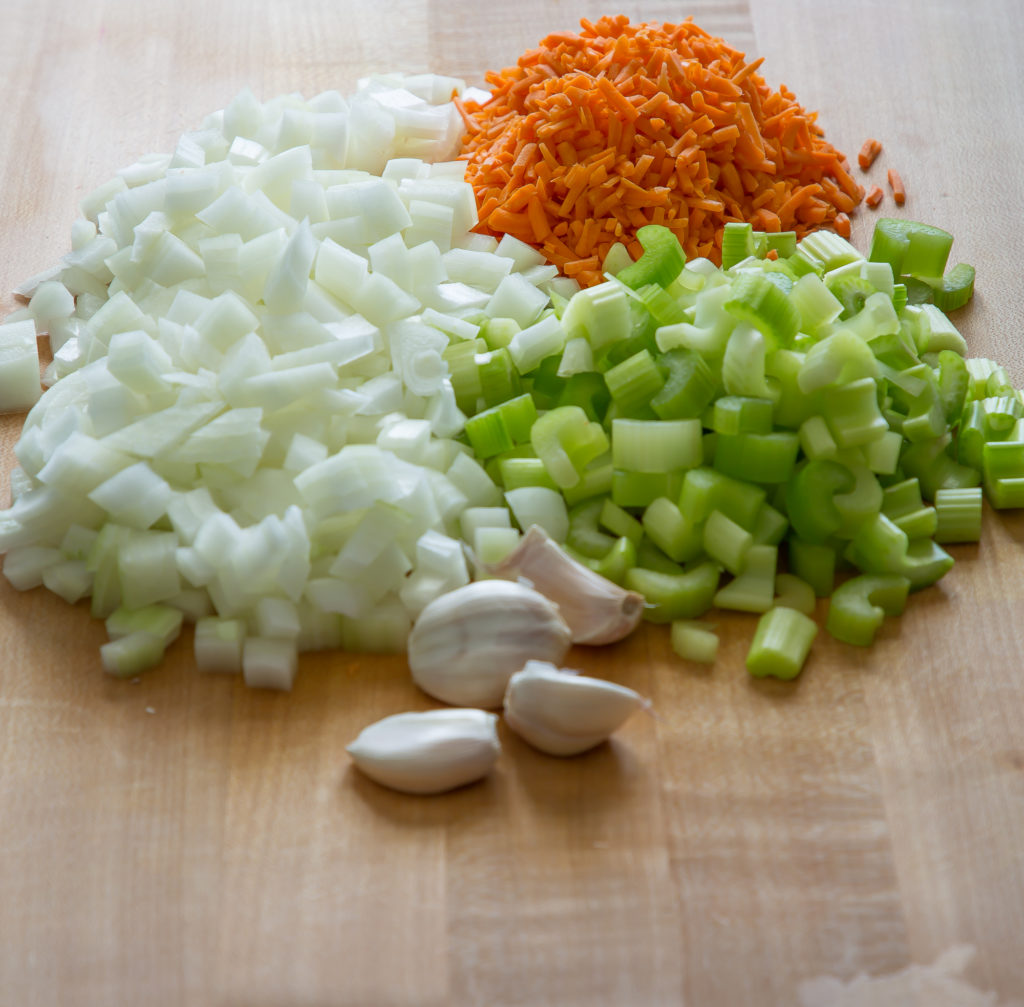 To make this bean and bacon soup
I prefer to use dry beans over cans whenever it is possible.  With that being said, I loathe the chore of soaking them overnight.  Mainly because this momma can't remember to do it.  Here is where the Instant Pot is your best friend (if it isn't already).  I rinse and sort through the dried beans and cook one bag of navy beans and 8 cups of water on high for 30 minutes.   At the end of the 30-minute cycle, they will be cooked to perfection.  Amazing right?  And using dried beans is so economical which, of course, is another great benefit. We all like to save money.  My husband would tell you I only do it to add to my shoe collection guilt-free, but I like to save money.  I love shoes too though…I might have a problem, but hey, when you spend your days chasing a three-year-old boy you need support.  Or so I tell myself.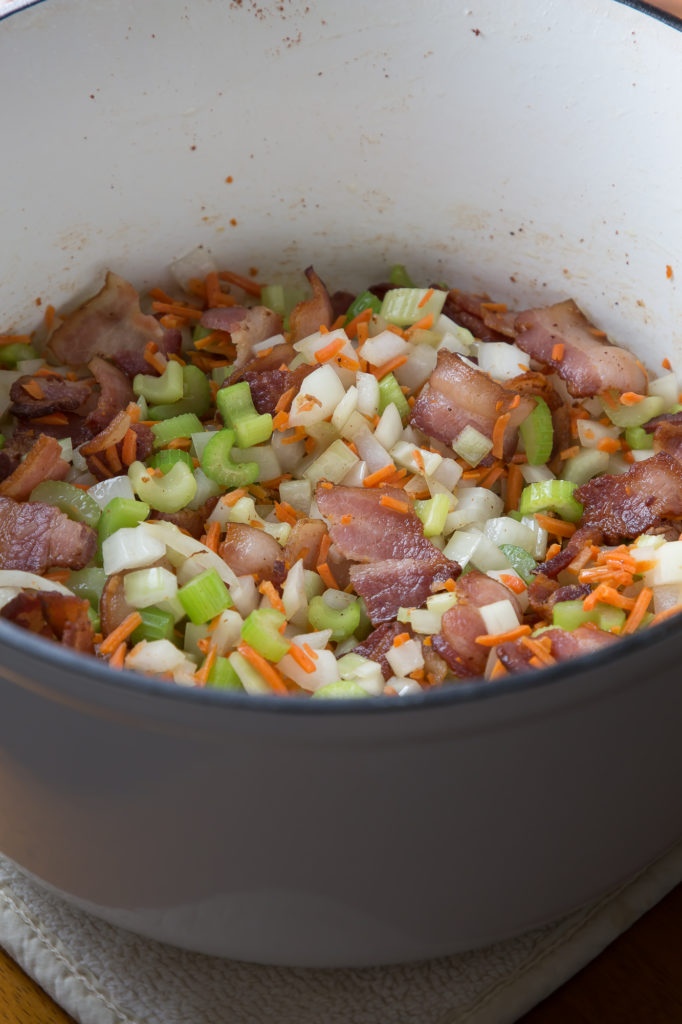 Meanwhile
While the instant pot is working its magic and cooking your navy beans, you need to get started on the base of the soup.  In your dutch oven, prepare your bacon.  While this is cooking, dice your onions, garlic, carrots ( I like to use the matchsticks since they are partially cut for me already), and celery.  Measure out your garlic powder, onion powder, salt, pepper, and paprika and set aside in a small container.  When the bacon is cooked remove it from the pot and allow to drain on a paper towel.
Once the prep is complete and your bacon is draining, check the amount of oil in your dutch oven.  The amount of oil left will depend on the type of bacon you used.  Since I use center cut, there is less fat rendered, so I do not need to drain much if any.  If you used bacon that rendered a lot of fat, drain some of the excess oil now.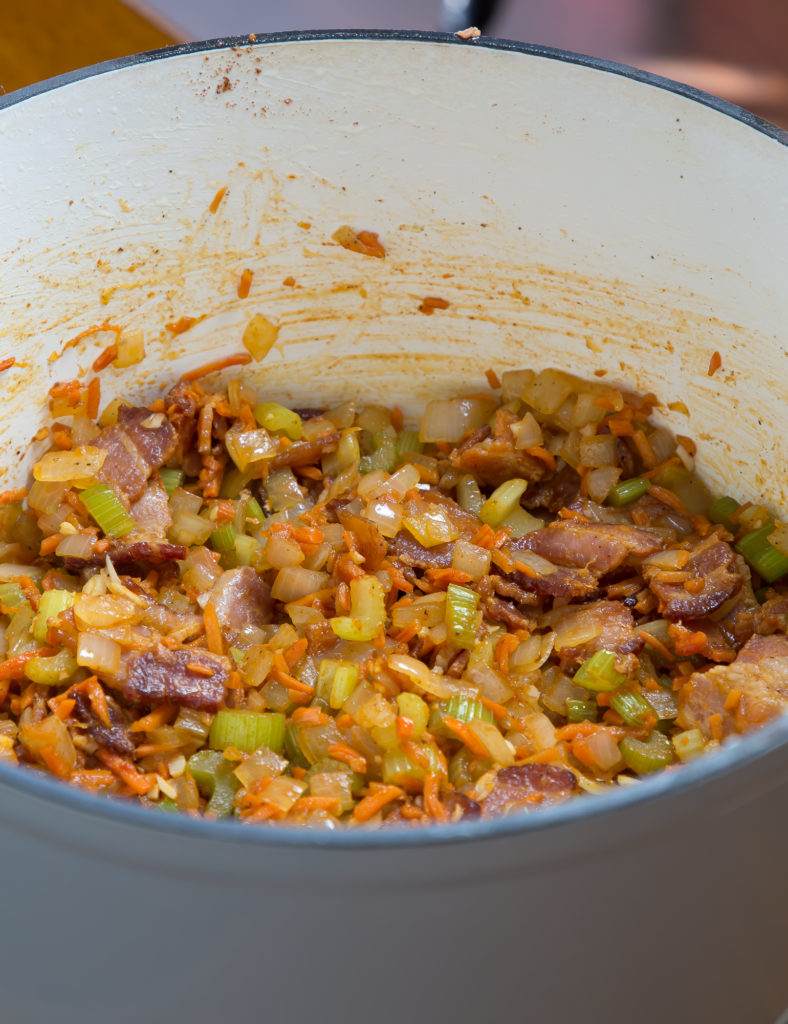 It's about to smell magnificent in your kitchen
To the dutch oven, add the diced veggies as well as the drained bacon and saute until onions are translucent.  Add the tomato paste and saute for about three more minutes.  By now, your beans should be ready.  Add the beans and water from the instant pot.  Add two additional cups of water and the dry seasonings you set aside earlier.  Stir to combine all ingredients and allow to simmer on medium to medium-low for 20 minutes allowing the flavor to marry.  That's it, folks!  Your bean and bacon soup is now ready for your enjoyment so dig in!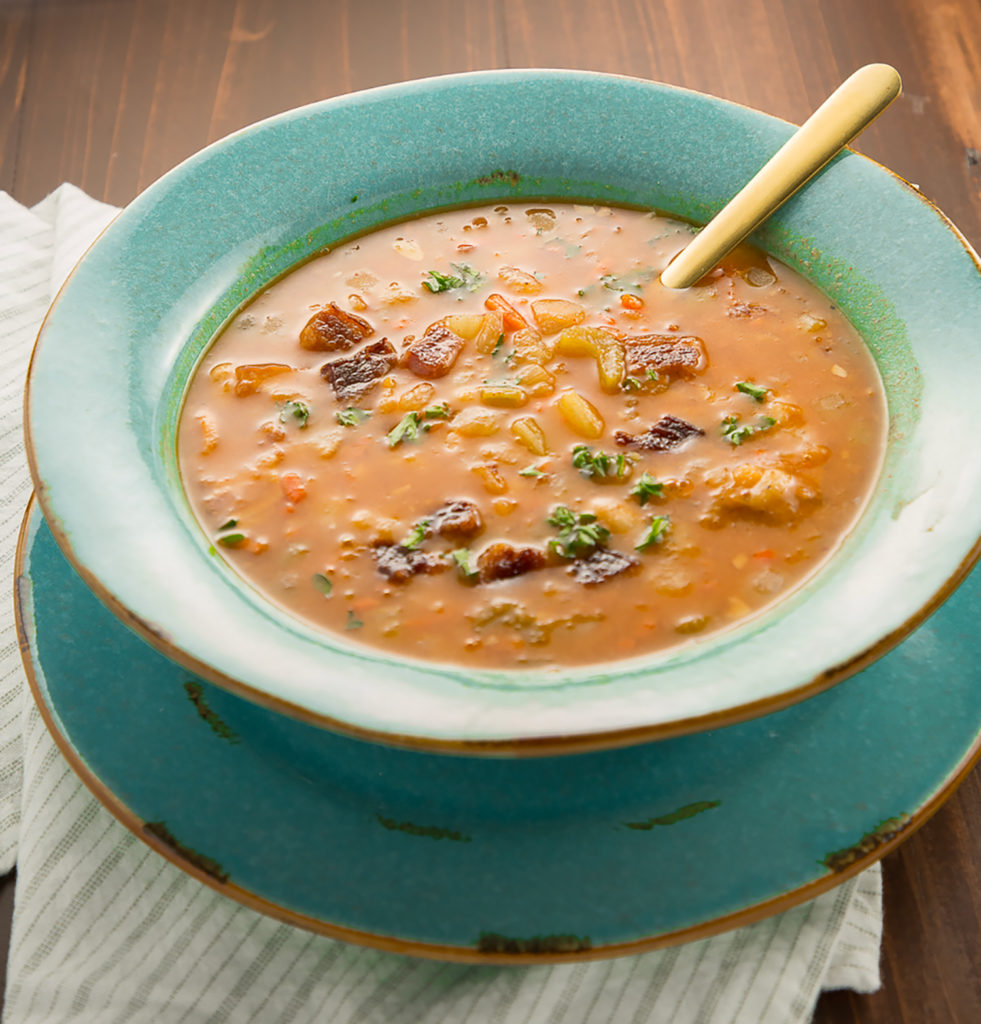 Other Recipes to Keep You Warm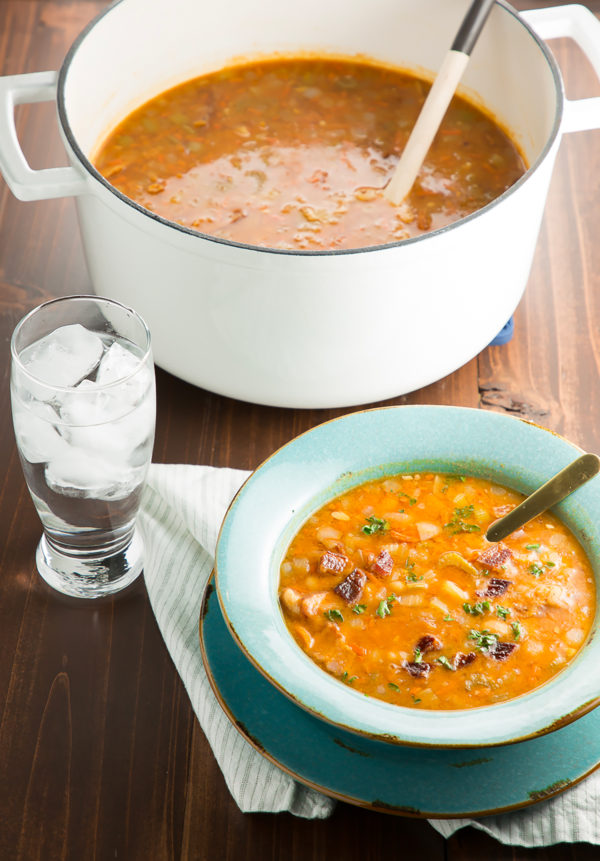 | | |
| --- | --- |
| | |
Wash and search dry beans for rocks and remove if you find any

Add 8 cups of water and dried beans to instant pot

Cook on high for 30 minutes

Cut bacon (with knife or meat scissors) into 1 inch strips

Cook in dutch oven until crisp (about 10-12 minutes)

While bacon is cooking, dice onion, carrots, celery. Set aside

Mince garlic, set aside with other veggies

Measure out dry spices (onion powder, garlic powder, paprika, salt, and pepper) and set aside in a small bowl

When bacon is ready, remove for pot and drain any excess grease

Add the veggies and garlic to dutch oven and saute until onions are translucent

Add the tomato paste and saute for 2-3 minutes longer

Add the bacon back to the pot

Add the navy beans (with juice), the dry seasoning, and 2 more cups of water

Allow this to simmer for 20 minutes or so and your soup will be ready to serve