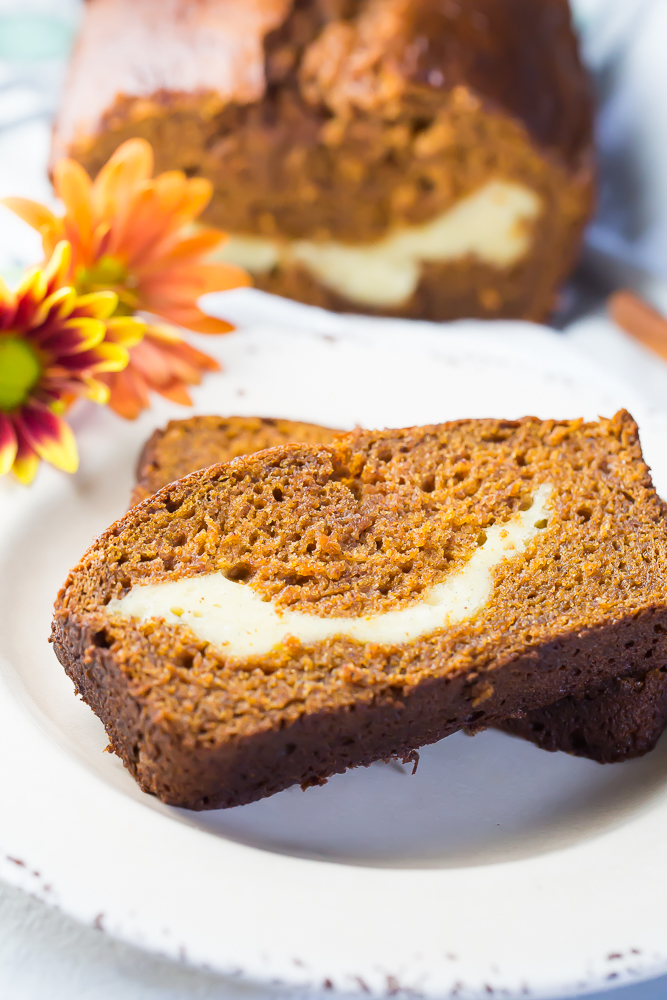 This post may contain affiliate links that help to support my blog. Using these links come at no additional expense to you.
I cannot express how excited I am that Fall is officially here! Hands down, no contest, Fall is my absolute favorite season. Bring on the pumpkin spice lattes, leggings, and Uggs! It's the little things, right? Since I live in the south it's still averaging in the 80's but the humidity is decreasing and the evenings are cooling off. We even have low's in the 60's in the 10-day forecast. Not quite hoodie weather, but we are well on our way.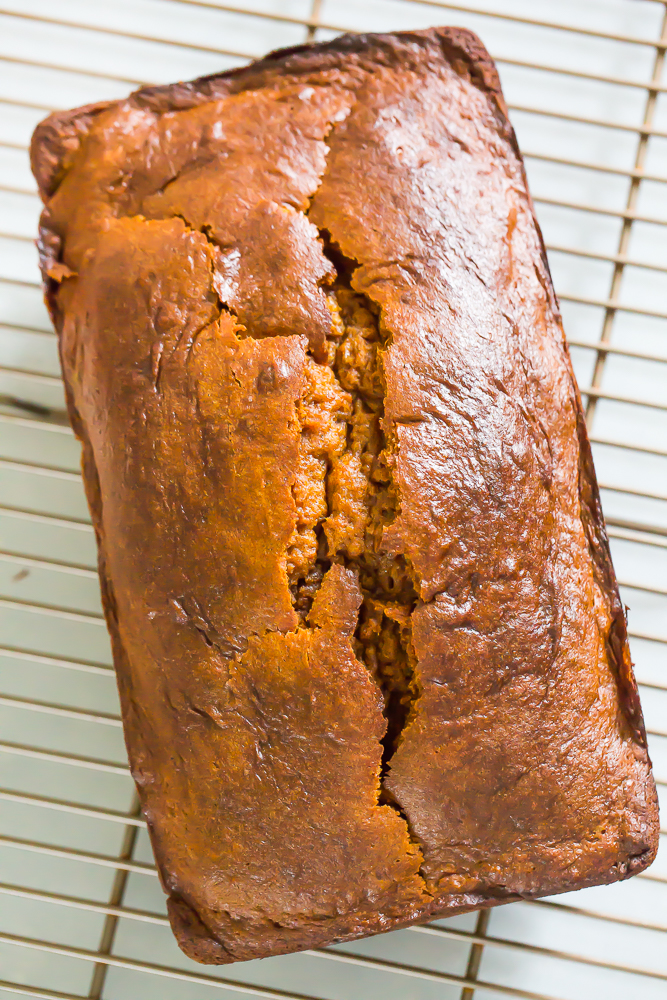 Some of the best flavors, in my opinion, are those celebrated in the fall. Cinnamon, ginger, clove, and of course, pumpkin. This week's Pumpkin Cream Cheese Loaf highlights them all. I adore pumpkin cream cheese rolls, but I'm honestly a pretty lazy baker. The rolls take finesse that I don't have, lol. Mine always crack and then they are not pretty. So, I took the flavors and made them into an easy to bake loaf. This recipe is so simple even my four-year-old son helps me make it for our family. I do keep him away from the eggs though. I just can't bring myself to relinquish control over raw eggs to my son. Maybe in a few years.
My version of this Fall classic is a bit spicier than other recipes I have come across. Mostly because we all enjoy the spiciness of cinnamon and ginger. If you enjoy a sweeter bread, then I recommend you add less pumpkin pie spice. Decreasing two tablespoons of the spice mix to one tablespoon should do the trick.
This pumpkin cream cheese loaf is perfect for an afternoon snack or even a quick breakfast. It pairs perfectly with a cup of coffee, especially a pumpkin spice latte. I like to make my lattes at home with this easy peasy pumpkin spice simple syrup.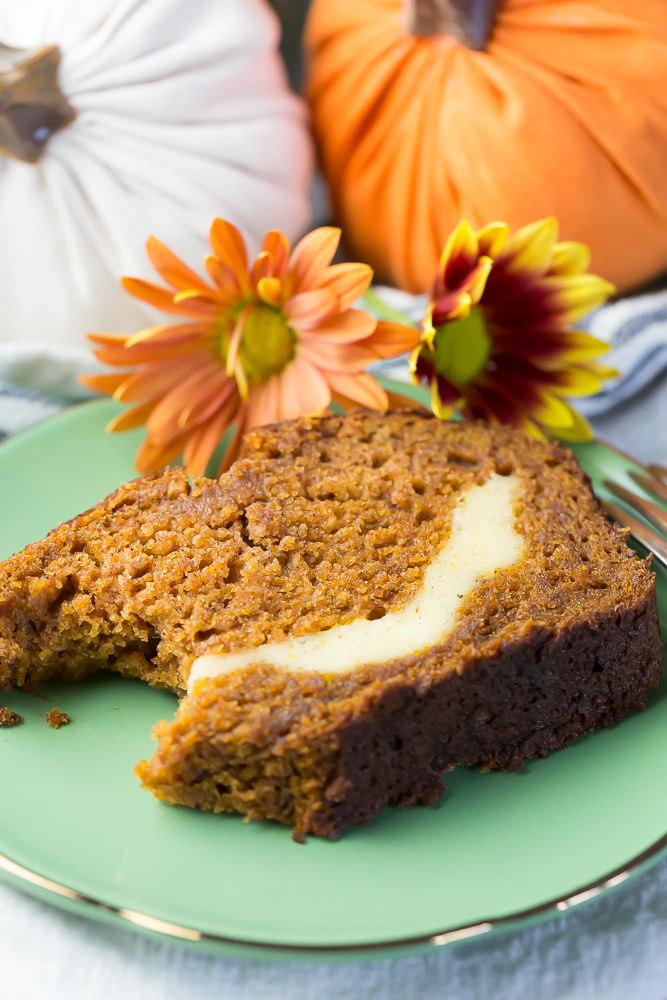 Ready to start baking? Be prepared for your house to smell amazing! Make sure you aren't hungry because cooking this and then waiting for it to cool will be torturous if you are. The cravings for pumpkin everything will commence quickly. Silver lining? This bread is worth the wait!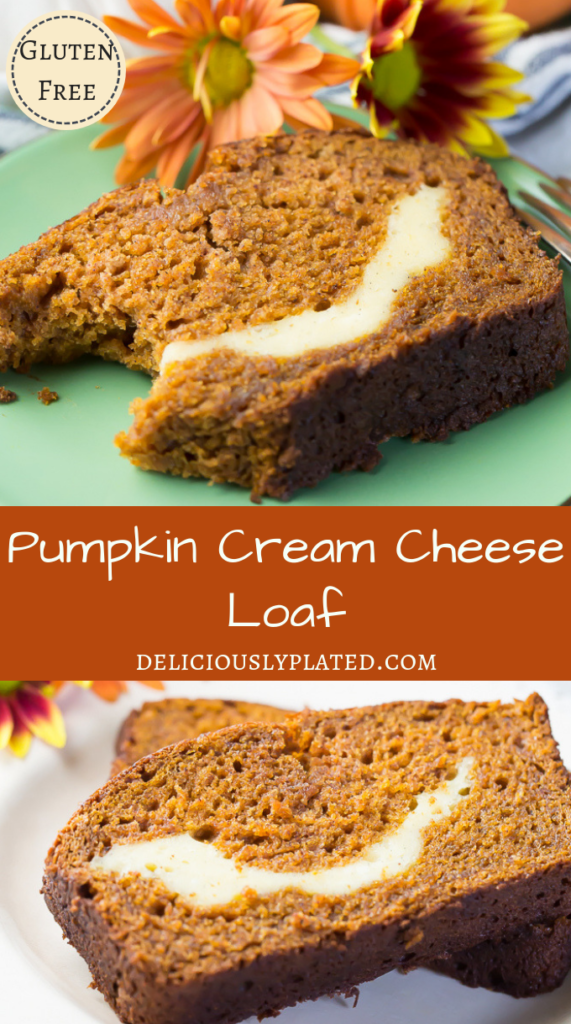 Need quality gluten free ingredients at great prices conviently delivered to your door? I'm loving Thrive Market just for those reasons. Check out my Thrive Market review here!
| | |
| --- | --- |
| | |
Preheat the oven to 350 degrees. Spray 9x5 loaf pan with nonstick baking spray and set aside.

Combine the first seven ingredients in a large mixing bowl. Mix well breaking up any lumps.

In another mixing bowl, combine the next 5 ingredients. Mix well until mixture is fully combined

Pour the wet ingredients into the dry ingredients slowly and mix until smooth. Set aside.

Add the cream cheese filling ingredients to a mixing bowl and, using a hand mixer, beat until smooth. Set aside.

Pour half of the pumpkin bread mixture into greased laof pan. Add the cream cheese filling, spreading it out into a thin layer. Pour the remaining pumpkin mixture and smooth out batter to fully cover the cream cheese layer.

Bake for 60-65 minutes. When your cake tester (or toothpick) comes out clean after insertion the bread is done. Remove from oven and allow to cool for 20-30 mminutes. Remove from pan and place on cooling rack until fully cooled. Slice and enjoy!