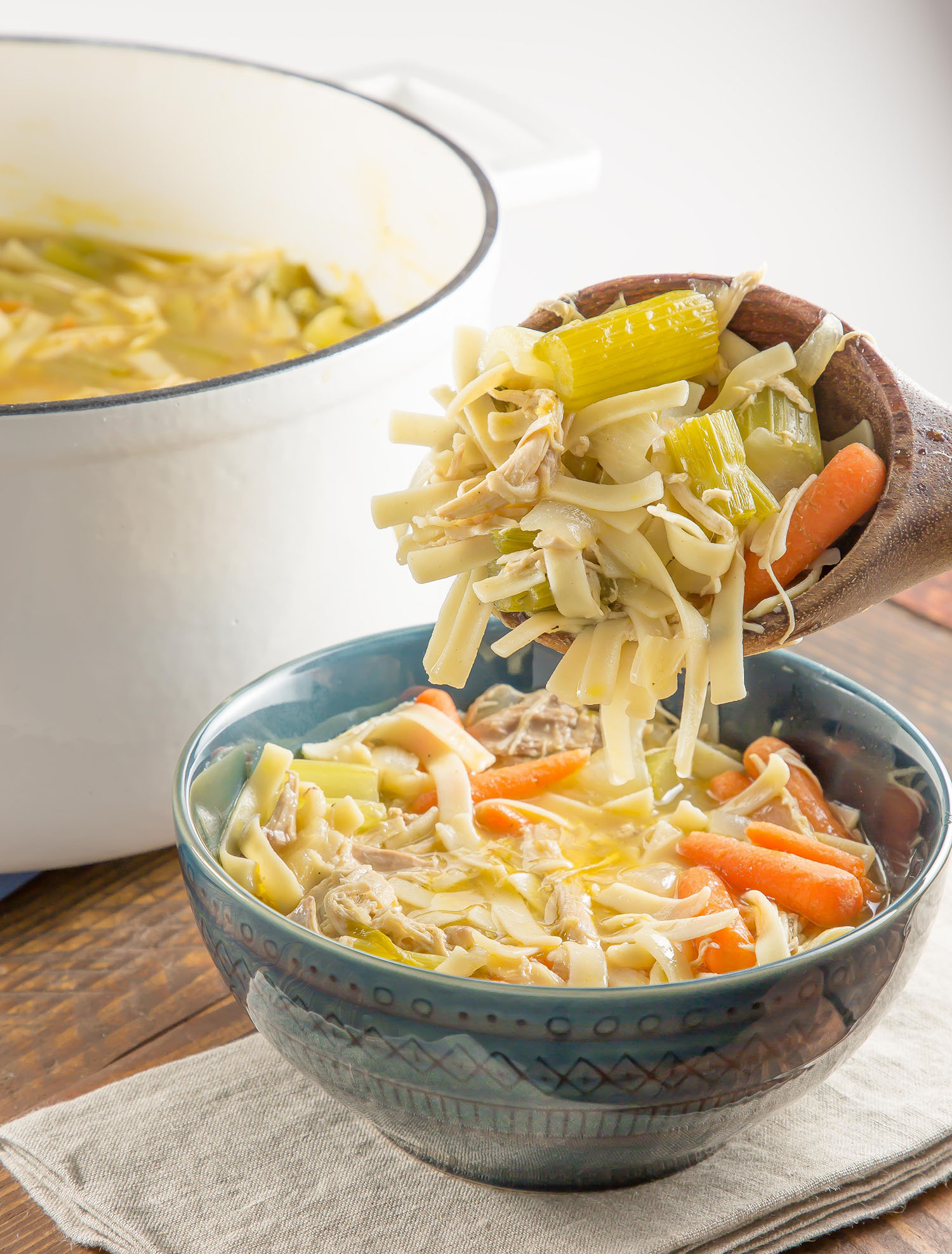 This week I am featuring my favorite homemade chicken soup recipe, but first….
A peek into my world
Well, guys, I made it through my first week of being gluten-free!  It wasn't too terribly difficult honestly.  I already incorporate a lot of fresh fruits and veggies into my daily diet.  I don't even think my husband or son have noticed a change in dinner recipes yet.  What did change was my ability to go out to eat.  Man, that is hard.  There really isn't that many options for gluten-free diners to eat.  Thankfully, we had an amazing brunch at Season's52 where I got to enjoy some yummy Mahi Mahi tacos.  I skipped the tortillas and opted for the lettuce wraps obviously.  I was certainly grateful they had a gluten-free menu.  Being out and about and hungry isn't a good for anyone!  The Mahi Mahi tacos were delish though!  In the future, I will have to plan better so I don't get stuck without food options.  If anyone has good suggestions as to where you can eat gluten free please drop them in the comments!
What, Preschool!?
My son completed his first week of school.  What a monumental milestone.  He went right in and never looked back.  I was so proud of him for jumping into this brave new world.  Being an only child though, let's be honest, he needs friends.  This is amazing for him.  Each day he comes home and tells me about his new friends and all the exciting things they do in class.  The pure joy on his face almost makes me wish I'd put him in preschool earlier.  I said almost, lol.  I really wouldn't trade having him home with me the first three years.  It was amazing to experience all the snuggles and fun.  I loved watching him explore and learn new things.  Now though, he simply needs more.  And that's OK.  For now, he still runs right back to mommy after his day is through.  I will dearly miss being the center of his world because he is surely the center of mine.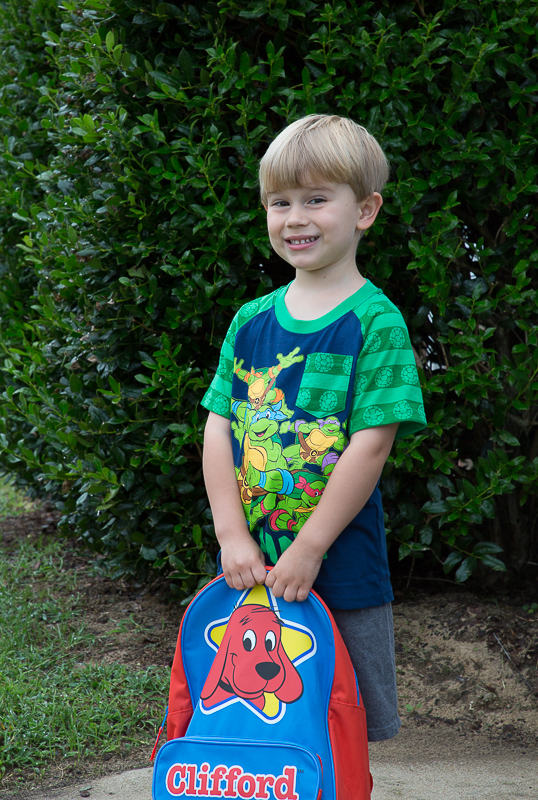 Uh-Oh…The H word…IRMA
It's that time of year again…Hurricane Season.  If you live in a coastal area on the east coast you are probably watching Irma to see what she will do next.  The poor Bahamas are getting pummeled right now.  For the moment it looks as if eastern North Carolina will not see the brunt of her fury.  That hasn't stopped the people here though.  If anything, preparedness is in the nature of North Carolinian's.  There is no water on the shelf, gas stations are running low on gasoline, and the canned food aisle is sparse.  Don't even think about C or D batteries.  Do not pass Go, Do not collect $200 folks.  We are ready to be trapped and without power.  Hopefully it doesn't come to that and hopefully, those that do get hit by Irma remain safe.  Let's hope she gets downgraded again and heads right off into the Atlantic.
On a happy note…
It's almost FALL!  Pumpkin is taking over and the cool air is seeping into our morning routines.  This is my absolute favorite season.  Hoodies, boots, and coffee are just a few of my favorite things!  Next week we will feature a seasonal post for Halloween.  I know Logan is super excited to work on the Pumpkin Cream Cheese Iced Brownies.  We've already rounded up the ingredients and are planning on baking up a storm tomorrow!
Now, as promised, Homemade Chicken Soup
It seems like everyone is catching a cold since school has started so I thought I'd share my favorite homemade chicken soup recipe.  Traditionally, I make this with egg noodles, but in light of my recent delve into the gluten-free world, I have made this homemade chicken soup with wild rice.  I love the soup both ways.   Any gluten-free pasta will work.  If you can find gluten-free egg noodles I do think they make the most comforting version of this homemade chicken soup.   I prefer to make a big batch of soup and freeze some for later.  I typically use smaller freezer containers so I can pop one out of the freezer and into the pot for a quick and simple lunch.  That way I can make just a serving for me or several if I have company or my son wants some homemade chicken soup too.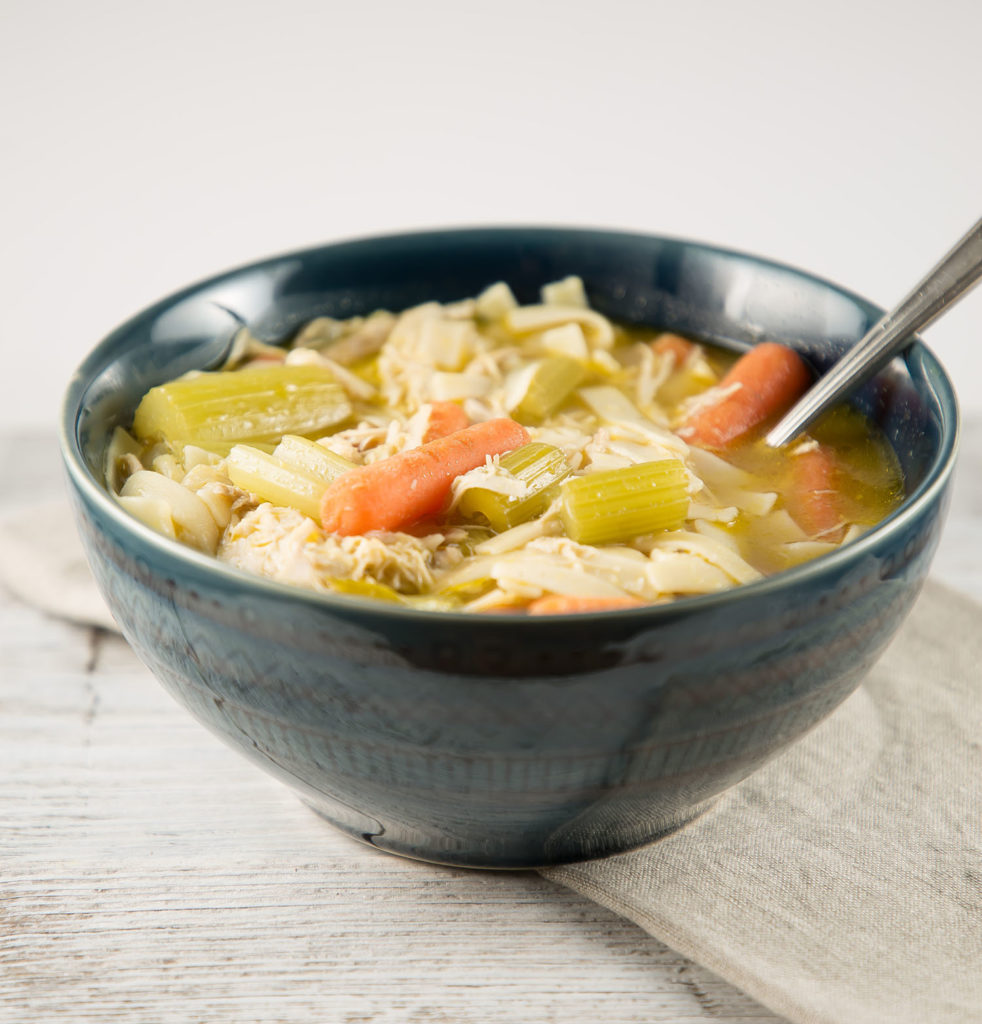 How to make this homemade chicken soup
There are a few ways to begin.  Either use leftover chicken, cut up chicken breast, pick the meat off a roasted chicken, or my personal favorite, buy two rotisserie chickens at the grocery store.  Seriously, save yourself the time.  If they want to roast the bird for you, let them.  Oddly enough, it's usually cheaper to buy the chicken cooked anyways.  I also like to use leftover chicken if I have it, but rarely do I actually roast a chicken to pick the meat off to make soup.  I mean, I LOVE homemade and from scratch, but I do have other things to do.  And someone has to do all these dishes!!  So, save time and sanity when you can.  As far as another time saver, a lot of produce sections have mirepoix (onion, carrot, celery) already diced up and ready for use.  This will cost more, but if time matters more than a few bucks this is a good option too.  If making your own mirepoix simply dice the onions, carrots, and celery.  Set aside.  Mince the garlic.  Set aside.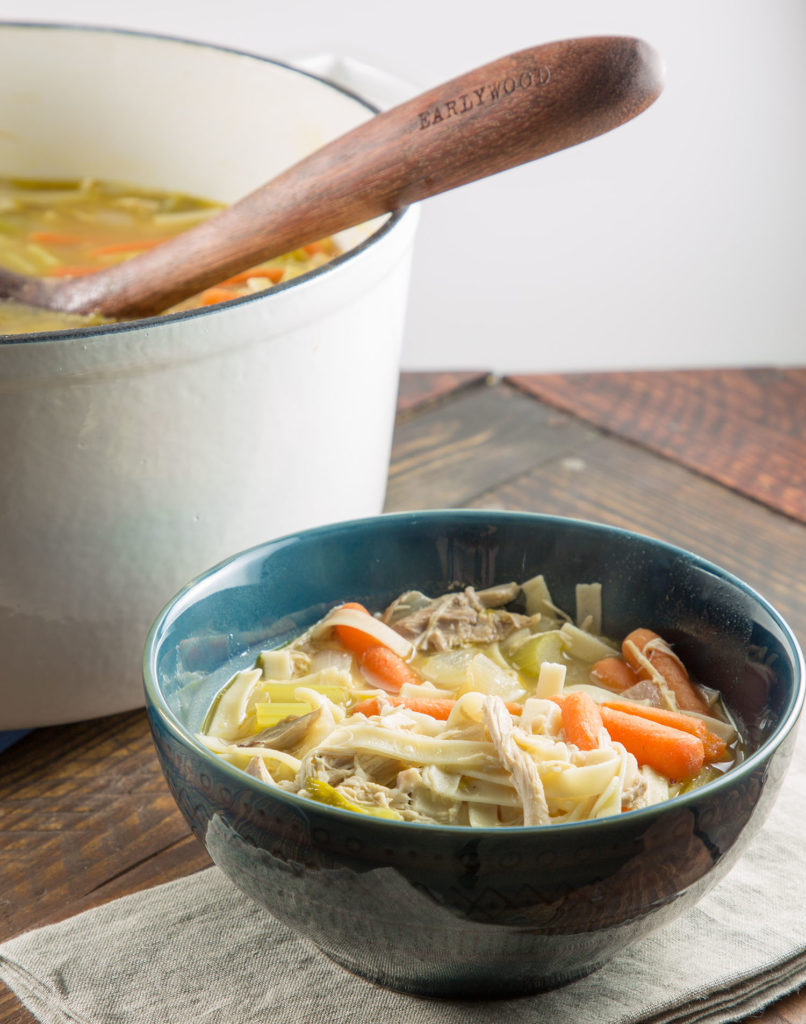 In a large stockpot, and I mean large, add about 1-2 tablespoons of olive oil.  Heat and add the onions, carrots, celery, and garlic.  Sweat the onions and saute until the veggies are tender.  Add a bit of salt and pepper here.  Once the veggies are good to go, add cups of chicken stock.  I make my own homemade stock and freeze it for use over the winter.  Use a box if you prefer.  I will share my recipe for homemade stock on the blog soon!  Add the meat from 2 rotisserie chickens.  I like to add a Parmesan rind to the mix for an extra punch of flavor.  Not necessary, but if you have one laying around, use it!  Throw in a bay leaf and bring the soup to a boil.  Turn down to medium low and let simmer as for about an hour or two.  20 minutes before serving, add your rice or egg noodles.  Alternately, if you prefer pasta you can of course use and gluten free pasta in lieu of egg noodles.
EAT
You may also like these other recipes: Chili, Spaghetti Sauce, Pad Thai.  All of these recipes are also Gluten Free or have Gluten Free options.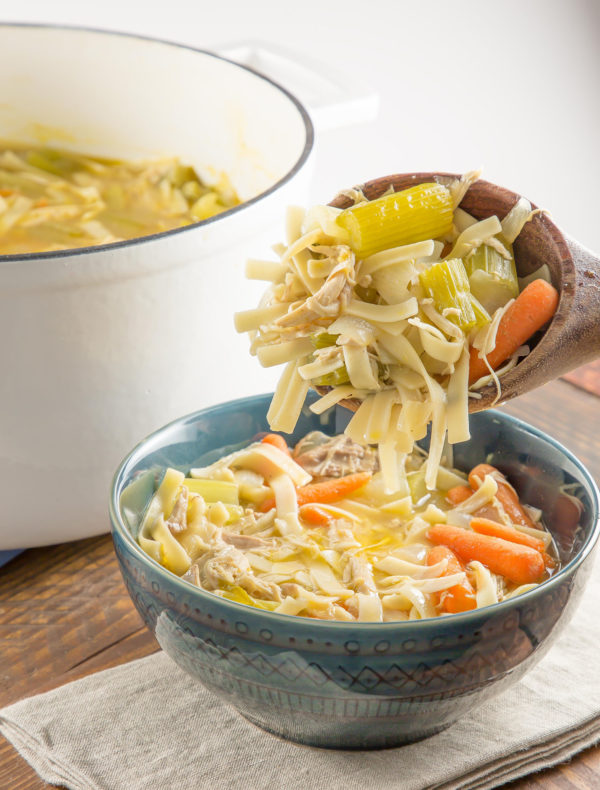 | | |
| --- | --- |
| | |
Roughly chop carrots, onions, and celery

Pick the chicken off two rotisserie chickens and place in bowl

Place large stockpot on stove and turn on medium heat

Add onion, garlic, celery, and carrots to stockpot

Cook until veggies are tender

Add stock to pot along with bay leaf, black peppercorns, and parm rind

Bring to a boil and reduce heat to simmer

Cook for about 1 1/2 hours

Add noodles and cook about 20 minutes longer until they are cooked thoroughly

Serve. Garnish with parsley if desired