Beef stroganoff is one of those recipes that gives me the warm fuzzies. It makes me nostalgic and reminds me of a time when I was younger and mom took care of everything. And I do mean everything. Admittedly, I was a bit spoiled as a child. My mom stayed at home and took care of my brother and I and, I swear, the woman accomplished more in a day than I do in a month. I definitely feel like I have huge shoes to fill and standards that I'll never live up to.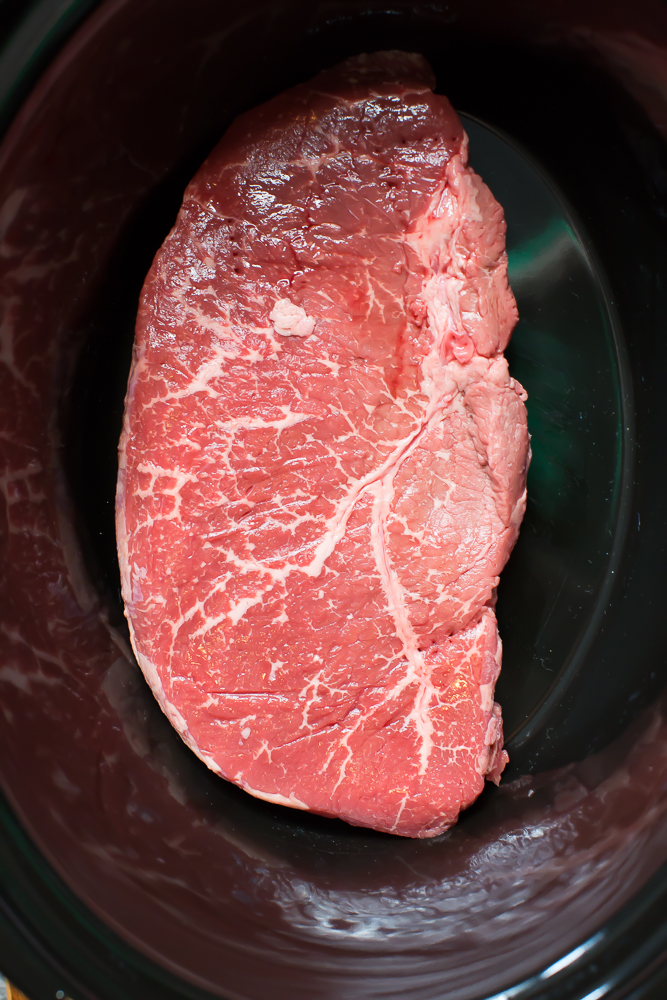 This post contains affiliate links that, when used, pay me a small commission. This comes at no additional cost to you. I appreciate your support
My house will never be immaculately clean, I still can't fold a fitted sheet at 36 (I've given up at this point), and whatever you do, DO NOT open my tupperware cabinet! My mother's house, on the other hand, will pass a white glove test any day at any time, everything is organized, and even fitted sheets are folded crisply into squares.
The one area I'd say that I supersede my mom when it comes to being a domestic goddess is in the kitchen. This woman loathes cooking and I've loved cooking and feeding people since I was a kid. So, for all the times she picked up my laundry, cleaned my room, ran my errands, and chauffeured me around, I made this recipe for her. Beef stroganoff is one of her favorites but she is a slow cooker kind of gal. The recipe must be easy or she isn't going to go through the hassle of making the meal. After all, at this point, it is just her and my dad.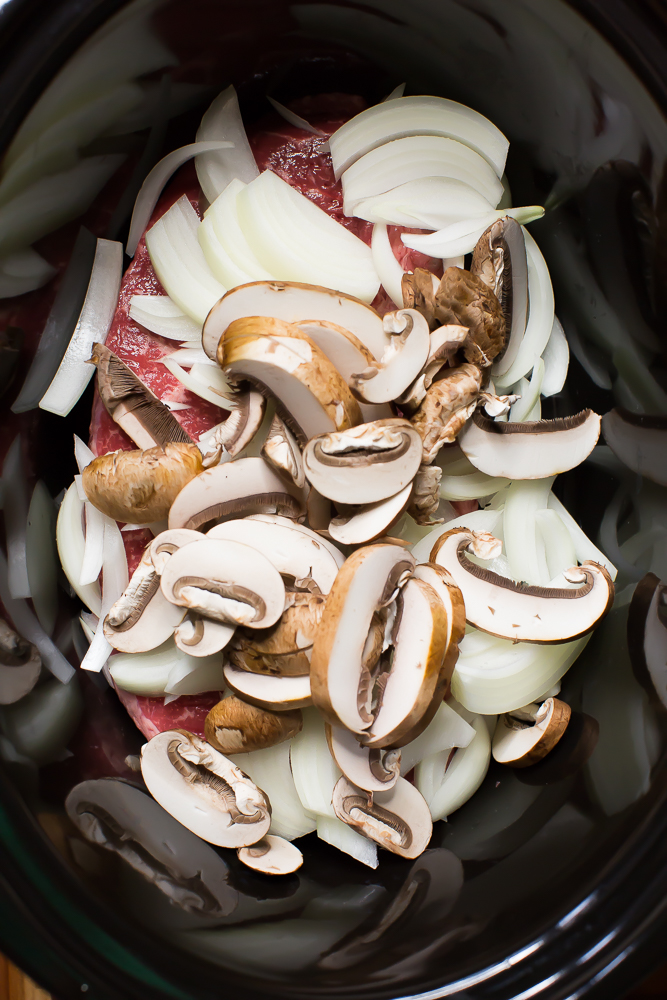 This slow cooker beef stroganoff recipe has been tried, tested, and Mom approved.
I find that now that I'm a mom I have scaled back on some of the more lengthy meals and opt for quicker ones during the week. Between school, karate, and other commitments the evenings are just too hectic. So, whether you are a whiz in the kitchen and just need an easy night or a novice cook who is just learning, you CAN make this beef stroganoff! No one has to know how simple it was to make either.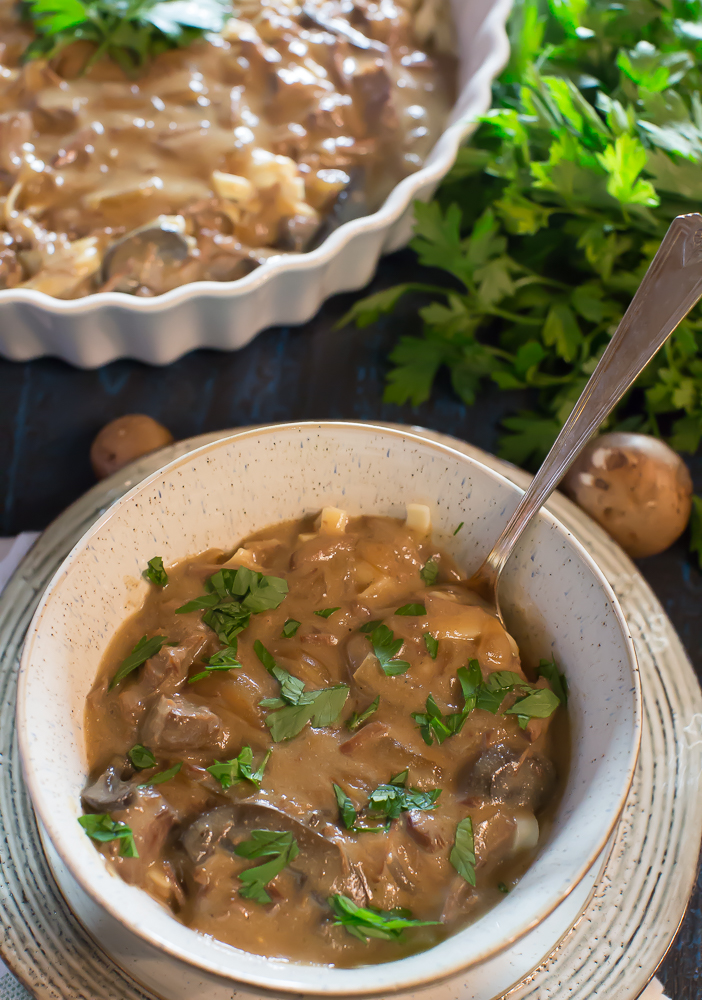 For beef stroganoff, I like to use a london broil or a tri-tip roast. Since we can only purchase what the store offers at any given time, just make sure it's a lean roast. We don't want anything fatty like a chuck roast for this recipe. Slow cooking the roast will make it tender and fall apart even though it's lean. I do recommend browning the veggies and searing the roast first if you have time. If you are using an instant pot, go ahead and sear meat and saute aromatics. This will deepen the flavors in your finished meal. You may skip this step and the recipe will still be delicious. It can be difficult to fit this in on a busy weekday morning. Carpool and getting the kids ready is no joke. Coffee is definitely needed!
Amish made gluten free egg noodles are amazing! I use these to make homestyle meals like this and my chicken soup. They are delicious and I really can't tell they are gluten free! If you can't find Amish made noodles, these gluten free egg noodles are my backup. They are delicious as well.
Ready to give this recipe a shot?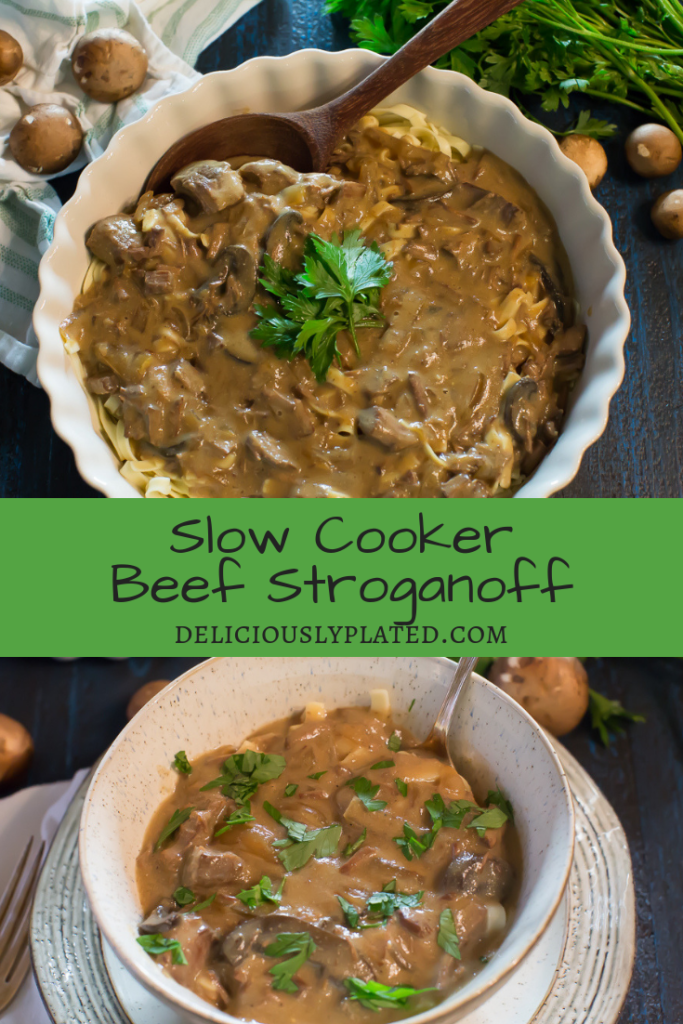 If you love this beef stroganoff recipe please SHARE and check out these other recipes too: Chicken Pad Thai, Taco Soup, Beef and Broccoli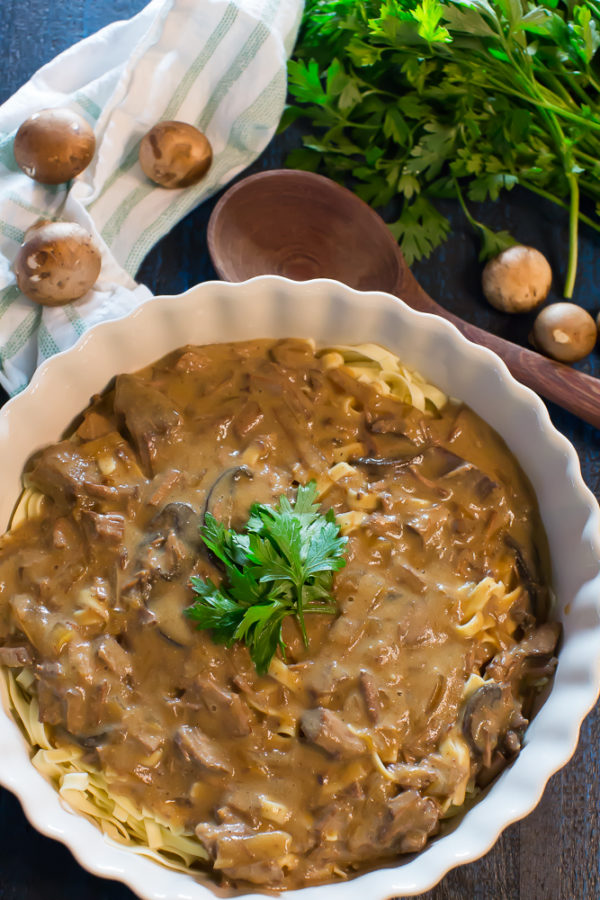 | | |
| --- | --- |
| | |
Add the first seven ingredients to your slow cooker

Cook on high for 1 hour; then reduce heat to low. Cook for 6 hours (a bit longer is fine if you are at work)

Mix the cornstarch and water to create a slurry and slowly mix into the slow cooker about 30 minutes before you are ready to eat. This will thicken the sauce. When you are stirring be sure to break the roast up into smaller pieces. It will be tender and fall apart very easily. Turn the crockpot back to high and cover.

While the sauce is thickening, prepare your egg noodles. Drain and set aside.

Once your sauce has thickened, add the sour cream and mix well.

Serve the roast and sauce over your egg noodles and garnish with parsley

Season with salt and pepper and enjoy!