Whether you are an avid football fan or a have never seen a game in your life, chances are that you at least know that the Superbowl is coming up. What does this mean? Superbowl parties. And where there are parties, there is food. Appetizers galore will be served up on this day, and if you are still not sure what you are contributing to the spread, I highly recommend this jumbo shrimp appetizer.
This recipe hits all the notes. It's simple, delicious, and will easily beat the pants off most other options on the table.
Do I sound a little too competitive? I say Not! It's the one day where everything is a competition, and it's acceptable, lol.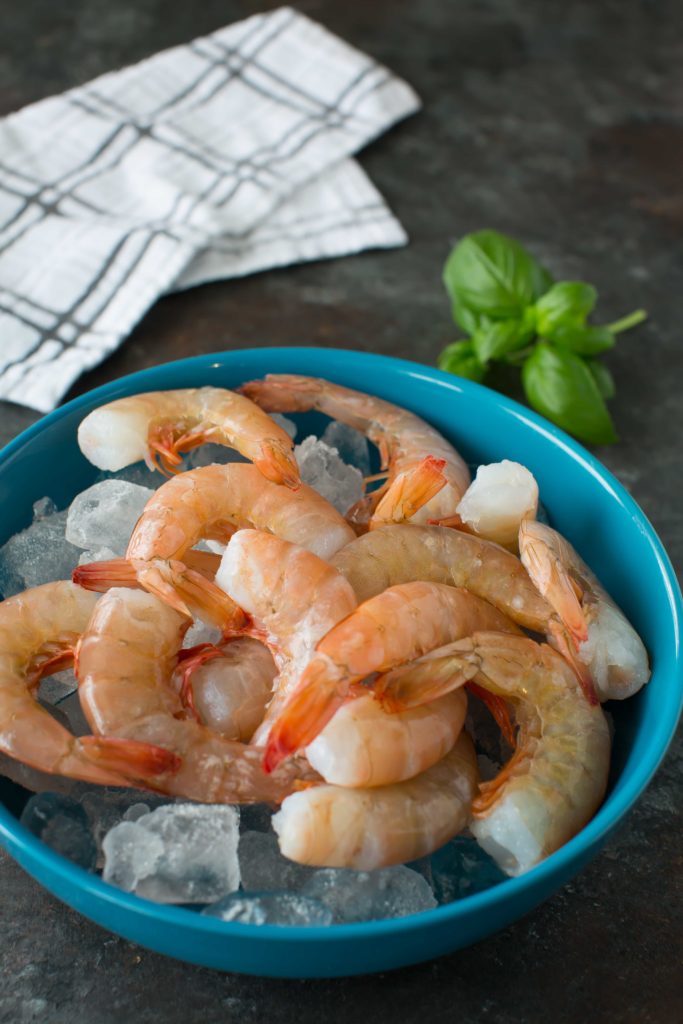 Okay Okay, we will all eat and love the guac too. But these shrimp are still the best!
My boys devoured a dozen in less than 10 minutes this weekend. It was rainy, and I took the day to catch up on some cooking. Much to their enjoyment by the time dinner rolled around not a single one of us were hungry. We filled up on salmon, shrimp, and BLT's. It was a perfect day at home relaxing and spending some (non-competitive) time together.
Well, there was that one game of Sorry. No one knows who won though because my five year old decided it was taking too long and moved on to another activity. My husband was going down though. Just saying. Momma was winning ;P
Oddly enough it is typically my husband who is the competitive one.
So, more about this jumbo shrimp appetizer and less about our family game night/day. What I adore most about these juicy bites of deliciousness is that they take so little time and effort. To ice the proverbial cake though they pack a powerful punch of flavor with the fresh basil and crispy prosciutto.
A few tips and tricks for this jumbo shrimp appetizer
I do recommend purchasing your shrimp deveined and peeled. This will save you at least 10 minutes. If those ten minutes are not a big deal to you then go ahead and buy the shrimp shelled. They are cheaper that way. Whatever you buy, make sure before cooking them you devein them. Nothing is grosser than biting into a non-deveined shrimp. Yuck.
Another tip is that when working with shrimp always keep them on ice. Shrimp can go bad very quickly, and you do not want to make anyone sick. You want to be notorious for your delicious recipes not for ending the party. This goes with pretty much any seafood; it's just a good rule. Keep it on ice.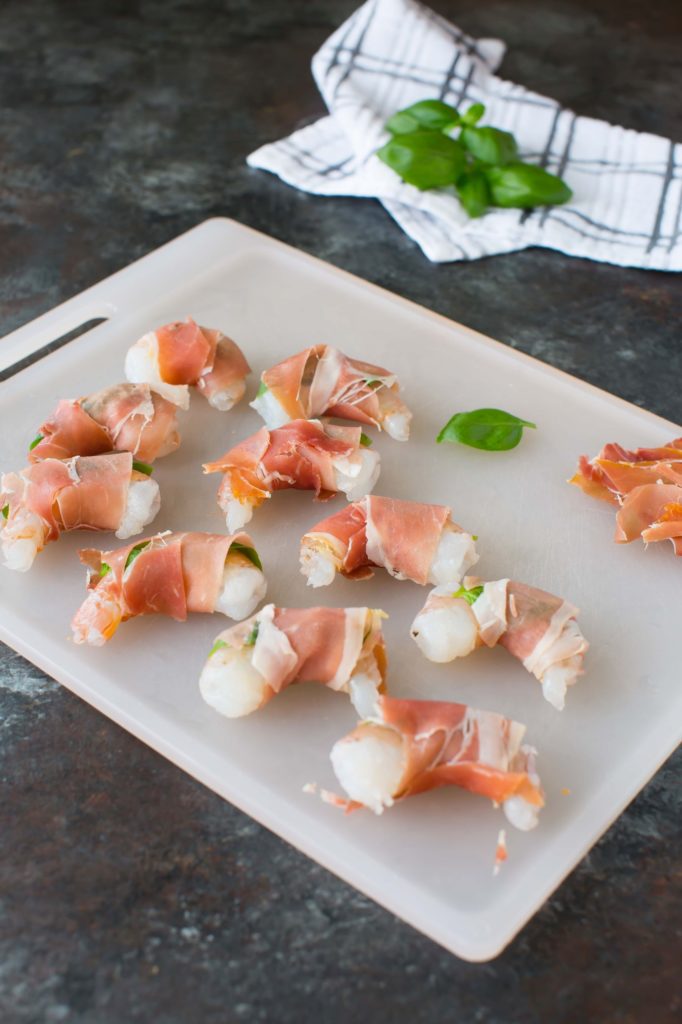 Once your shrimp are clean, wash some basil leaves and slice your prosciutto in half lengthwise. This cut will make wrapping the shrimp much easier. Also, if you are buying your prosciutto from the deli be sure not to order it too thick. You want thin slices that will wrap and crisp up quickly.
Once all your shrimp are stuffed and wrapped, saute them in olive oil for a few minutes on each side, and voila, you have a fantastic jumbo shrimp appetizer that everyone will believe required considerably more time and effort than it did.
Bask in the compliments and…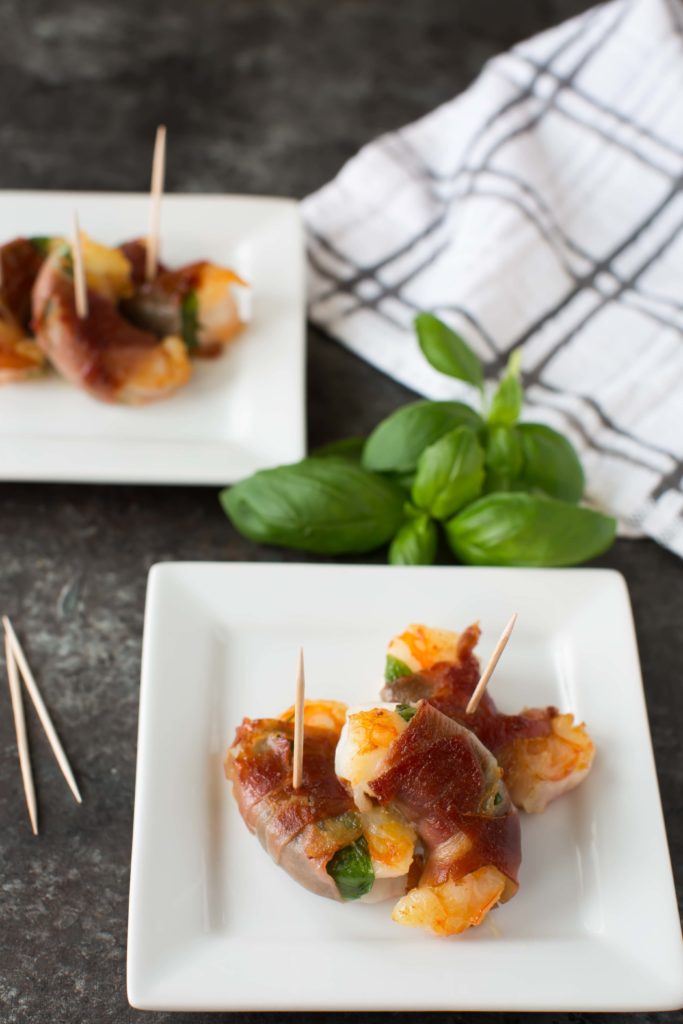 ….may the odds forever be in your favor with the upcoming game!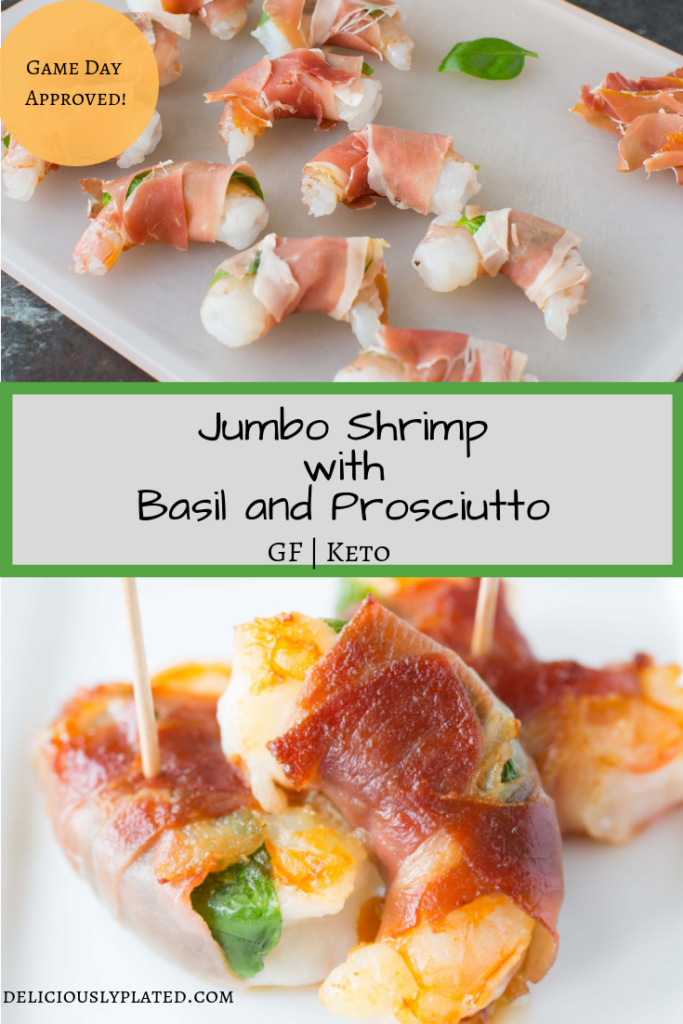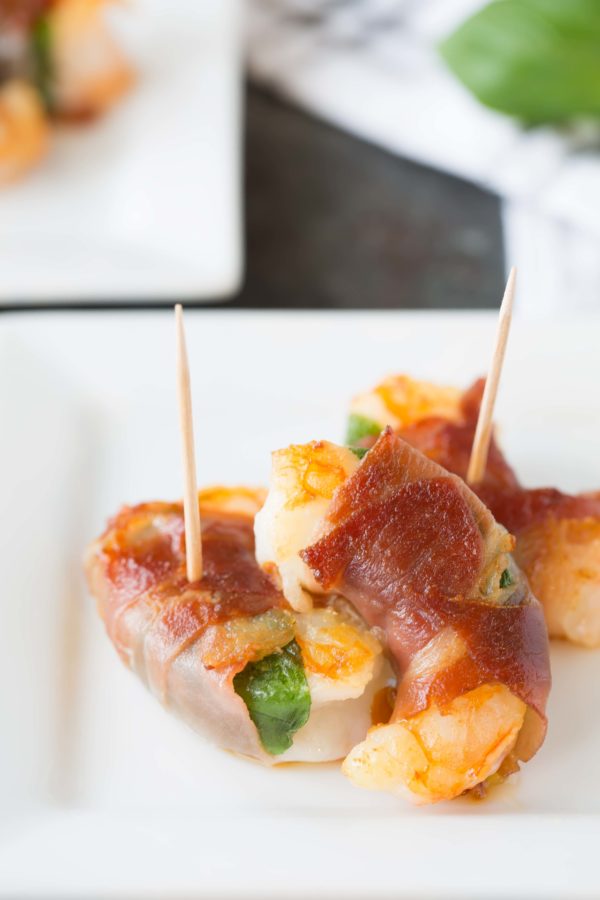 | | |
| --- | --- |
| | |
Place shrimp on ice and shell and devein shrimp if needed. Place each shrimp back on ice when you are done with it.

Place basil leaf on the top of the shrimp and wrap with 1 strip of proscuitto

Heat olive oil over medium to medium high heat in large pan and saute shrimp for about 3 minutes on each side. Shrimp is done when it is pink. Proscuitto should be browned and slightly crispy.

Season with salt and pepper if you desire. Proscuitto is salty so be sure to taste it first prior to salting it too much.
This recipe accounts for 2 shrimp appetizers per person.  It is completely scalable to feed however many are in your crowd.