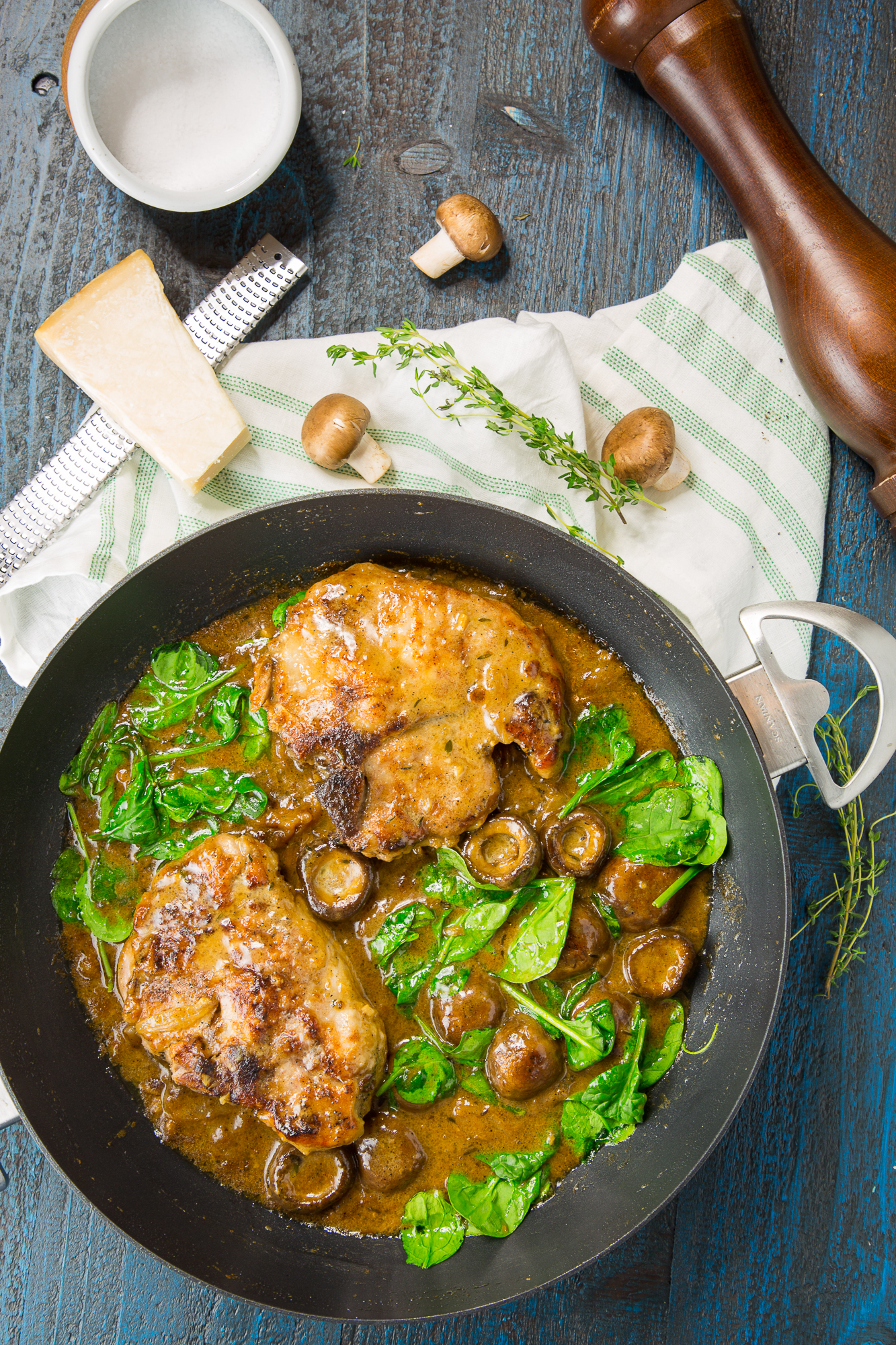 This post may contain affiliate links that pay me a small commission on any orders you place.  This comes at no additional cost to you and helps to support my blog.
With all that families balance nowadays making a delicious and nutritious dinner can seem daunting and even impossible.  Between jobs, school, sports, and errands most of us are exhausted by the end of the day.  Enter 30-minute meals.  Better yet, one pot 30-minute meals!
Simple has never tasted so good as these pork chops with mushroom gravy!
When cooked correctly, I have always felt like a thick pork chop can be as good as a steak.  In fact, it's one of my favorite things to have on the grill.  Since it's not quite grilling season yet, I opted for a one pot meal this week.
Don't worry though.  There will be plenty of grilling recipes on the blog soon.  I can't wait for warmer days and sunshine.  Maybe a cocktail or two.
This week I found some lovely baby bella mushrooms at the farmers market that were screaming to be tossed in the pan.  My family loves mushrooms.  In fact, before I met my husband he dreamed of owning and running a mushroom farm.  That is love.  Mushroom farming can be intensive in its startup.
Unlike other white foods, mushrooms are considered a nutritional powerhouse.  With fiber, vitamins, minerals, and antioxidants (including those which help fight and prevent inflammation) gracing their nutrient list it's no wonder they are becoming so popular.
With the addition of the mushrooms my one-pot meal is almost complete, it just needed it's "something green".  Enter baby spinach.  Toss in a creamy savory pan sauce and you have a delicious meal ready to be devoured.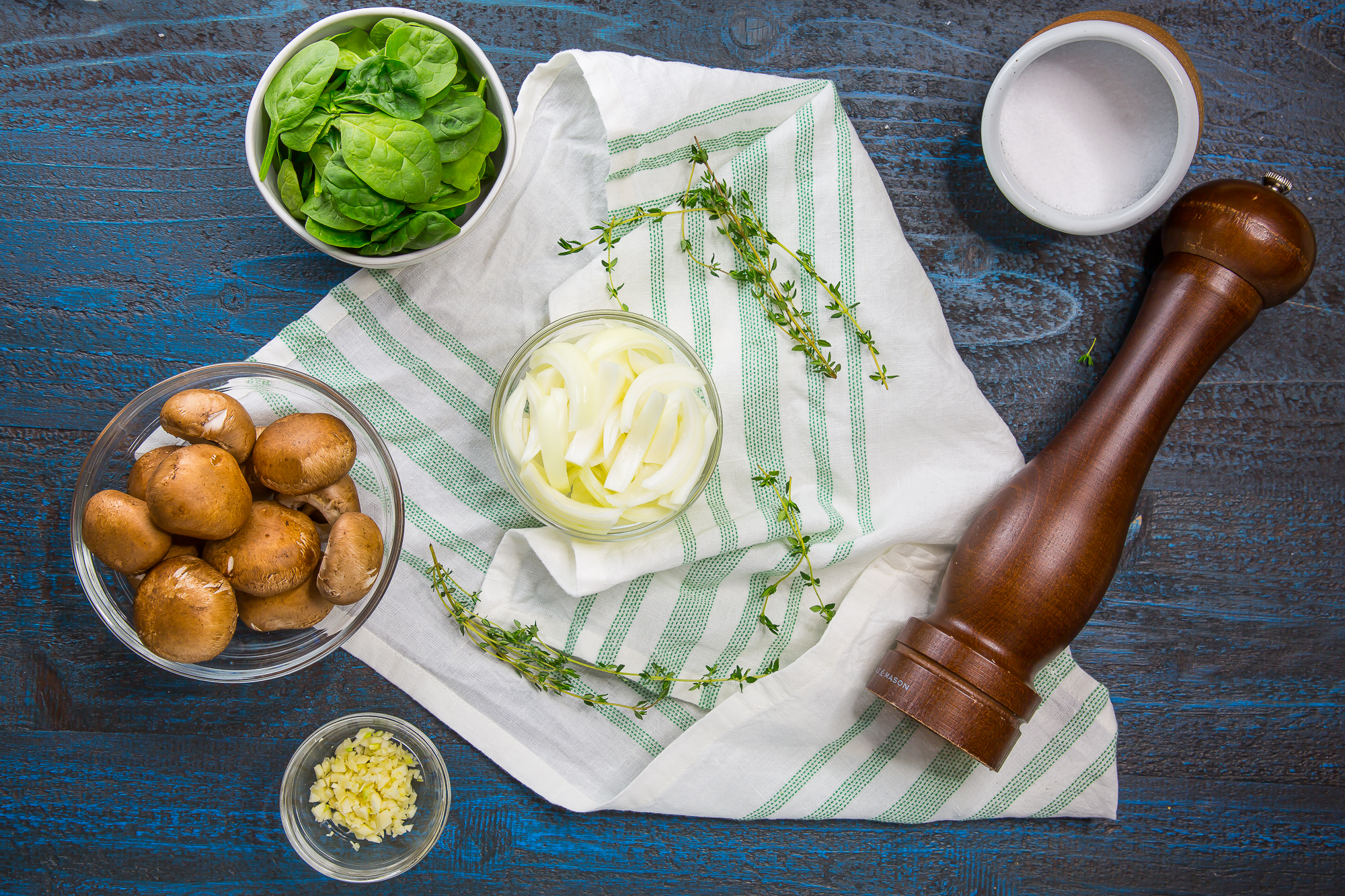 Ready to try the recipe?
To begin you need to gather all your ingredients and measure out the quantity needed.  Wash, slice, and mince the appropriate produce and set aside for easy use later on.
Pat dry your pork chops and dredge them in a mixture of flour, salt, pepper, garlic powder, and onion powder.  Once dredged, add the pork chops to a pan with olive oil that has been heated over medium-high heat.  Be sure that the pan and oil are hot to ensure a good sear.  If the pan isn't hot enough you won't get the caramelization you want.  Sear the pork on all sides and place on a plate or cutting board.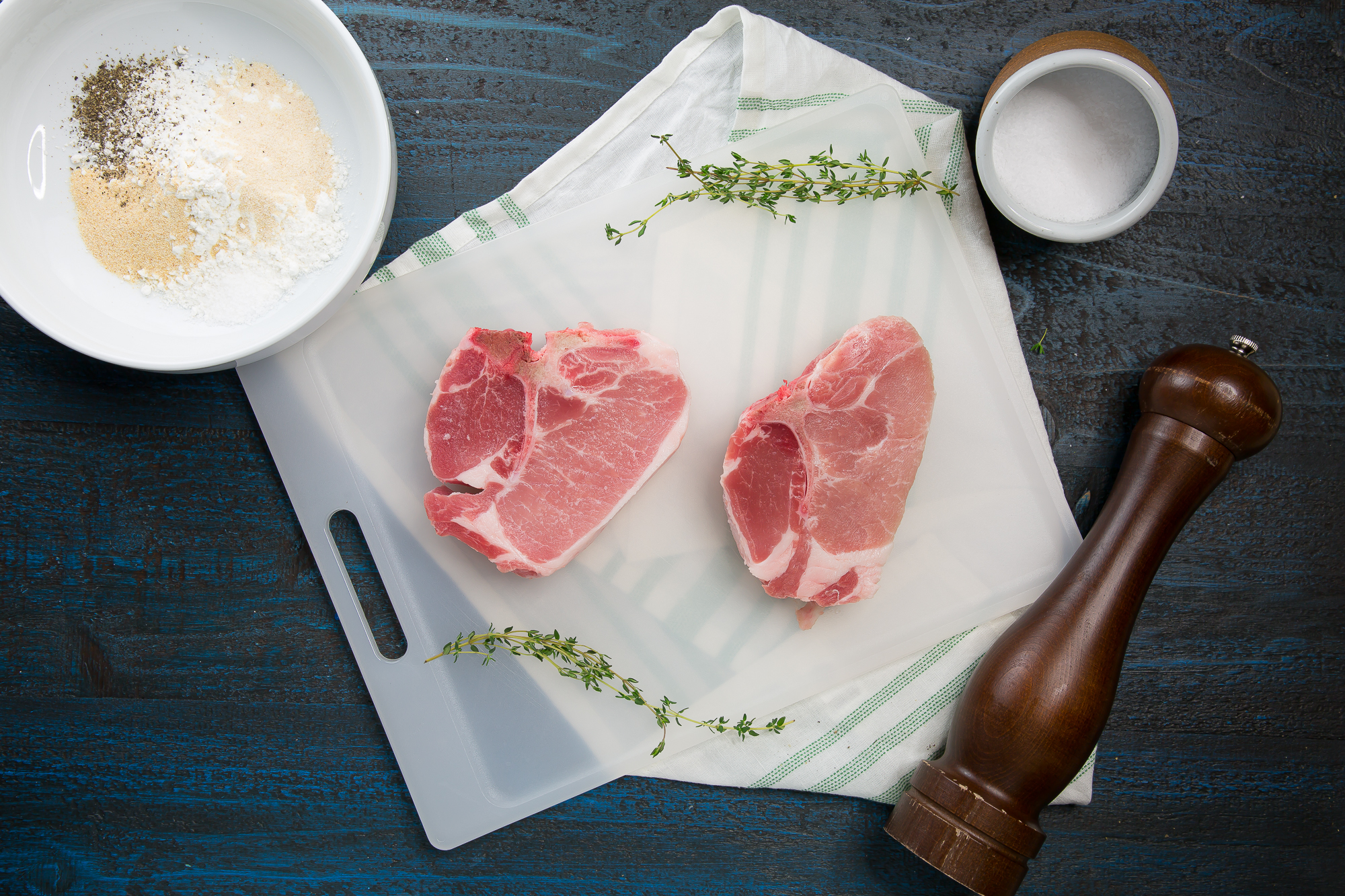 Add more olive oil and reduce heat to medium and add the mushrooms and onions.  Sauté these until soft and caramelization occurs.  Add the garlic and thyme and sauté until aromatic.  About 1-2 minutes.  Be careful not to burn the garlic.  Burnt garlic is bitter and can quickly ruin a dish.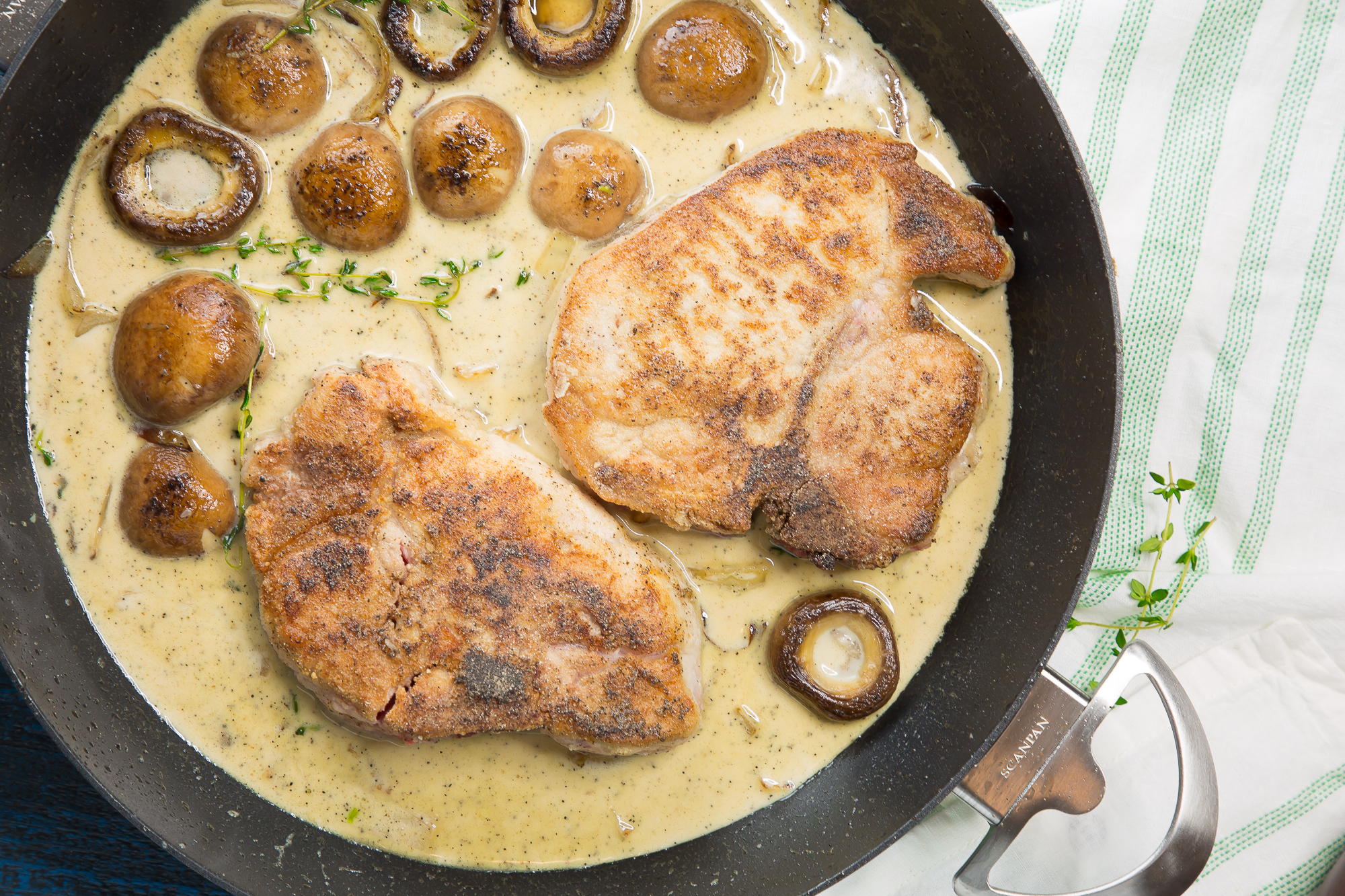 Now, deglaze the pan with the chicken stock.  Be sure to scrape up all the little bits stuck to the bottom of the pan as this will flavor your pan sauce.  Stir in the heavy cream and season with salt and pepper.  Bring to a simmer and cover.  It should take about 15-20 minutes depending on the thickness of the pork chop.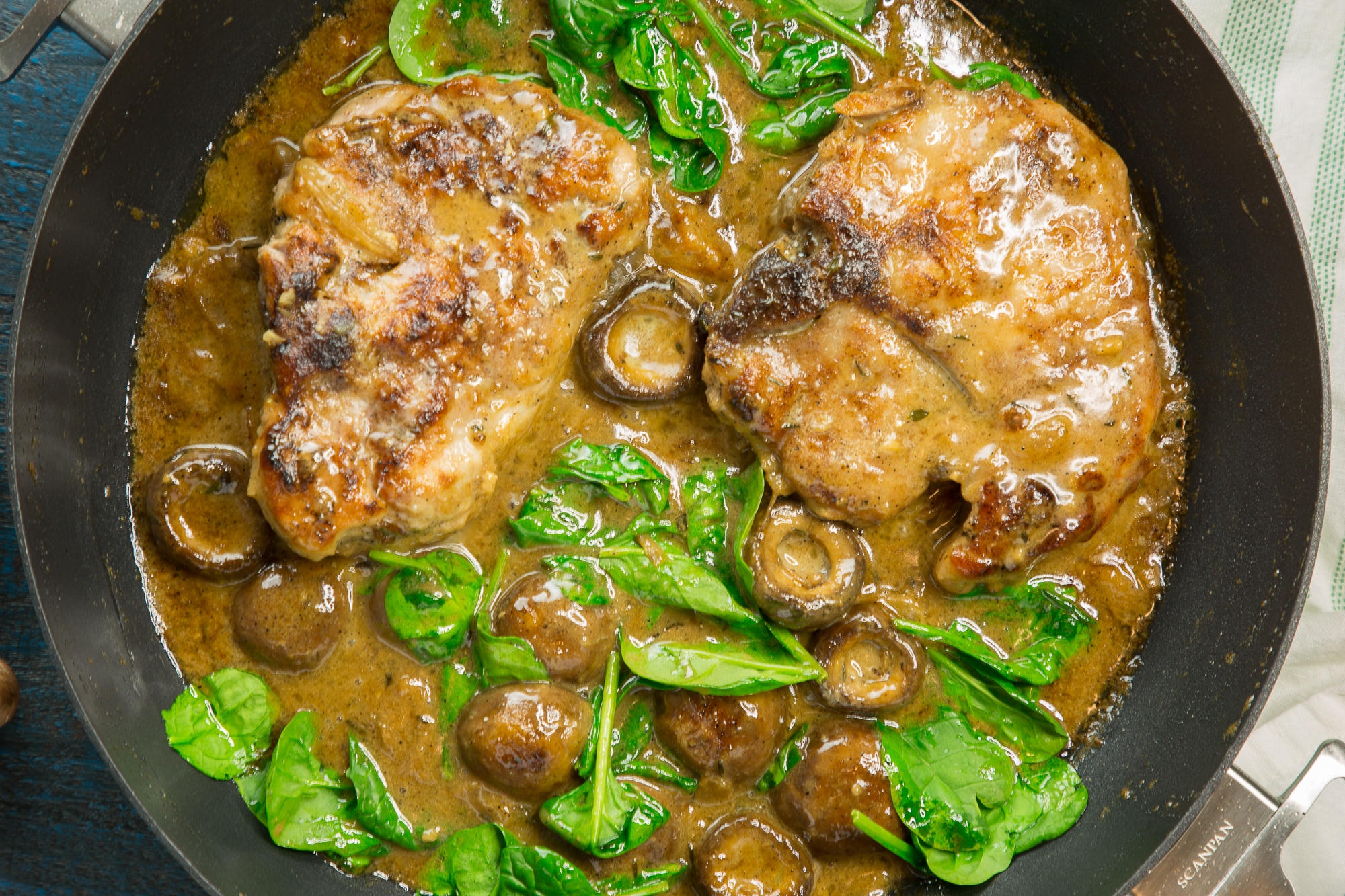 Remove the cover and stir in the Parm you grated with your microplane.  Turn the heat up slightly and simmer, allowing the sauce to reduce.  Once sauce is thicked your are ready to eat.  Pork should reach a temperature of 145 degrees Fahrenheit to be safe for consumption.  It's best to use a meat thermometer to guarantee the pork is cooked thoroughly.  Be sure to check multiple spots with the probe as well (always check the thickest area).  This ensures the pork cooked evenly in your pan.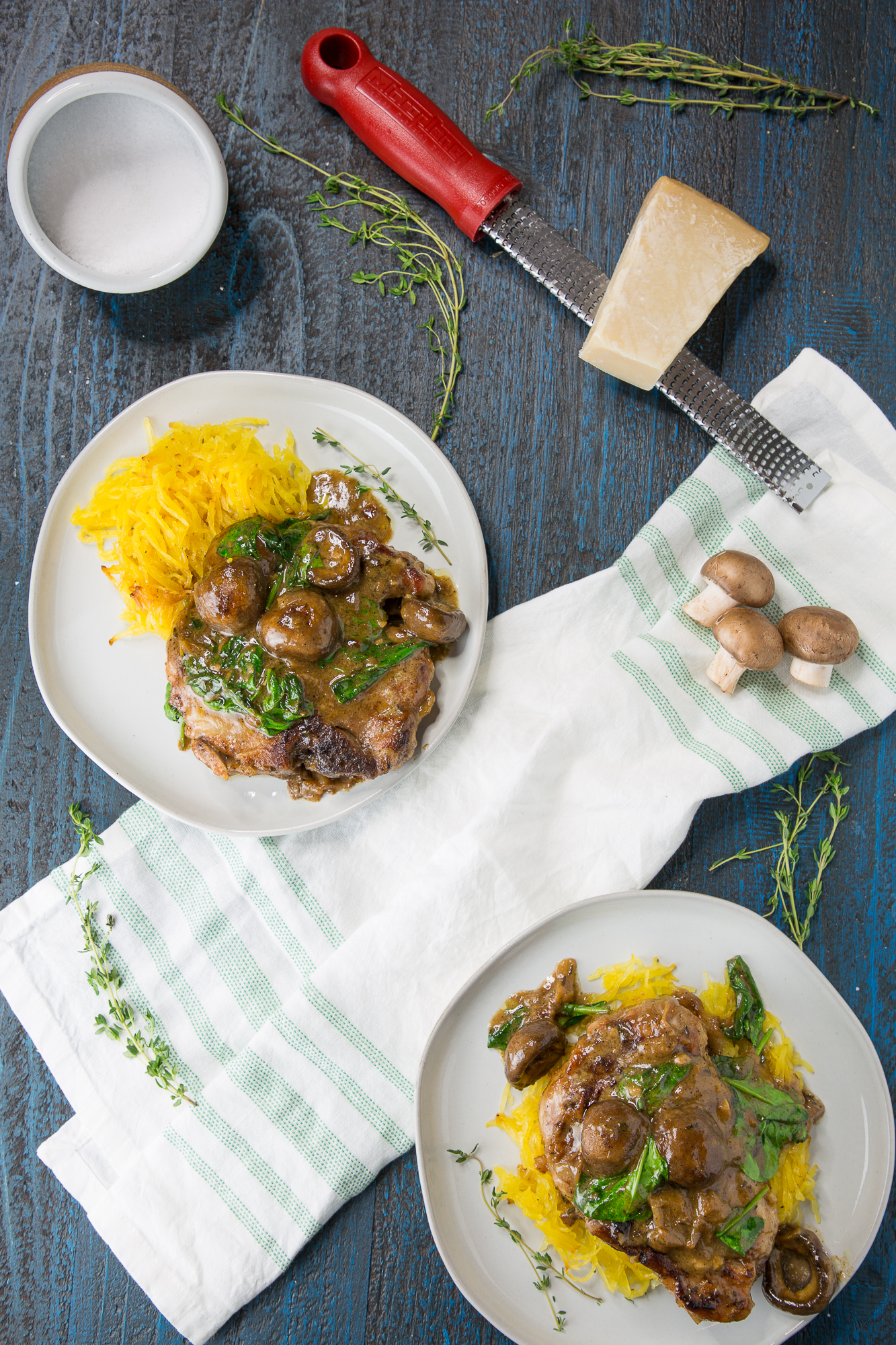 Time to eat!
I enjoyed this with a spaghetti squash.   Either served over the squash or beside, it was a great addition.  With the spinach and mushrooms, however, you really don't have to serve this with anything.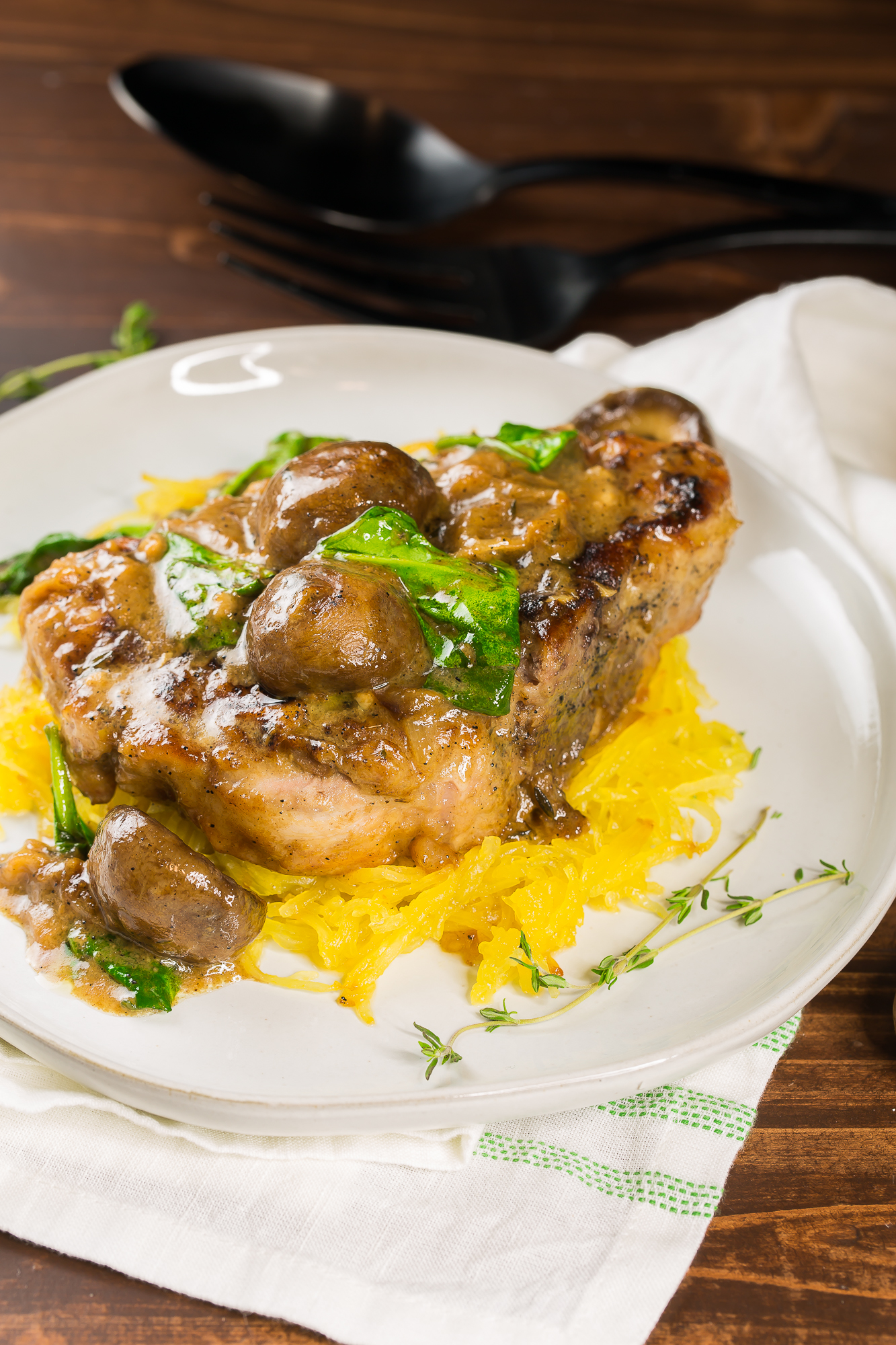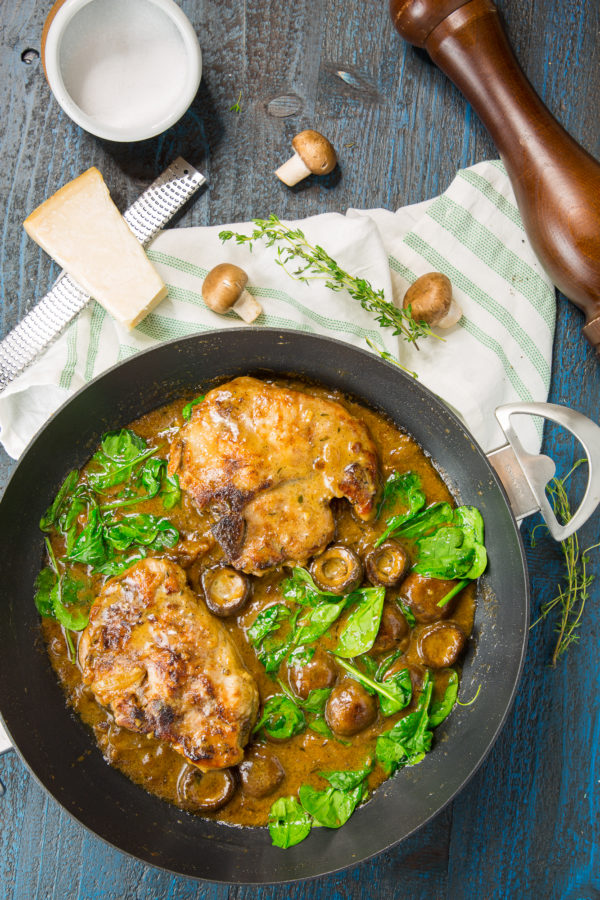 | | |
| --- | --- |
| | |
Combine gf flour, salt, pepper, onion powder, and garlic powder in a large bowl.

Pat dry pork chops and dredge in flour mixture

In a large chef pan warm olive oil over medium high heat

Sear pork chops on all sides. Remove from heat and set aside

Add more oil to pan (if needed) and sauté onions and mushrooms

Add garlic and sauté until aromatic

Add stock and cream to pan, mixing well

Return pork to pan. Cover and cook over meduium heat for about 20 minutes

Remove lid, add parm and reduce sauce until thickened (about 5-7 minutes)