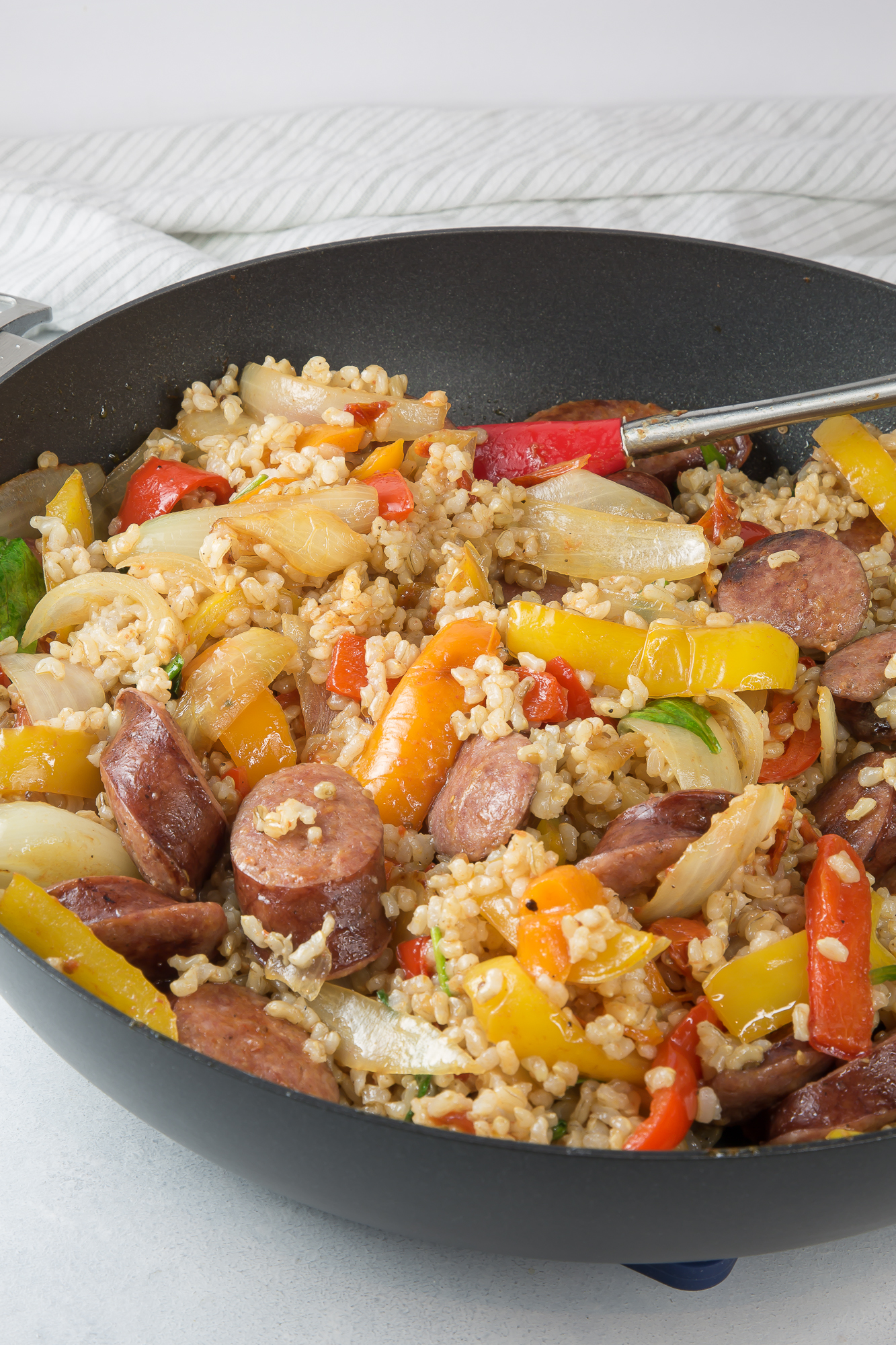 This post may contain affiliate links which help support my blog.  These links give me a small commission and comes at no additional expense to you
If you love 30-minute meals like kielbasa vegetable stir-fry, you will also enjoy this ramen bowl, easy peasy snow pea salad, sheet pan chicken and vegetables, and salmon rice bowl.
This week I am making yet another 30-minute meal.  My life, it seems, and kitchen are running on these quick and easy meals lately.  With all of the demands of life, work, and family I love that I am still able to provide a healthy meal with less time in the kitchen.
And without compromising taste/flavor.  I do not enjoy flat tasting bland meals.  At all.
I'm sure most of you struggle to meet the everyday demands as well.  Then, you come home and have to figure out what in the world is for dinner?
Sound familiar?  I spend most of my days cooking and still wonder the same thing!
Let me help you get a balanced and nutritious meal on the table so you can spend more time with your family and not be slaving over a hot stove.  Unless you want to be in the kitchen.  Full disclosure, some days I like to hide there too.
This particular recipe has been a go-to for me for months now.  I'm amazed it's not on the blog yet since I make it every single week.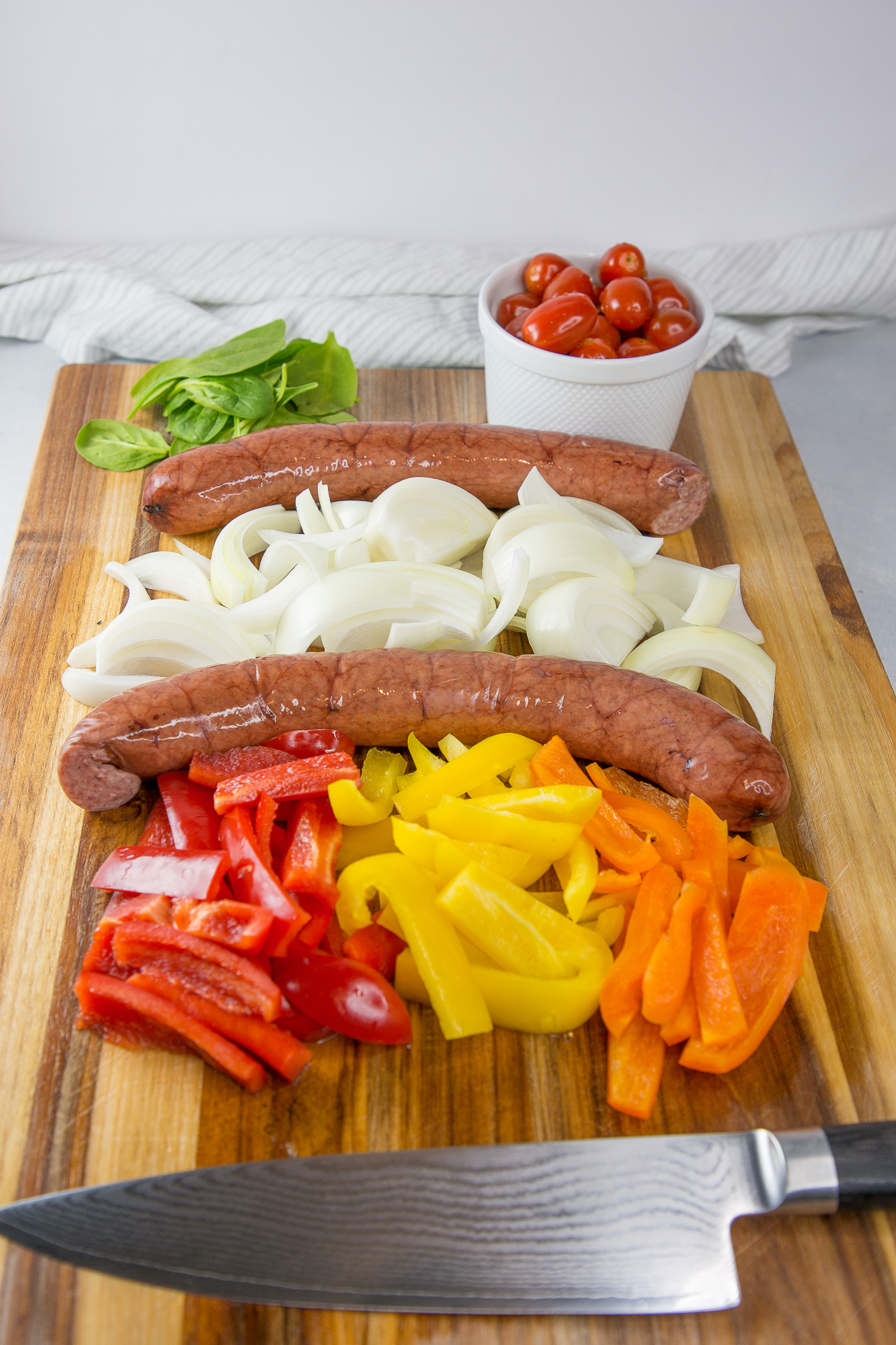 We all love this kielbasa and vegetable stir-fry and even my 4-year-old requests it!
This isn't quite a one pot meal, but cleanup is a breeze since only the rice is made in a separate pot.  I prefer to make my rice in my instant pot since I can push a button and forget about it.
Ready to make this kielbasa vegetable stir-fry?
Great!  All you need is an onion, a package of multi-colored bell peppers, grape tomatoes (of any variety), your favorite kielbasa, spinach, and salt and pepper.  Easy enough, right?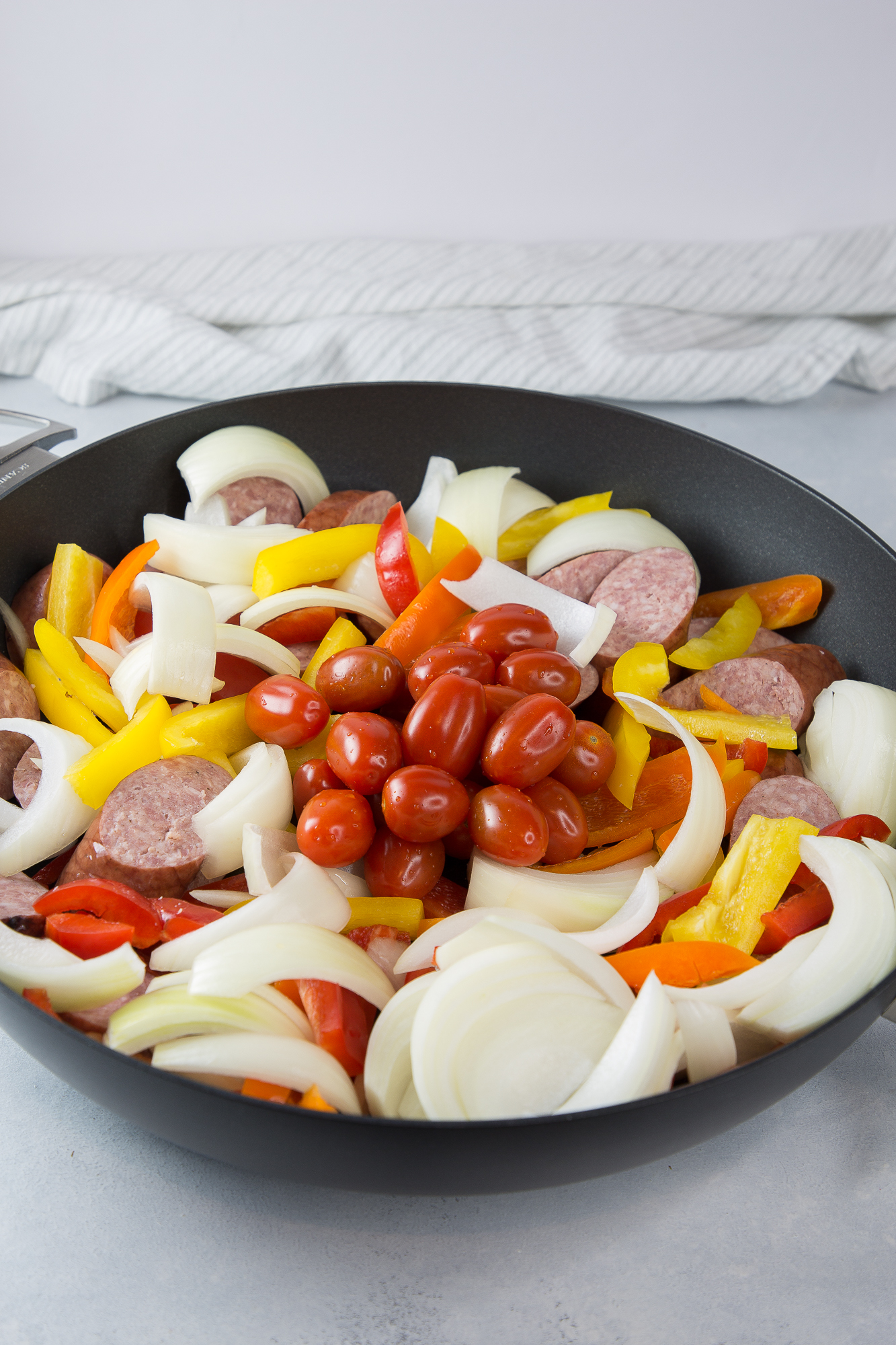 You can even go off script and substitute with veggies you have on hand.  Garlic adds a great flavor as well.  Kale or swiss chard can also easily replace the spinach.  Get creative and use what you have to create your own dish.
Once you've prepped all veggies, just add them to a large nonstick chef pan, season with salt and pepper, and sauté.  Add the kielbasa at the same time and allow the veggies to cook down uncovered.  The tomatoes will burst and release their bright flavor into the dish.
Be sure to start your rice before you begin prepping your veggies.  By the time the sausage and vegetables are done cooking the rice will be finished as well.
Combine in the pan and serve while warm.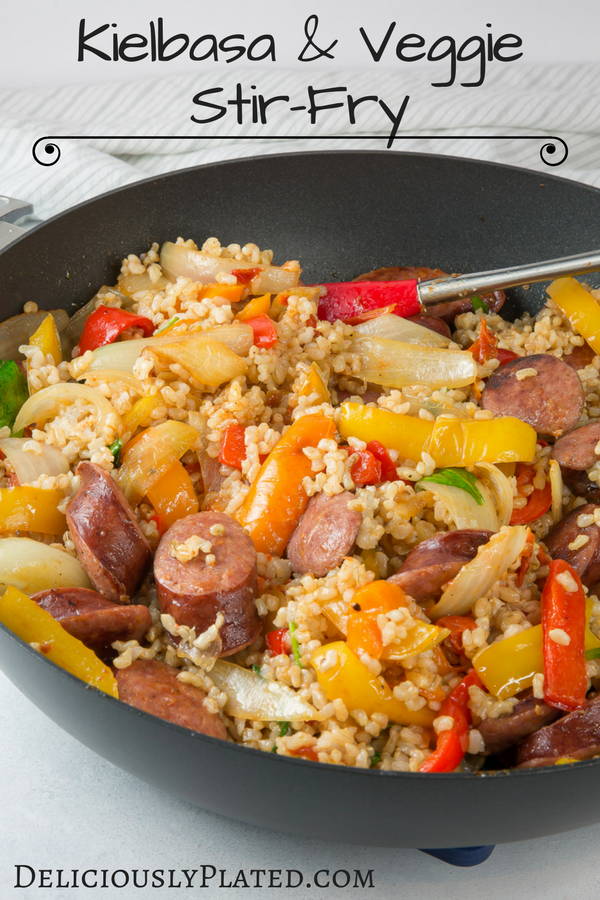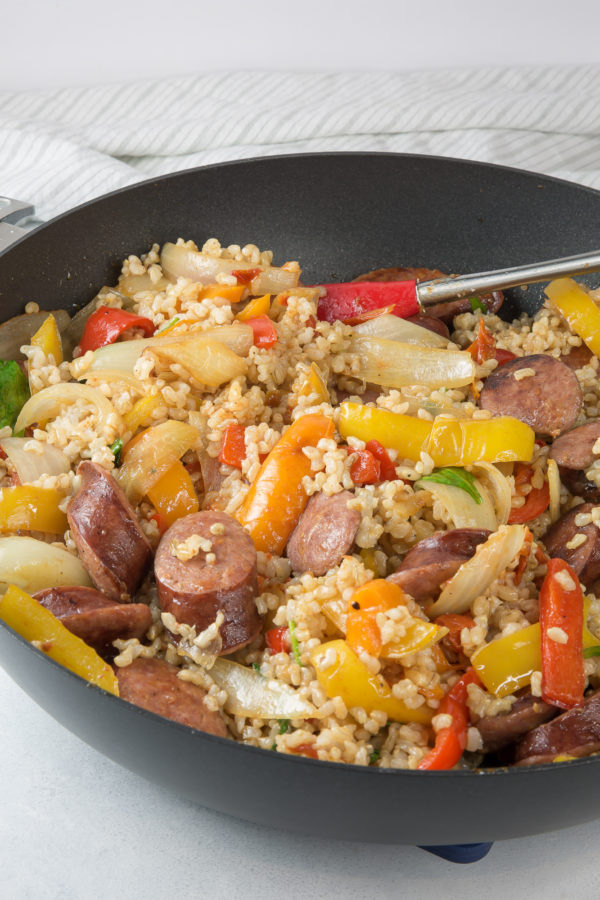 | | |
| --- | --- |
| | |
Cook rice according to instruction on bag

Wash and prep all ingredients

Preheat a sauté pan over medium heat

Add veggies and kielbasa, stirring occasionally

Sauté until all veggies are soft, tomatoes have burst, and kielbasa is cooked through

Add cooked rice and mix thoroughly
Nutrition Facts
Kielbasa and Vegetable Stir-Fry Recipe: Easy and quick, this 30 minute meal is amazing!
Amount Per Serving
Calories 242
Calories from Fat 18
% Daily Value*
Total Fat 2g 3%
Monounsaturated Fat 0.04g
Sodium 49mg 2%
Potassium 194mg 6%
Total Carbohydrates 55g 18%
Protein 6g 12%
* Percent Daily Values are based on a 2000 calorie diet.