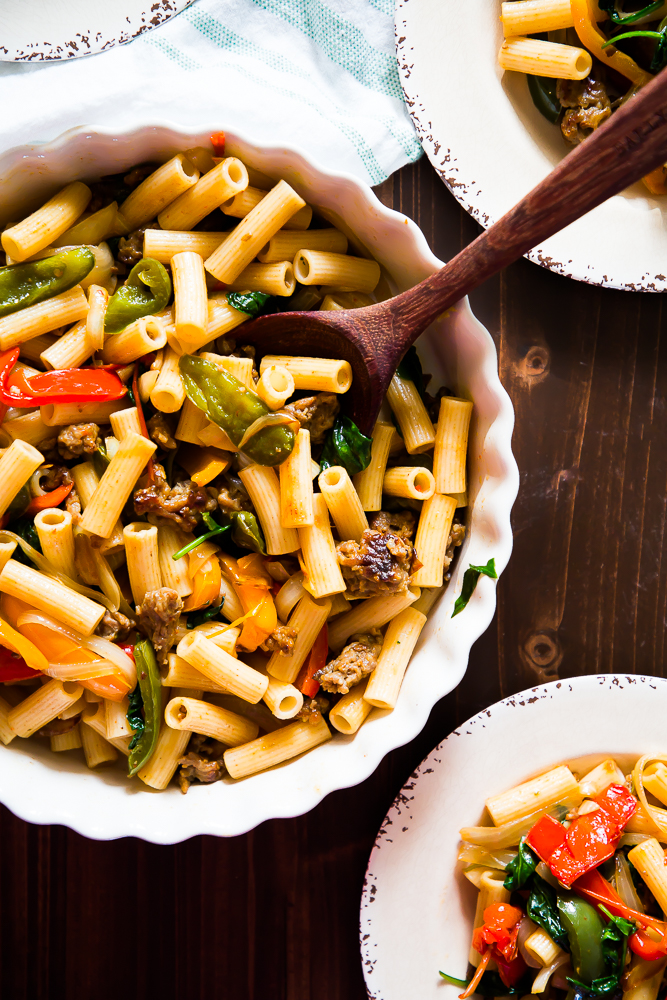 This post may contain affiliate links that help to support my blog.  Using these links comes at no additional cost to you
Fall ushers in so many of my favorite things such as colder weather, pumpkin spice everything, and comfort food.  To me, pasta is the epitome of comfort food, and this rustic rigatoni with sausage and peppers delivers every single time.  A hearty yet healthy(ish) meal that comes together in 30 minutes.
Quick.  Easy.  Delicious.  My sort of dinner perfection!  Not quite a one pot meal, but the recipe does not require a whole lot of clean up either.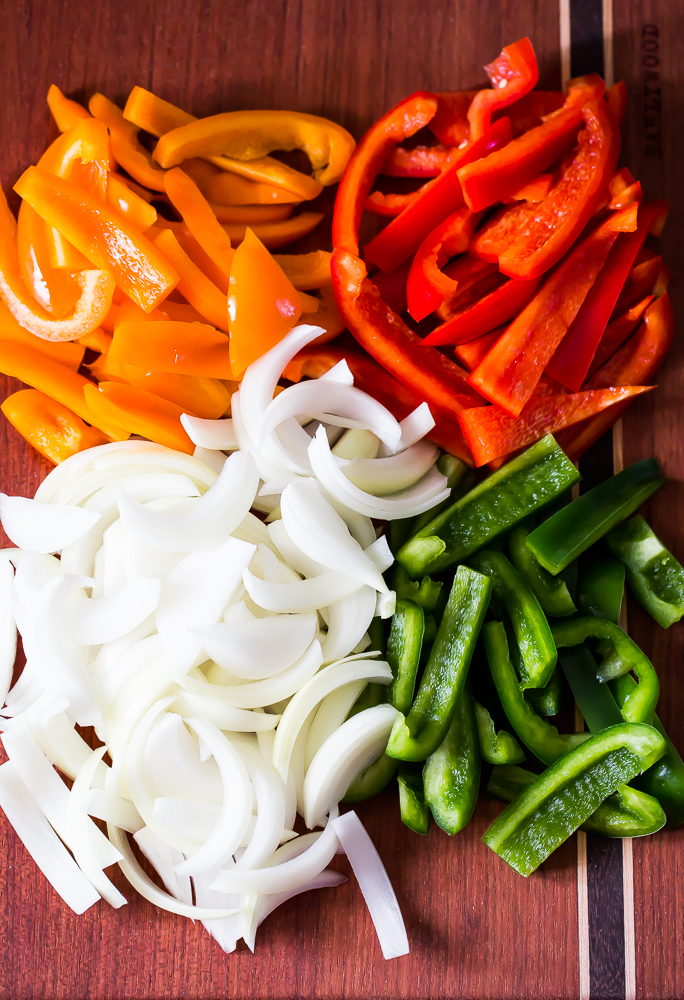 To make the recipe even more enticing, it is super simple on your wallet as well.  To keep my grocery budget under control, I try to include one or two budget-friendly meals every week.  It's crazy the cost of whole organic foods.  But, it's a cost that I am happy to pay to keep my family eating well.  If you are trying to gain control of and rein in your grocery budget check out some of my tips and tricks here.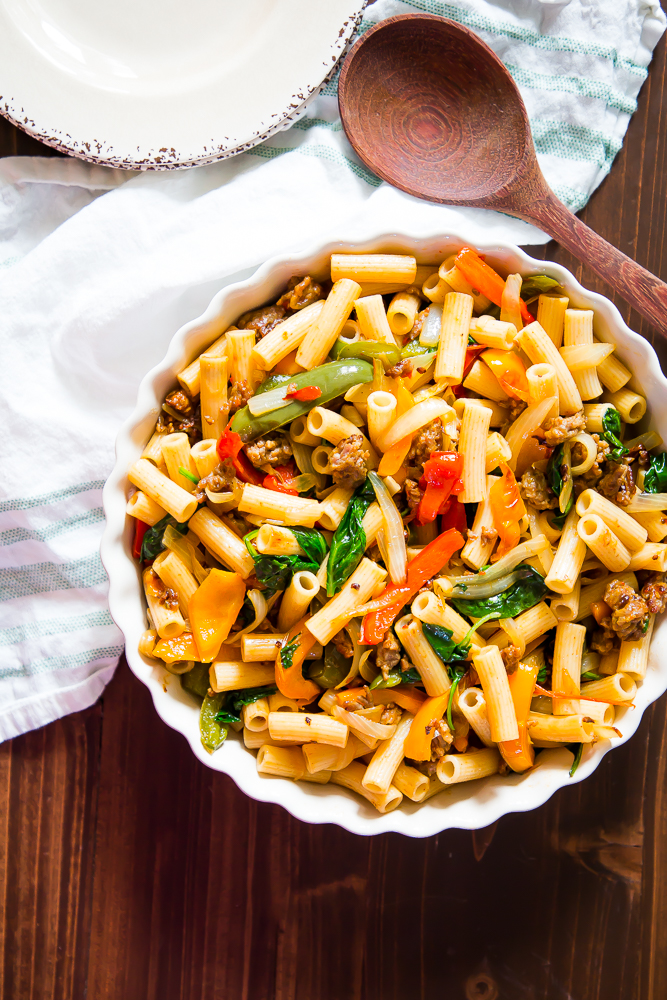 One of my not-so-favorite things about Fall is hurricane season.  We are currently prepping for Florence, and she's looking formidable.  Hopefully, she isn't as destructive as everyone is predicting.  If you are in her path, stay safe!  And keep an eye out for the other storms further out.  Fingers crossed none of them make landfall, and they keep their selves out at sea where no one can get hurt.
This rustic rigatoni with sausage and peppers reminds me of another Fall event, the North Carolina State Fair!  And who doesn't love all the food?  Being gluten free puts quite a damper on all the fair foods.  Fried Oreos I can pass on any day (yuck), but my soul hurts a little when I can't have the Italian sausage.  Since this rigatoni combines all the same flavors without the gluten, it is perfect for satisfying the cravings.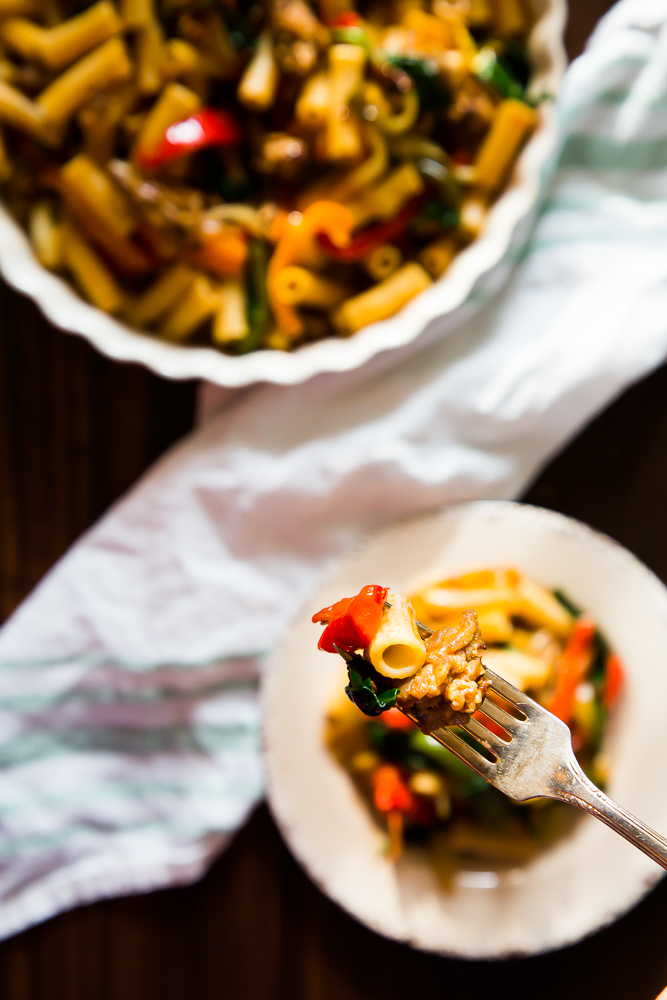 And, if I'm totally honest, I loathe crowds.  I'd prefer to enjoy these flavors in the comfort of my own home served with my amazing rustic serveware to complete the mood.  Preferably also in my yoga pants while sitting down.  Walking around while trying to eat isn't something on my to-do list.  I'm not that coordinated.
So, are you ready to give this rustic rigatoni with sausage and peppers a try?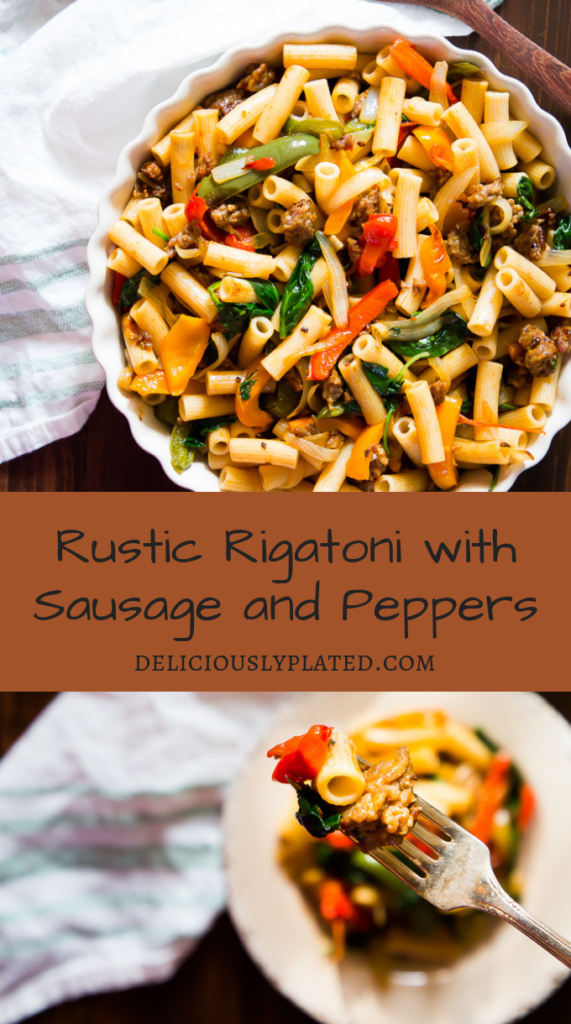 If you love this rigatoni with sausage and peppers recipe please SHARE!  Also, check out these other easy weeknight meals: Kielbasa Stir-Fry, Veggie Penne Pasta, and Baked Lemon Rosemary Chicken.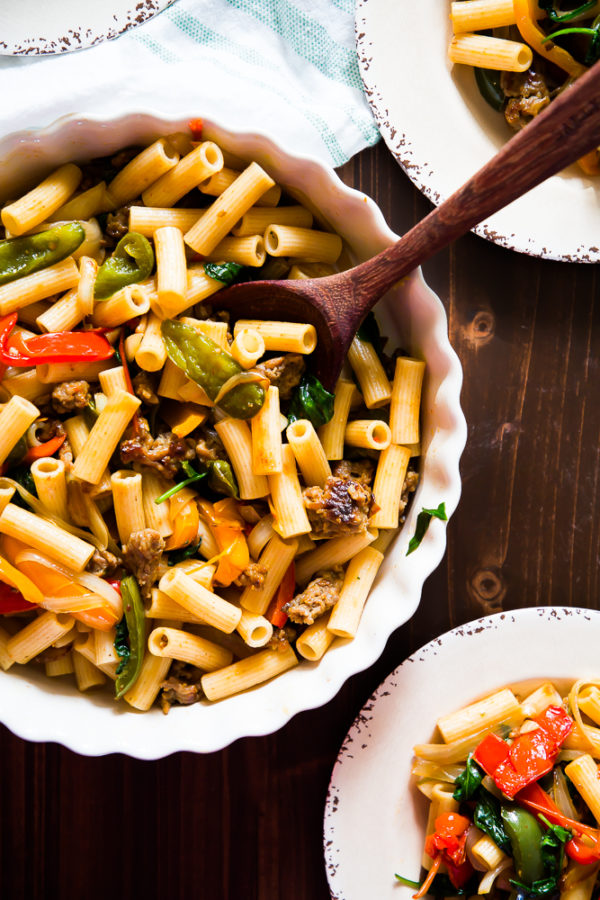 | | |
| --- | --- |
| | |
Boil water for pasta and prepare according to package

In a large chef pan, cook sausage. Be sure to break into smaller bite sized pieces while cooking

Add the onions and pepper and saute until tender

Pasta should be ready now. Drain and set aside

Add the greens to the top of the sausage mixture

Pour the rigationi into the pan and allow the greens to wilt before mixing

Once mixed, serve immediately and enjoy