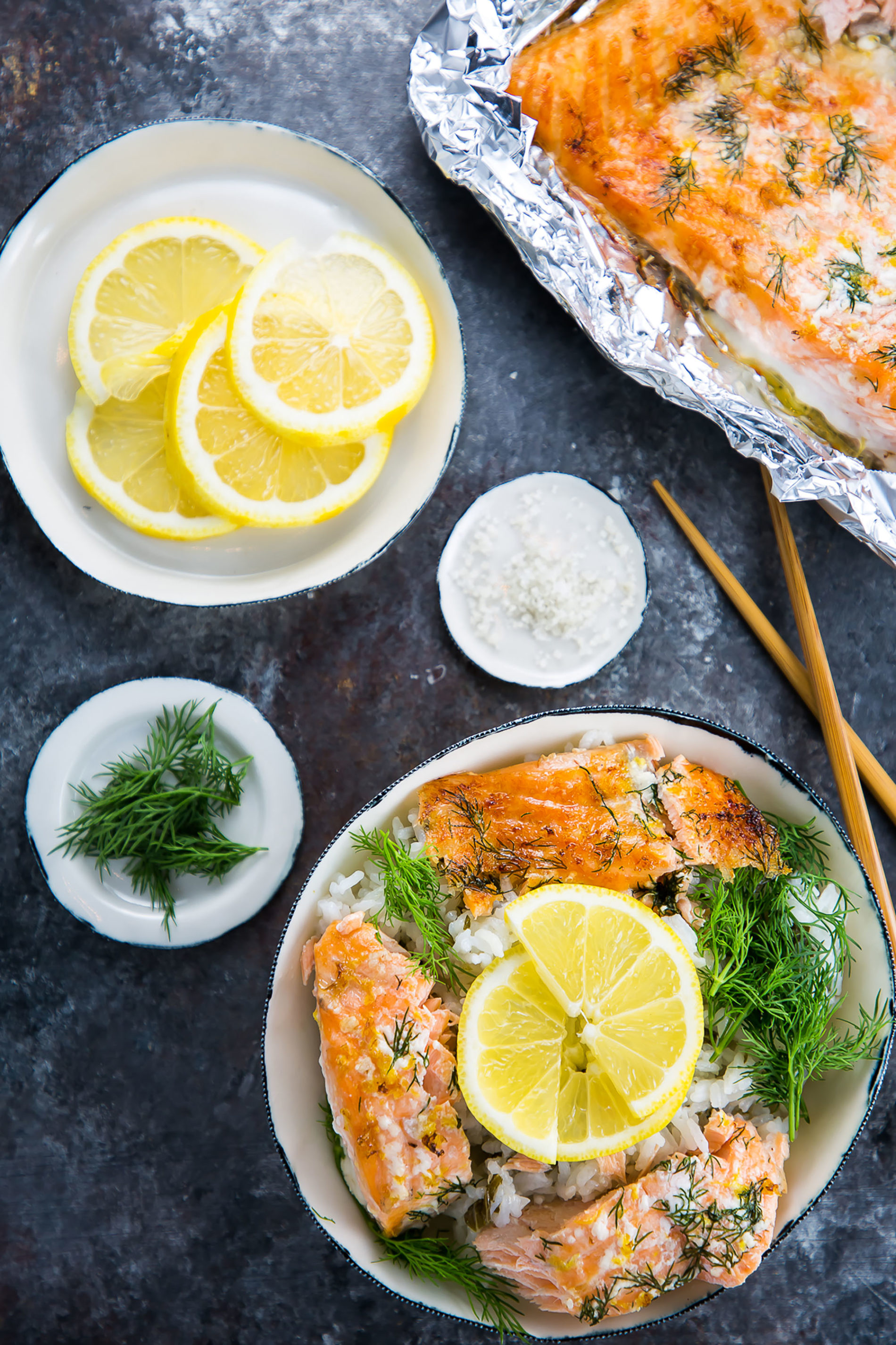 This post was sponsored by Alaska Seafood as part of an Influencer Activation for Influence Central, and all opinions expressed in my post are my own.
Alaska Seafood
I am thrilled to team up with Alaska Seafood to bring you this baked Alaska king salmon with lemon and dill rice bowl recipe.  Why Alaska Seafood though you might ask?  Well,  because all salmon is not created equal.  Alaska Seafood utilizes sustainable practices and is an environmentally responsible company.  Not only do they employ a nose-to-tail concept of harvesting (using 100% of the fish) they also set annual harvest limits based on studies of the local biomass.  These restrictions ensure the sustainability of the Alaska fish populations for generations to come.  It is our responsibility to do the very best we can to take care of our environment and be sure that our agriculture and fisheries are as sustainable as possible.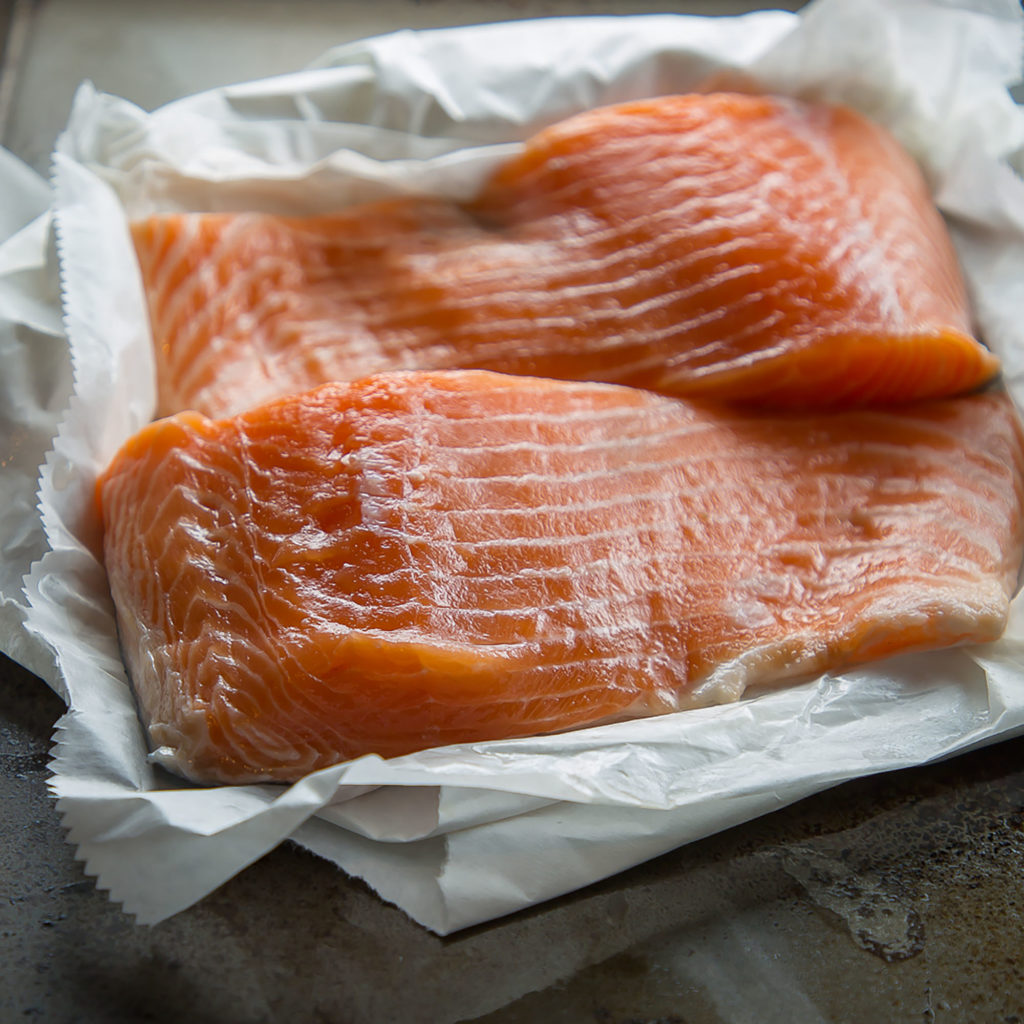 I was fortunate enough to find fresh Alaska king salmon at my local fish market.  I did scope out the freezer aisle of my local supermarket as well and found frozen Alaska Seafood too.  Fresh or frozen, Alaska seafood is the best option for your health.  Avoid farm raised, mass-produced fish.  Always reach for wild caught as these fish will be more nutrient dense because of their natural environment, activity levels,  and healthier diet.  Click here to learn more about Alaska Seafood and their sustainability practices.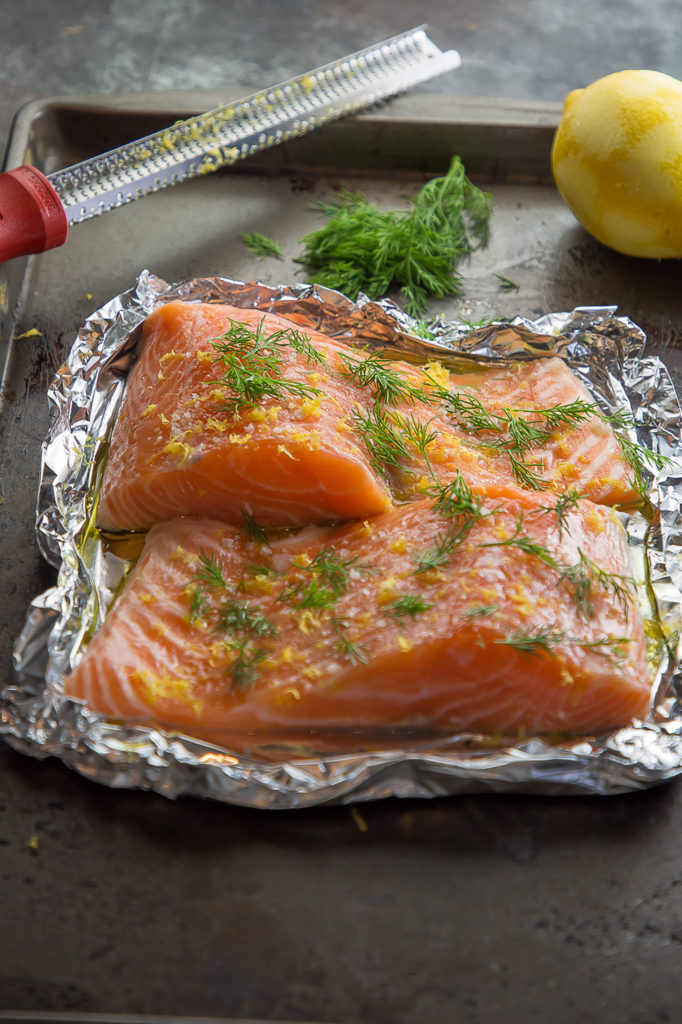 A mealtime family favorite
My family adores salmon.  I serve some variation of the fish every week.  In fact, it is recommended that you consume fish high in fatty acids 2-3 times a week.  The fatty acids and omega's in salmon make it an excellent choice.  Filling your belly and reaping tons of brain healthy fatty acids?  Count me in!  My three-year-old LOVES salmon, and this is his absolute favorite way that I make it.
So how do I make this baked salmon with lemon and dill rice bowl?
First, obtain your Alaska salmon.  If frozen, you will need to thaw in your refrigerator overnight.  Preheat your oven to 375 degrees.  While your oven is preheating, we need to start the rice.  Combine 1 cup of rice, 1/2 cup chopped kale, and 1 3/4 cups of water in the Instant Pot.  Cook on rice function.  If you do not have any instant pot, cook according to the direction on the package.  Timing should work out either way.  The Instant Pot just requires less babysitting and effort so you can watch your fish more closely.
To prepare your salmon, you will need to wash and zest one lemon.   Wash and roughly chop your dill and gather the other ingredients, so they are readily available (olive oil and coarse grey sea salt).  Grab a baking pan and lay out a large piece of foil.  Add a drizzle of olive oil on foil to avoid sticking and lay your Alaska king salmon on the foil.  Bunch the sides up creating a wall around salmon.   Now, drizzle olive oil on salmon, sprinkle 1 tbsp of coarse salt, sprinkle the lemon zest, and add the fresh dill to the salmon.  Now that you have prepped your salmon it is ready to bake.  To keep the fish from drying out, be sure to add a water bath (casserole dish or pyrex full of water) on the rack below the fish.  Bake for 18-20 minutes.  Now, turn the broiler on low for 2-3 minutes to give you that golden brown "crust."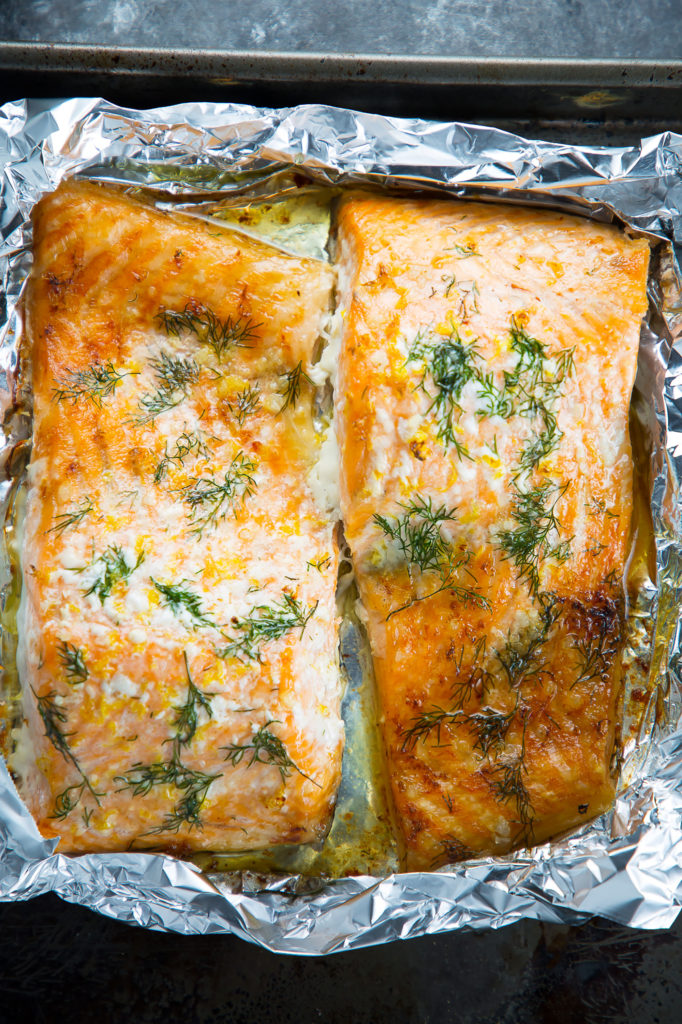 Your rice should be ready.  Fluff the rice with a fork and add the juice of 1/2 a lemon.  Fluff more and spoon into a bowl.  Top with large chunks of the baked salmon with lemon and dill.  Add lemon wedges or slices and extra dill to the dish.  If you desire, season with salt and pepper.  Your rice bowl is now complete.  Dig in, and I hope you enjoy this baked salmon with lemon and dill as much as my family does!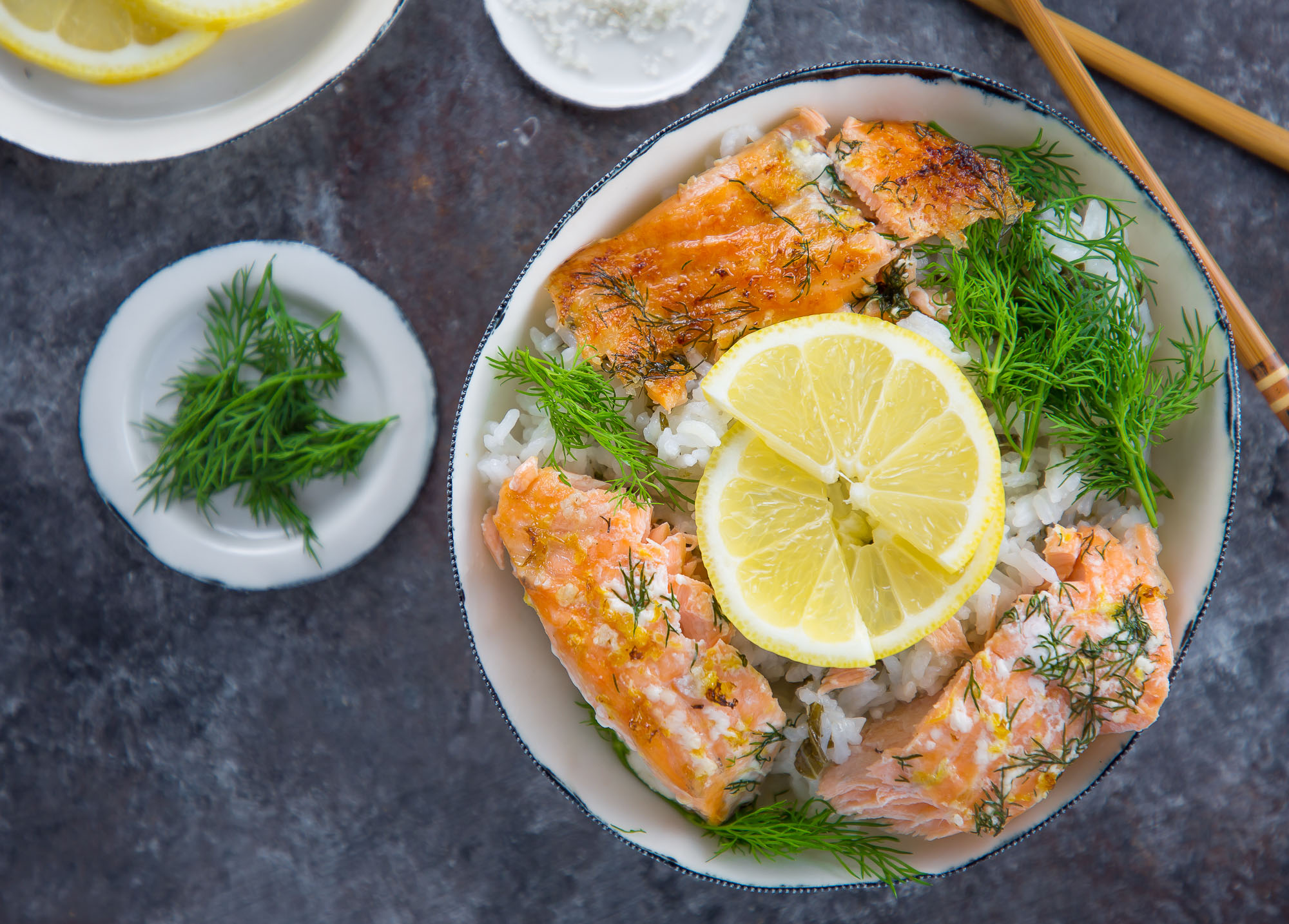 If you enjoyed this baked salmon with lemon and dill rice bowl you may also enjoy: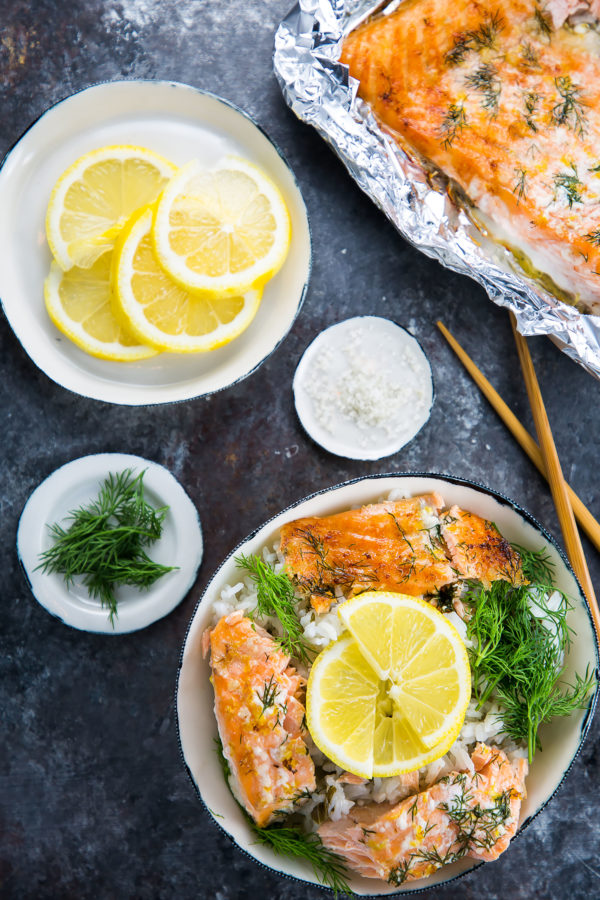 Baked Salmon with Lemon and Dill
Rice Bowl with Kale and Lemon
Baked Salmon with Lemon and Dill

Rice Bowl with Kale and Lemon
Preheat oven to 375 degrees

Add rice, water, and sea salt to instant pot

Seal and turn on rice function*

Line baking sheet with foil

Add a drizzle of olive oil to foil

Place salmon on oiled foil

Drizzle olive oil over salmon fillets

Sprinkle salt, dill, and lemon zest on salmon

Bake for 18-20 minutes depending on thickeness of fillet

Cook under broiler for 2-3 minutes to get a golden brown "crust"

The FDA recommends fish be cooked to 145 degrees

The rice should be ready now

Add lemon juice to rice and fluff with fork

Add rice to serving bowl and top with salmon pieces, lemon slices, and dill
*If you don't have an instant pot, cook rice according to directions on package
**The salmon is delicious served alone as a protein if you are trying to avoid or limit starches/carbs