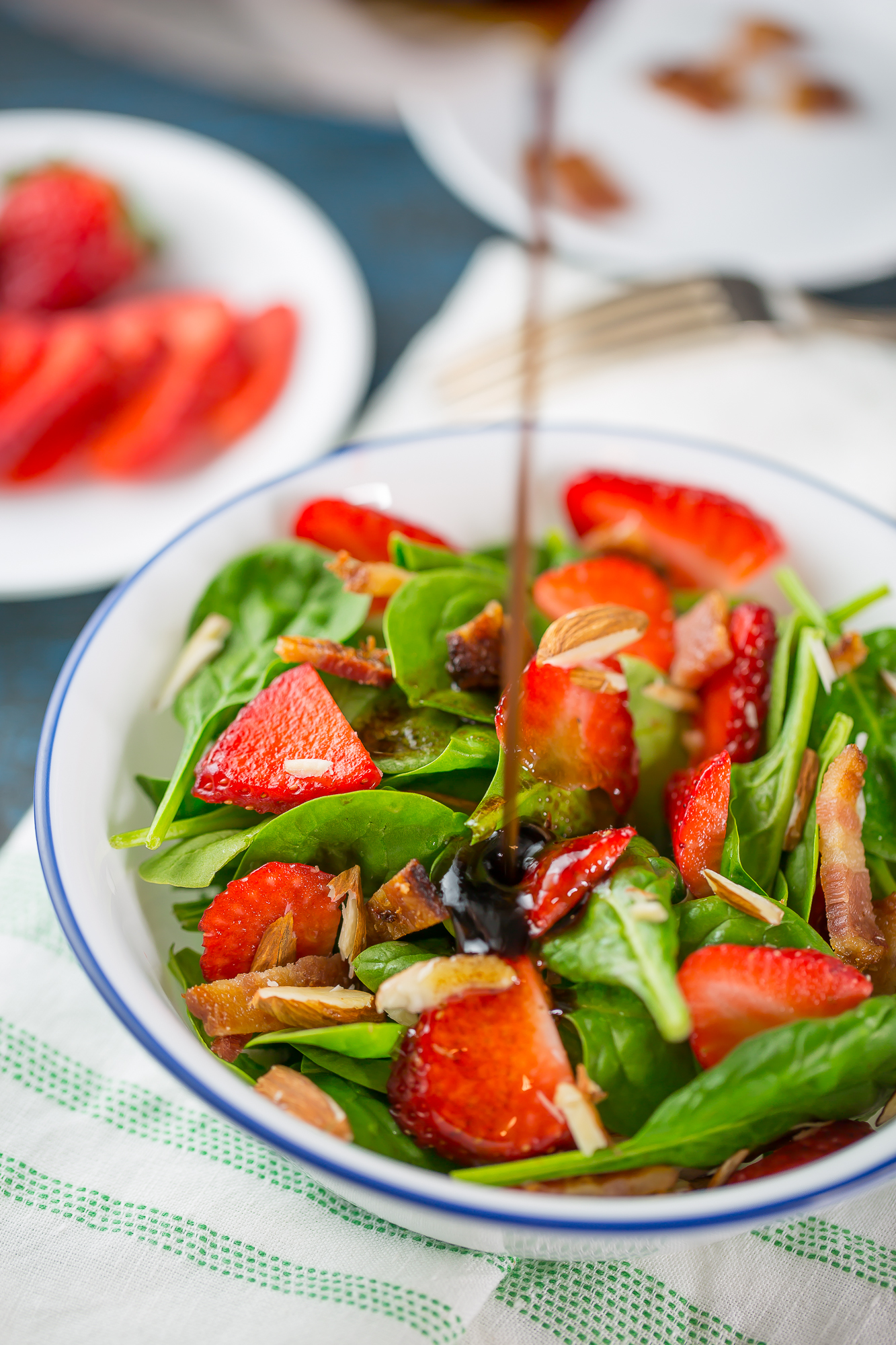 This post may contain affiliate links that help support my blog.  This comes at no additional expense to you.
For the longest time, my brain would not accept that a salad was anything more than a side.  It is sad really, salads are such great options and can be dressed up to wow or dressed down for a simple meal.
And adding a marinated lean protein or a homemade vinaigrette can transform a salad from simple to delectable!
Spinach is a great salad foundation because it is so nutritious.  Spinach is low in saturated fat (bad fat) and low in cholesterol.  It is also a fantastic source of Niacin, Zinc, Protein, Fiber, Vitamin A, Vitamin C, Vitamin E, Vitamin K, Thiamine, Riboflavin, B6, Folate, Calcium, Iron, Magnesium, Phosphorous, Potassium, Copper, and Manganese.  Whew!  What an abundance of nutrition in this one little leaf!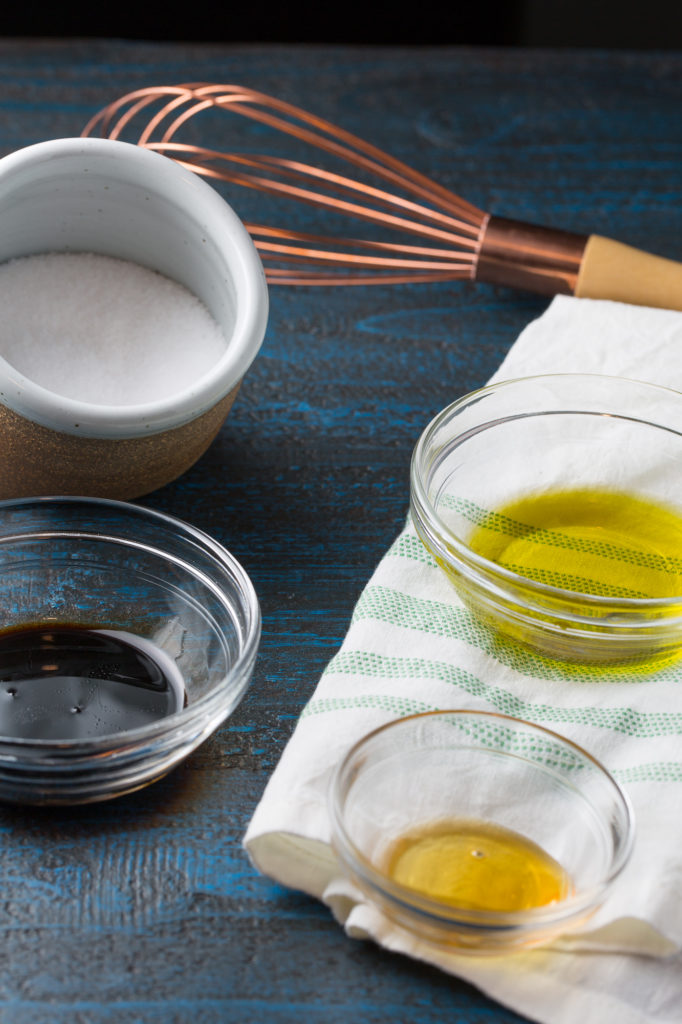 This salad is so delicious and filling it has become a regular in my household.  Absolutely perfect for those "I do NOT want to cook" nights.
We all have those nights, right?!
My spinach addiction started when I was in my third trimester; you know when every night is an "I'm not cooking night"!
My poor husband, lol.
I was so sick and anemic that everything I could eat had to be as nutritious as possible.
This spinach salad became a key player.  I was unable to take iron supplements so it was either get my numbers up with my diet or I was a week away from the doctors requiring a blood transfusion.  Since the transfusion didn't sound very appealing, I consumed a lot of spinach and took spirulina supplements.  Fortunately, my iron count went up and no transfusion needed!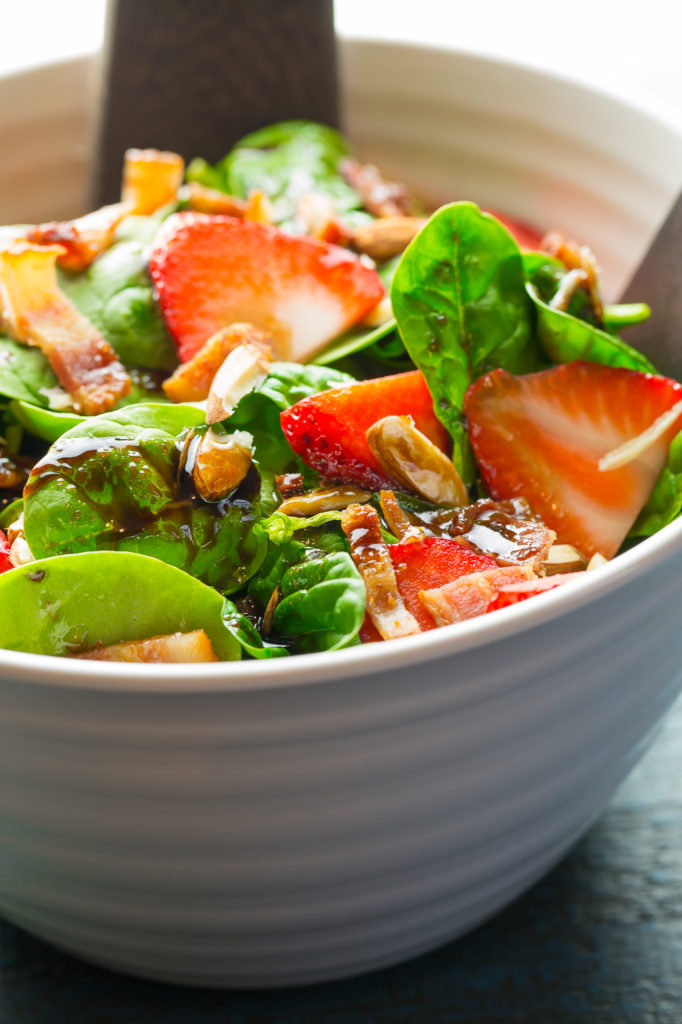 What you eat makes such a difference in how you feel and perform!
My son is now almost three, and we still consume this salad a few times a month.  I LOVE to marinate a chicken breast in the homemade vinaigrette and serve on top of the mixture.   I have even added mandarin orange slices, blueberries, and hemp seeds to really up the nutrition when I'm feeling blah.
This version includes spinach, bacon, strawberries, almond slivers, and fresh strawberry vinegarette.
YUM.
How to Make This Simple Spinach Salad
I like to make this spinach and strawberry salad with leftover bacon from breakfast.  Sometimes, if I need to, I'll make fresh bacon.  If you need to do that, go ahead and do that first.  While the bacon is cooking, prep your produce.
Be sure to wash your produce thoroughly.  All kind of nasty residues can be on spinach and strawberries.  Really, you should always clean all of your produce well.  We don't want to eat pesticides or preservatives.
Slice your washed berries and set aside.
Time for the almonds.  I like almond slivers in the salad the best.  They provide a little crunch and are the perfect pairing.  You can slice whole raw almonds or buy slivered almonds at the store.  Either is fine.  Use what you have on hand.
To assemble, add the spinach to a bowl, top with sliced strawberries, crumbled bacon, and slivered almonds.
Now, make your dressing.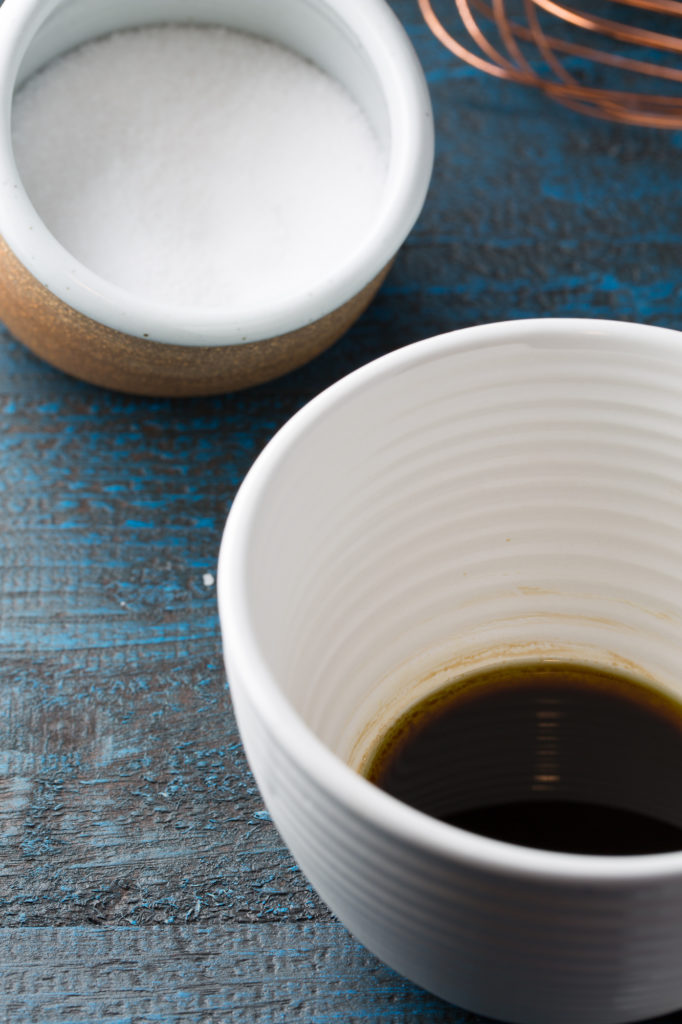 In a bowl, whisk all the ingredients together until the emulsion forms and holds.  You will no longer see bits of oil separated when it's done.
Dress your salads and serve!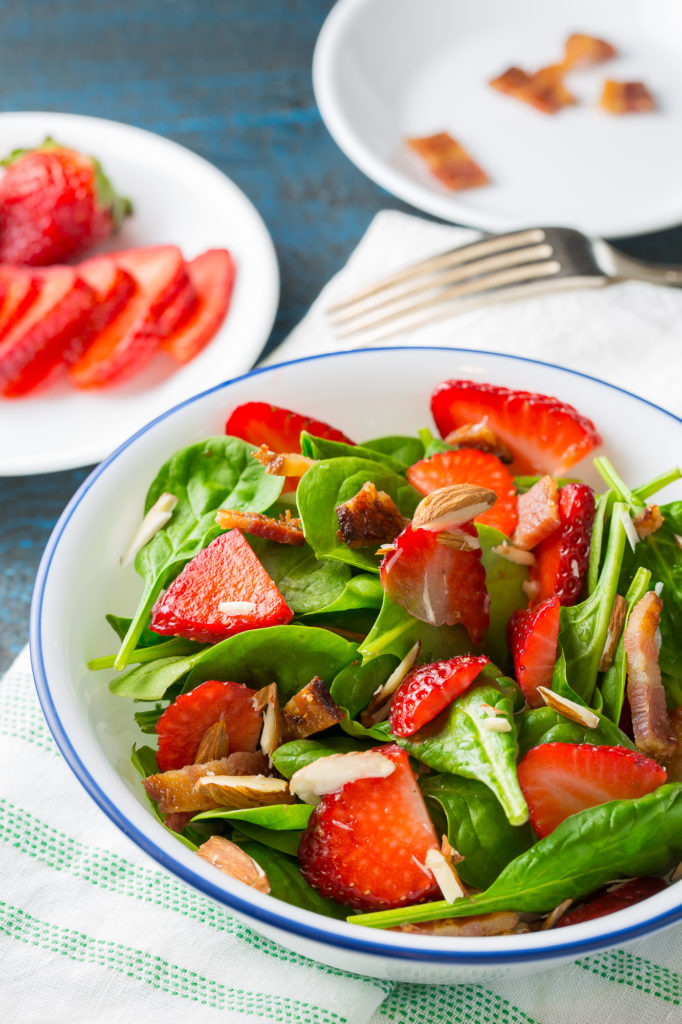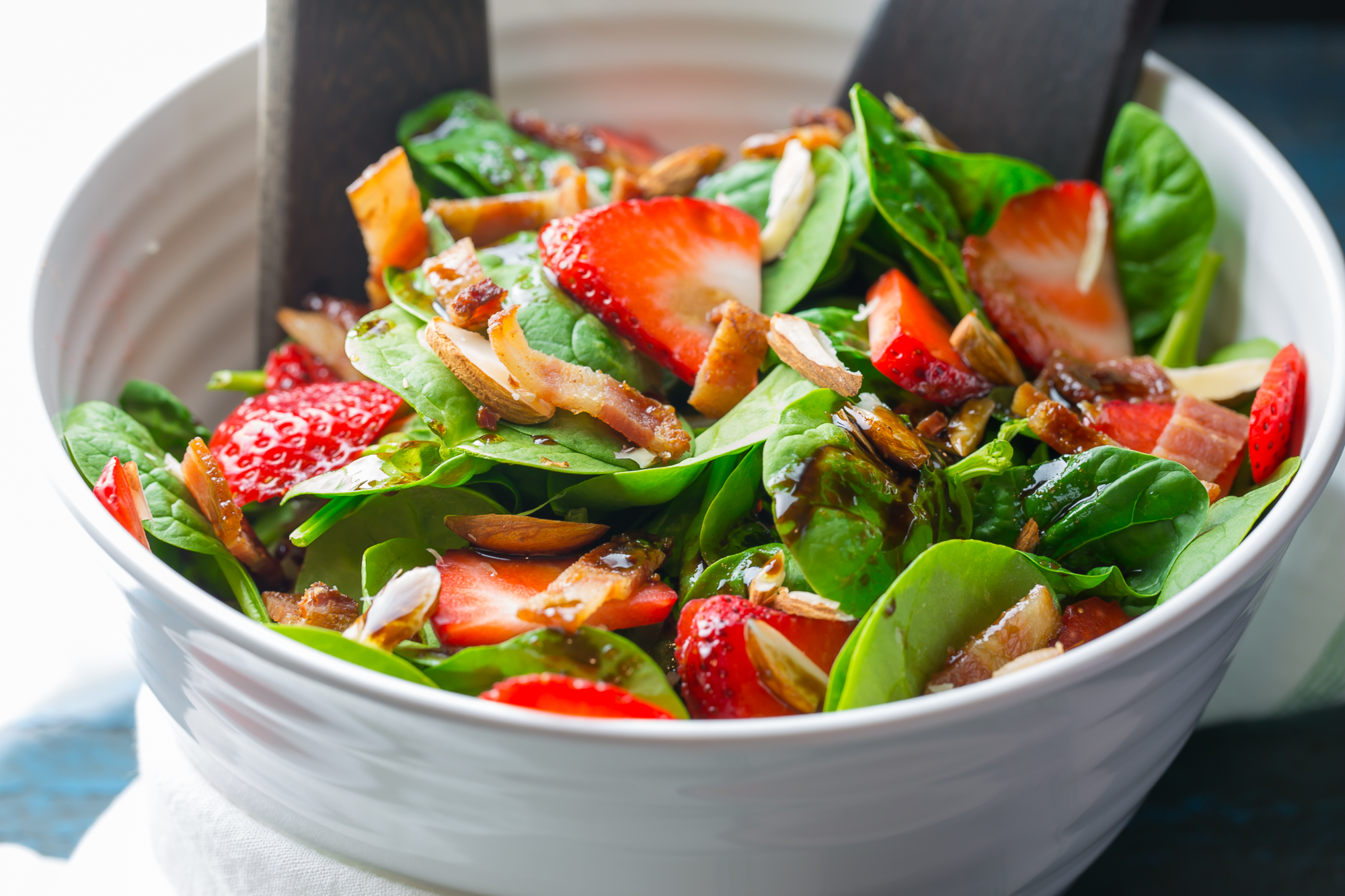 How do you like to prepare your spinach?
Be sure to check out these other healthy and easy meals: Baked Salmon, Ramen bowl,  and Stir-fry Kielbasa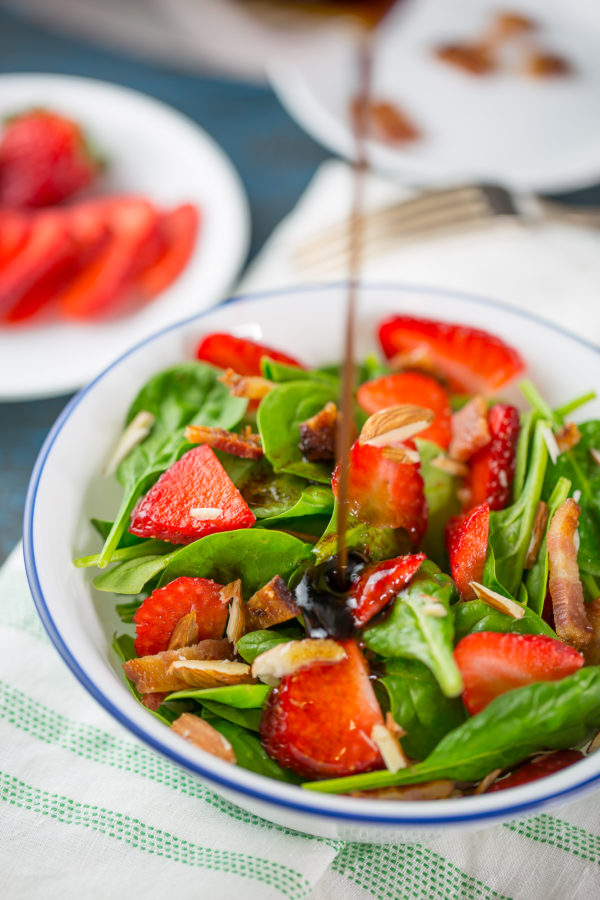 | | |
| --- | --- |
| | |
Wash spinach and strawberries. Place spinach in bowls.

Add strawberries and almonds

Crumble 2 pieces of bacon over each salad

In a small bowl whisk olive oil, salt, honey, and balsamic vinegar until emulsified