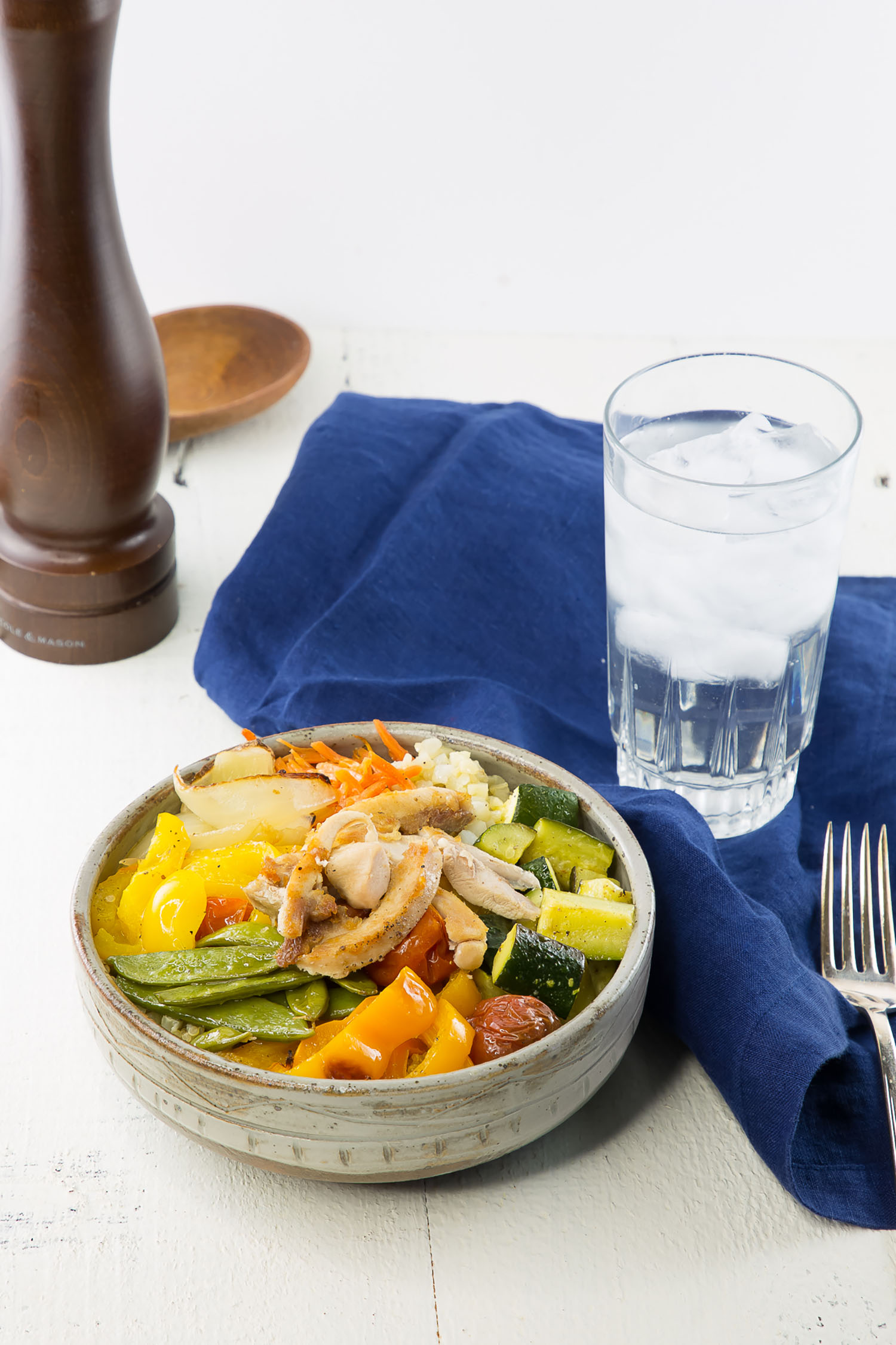 Before diving into this sheet pan roasted chicken and veggies check out my slow cooker beef and broccoli, quick breakfast smoothie, and chocolate pudding!
You've been running around all day and come home to everyone asking you "What's for dinner Mom"?  Sometimes I dread that question.
My response typically resembles something like: "Hey, I don't know.  Can I sit down for a moment"?
Not that my boys are sympathetic to my plight, lol.  The time to muster up your remaining energy and muscle through dinner has arrived.
For this reason  I ADORE sheet pan meals. They are so simple and take so little time and effort.  Did I mention that cleanup is a breeze as well?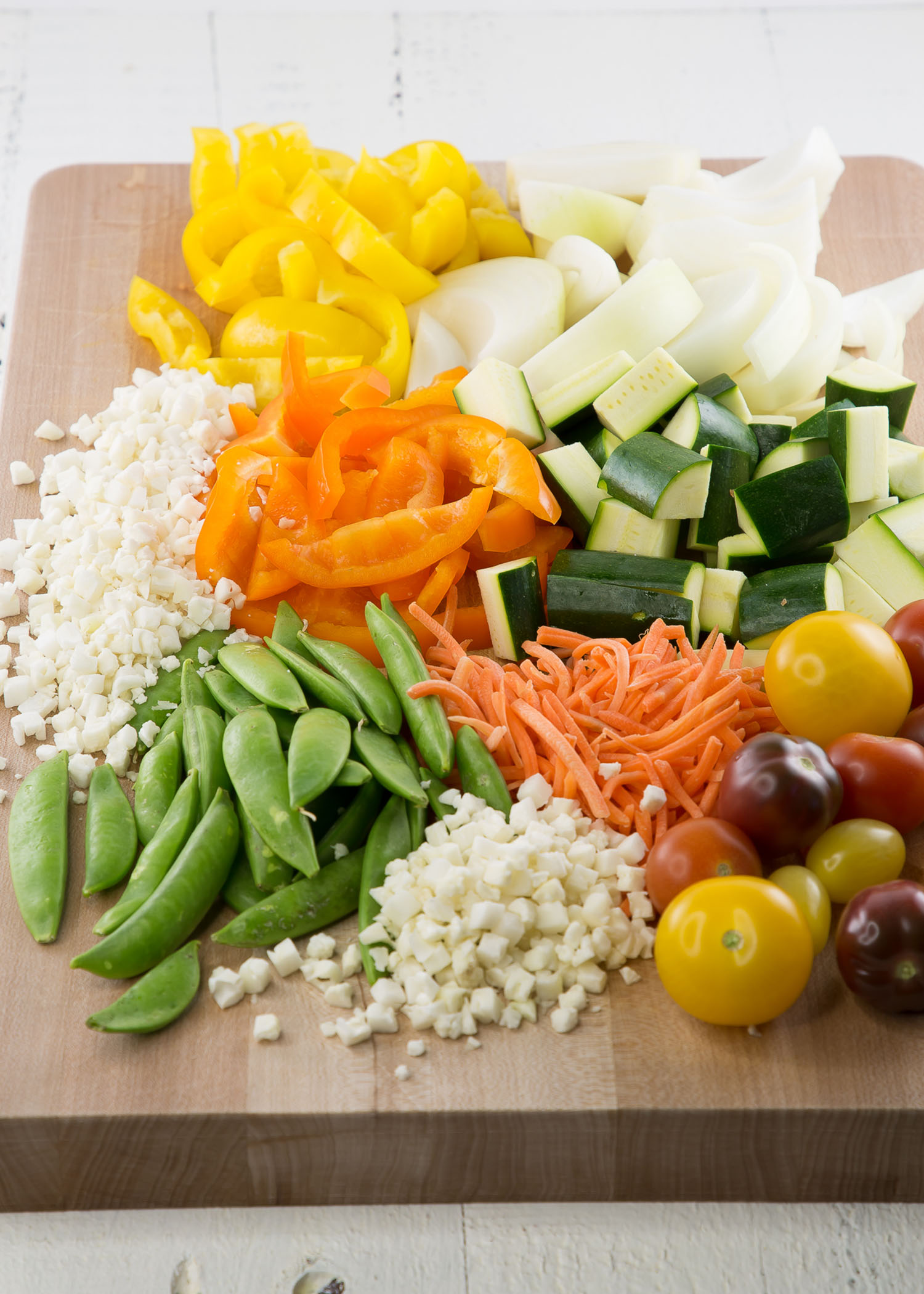 Are you sold on the idea yet?  The great thing is that meals like this can be made with whatever protein and veggies you have on hand.  And, now, thanks to pre-packaged fresh vegetables, you might not even have to the slicing and dicing yourself.
My local grocer has a whole section of "Pick-n-Prep" items diced, sliced, and ready to go.  How great is that?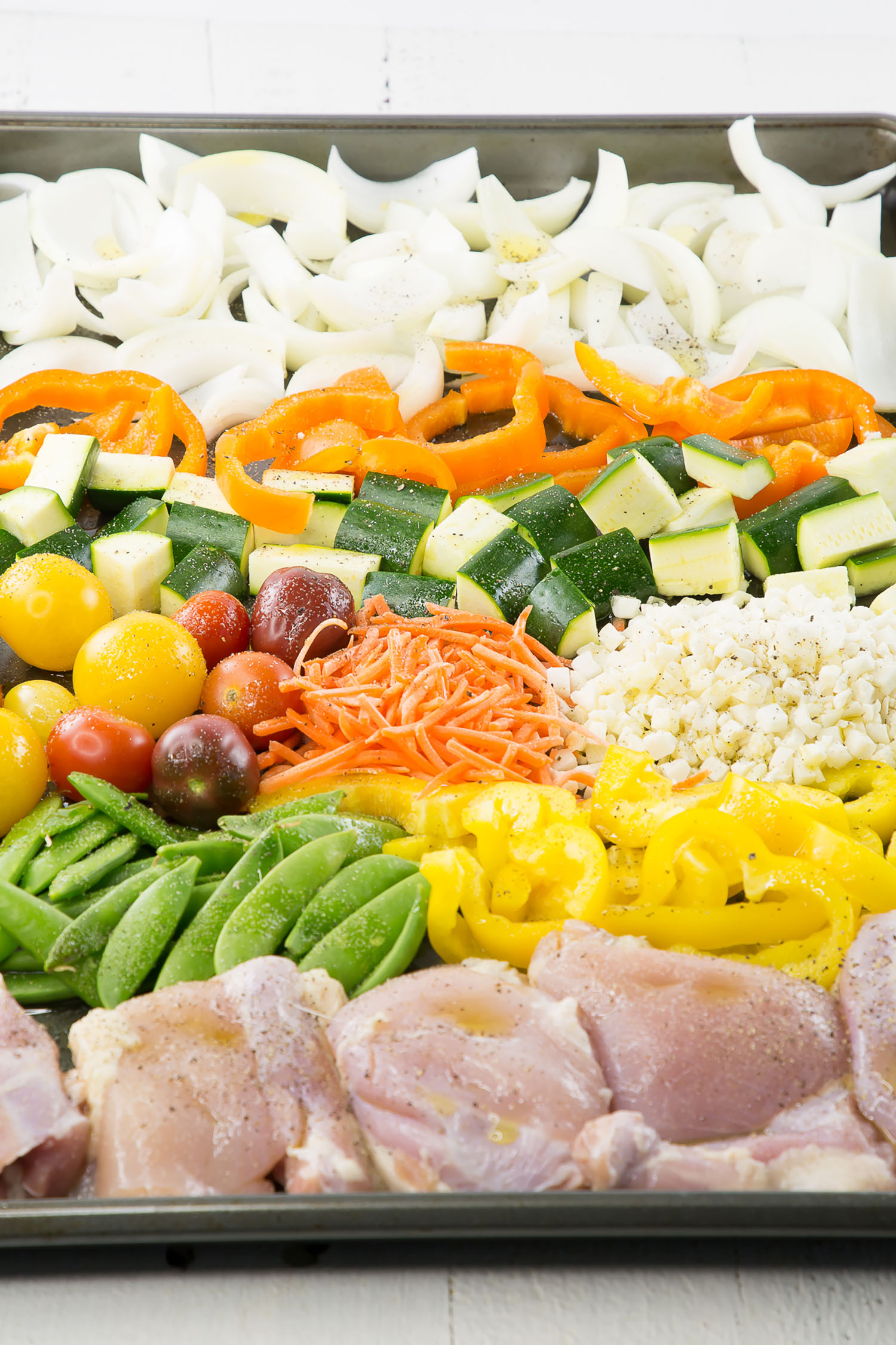 Even the big box stores have prepared raw veggies as well.  Sometimes, this is a more expensive route to take.  Doing the prep work yourself is always the least costly way, but some nights these pre-prepped veggies are the only reason we don't order in or go out to eat.
Ready to make a roasted chicken and veggies sheet pan meal?
The simplicity is astonishing.  I do recommend that if you are feeding a family that you invest in a  large sheet pan.   Or, if you have two regular sized sheet pans you can use those as well.  I like having one large one just because it's easier for me.  And, it's one less dish.  For as much as I love cooking (and eating) I loathe doing dishes.
I was sure by now the Jetson's (80's cartoon) Rosie robot would be real.  I'm pretty disappointed about this truthfully.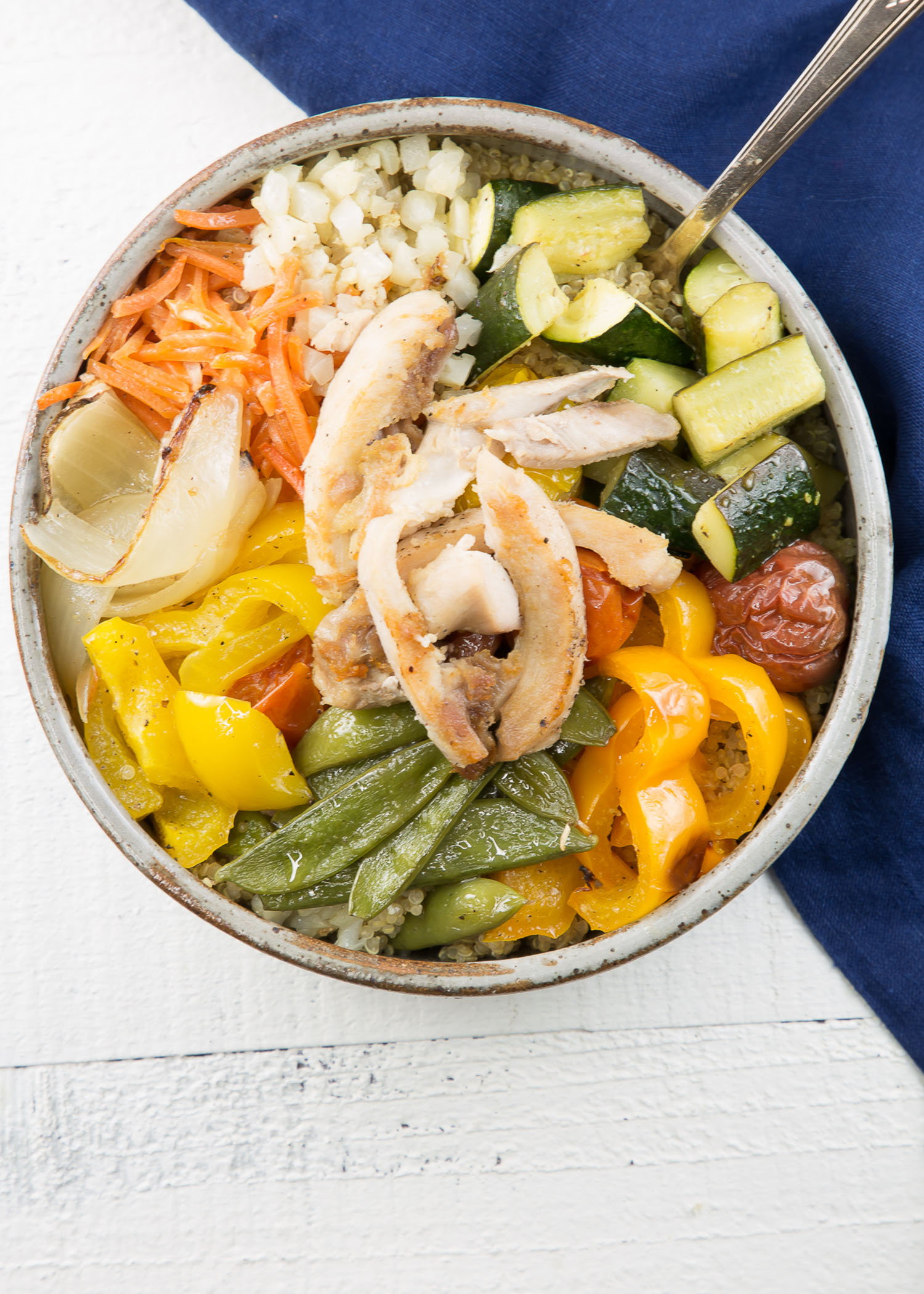 Back to the sheet pan meals.
All you need to do is pick your protein (chicken, beef, pork, etc.), whichever veggies you want/ have on hand, and arrange them on the baking sheet.
I usually keep this part simple and use good olive oil, salt, and pepper to season.  By keeping the seasoning simple, you are allowing the natural flavors to develop and pop.  Roasted veggies have such an abundance of natural flavors I find you just don't need anything else.  Your meal will still be amazingly flavorful and delicious.  I love to serve these veggies and chicken over quinoa.  Yum!
So, tweak and customize this meal to make it your own.  Be sure to leave your favorite protein/veggie/seasoning combinations in the comments so we can all share in the deliciously simple meals!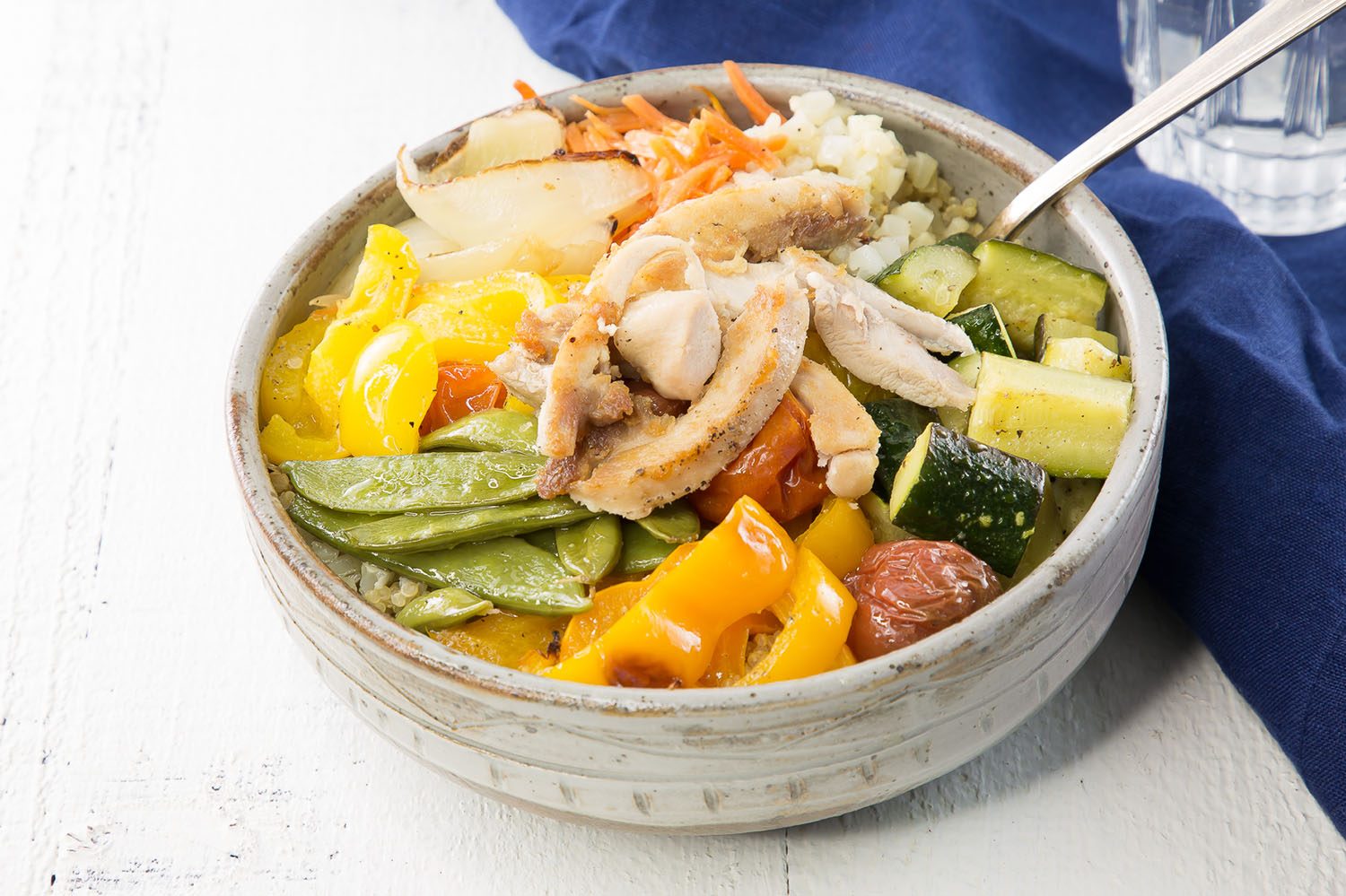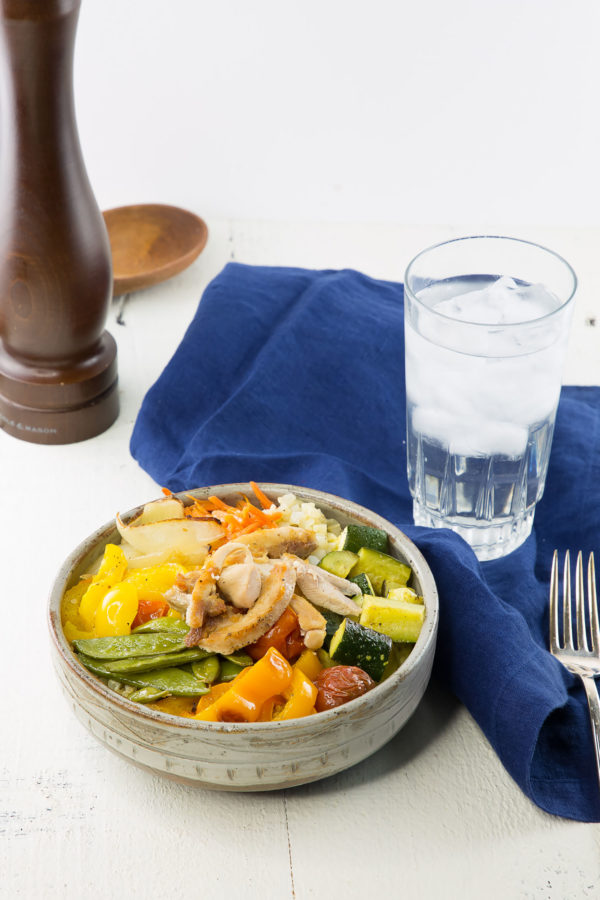 | | |
| --- | --- |
| | |
Preheat oven to 450 degrees

Arrange all veggies on a large sheet pan

Drizzle the olive oil over veggies and chicken to lightly coat each

Season chicken and veggies with salt and pepper

Bake for about 25 minutes

Remove from oven and allow to cool about 5 minutes

Shred chicken (or not) and serve over the base of your choice
I say 4-6 people because kiddos don't eat quite as much as their teenage and adult counterparts.