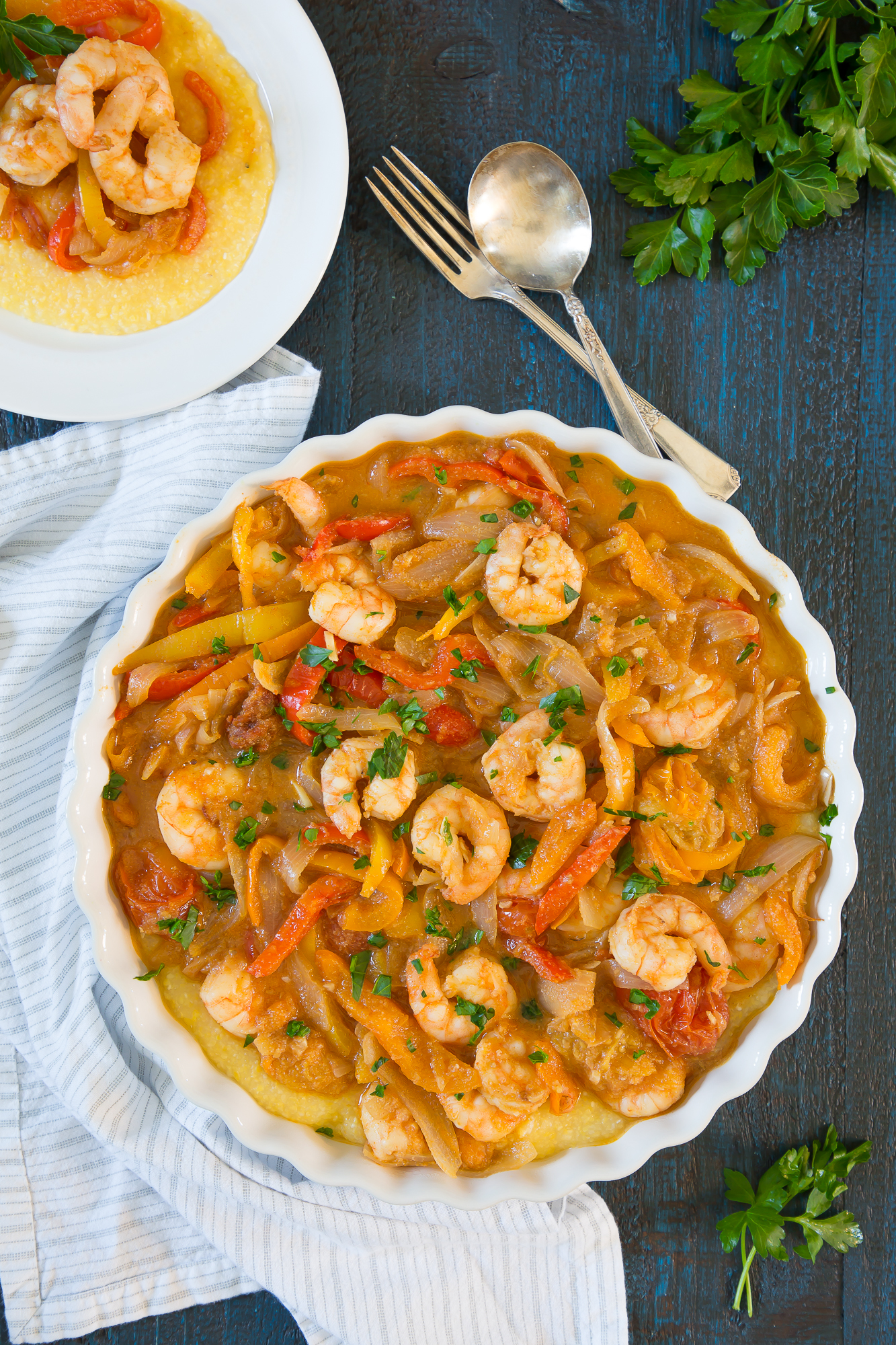 Being from the gulf coast, I grew up on all things Cajun.  Lots of spice and seafood.  As an adult, seafood is still my ultimate comfort food.  Not unlike Bubba on Forrest Gump, I love all things shrimp too.  From sandwiches to this fantastic shrimp and peppers on creamy polenta.  YUM!
The polenta isn't from my southern roots; it is actually from my second food genre love, Italian food.  Typically, shrimp is served with grits in the south.  But, as much as I adore a spicy, cheesy shrimp and grits, I love this simpler and much quicker version for a weeknight meal.  I also hold the cheese in this polenta version to lighten things up a bit.
You may wonder, what is the actual difference between grits and polenta.  Well, a lot, and not that much all at the same time.  Both are ground up corn.  So, they are cornmeal at their most basic level.  The difference is the type of corn and how it's milled.  Polenta tends to be a bit coarser and holds its shape much better.  Grits are ground finer and can be mushy if overcooked.  Both are delicious and perfect in their own way.  I use both depending on which dish I'm preparing.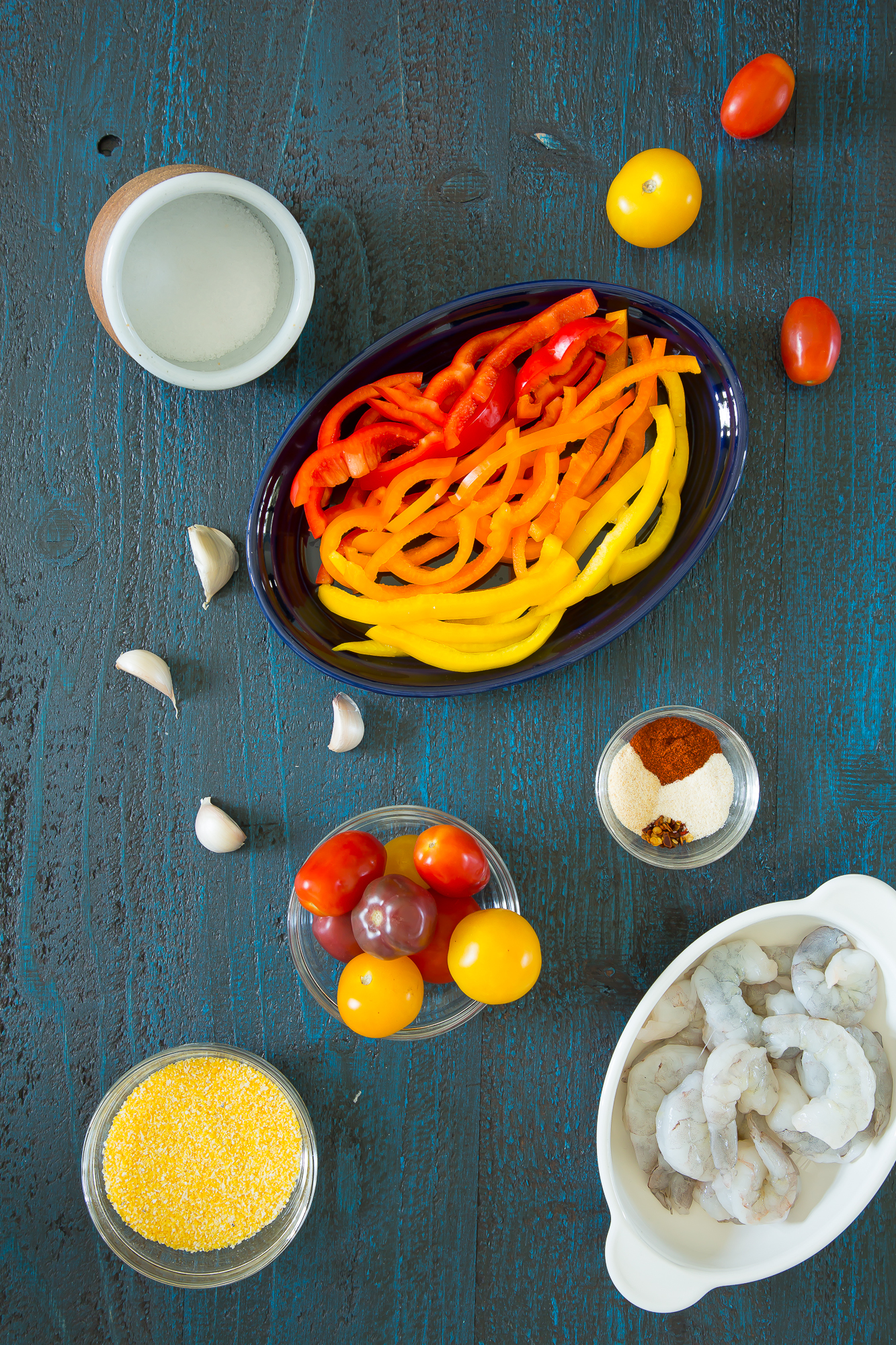 With all the peppers, tomatoes, and onions, garlic, and spices, this dish is super flavorful.  A definite break from the ordinary and the perfect weeknight meal for the busy family!
Ready to get cooking this delectable shrimp and peppers on creamy polenta?
I prepare the polenta according to the directions for cereal.  This uses a bit more water than the Italian polenta directions.  We are going for a creamy and thinner polenta than the Italian versions.  Be sure to add the polenta slowly to the boiling water and stir.  This will help to avoid lumps.  No one wants lumpy polenta.  Yuck!
While the water is boiling and polenta is cooking wash and prep all your produce. I like to purchase my shrimp from the local fresh seafood market.  Here, I can have them cleaned (shelled and deveined), which cuts my prep time down considerably.  If you buy shell- on and shrimp your prep time will be longer than 10 minutes.  To keep it easy and quick, I recommend buying the shrimp already prepped.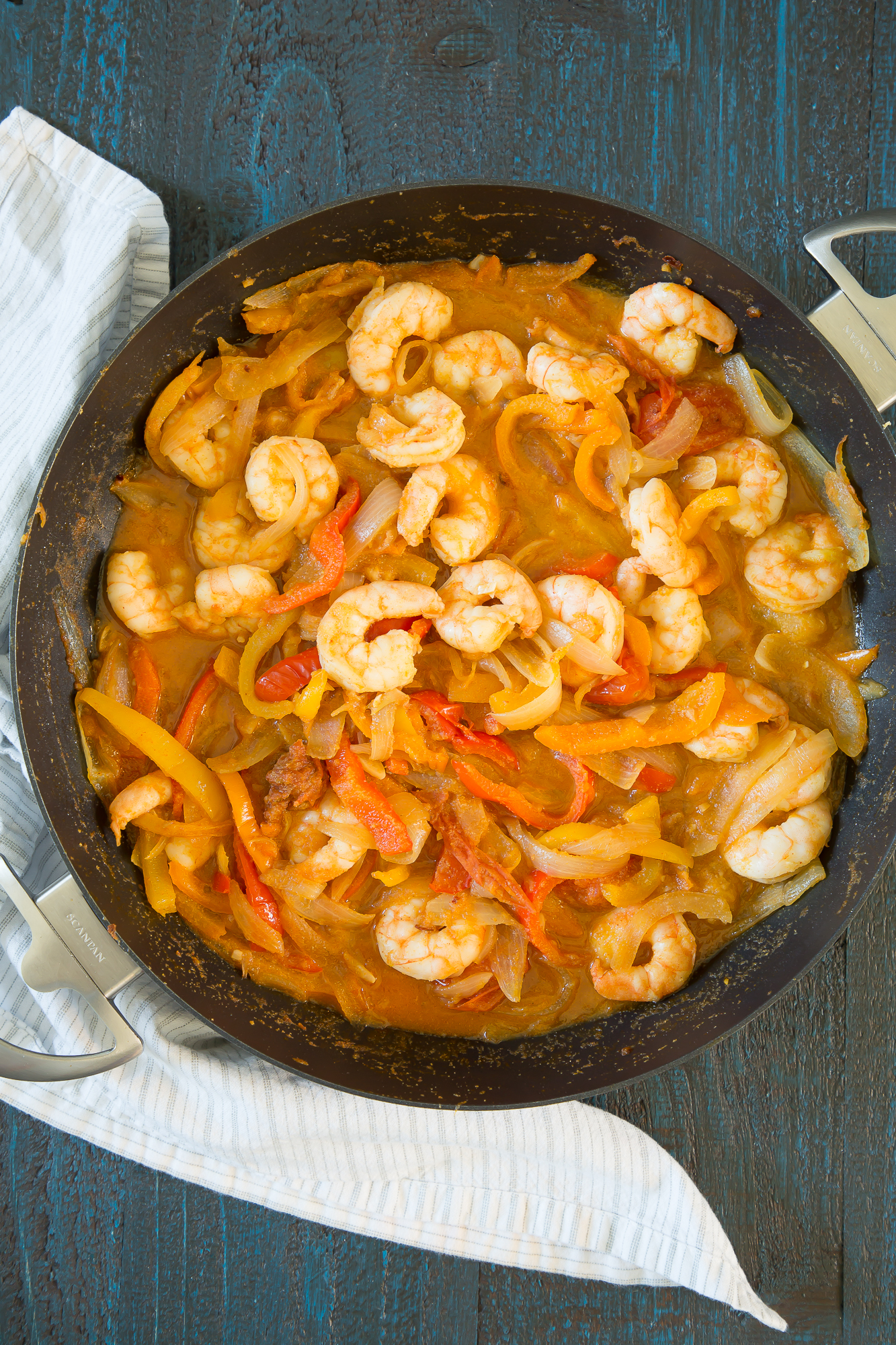 In many markets, you can also purchase your produce already prepped.  This can cut down the prep time even more.  Although, buying produce this way can be more costly.  I usually prep my own produce and use other means for speedy shortcuts.  I also frequently prep my fruits and veggies when I buy them and store it in my fridge for quick and easy access during the week.
Once your prep work is done, add the olive oil in a large chef pan and saute your onions, tomatoes, and peppers.  Once those have softened, add the garlic and saute until aromatic.  Add the shrimp and cook until pink.  Pour in the chicken stock and spices.  Make sure to stir well and simmer for 5 minutes.
Serve pepper mixture over the polenta and enjoy!  If you are feeling extra indulgent sprinkle some cheese over the polenta, then cover with shrimp and peppers.
That's all, so simple!  I know you'll love this recipe, make sure to leave a comment with any variations you make to the dish!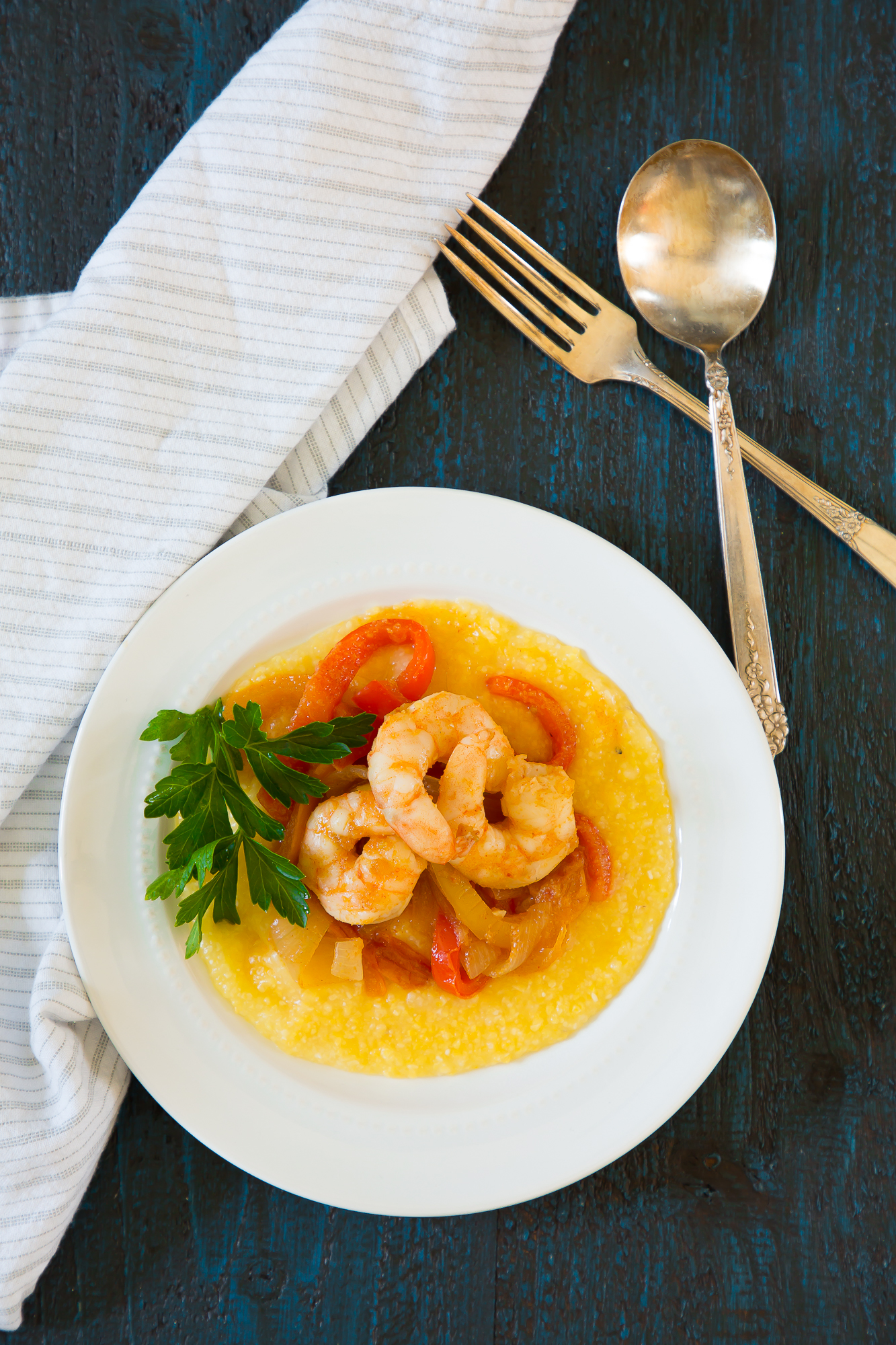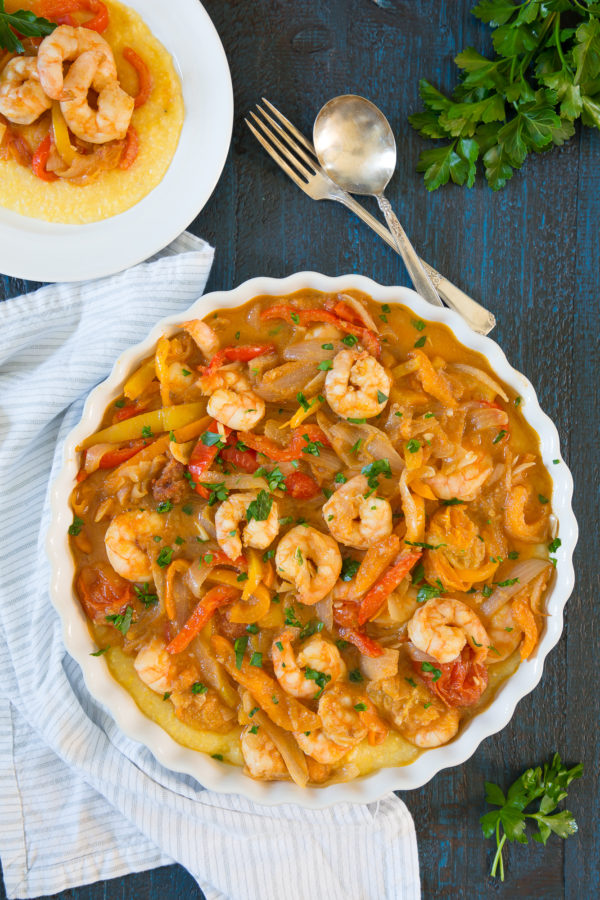 | | |
| --- | --- |
| | |
Prepare polenta as directed on the package. Prep and cook the rest of the meal while the water is boiling and polenta is cooking.

To a large chef pan, add olive oil and heat skillet over medium high heat.

Add onions, peppers, and tomatoes to pan. Season with salt and pepper. Cook until tomatoes burst and onions are transparent.

Add minced garlic and saute until aromatic (about a minute or two).

Add the shrimp to the pan and saute until pink.

Add the chicken stock and spices. Simmer for 5 minutes.

Transfer cooked polenta into a large serving dish and top with shrimp and pepper mixture.
If polenta seems too thick, add water or chicken stock and stir until your desired consistency is reached.