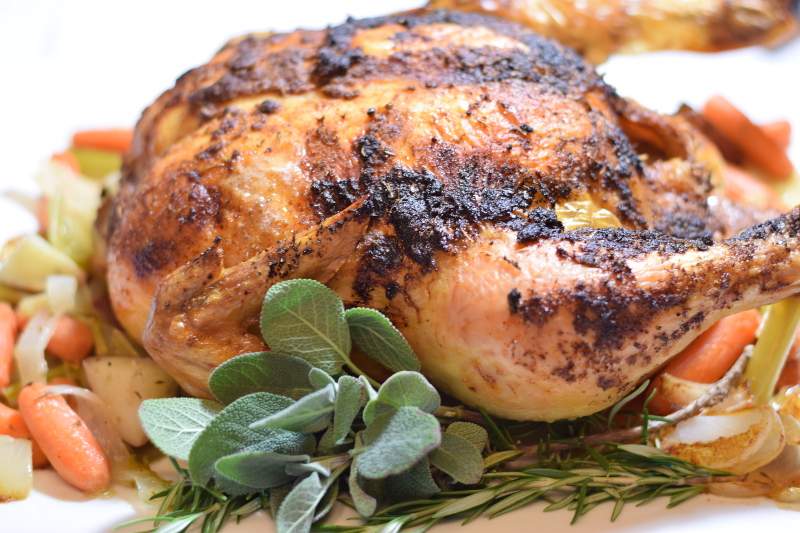 I'd like to start this post with a moment of silence for Josephine Cochran.  Who is she, you ask?  This woman invented the first dishwasher!  According to wiki, with the help of George Butters, she showcased the invention at the Chicago World's Fair in 1883.  As a wealthy woman, she developed the dishwasher because her servants kept chipping her fine china.
Fast forward about 130 years and this is easily one of my favorite inventions of all time!  I am what Julia Child would refer to as a "servantless american" and I use Josephine's  marvelous contraption 2-3 times a day!  Wow, that sounds like I have a very large family, right?  Nope, I have a quaint family of three and we all love to eat.  I have actually created a mini-me as far as food and eating goes.  I swear as if right on cue, my son just asked for some sauteed shrimp.  It's 9:30 in the morning.  I have already reheated the same cup of coffee 4 times.  It is too early for me to make shrimp.
While at the grocery store yesterday, I asked my son what he would like for lunch.  Innocent enough question, right?  This child chose a sandwich.  Not just any sandwich though.  He chose roasted ham with smoked gouda, heirloom tomato, and romaine all on a fresh baked pretzel roll.  Seriously, what two year old asks for that?!  We were not in the pre-made sandwich section either.  He chose his ingredients separately as we made our way through the store.  Part of me is proud, he has great taste; the other part of me is scared to death of my grocery bill as he gets older.
Today is my mother's birthday.  Happy Birthday, Mom!  We had her birthday dinner this weekend since weekdays are so hectic.  I went shopping that morning and purchased some new place settings for the dinner.  I needed some anyway for the upcoming holidays.  Pier 1 has to be one of my favorite stores.  I personally struggle with design elements, so I love that they display coordinated items.  It really helps! They have an amazing sale going on now too!  Who doesn't love a good sale?! 15% Off Entire Purchase with Code MERRY15, valid 11/14 – 11/20
For dinner, I made her favorite, Roasted Chicken and Root Vegetables.  I also made a side of Brussels Sprouts for my nephew.  I do not think I have ever seen a carcass picked that clean in my life!  I will take that as a compliment and probably make a larger bird next time, LOL.
The perfect roasted chicken has one secret ingredient, BUTTER!  When roasting any bird, make sure you dry the skin completely and then massage the skin with softened butter.  A dry rub should then be placed on top for seasoning.  For additional flavor, I add a small amount of butter under the skin as well.  This helps the bird internally baste.  The result is an out of this world tender, juicy, and flavorful bird.  If you are going the fresh herb route, a compound butter placed between the skin and meat is also absolutely delicious.  The compound butter method is my typical go to for my Thanksgiving turkey.
This weekend I chose a dry seasoning that I mix myself.  It consists of rosemary, thyme, salt, paprika, fresh cracked black pepper, onion powder, and garlic powder.  Be sure to truss your chicken so it will cook evenly and consistently.  To roast a chicken heat your oven to 450 degrees and cook for 20 min.  Turn your oven down to 375 degrees and then cook about 20 min per pound.  You chicken will have gorgeously crisp and flavorful skin with this method.  Be sure to check your chicken with a meat thermometer to ensure its fully cooked.  A chicken breast should reach an internal temperature of at least 165 degrees.  The thigh should read between 165-175 degrees.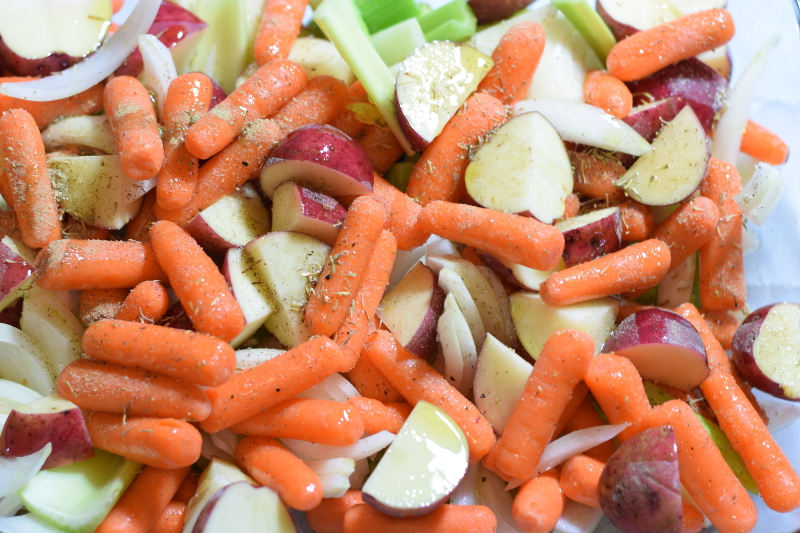 To prepare the root veggies simply wash and chop.  Try to maintain a consistent size when chopping to ensure even cooking.  I typically quarter the potatoes and use the baby carrots whole.  Save time where you can, it is a rare commodity.  Once veggies are chopped and in roasting dish generously coat with olive oil and stir in dry seasoning.  Be sure everything is mixed well and these veggies are ready to go in the oven.
The brussels spouts are delicious and a breeze to make.  Once you wash and dry the veggie, cover with a good amount of olive oil, salt, and fresh cracked pepper.  Finish with honey and pop them in the oven.  Be sure not to overcook these guys.  Mushy brussels sprouts are not very appetizing!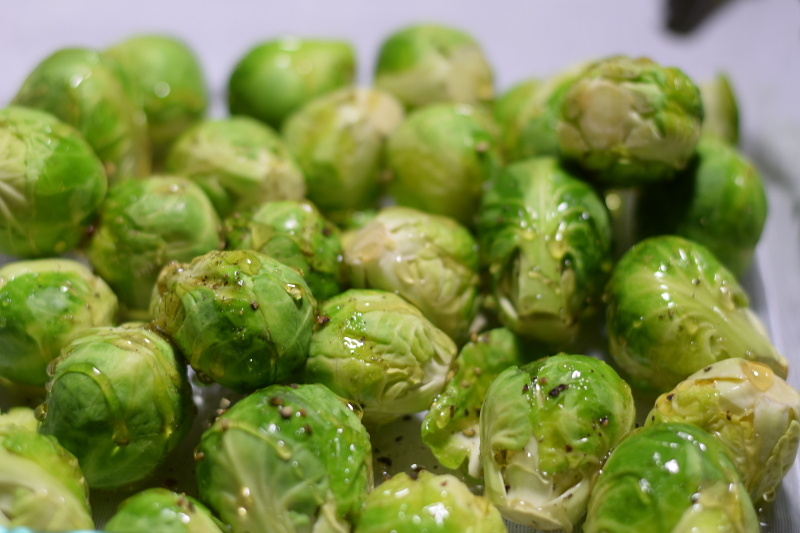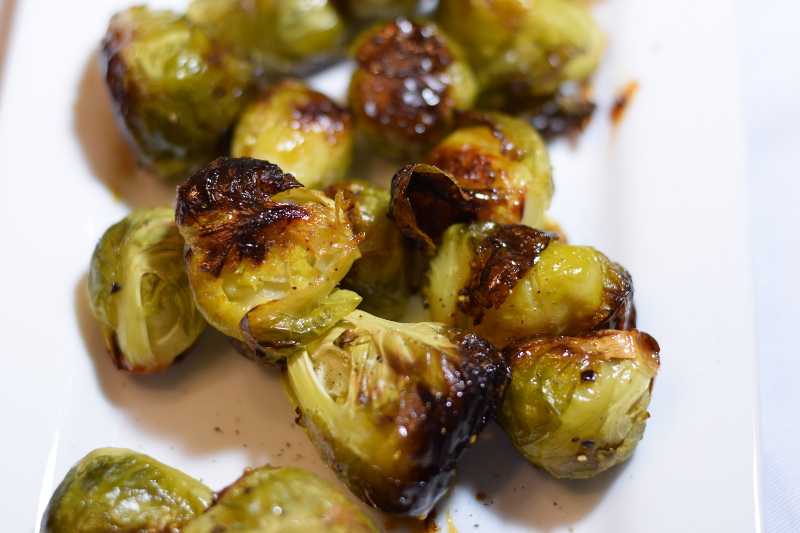 What is the craziest meal your kid has ever requested?
By using the link I provided and purchasing from Pier 1 you are helping to support my blog!  Thank you!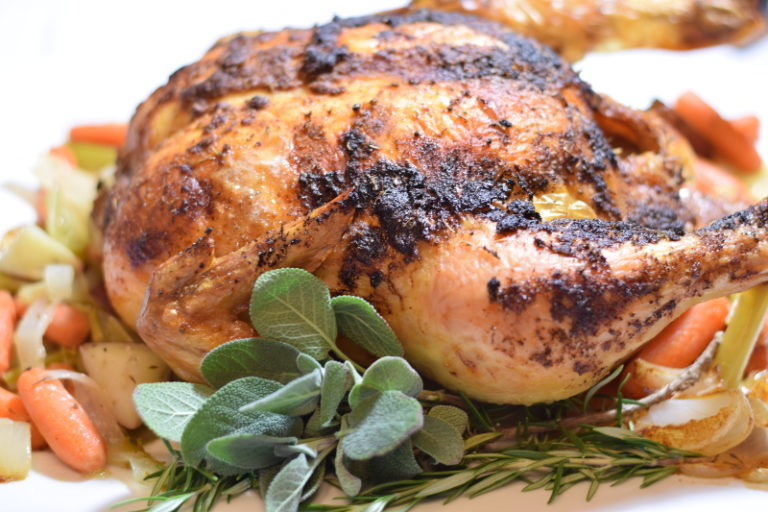 Roasted Chicken Seasoning
| | |
| --- | --- |
| Roasted Chicken Seasoning | |
Before any other task prepare both dry mixes and set aside

Preheat oven to 450 degrees

Add one chopped onion, a handful of chopped celery and some carrots to the base of the roasting pan

Rinse and pat dry chicken. Place chicken on veggies in roasting pan

Using 3/4 stick of butter, massage the skin until well coated. Stuff any remaining butter between skin and meat

Sprinkle seasoning mix being sure to evenly coat chicken

Place small quartered onion and 3 crushed garlic cloves inside chicken

Truss chicken or simply ties legs together at end to ensure even cooking

Add remaining chopped veggies to a separate baking dish. Generously coat with olive oil and mix in vegetable seasonings

Place chicken and vegetables into oven for the appropriate amount of time (roughly 20 min. per pound plus 20 min)

Once the chicken reads 165 in the breast and between 165-175 in the thigh remove and allow to sit for 15-20 to cool.

Remove veggies as well and cover with foil to keep warm.

At this point place brussels sprouts in a baking dish and coat with olive oil and fresh cracked pepper. Drizzle honey on top and place in the oven for about 20 minutes.
Cooking times will vary contingent on the size of the chicken. If chicken is extra large please put the veggies in the oven the last hour and a half of cooking.