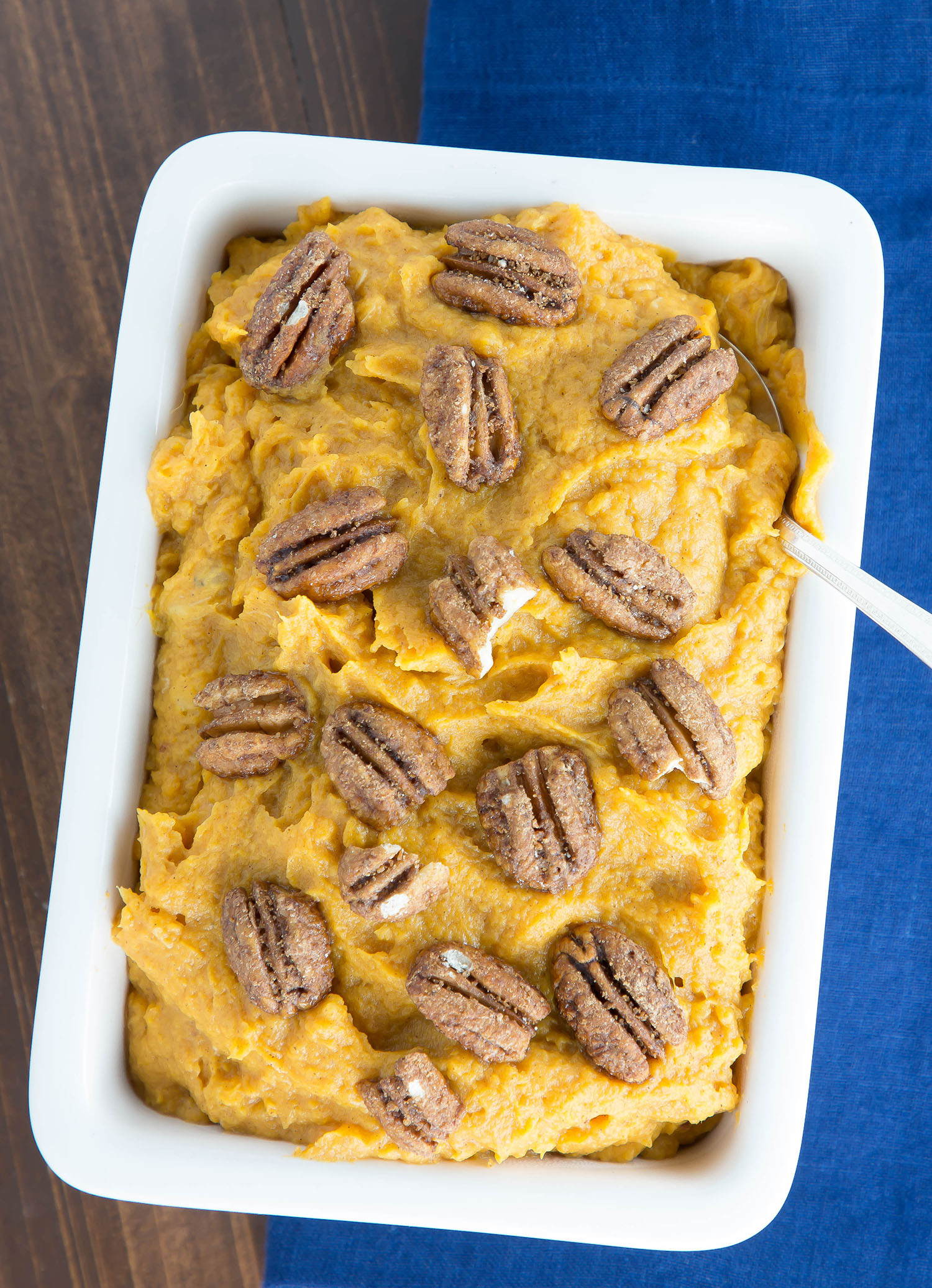 This article contains affiliate links that help to support my blog
These whipped sweet potatoes with bananas and honey have been included in my Thanksgiving spread for years.  I know your family will love them as much as mine!
A Peek Into My World
I absolutely cannot believe that the Holidays are approaching so quickly this year.  Halloween will be here next week and then the pace quickens to a frantic pace.  I try to have holiday gifts purchased, or at the very least, picked out prior to Thanksgiving.  I loathe shopping in the crowds, so my strategy is to simply get it all done before.  If I cannot accomplish this goal, I order online.
Thank goodness for online shopping.  It really helps a mom out!  I have so much on auto shipment.  Right down to dishwasher detergent and toilet paper.  Two things this mom CANNOT run out of.   I'm pretty excited thus far for our holiday season.  I always try to outdo my savings from the previous year.
I always purchase everyday necessities like groceries and gas on my rewards credit card and pay it off at the end of the month.  This way, I rack up a ton of points that I can redeem for gift cards.  I usually cover at least 80% of holiday costs by doing this and stacking coupons at places like Kohls.  If I get Kohls cash throughout the year, I buy a gift and put it away.  This strategy has worked wonders for our budget.  Storage seems to be the biggest obstacle.  If you buy early, you have to store and keep the items hidden.
This year, I am concerned my son will stumble upon gifts.  He is now at the lovely stage where he can't keep a secret.  It's cute most of the time.  Until he tells people what I purchased for their birthday or whatnot.  No surprises with my little man around!  I definitely have to do my shopping without him this year!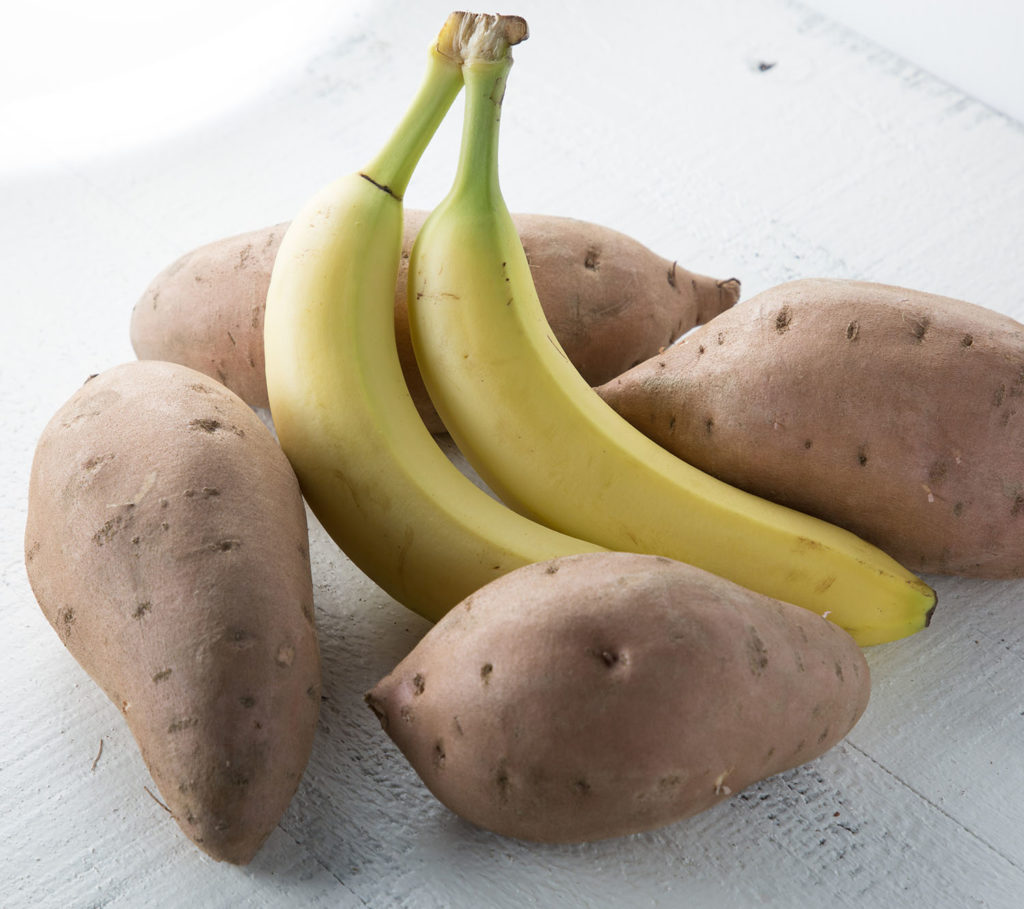 Halloween 2017
Logan is dressing up as Spiderman this year.  The costume is adorable!  He picked this out MONTHS ago and I'm so thankful he hasn't changed his mind.  I'm not sure what we will do this year as far as trick-or-treating.  I don't really let him eat much candy.  Honestly, last years candy is still on top of my fridge 🙁  Yes, I should clean more.  I like to sit sometimes though!  You know, because in my 5 minutes of peace a day, I don't want to clean on top of the fridge.
Halloween parties at school and community parades are always fun.  I'm thinking that and maybe our neighborhood street will be all we do this year.  That way he can experience passing candy out too.  He hasn't had that experience because he's been out and about in a stroller.  Sounds like a pizza night!  Speaking of pizza, I did find that Freschetta makes a pretty good gluten-free pizza.  In a pinch, it certainly works for me.
On to the Whipped Sweet Potatoes with Bananas and Honey
I always make this recipe for my Thanksgiving spread and people LOVE it!  I mean there are NEVER any leftovers.  My son says they are his favorite because it tastes like candy.  Well, son, go ahead and eat your veggies that you think are candy!  Logan has always loved carrots and sweet potatoes.  As a baby, he was tinted orange because all he wanted to eat were carrots and sweet potatoes.  At least he likes veggies.  Orange or not, it's a win in my book 🙂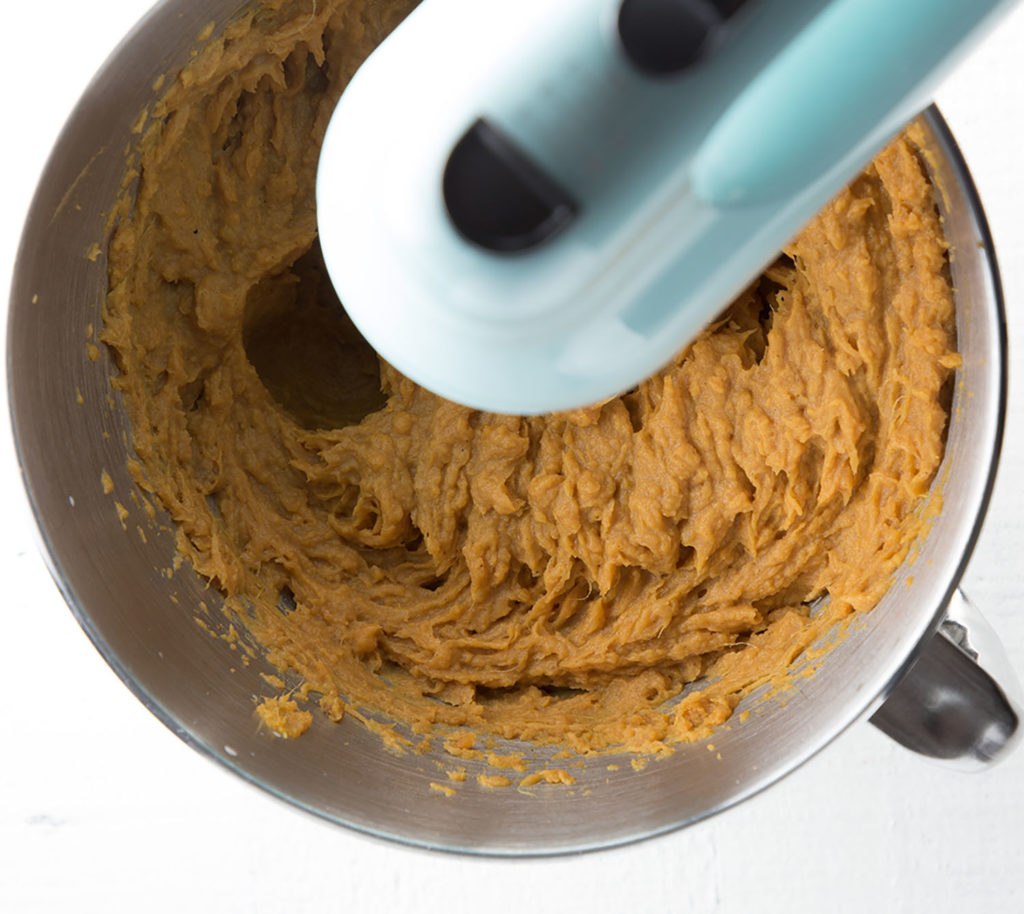 How to Make Whipped Sweet Potatoes with Bananas and Honey
Gather 4-5 Large sweet potatoes (or 8-10 small ones) and wash thoroughly.  Poke holes in the sweet potatoes with a fork and wrap them in foil.  Place the potatoes on a baking sheet and bake for 1 hour (or until tender) in a 450 degree oven.  If you are using smaller sweet potatoes you should decrease your time.  Check them at 45 minutes to see if they are tender.  The last 20 minutes, add 2 bananas to the baking sheet.
Remove the bananas and sweet potatoes from the oven and allow them to cool.  Not completely, but enough so that you can handle them without burning yourself.  Go ahead and take them out of the foil as soon as you can.  When they have cooled off so that you can touch them remove the sweet potato peel.  Add the flesh of the potato to a large mixing bowl.  Add the fruit of the bananas to the same bowl.
To the mixing bowl also add 1 tbsp of butter (optional) and a pinch of salt.  Using a hand or stand mixer, mix the ingredients.  Add 1 tbsp of cinnamon, 1/4 cup of honey, and 1 tsp of nutmeg.  Mix thoroughly.  Add 3/4 cup of milk slowly while mixing.  When the mixture is smooth, add to a baking dish.
The Candied Pecans
I've made this with store-bought bourbon pecans and they are wonderful if you are looking to save some time.  When I'm not in a rush I make my own candied pecans.  In a frying or sauté pan, add 1 tbsp butter.  Allow to melt and when foaming stops add 1/2 cup of pecans, 1 tbsp of sugar, and a dash of cinnamon.  Toast the pecans and when they look shiny and glazed (about 4-5 minutes) take them out and allow them to cool.
Top the sweet potatoes with the pecans and you are ready to serve.  If you want to make this ahead that is fine.  Simply cover and refrigerate until you are ready to serve. If you are making these ahead of time leave the pecans out until you are ready to serve.  We don't want them absorbing moisture and getting soggy!   Warm these in the oven and they will be just as delicious as the moment you first made them!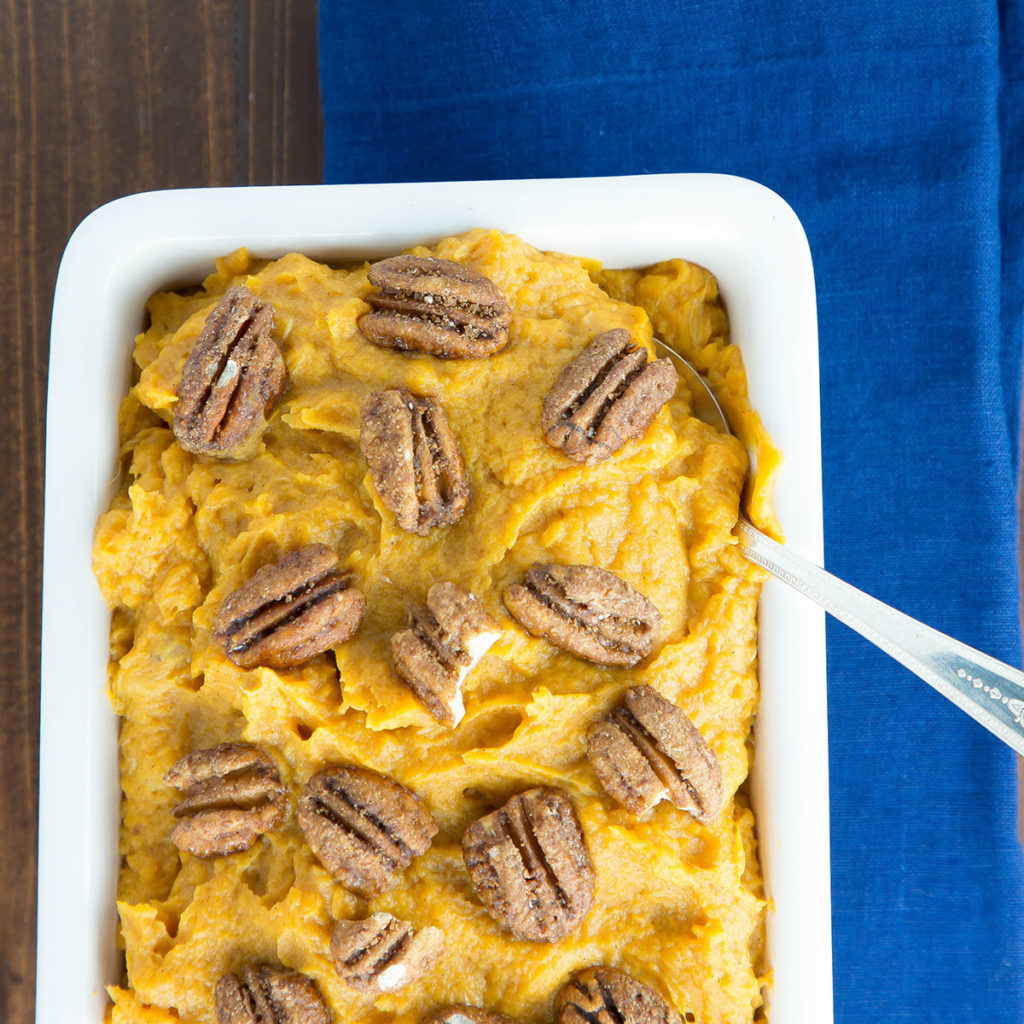 Time to Eat the Whipped Sweet Potatoes with Bananas and Honey!
I hope you enjoy these whipped sweet potatoes with bananas and honey.  Try out some of these other recipes for your holiday spread too:
Sautéed Green Beans with Curried Pecans
Ultimate Gluten-Free Thanksgiving Recipes
Baked Brie with Balsamic Fig Preserves
Pumpkin Spice Frosted Brownies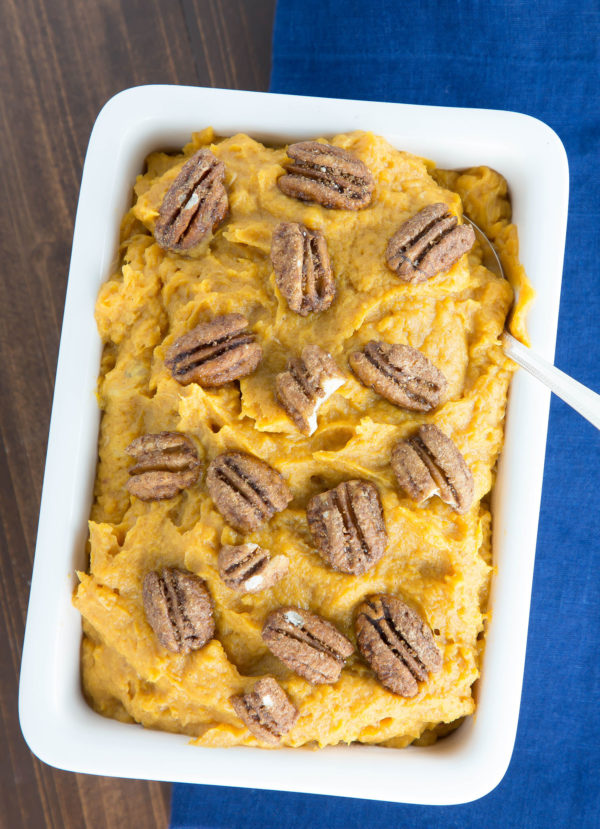 Wash and wrap 4-5 large sweet potatoes in foil

Bake for 1 hour in 450 degree oven

Add the bananas to the baking sheet and cook the last 20 min. with the sweet potatoes

Remove from oven and take potatoes out of foil

Allow to cool until you can handle them

Add flesh of the potatoes to a large mixing bowl

Add the banana fruit to the mixing bowl

Add 1 tbsp butter to bowl

Mix with hand mixer or stand mixer

Add 1 tbsp cinnamon, dash of salt, 1 tsp nutmeg and mix thoroughly

Add 3/4 cup of milk slowly while mixing

When smooth add mixture to a baking dish and set aside
Add butter to pan; allow to melt and when foaming stops, add the pecans

add the sugar and cinnamon to the pan and mix

Toast the pecans until they are shiny (about 4-5 min)

Remove from pan and top sweet potatoes with the pecans
Nutrition Facts
Whipped Sweet Potatoes with Bananas and Honey
Amount Per Serving
Calories 102
Calories from Fat 36
% Daily Value*
Total Fat 4g 6%
Cholesterol 9mg 3%
Sodium 17mg 1%
Potassium 76mg 2%
Total Carbohydrates 17g 6%
Protein 1g 2%
* Percent Daily Values are based on a 2000 calorie diet.