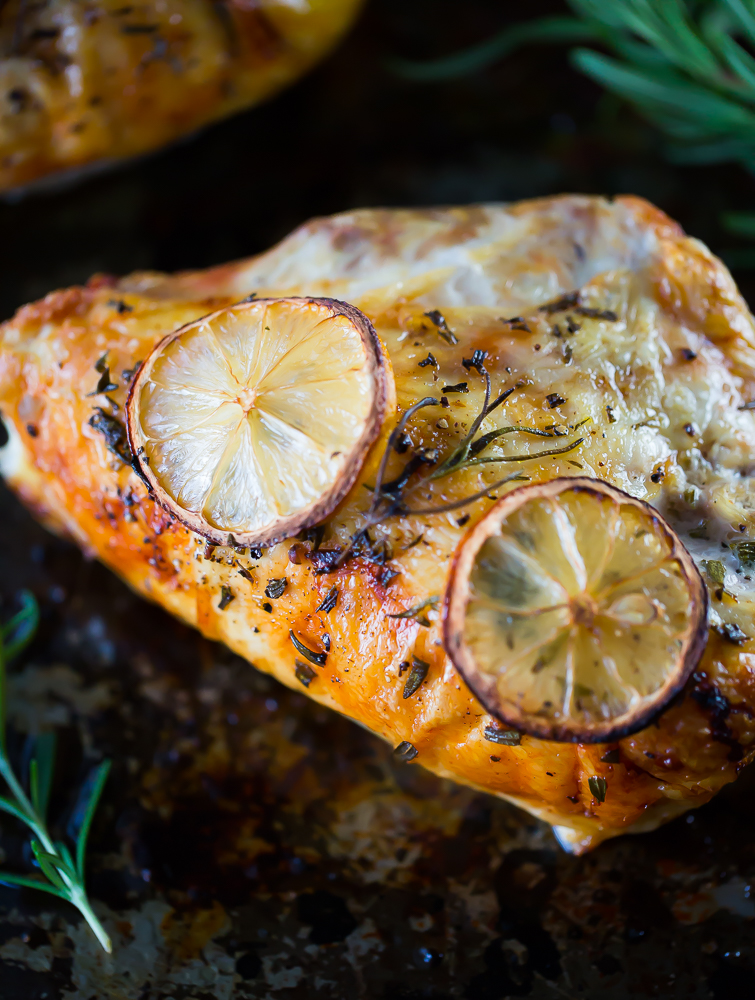 Here's another super simple dinner for the books everyone.  It seems like I'm running off here and there lately while somehow still trying to maintain the semblance of sanity.  Know how I do it?  Healthy meals to fuel my body.  But, not just healthy meals; Nope I need healthy, simple, and quick meals.  With an active preschooler and other life commitments, I stay busy.  Some day's I just want to grab my favorite sweats, a tray of brownies, and binge watch Ancient Aliens or something else bizarre and entertaining.  Do I get lazy days like this often?  Absolutely not.  That's why I have to make the best choices I can to help keep up with my daily demands.  This baked lemon rosemary chicken is the best of both worlds; Easy and delicious.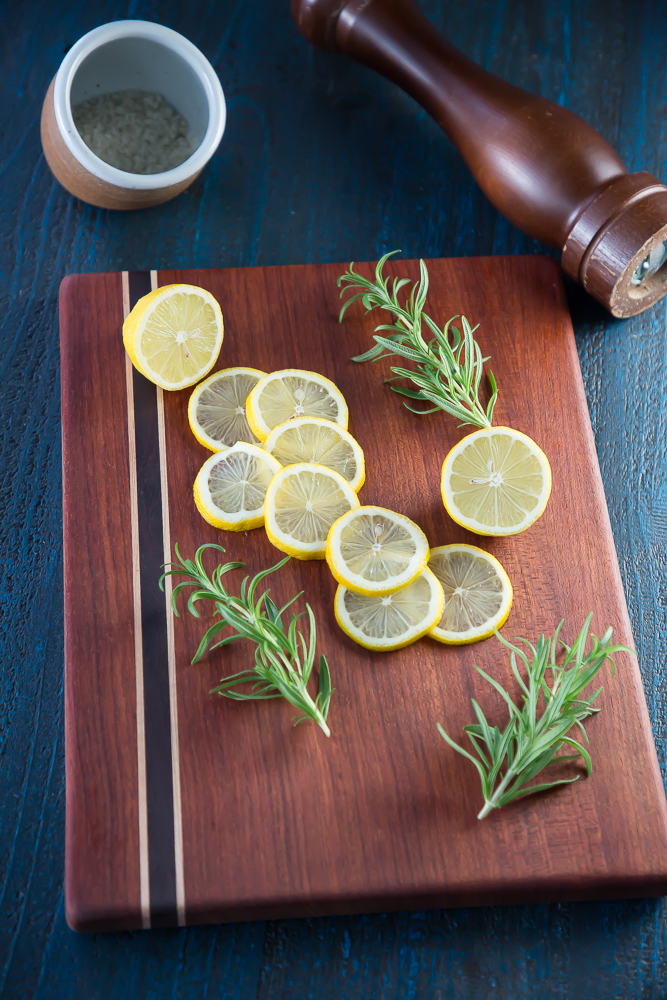 I love the fresh flavors that the lemon and rosemary bring to the otherwise dull chicken.  Yes, I said it.  Chicken is bland guys, and often it is overcooked and dry.  Yuck, who wants that?  I certainly don't.  I like food that will not only fuel my body with healthy and useful nutrients, but that will satisfy me.  I need flavor and lots of it with every meal.
I've found the best way to enjoy juicy, flavorful chicken is to buy the bone-in variety.  Whether you prefer a whole cut up chicken with a range of light and dark meat or one or the other, this recipe will be delicious.  The skin helps to baste the chicken which keeps it moist and flavorful.  Skin-on chicken isn't as healthy as boneless skinless breast, but the flavor is undeniably better.  I think when paired with veggies that the fat content from a little bit of skin on my chicken is just fine.  You make your own decisions, but I suspect you will come to the same conclusion.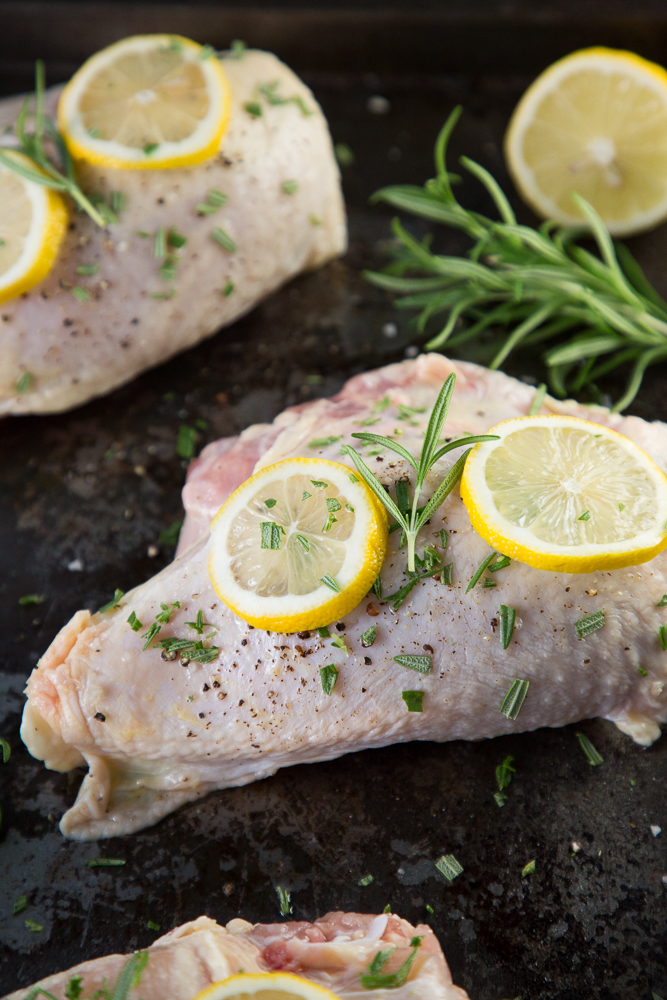 I love this chicken because the prep is so simple.  With a prep time of 5 minutes, you can fit this into nearly any schedule. Just slice the lemons and roughly chop some fresh rosemary.  Season the chicken and pop it in the oven.  My favorite thing to serve with this is cubed and roasted butternut squash and roasted green beans.  I add both of these veggies to a separate sheet pan and pop them in the oven along with the chicken.  To keep it super simple, I only season my vegetables with olive oil, salt, and pepper.  Roasted veggies have so much natural flavoring you don't have to do anything else to them.  So easy, right?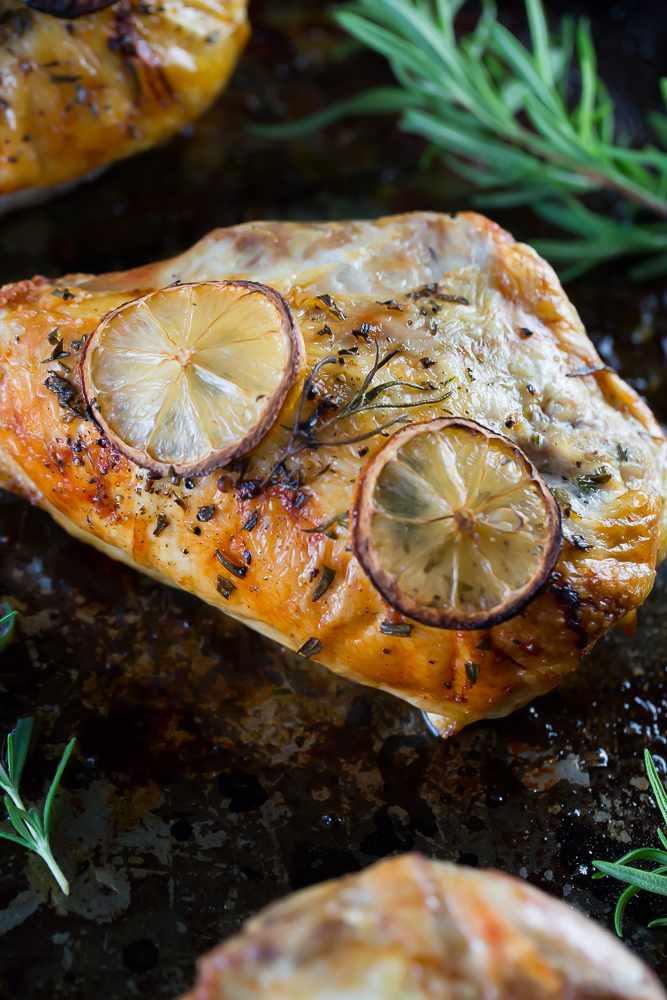 Now that you have your dinner in the oven go ahead and tackle homework, baths, or whatever else is demanding your attention.   In an hour, you can strike one or even several things off your to-do list and have a delicious and healthy dinner ready and waiting on you.  Do you know what the best part is?  Other than a yummy meal?  Very little clean up.  A few plates and silverware along with a sheet pan and that's all the cleanup this requires.  Perfection.  I mean who wants to do dishes at the end of the day?  Certainly not me!
Are you ready to give this baked lemon rosemary chicken a try?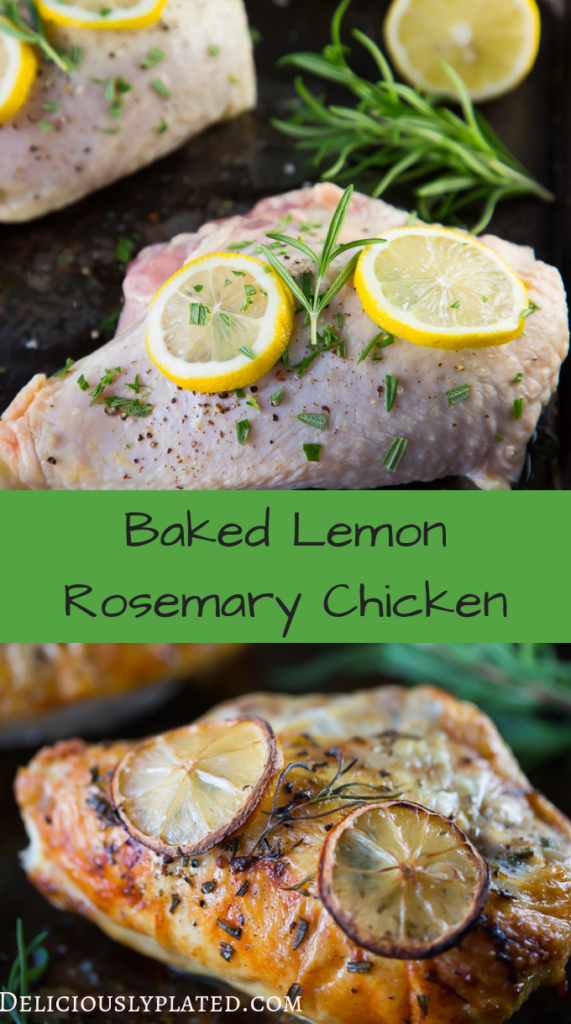 Love this easy Baked Lemon Rosemary Chicken Recipe?  Please Share!  Also, be sure to check out these other simple recipes: Quinoa Salad, Veggie Penne Pasta, and Kielbasa Stir-fry.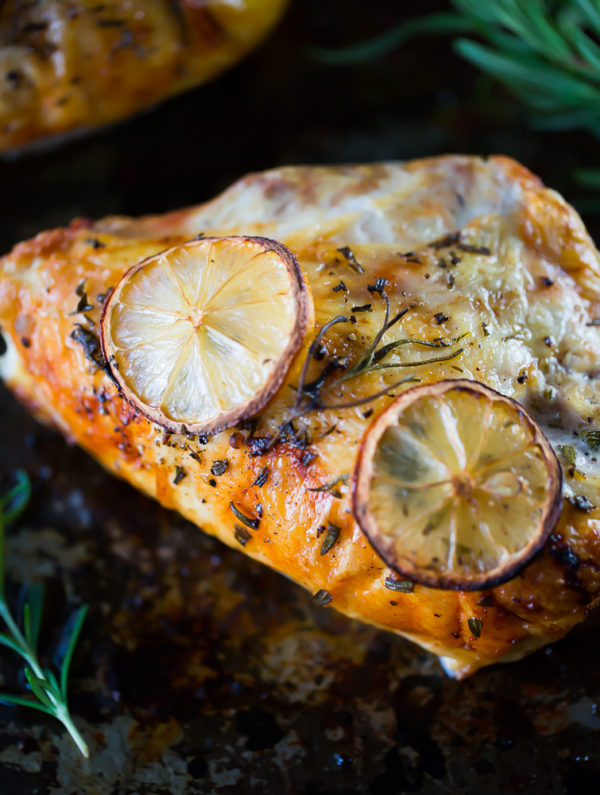 | | |
| --- | --- |
| | |
Preheat oven to 425 degrees

Drizzle chicken breast with avocado oil

Squeeze 1/2 lemon juice over chicken

Season chicken with salt and pepper

Add fresh rosemary to chicken breast

Layer 2 lemon slices on chicken

Bake in the oven for 60 minutes or until done. Juices should run clear when cut. Chicken should reach an internal temp of 165 degrees for safe consumption.