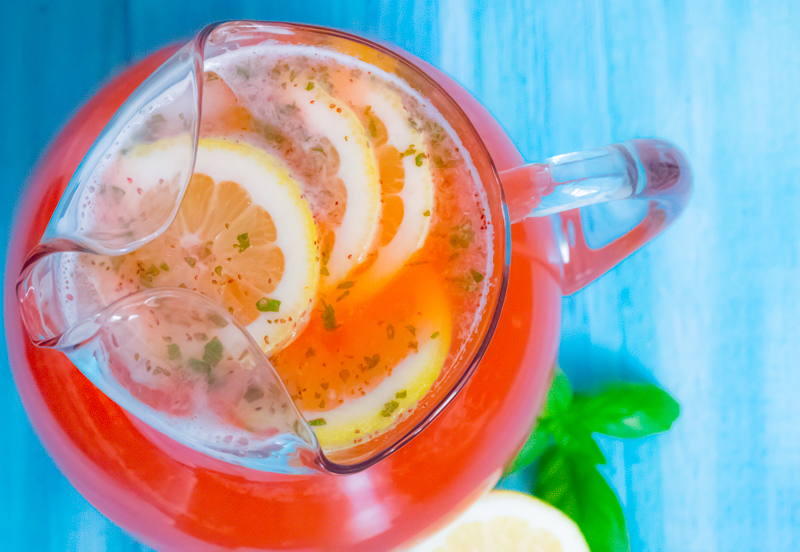 Guys, it's crazy hot already!  Yesterday it registered 93 degrees.  It's still May.  This is nuts!  I'm terrified of August.  What's it going to be then, 110?  Hotter?  Yikes!  To help you beat the heat this year I am posting a healthy and organic strawberry basil lemonade recipe.   Adaptable for an adult beverage or a kid friendly version!  I will also help you plan your meals on a budget.
I'm also going to try something a little different.  I am constantly asked how to fit organic/healthy foods into my budget.  Prices at times can be very discouraging if you are new to the organic scene.  The best intentions in the world can't do anything for you if you can't afford the food.  Which I might add is absolutely absurd.  All food should be safe to consume.  So today I am writing about my top 5 ways to incorporate healthy and organic foods without breaking your budget.
Top 5 Ways to Eat Healthy on a Budget
Buy in bulk
Shop sale ads
Farmers market
Frozen fruits and veggies
Utilize coupons
Buy in Bulk
I frequent my local big box club.  Bj's is where I go simply because of its locality.  Unless I want to drive 30 or more minutes to go to Costco, it is my only option.  They have a great selection of organic fruits, vegetables, and meats.  And, by buying in bulk you get a much better price than your typical grocery store, usually.  Bj's also has their own coupon books.  Pick them up when you enter the store.  There are some great discounts to help you save even more.
Where meat is concerned there are several options.   Online, you can order in bulk from Organic Prairie and get a month or more worth of meat.  This is expensive up front but does save you money in the long run.  I placed a $400 order 6 weeks ago and I still have meat in my freezer.  This will require some planning on your part to thaw your meat before you cook, but it eliminates the weekly chore of buying overpriced organic meat at your local market.  A pound of organic grass fed ground beef is $16.99 at my closest market.  THAT IS CRAZY!!!
BJ's has a 3 pack of organic beef for $15.99.  That is like getting 2 more pounds of ground beef for free!  Yes, please.  Most big box stores will offer a free 30 day membership for you to try out prior to purchasing a membership.  Use it.  You will be amazed how much you can save while eating healthy.
Shop Sale Ads
Check out the sale ads in your area before going shopping.  Especially this time of year, produce sales are HOT!  I have a few stores I will shop at.  While drinking my coffee in the morning I pull up the ads and decide where I will shop for the week.  What I will NOT do is shop at several stores and pick up a few items at each.   Who has that kind of time?  Not I.  And dragging an impatient rowdy three year along to all the stores?  Ha, nope.  Not this momma.  Find the one that has the best overall prices and go there.  Your sanity will thank you!
Flipp is an app for your phone that will gather the local sale ads for you.  Use it.  It is free and saves you time.  That's a win in my book.  Take the time you saved and grab a glass of wine and put your feet up.  Or take a bath.  Yeah, right, who has time for that with kids.  Maybe you can potty alone!  #mommygoals
Farmers Market
If you are fortunate enough to have a farmers market nearby be sure to go.  My son loves going and enjoys the outdoor atmosphere.  You can find some amazing deals on fresh produce here as well.  Be sure to ask the vendors about how they grow the produce.  Many small vendors grow organically but chose not to pay for the organic certification.  There is a lot of red tape and money involved in being certified.  For a small farm just getting started it may not make sense for them to pay for the certification even though they already follow or exceed the expected guidelines for said certification.
Buy Frozen Produce
Frozen produce is a great way to purchase organic on a budget.  Bj's (my local big box store) has a vast frozen section that has a ton of organic fruits and veggies.  Best smoothie ingredients ever.  And  they won't go bad in a few days!  If they sit in your freezer for three months, maybe.  That's not their fault though, lol.  I have noticed that Walmart now has quite a bit of frozen produce as well.   A large bag or organic kale is about $2.  Great deal!  My freezer stays stocked with these for quick fixes on busy days.
Frozen fruit was a favorite snack of mine growing up, especially on a hot day!  Fresh produce picked from the garden is the most nutrient dense.  Frozen, however, has been found to be as nutritious, sometimes even more so, than the typical produce at your local market.  Shocking huh?!  Buy frozen in bulk.  End of story.  Better price, more nutrition, and longer "shelf" life.
Utilize Coupons
Think there are not coupons for organics or produce?  Wrong.  A lot of companies will send you coupons if you simply ask them.  Organic Valley sends them if you sign up for their email newsletter.  Coupons for milk?  Sign me up!  I mentioned above, BJ's has coupon books and they almost always have organic coupons.  They will even let you stack their coupons and manufacture's coupons!  ChaChing!
Ibotta is a phone app that also has coupons available.  While it doesn't specialize in organics, it does have "any brand" produce coupons.  I promise it's worth checking out.  I have earned $171.25 since I've been using the app (a little over a year now).  To me that is substantial.  Also, you can stack this on top of savings from coupons since it is done separately from check out.  I usually cash it in for movie gift cards and my husband and I will go on a free date.  Sounds good, right?  Sign up with code opvhwqg and get a $10 welcome bonus!
Healthy Strawberry Basil Lemonade on a Budget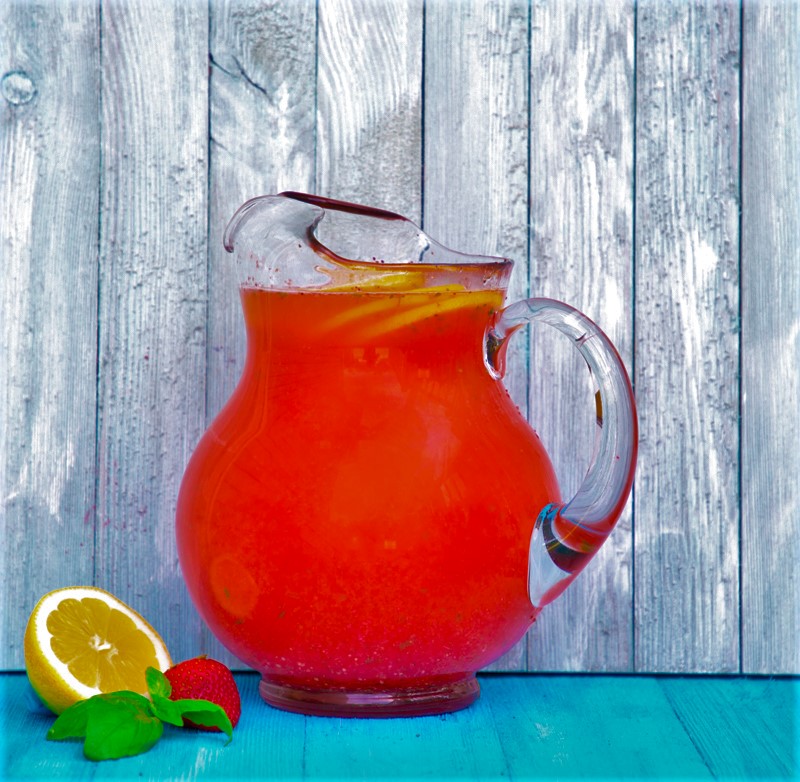 On to this amazing and refreshing recipe.  To make this healthy organic strawberry basil lemonade on a budget I cashed in on a bogo deal on strawberries.  Instead of the normal $7 price tag for organic strawberries I paid $3.50.  Check your stores policy, but most places will allow you to purchase one item for half price instead of requiring you to purchase two items.
If you are looking for an adult beverage, add a splash or two of vodka and make a strawberry basil cocktail!  Either way, this strawberry basil lemonade is sure to be a hit and help keep you cool this summer!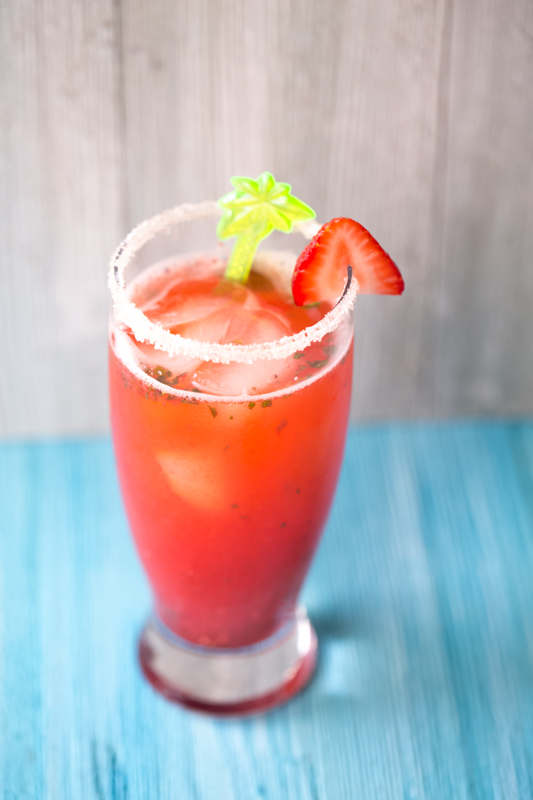 **This article contains affiliate links.  By using these you are helping support this blog.  Thank you!
What is your strategy when shopping organic on a budget?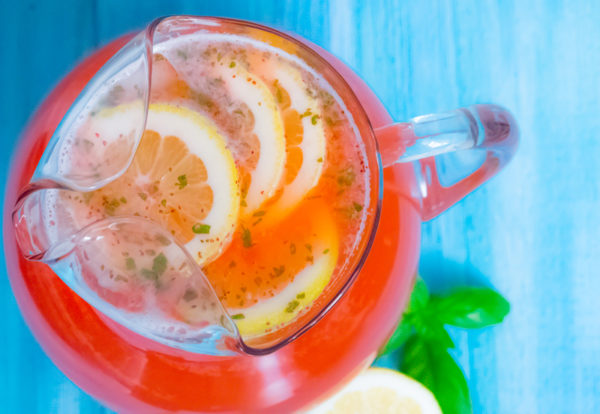 | | |
| --- | --- |
| | |
Cut the tops of the strawberries

Cut rind and pith off the lemons

Add strawberries, lemons, and basil to blender and pulse until smooth

Pour juice into pitcher and add filtered water to fill

Garnish with sliced strawberries and lemons

For an adult beverage option, simply add a shot of your favorite vodka