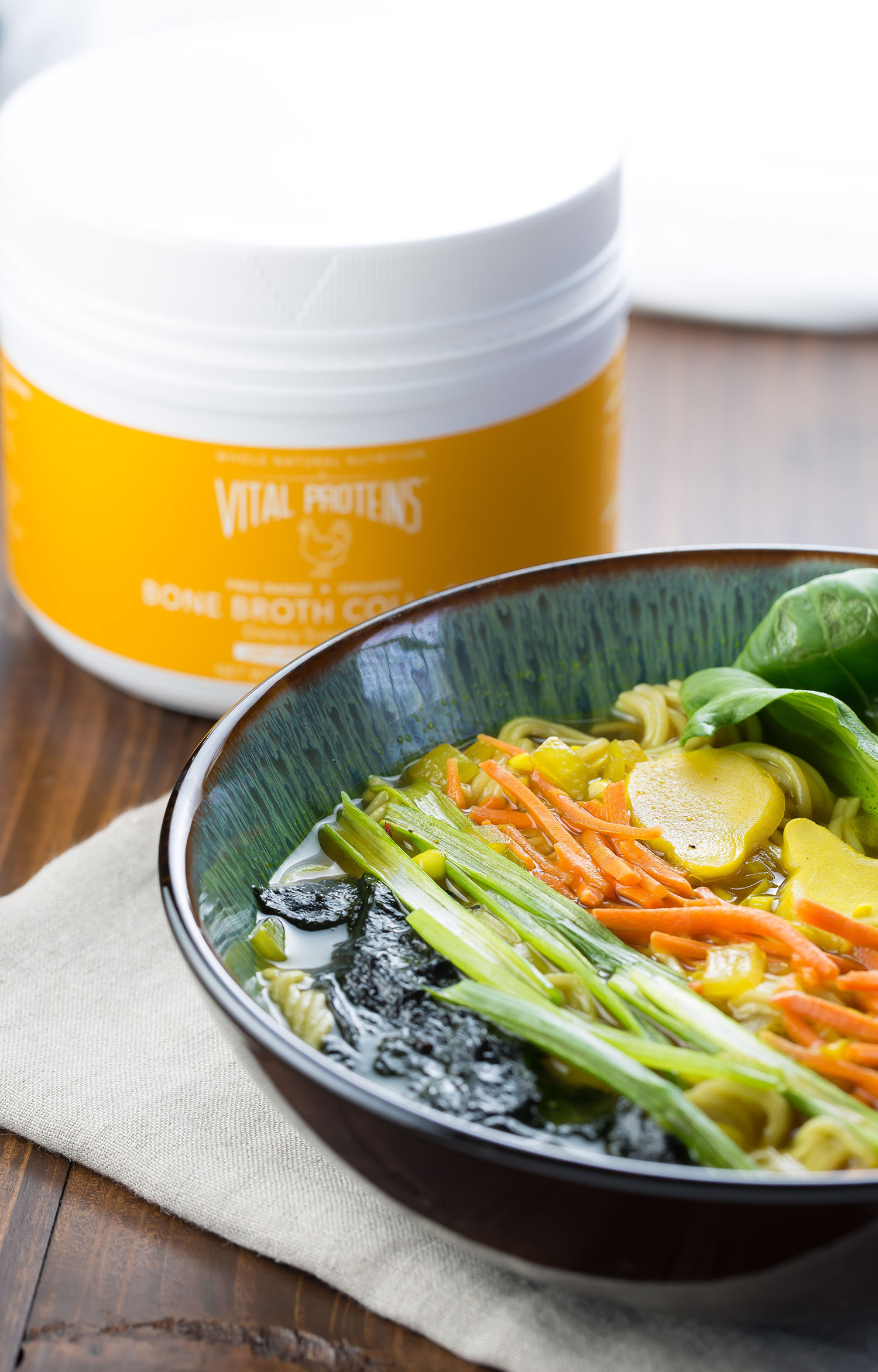 This ramen bowl with bone broth collagen is a sponsored post by Vital Proteins.  All opinions are my own.
The meeting
I had the pleasure of meeting some of the Vital Proteins team at the Everything Food Conference last year.  The beauty waters they were sampling were delicious!  When one of their team members reached out to about a post for one of their products I jumped at the opportunity to work together.  Not only did I really like the company and quality products, I had just had the conversation with my husband that I wanted to start taking a bone both collagen supplement.  Perfect timing indeed.
A change of diet doesn't fix everything
If you follow my blog you know that due to medical issues I switched over to a gluten-free diet.  If you are gluten free you probably know those undesirable gastrointestinal issues that consuming gluten causes for those with a severe intolerance.  Think of the years of damage and inflammation that is still left in your body.  Not a pretty thought.  My body needed help and support to get back on track.  For me, this was a no-brainer.  Let's add a quality bone broth supplement to help heal my gut.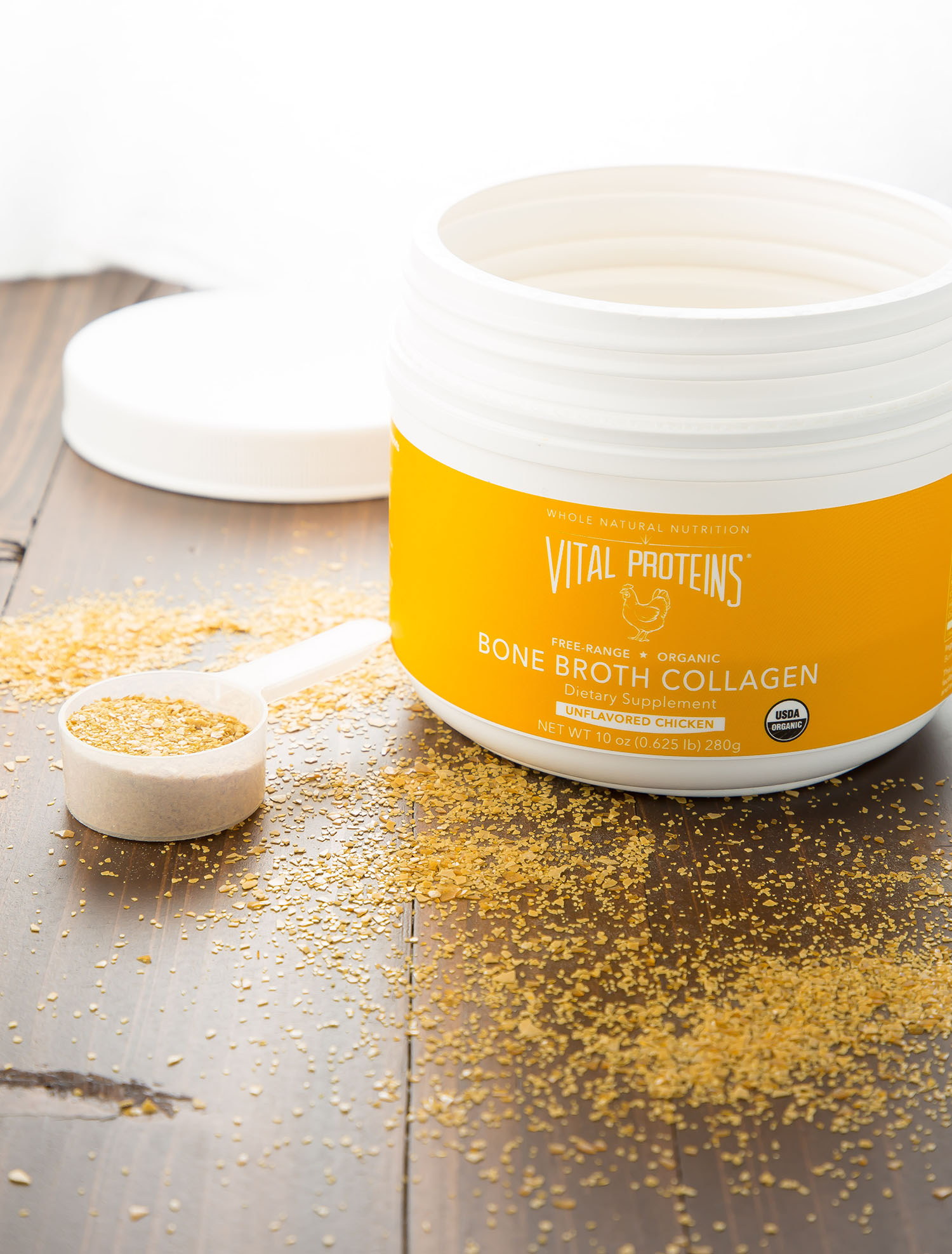 How has the bone broth worked over the past month?
So far vital proteins bone broth collagen has done well for me.  I've been taking it for about a month and I mix it into everything.  Literally.  I've made soups, stews, a ramen bowl with bone broth collagen, and teas.  The supplement is flavorless so you really can add it to virtually anything.  My husband and son do not seem to notice a difference taste-wise in the food either.  If the bone broth collagen is undetectable by a three-year-old, that is as much proof as I'll ever need.
I have noticed that my gut seems much calmer.  My bloating is near non-existent now and I feel less sluggish after eating and have more energy.  All of this comes with avoiding gluten, however, it takes a very long time to clear such a large molecule out of your system.  Months later gluten can still be hanging around causing issues.  Your body needs nutrition and support to heal.  With a high amino acid profile, the collagen helps revitalize the damaged gut.  Remember, a damaged gut can't absorb nutrients and even if you are eating right, you can still be lacking in nutrition.
I've also noticed that while everyone else in my family has caught the latest cold, I did not.  So much of our immune system is in our gut I wonder if the collagen has helped boost my immune system?  As a mom, typically if the kid gets sick we get sick.  There is no way for me to know that specifically, the collagen kept me from getting sick.  Healing and strengthening the gut though should help boost your immune system.   What a fantastic treat for cold and flu season though, a stronger and more robust immune system?  Sign me (and the whole family) up!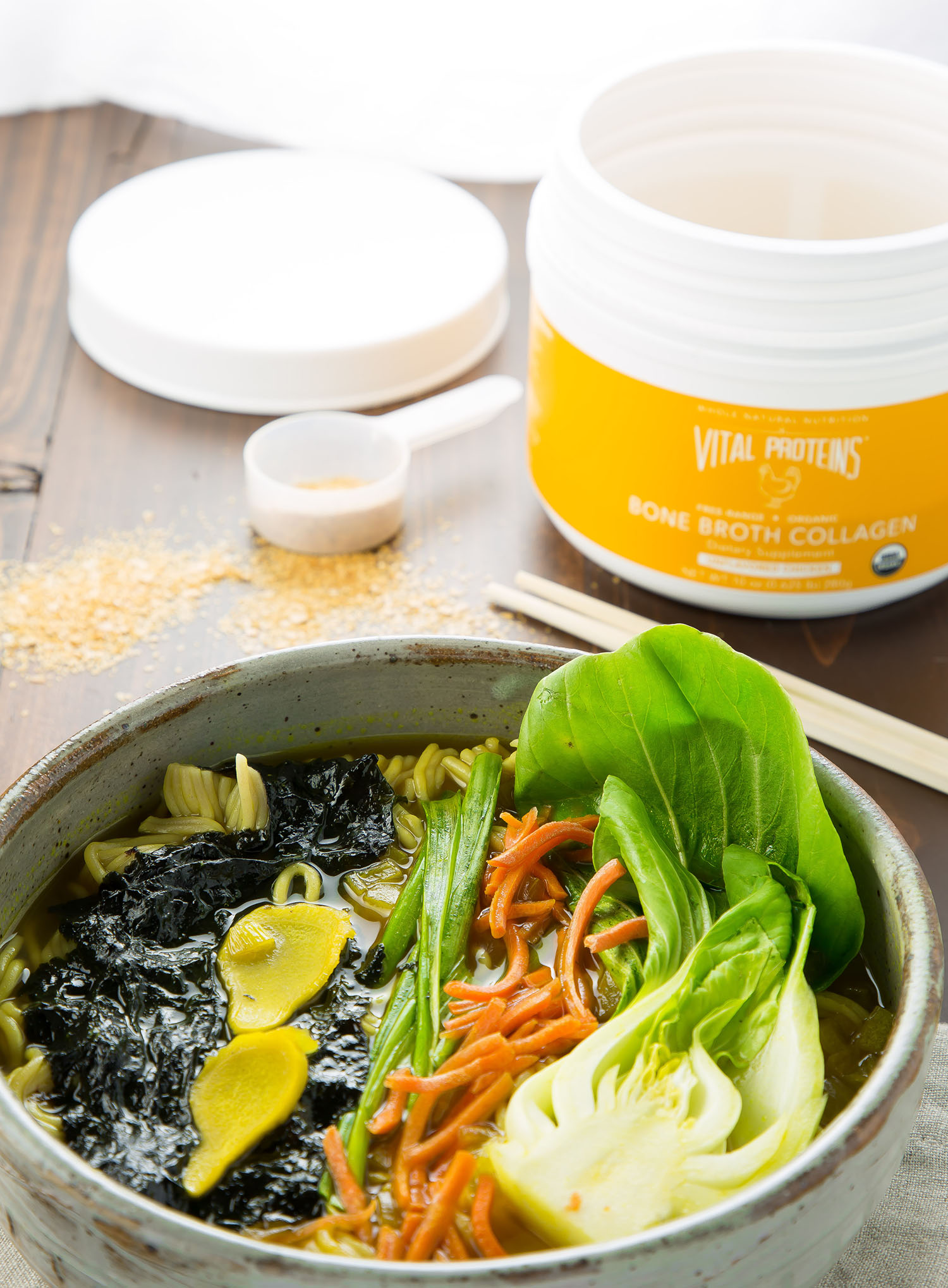 Other benefits
In addition to a severe gluten intolerance, I suffer from extremely dry skin and hair.  The bone broth collagen has helped decrease the dryness and itchiness I deal with on a daily basis.  My nails are crazy strong too.  Instead of them breaking regularly I am having to cut them regularly.   Side effect long, gorgeous nails?  No complaints here 🙂
Another perk among the many other reasons to take collagen is that my knees are feeling so much better these days.  Less popping and pain for sure.  I ran track and cross country when I was younger and really did a number on my left knee.  Collagen is great for joint and bone health.  All collagen is not created equal, so be sure to check out Vital Proteins for high-quality effective results.
Organic and free-range, the bone broth collagen really is terrific and has truly helped my body recover from years of blinded gluten abuse.  If you suffer from chronic gut issues I recommend trying this collagen supplement.  Remember though, commit to at least 30 days so it has time to work some magic for you.
How to make this ramen bowl with bone broth collagen
Prep all the ingredients and set aside.  In a pot, add 1 tbsp of olive oil and bring to medium heat.  Add the onions, ginger, and miso paste.  Season with salt and pepper and saute´ until the onions are translucent.  Add the garlic and saute´ for about a minute.  Add the water, spices, and tamari.  Bring to a simmer and add the bone broth collagen.  Allow to simmer and prepare the ramen noodles in another pot according to the package.  Once the noodles are done, drain and add the pot of simmering broth.  Garnish with bok choi, raw shredded carrots, and seaweed.  This ramen bowl with bone broth collagen is delicious, nutritious, and comforting.  Enjoy!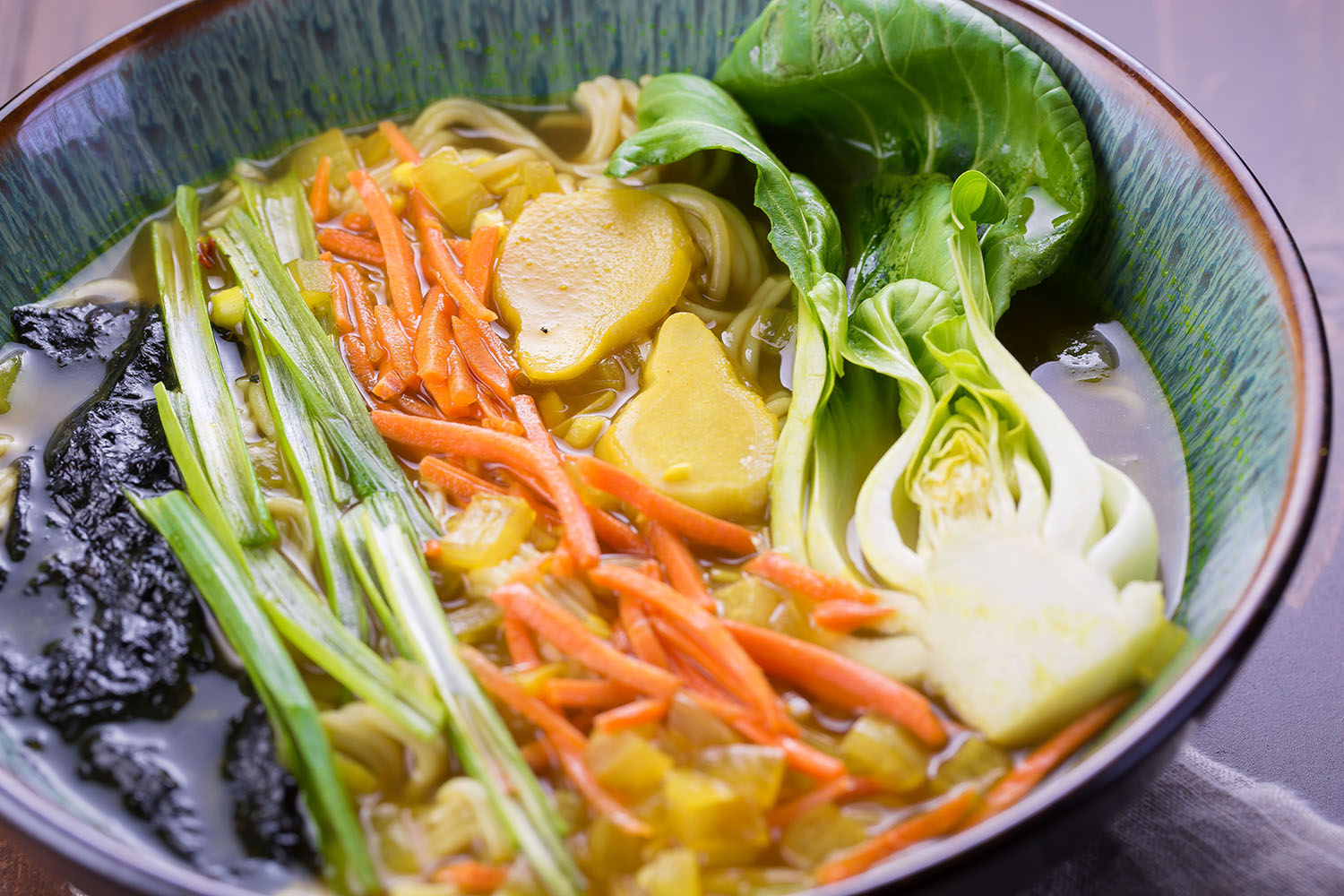 **These are my experiences with using this supplement for 30 days.  While I am being compensated for this review, all experiences and opinions are strictly my own**
Other comfort food recipes you might like: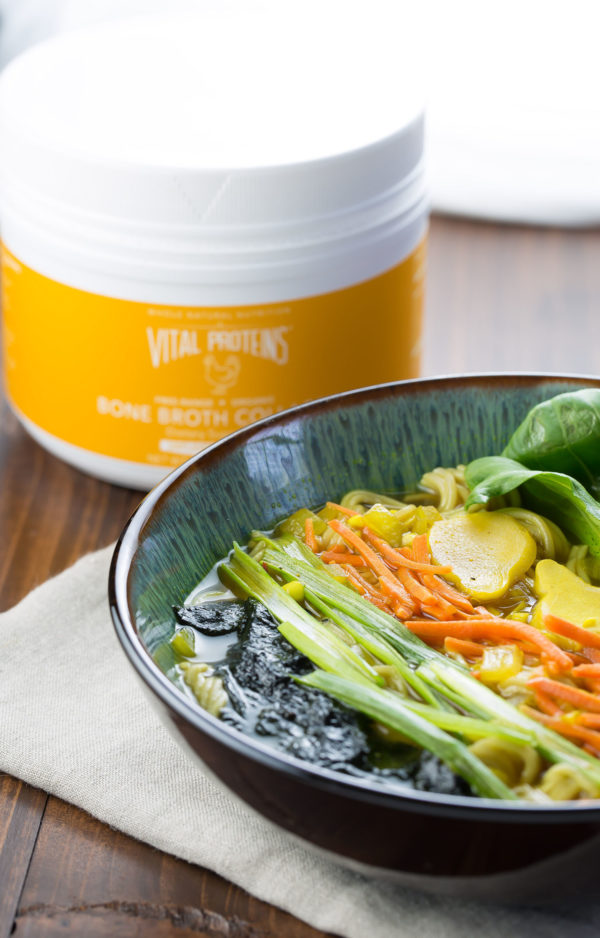 | | |
| --- | --- |
| | |
Slice bok choi in half and set aside

Measure and add garlic powder, turmeric powder, salt, and red pepper flakes to a small bowl and set aside

In a small pot over medium heat add 1 tbsp olive oil

Add onion, ginger and , miso.

Season with salt and pepper

Saute´ until onions are transparent

Add water, tamari, and dry spices

Mix thoroughly and bring to a simmer

Add 2 scoops of bone broth collagen to the simmering pot

While the broth is simmering, prepare ramen noodles in a separate pot

When noodles are done, drain and add to the simmering broth

Remove from heat and garnish with bok choi, seaweed, and raw shredded carrots