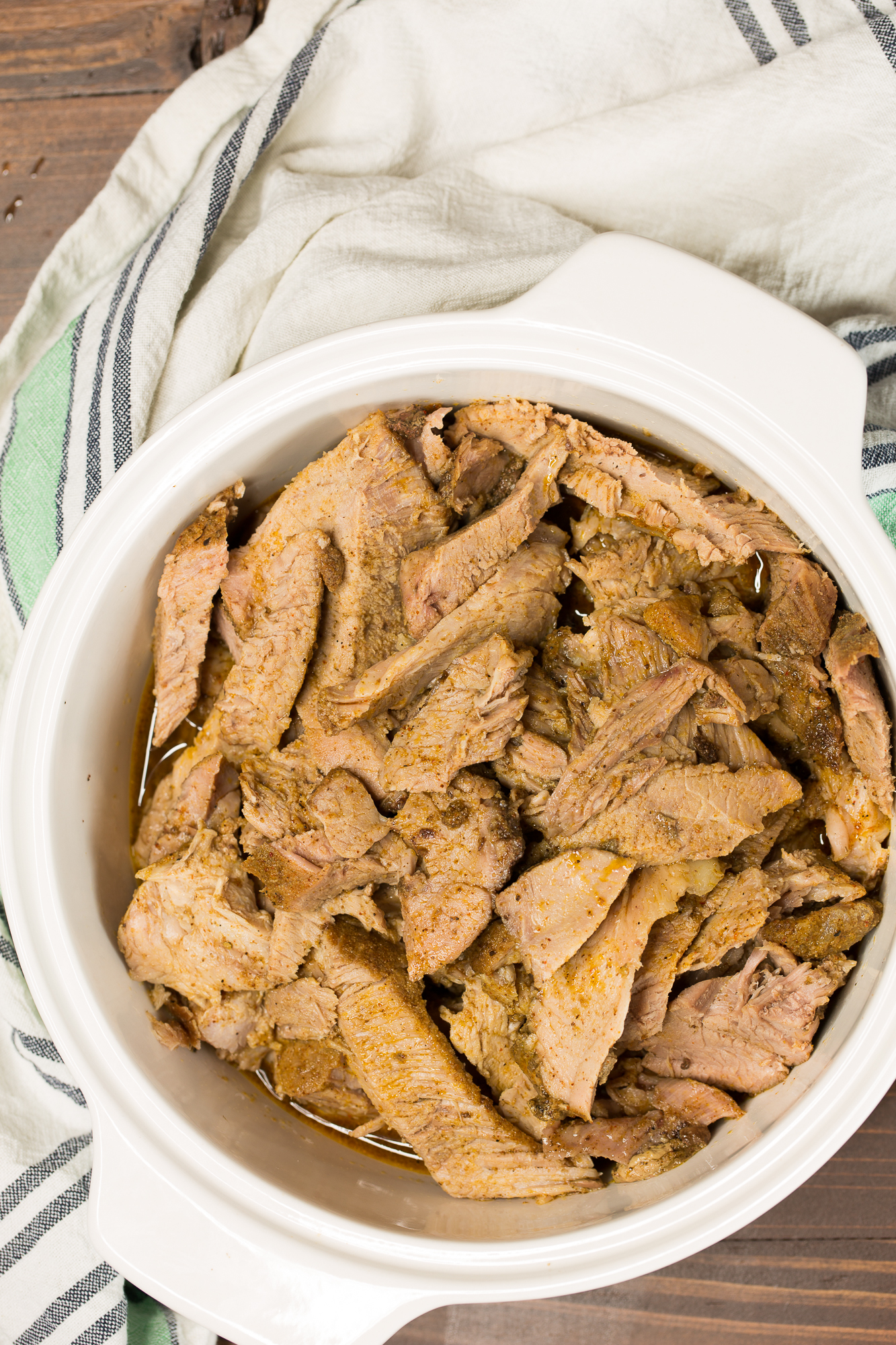 If you love this braised pork roast recipe, be sure to check out our delicious potato salad to go along with it too!
Welcome back!  Hopefully, by now, the madness of the holidays has passed and a little relaxation is on your schedule.  Personally, I enjoy the calmer moments of life when I can soak it all in and breathe slowly.  A cup of chamomile and a rainy day or homemade popcorn and a comfy couch to share with my boys are moments of complete bliss.  Unfortunately, my boys aren't so into those moments, lol.  They like to be on the go.  Typical boys, I suppose.  That just makes the moments we do have like that all the more special.
North Carolina is fully saturated at the moment.  Three chilly and rainy days in a row have kept us inside.  Perfect weather for warm and delicious comfort food!  For Christmas this year my husband bought me a new Le Creuset dutch oven.  To say I am excited about this new addition to my kitchen is an understatement for sure.  I couldn't wait to start cooking with it so it's christening recipe is this week's blog post, braised pork roast.  Oh my goodness, guys, it is delicious!  My only regret is that I purchased a 5-pound roast.   Five pounds is simply not enough for this jewel of a recipe!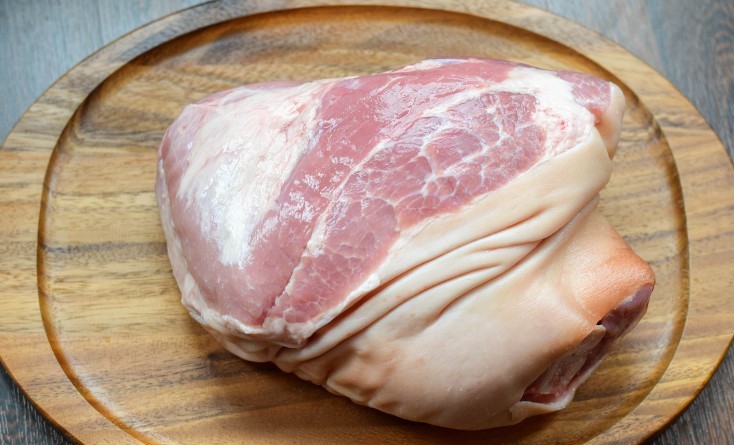 This roast is so versatile.  Once you pull the pork you can make anything from carnitas to an egg scramble.  I just ate the leftovers served over a fried egg for breakfast and it was superb!  The broth this creates is so rich it amazes me how simple it is to make.  Hands down, this is one of the best pork roasts I've ever made.  I know, I'm gushing…but seriously, you HAVE to try this!
To get the amazing flavors and broth be sure to really rub in the spices.  Use all of the dry rub you mix as well.  To lock in those flavors and the juices sear the roast to a golden brown (see below).  Do not worry if some of the rub sticks to the base of the pot.  When you add the stock you are essentially deglazing the bottom of the pot so all that goodness will just make the broth even richer!  If you notice too much sticking,  you can add a little more oil to the pot when searing.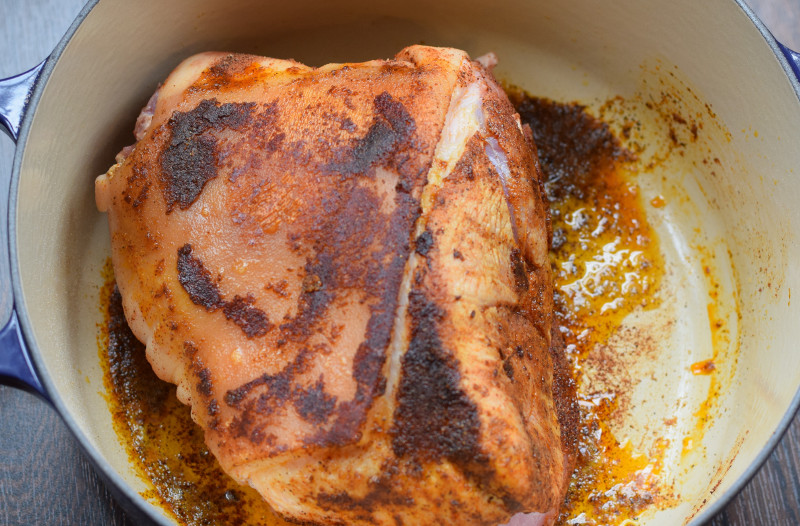 Once the searing is complete and you have drained the excess oil add the stock (scrape the bits off the bottom of the pot if needed) and cover.  After about 45 minutes flip roast over and cover.  In another 45 minutes check the internal temperature of your roast.  If you have reached 170 degrees remove from heat and let the roast rest.  If not, add a little more time and check again.  After about 15 minutes of rest pull the pork and devour!  I hope your family loves this recipe as much as mine does!  Let me know your favorite way to personalize this recipe!
If you want to make this yummy dish in the slow cooker, simply follow all the instructions and once you have seared and deglazed your pan transfer the contents to the slow cooker.  To make this in the instant pot, you can sear right in the pot and then switch to slow cooker mode.  Cook on low for 6-8 hours.
What is your favorite comfort food?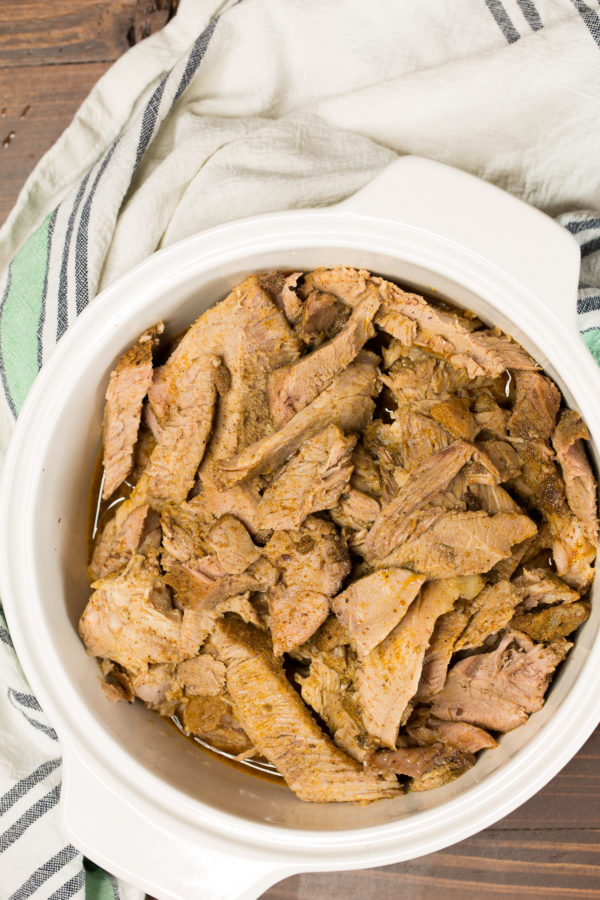 | | |
| --- | --- |
| | |
Mix all dry ingredients to make dry rub, set aside

Massage dry rub into roast and set aside to rest

In a dutch oven, add enough olive oil to coat the bottom about 1/2 an inch. Bring to medium heat

Once hot, sear roast on all sides until golden brown

Add 1 cup of chicken stock and scrap bottom to incorporate any seasoning that adhered while searing

Cover and reduce heat to medium low

In 45 min flip roast over and use meat thermometer to check temp and continue cooking if necessary

Pork roast is done when it reaches an internal temperature of 170 degrees

Once cooked, allow roast to rest and then shred or "pull" pork for sandwiches, tacos, nachos, etc. Be sure to reserve the drippings to use in your dish. The sky is the limit with this super flavorful and tender pork.
The drippings can be thickened with a slurry of cornstarch and water to make a delicious gravy.
Cooking times may vary depending on the size of your roast. Always use a meat thermometer to ensure proper internal temperature. Pork should reach 170 degrees for safe consumption.
This can also be made in an instant pot or slow cooker if you don't have the time to "babysit" the dutch oven.