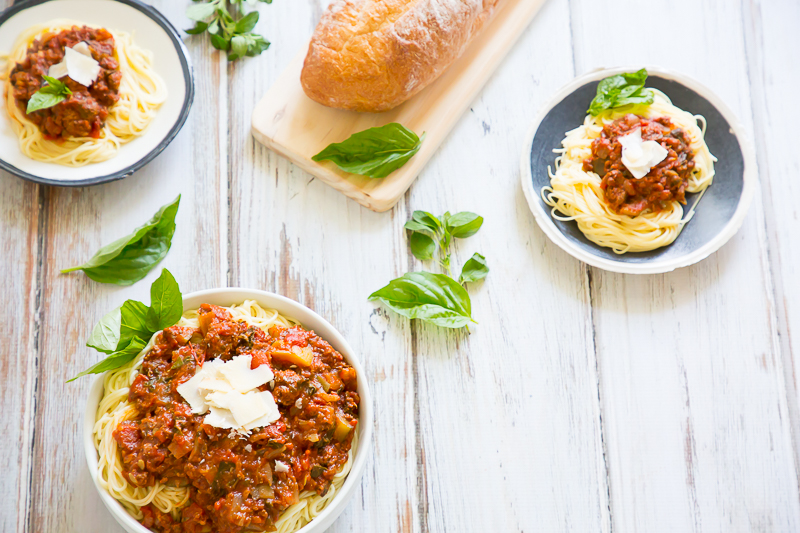 A peek into my world:  This week it includes this homemade spaghetti sauce recipe!
My world this week has been like most other mom's.  In a word, hectic.  This seems to be a common theme!  I would not have it any other way, but sometimes mommy needs a time out!  We have family coming into town, my dad had a second surgery, I have spent 2 days batch cooking, and am still trying to be super mom.  A hot yoga session would definitely soothe the soul right now, there just has not been time!  Oh, and I turned 35!
Accountability
Unfortunately, I think most mom's function like this daily, weekly, and monthly.  I have not figured out how to balance it all without feeling as is something is being neglected.  My coping strategy has been to simply neglect myself.  I can live with that much easier than if I neglected my other responsibilities.  It is, however, a short sighted strategy.  You can only serve from an empty cup for so long.  My goal this year is to take better care of myself.  I want to be around to see my grandchildren and to be healthy enough to keep up with them!
Comfort Food
Admittedly, comfort food is my favorite.  My caloric intake gets out of hand sometimes due to this.  Especially lately!  The older I get the less I can eat like I used to.  When I was younger I could eat whatever I wanted and wouldn't gain weight.  Since about 33 or so (and after having my son) this has flip flopped!  I feel like I can look at a brownie and gain 5 lbs.  Seriously, not cool!  My husband is the tall and skinny to my short and hmmm…fluffy?  soft?  I really don't like any of these adjectives, lol!  They fit now though.  My son grabbed my lower belly pooch and asked if there was a baby in there the other day!  Oh My Gracious, I almost burst into tears!  Obviously, he didn't mean any harm.  It still stings though!  Want the irony?  I'm currently writing and eating a slice of pizza!  I have been good this week though, so it is OK.  I think.  Yeah, it's OK.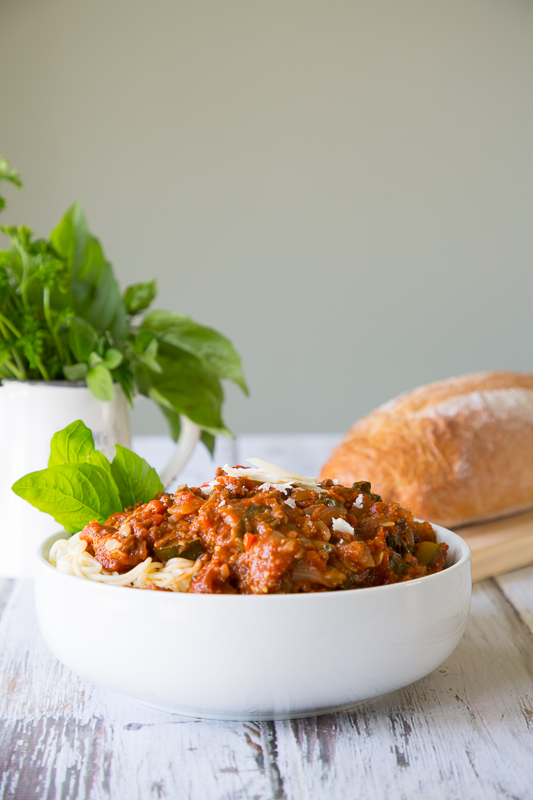 What did 35 look like this weekend?
Sunshine and steaks!  My husband grilled and we spent the day in the pool.  It was wonderful family time.  It isn't often that all three of us have time together.  Typically if David is working, I'm not and if I am, he is not.  Logan always has one of us, just not usually both at the same time.  It was the perfect birthday 🙂  Oh, and I got awesome snuggles and a NAP with my son.  Bliss!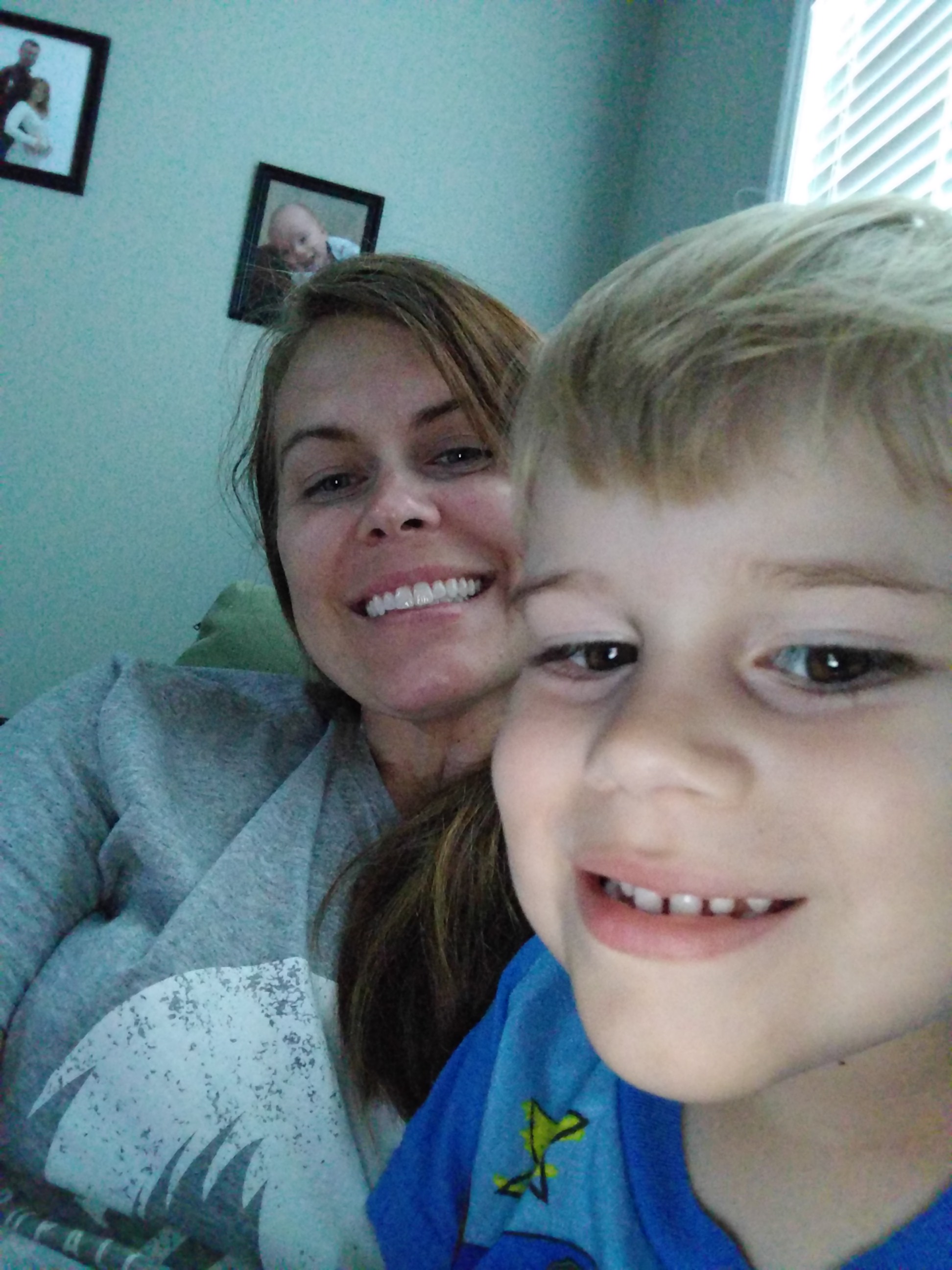 Such a drastic change from my birthdays pre-baby!  At least this year I didn't have a hangover the next day!  Those just aren't worth it at this stage of life.  Who can handle a three year old and a hangover?  Not this mamma!  I'll trade for snuggles and a nap any day of the week.
On to the Main Event: This Homemade Spaghetti Sauce Recipe
I'll begin with saying it is COMPLETELY worth the time it takes to make this homemade spaghetti sauce recipe.  I make it in ridiculous quantities and make not only spaghetti with it, but also lasagna.  It freezes well so as long as I put in the work for one day, I can have countless others dinners that are stress free.  How convenient is simply popping a frozen meal in the oven?   I depend on meals like this to keep a supply of nutritious food in my families' belly.   Now, how nutritious is lasagna or spaghetti you ask?  This recipe is quite good as far as nutrition goes.  There are so many different veggies it is amazing!  Definitely a chunky garden fresh type of homemade spaghetti sauce.  It's also a super easy way to get the much needed veggies into my son.  There are no complaints for either spaghetti or lasagna.  In fact, he requests them!  Score a point for mom!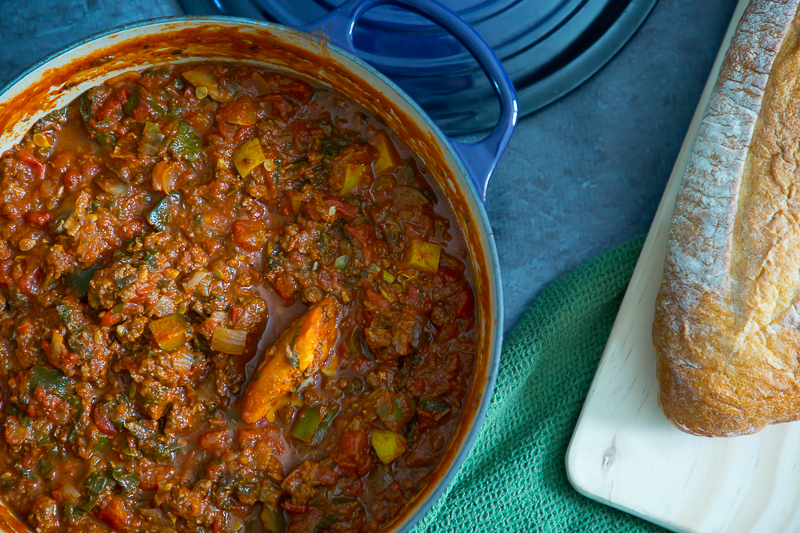 The How To:
To make this homemade spaghetti sauce recipe gather all your produce and wash it.  This is important.  Wash your produce.  Even organic produce can have bugs and such present.  Once washed, dice, chop, or slice as desired.  I personally just use a rough chop.  It's a rustic and chunky sauce sauce so it really doesn't matter in the grand scheme of things.  Once your produce is chopped, set it all aside.
In a large stock pot, brown beef along with onions.  Season with salt and pepper.  Lightly.  Halfway through, add the garlic.  I use grass fed organic beef, but use whatever your family enjoys.  Add the chopped produce to the pot once the onions are translucent and beef is thoroughly cooked.  Season with salt and pepper.  Saute for about 10 minutes or until veggies have softened.  Add the tomatoes, diced and crushed.  Stir.  Add the parmesan rind.  Cover and simmer for about an hour or so.  Stir occasionally.  Add the swiss chard.  Stir and cover.  Allow sauce to simmer covered for about 2 hours.  Stir occasionally.  Add the fresh basil, oregano, parsley and simmer for  20 minutes.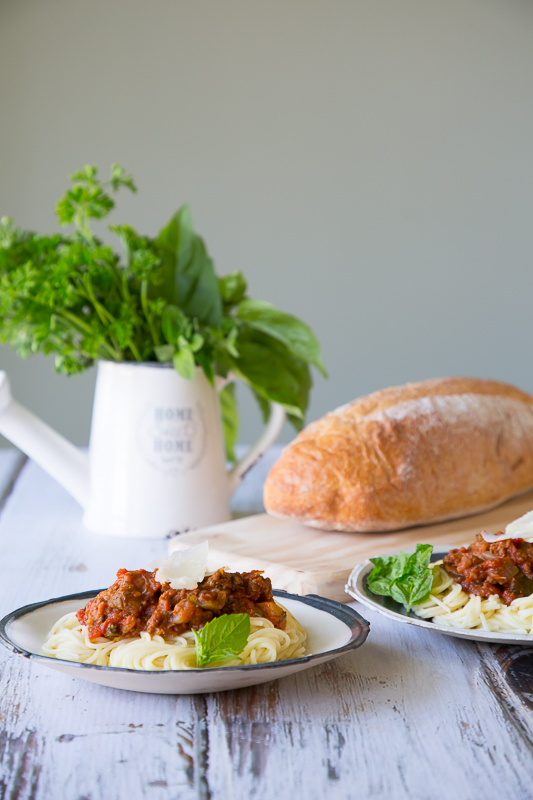 Freezer Meal
After adding the herbs and simmering for 20 minutes, you may go ahead and use the sauce however you see fit.  This sauce is perfect for lasagna or baked ziti as well as spaghetti.  My favorite thing to do is make freezer meals with the sauce.  I assemble my lasagna and once covered I place it in a 2 gallon Ziploc bag.  This helps to keep the meal from getting freezer burn.  I try to avoid disposable foil containers and chose reusable Pyrex containers.  The 8×8 is perfect if it is just my husband, son, and myself.  The 9×13 is great to have on hand for when guests are over.  Freezer meals really save my tail on busy days.  I always want my family to have nutritious and delicious homemade meals.  Time isn't always compliant in this wish of mine so freezer meals are how I cope.
By making my own freezer meals I am saving a ton of money.  I can make a 8×8 organic lasagna for around $10.  That's cheaper than the non organic brands in the grocery store.  I call that a win!  This sauce recipe made 1 9×13, 2 8×8 lasagnas and 1 spaghetti dinner.  Give one afternoon to your kitchen and freezer and it will repay you, I promise!
I hope you enjoy this recipe as much as we do!  I'd love to hear what you think so leave a comment!
This post contains affiliate links.  By using these links you are helping to support this blog, thank you!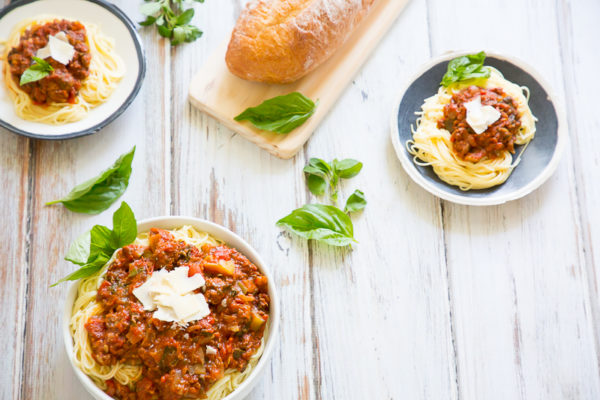 | | |
| --- | --- |
| | |
Roughly dice zucchini, squash, onion, peppers, and swiss chard and set aside

Slice mushrooms and set aside

mince garlic and set aside

To a large dutch oven, add the ground beef and onions

After a few minutes, once beef is cooked about halfway, add garlic

Season lightly with salt and pepper

Once beef is cooked thoroughly and onions are translucent, add diced produce

Season with salt and pepper

Saute for about 10 minutes or until veggies are softened

Cover and let simmer for 2 hours, stirring occasionally

Add chard, stir and cover

Simmer another 45 min, stirring occasionally

While sauce is simmering, roughly chop fresh herbs and add them to sauce

Simmer 20 more minutes, stirring occasionally
For a gluten free meal, use gluten free pasta to make your lasagna or spaghetti.  The sauce is already gluten free!