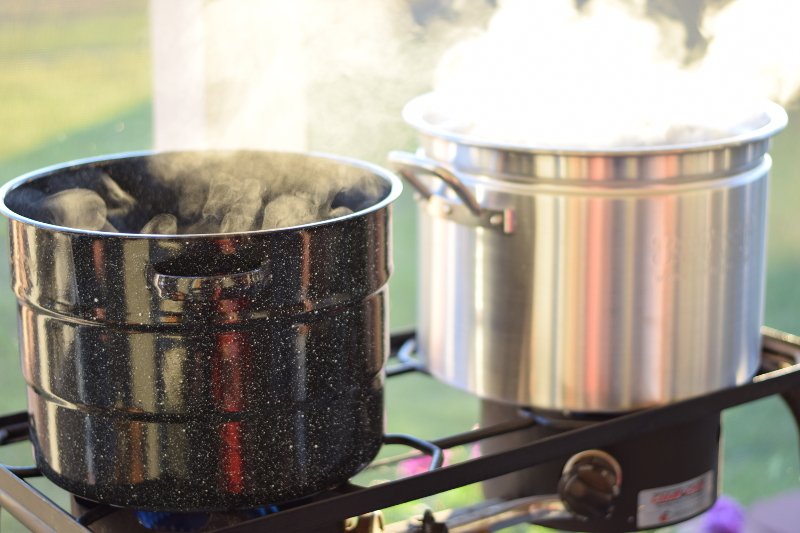 THIS RECIPE IS NOT GLUTEN FREE AS WRITTEN.  I WILL CONVERT AND UPDATE SOON.
Some days I really feel as if I'm on top of things, like I really have my stuff together.  Yesterday was NOT one of those days.  My husband and I decided to host an impromptu dinner for the family.  Seeing as my mother absolutely hates to cook she was immediately on board.  Everyone else happily followed suite.  Since my husband was helping my brother move he was not able to offer much assistance for this dinner so I dropped my son off with my mom and nephew, did some quick cleaning, and headed to the local seafood market.  Initially I intended to make crab cakes.  We recently took a trip to the Chesapeake Bay area and I still have crab cakes on the brain!  Once I got to the market I quickly realized I rushed out of the door without making a list.  If you know me, that is a big uh-oh.  I still swear part of my brain was delivered with my son!  It just has not been as clear or efficient since!
While waiting in line I quickly compiled a list in my head.  I was so disheartened when the customer in front of me bought the last of the jumbo lump crab meat.  With the line behind me growing by the minute I scanned the counter and then saw them, fresh blue crabs.  Ok, change of menu (Plan B), I am now serving a Low Country Boil.  No problem, I grew up on this and have made it a million times.  HA!!  I quickly ordered a dozen crabs and 4 pounds of shrimp.  The kind gentleman behind the counter offered to shell and de-vein the shrimp for me.  Awesome, score one for me on saving time!  I paid for my items and headed back to my mom's to drop off the seafood and pick up my son.  It was nap time, glorious nap time!   I proudly showed my dad my picks and he just looked at me.  I couldn't figure out why until it hit me.  CRAP!  I need the shell on the shrimp for the boil.  I was so rushed and wrapped up in what I needed to do next I completely missed the error I was making when I ordered at the market.  Being the extreme type a that I am living in the present isn't my strong suit 🙁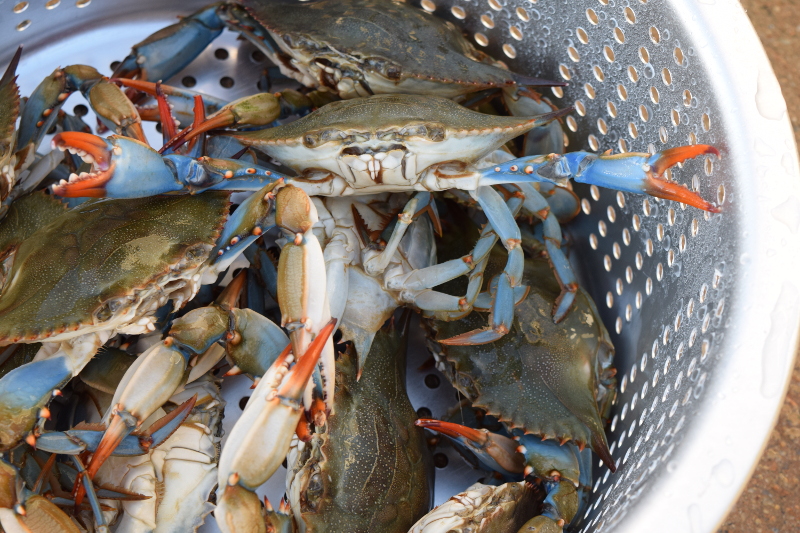 Plan C, OK I can do this!  Back to the market I go.  I purchased 4 more pounds of shrimp and the rest of the ingredients I needed and headed back to moms.  Thank goodness I realized I needed to grab my camera since we decided to have a change of venue and have dinner at my mom's house.  Camera in tow I unloaded the groceries and took a few moments to relax.  I put Logan down for a nap and started prepping.   Quickly I realized that I doubled some ingredients in my head and not others.  Ugh!   Back to the store I go for more ingredients.  One of the employees even called me out saying, "oooh, what did you forget?  I know I just saw you in here"!  Yes, yes you did.  I officially have made 4 trips to the market and grocery store now for this meal.  Seriously, my brain is frazzled.  Usually, the kitchen is where I shine.  Life happens and we all have our days I suppose.
Finally, with all my ingredients, I head back.  Unfortunately we now have too much food for the pot I have.  My dad graciously agrees to go to Lowes to get a larger pot.  Twenty five minuets later a text informs me he is now heading to Cabela's.  Almost an hour and a half later neither place had what we need so time to get creative!  We decide to just cook the crabs separately to accommodate pot size.  Easy enough fix I suppose.  Finally, it's time to start cooking!  It takes about an hour and a half so I had just enough time before people start to show up.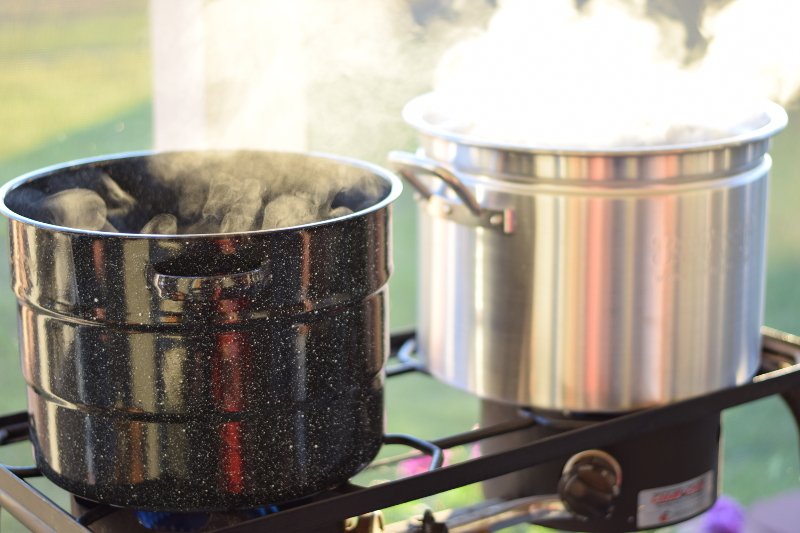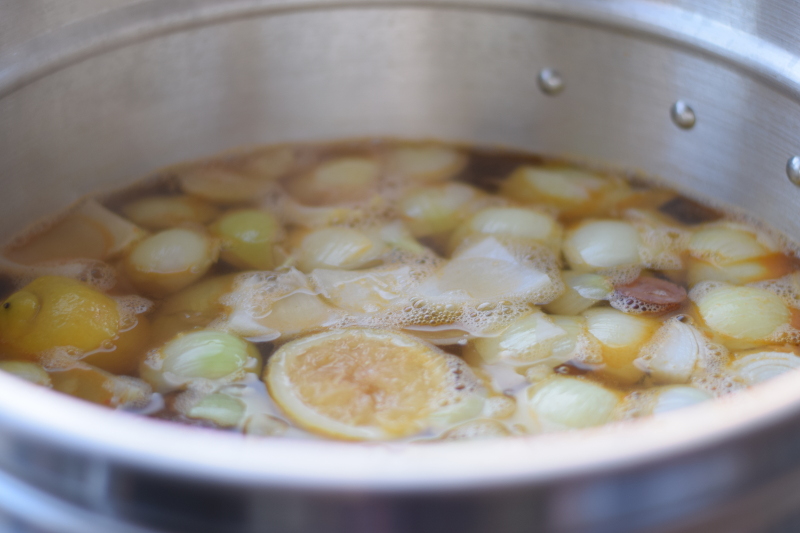 Yay, time for the fun part.  We set up the gas cooker and bring both pots of water to a boil.  I put the crabs in one pot and in the other pot I add the seasoning bags. The crabs cook for about 15-20 min.  When they are red and floating they are done.  In the second pot the potatoes are added first, followed by the andouille, lemon, and onions. Next the corn is added.  The shrimp are the last to go in and cook about 5-7 minuets.  Once the shrimp are cooked put the lid on and let everything sit for about 20 min to allow for the flavors to fully absorb.  Time to dump the contents of the pot on the table and dig in!  All in all it was an amazing and chaotic day filled with laughs and family.  What could be better!?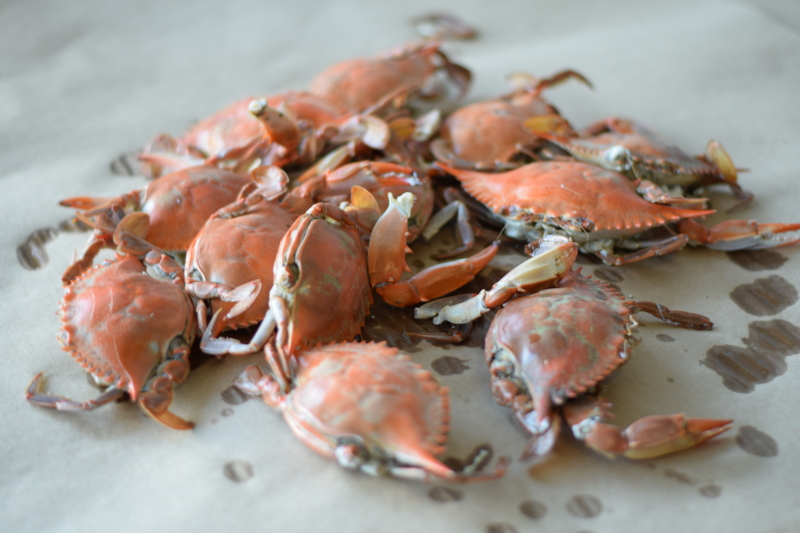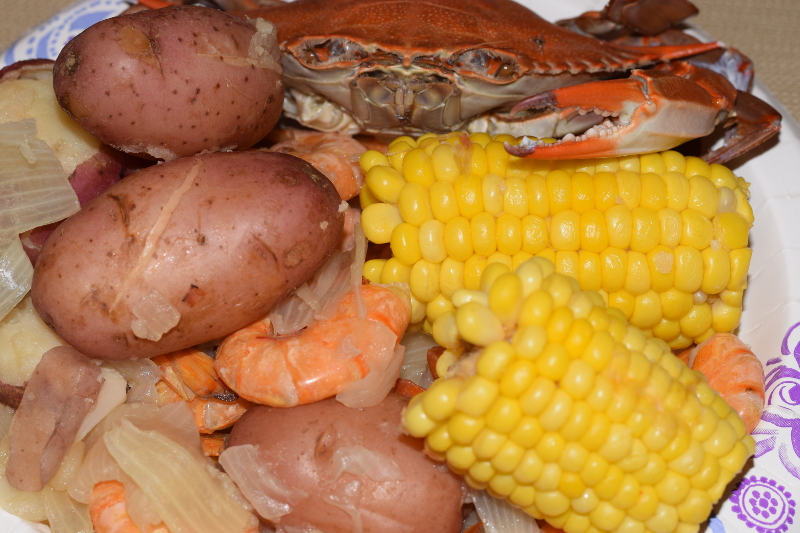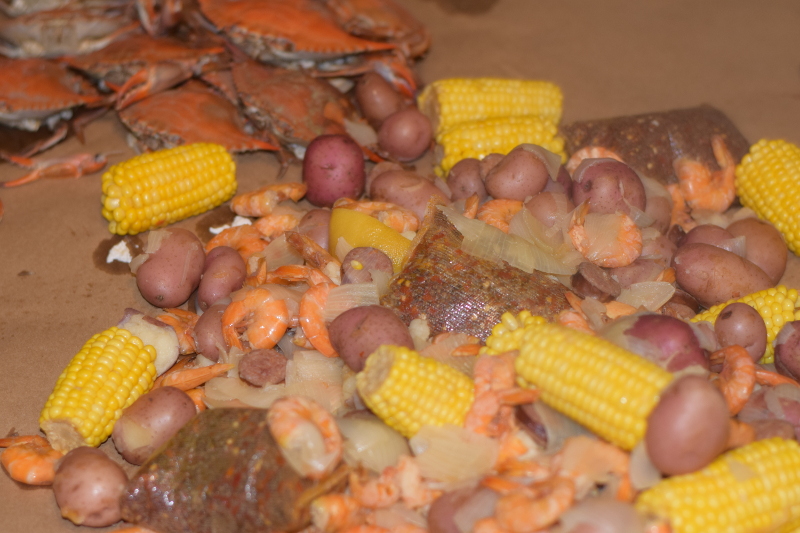 What family meals did you grow up on?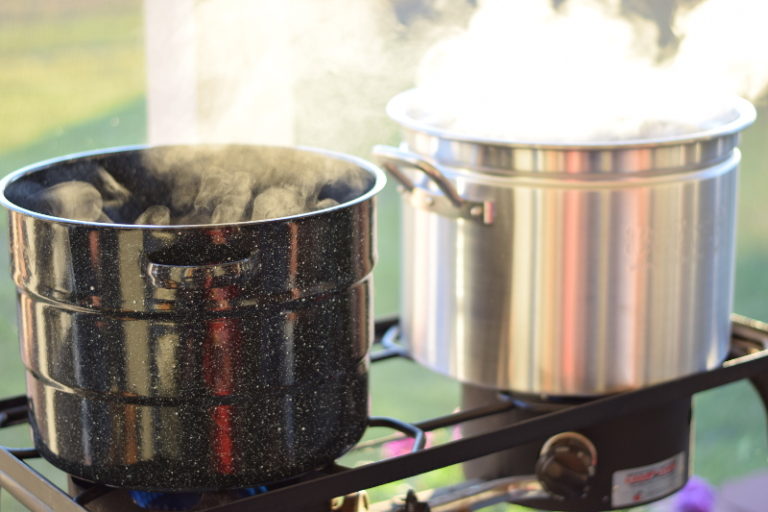 | | |
| --- | --- |
| | |
Set up gas cooker and add water to both pots While waiting for water to boil, clean crabs (if needed)

Once water comes to boil add 1 boil bag to one pot and 3 bags to the other pot

10 min later add crabs to pot with 1 boil bag and potatoes to pot with 3 boil bags

Keeping an eye on the crabs, add the onion, lemon, and sausage to the other pot

Add the corn about 15-20 min later*

Crabs should be done and cooling on table by now (when they are red and floating they are done)

Add shrimp to pot once corn has cooked for 20 min and cook about 5-10 min longer*

Once shrimp are cooked (they will turn pink when done) turn gas off and place lid on pot

Allow 20 min for flavors to fully absorb. Dump contents on table, let cool, and dig in!
THIS RECIPE IS NOT GLUTEN FREE AS WRITTEN.  I WILL CONVERT AND UPDATE SOON.
*If using frozen corn or shrimp you may need to adjust your cooking times a bit