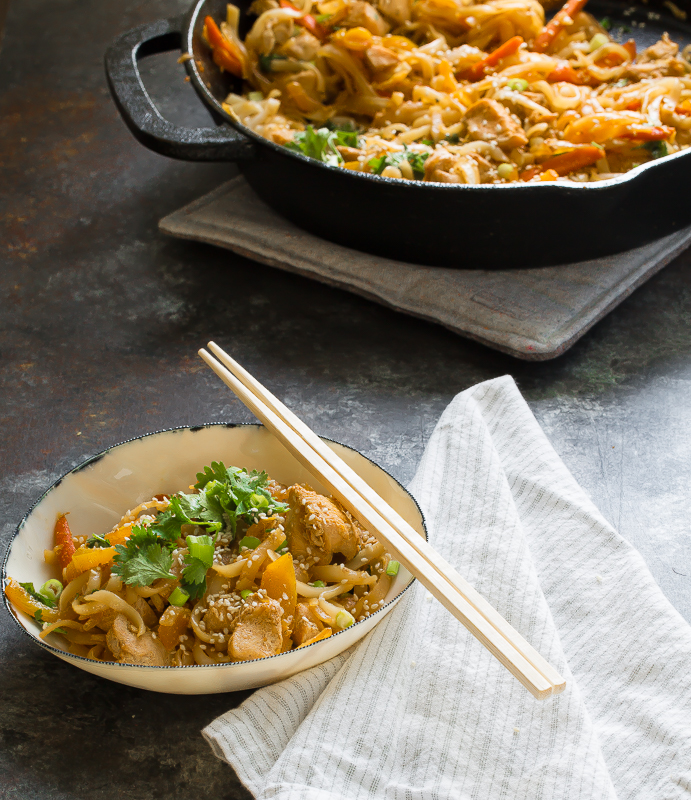 Before I get to this simple homemade pad thai recipe… This post may contain affiliate links that help support my blog.  This comes at no additional cost to you.
A peek into my world this week
For the past year, I have been struggling with some health issues that are quite uncomfortable and very inconvenient.  I have "doctor hopped" between specialists and my GP trying to get some relief for the root cause rather than just the symptoms.  None of the doctors can agree on, or even find the root cause so we have been unsuccessfully treating the symptoms.  I have been doing my own research and have found that every single one of my symptoms aligns with having gluten issues.  My doctors don't seem to think diet could possibly have anything to do with my symptoms.  Yet, they can't seem to control them either.   I don't want to stay on medications that aren't effective so I have decided to try a gluten free diet to see if I can get some relief.
A new diet? Yikes!
As someone who LOVES pasta and bread, I'm not overjoyed about this diet.  But if I can control these symptoms without medications like steroids, I'm going to give it a shot.  No sense in treating a symptom and not the root problem.  Maybe gluten isn't my issue, but I need to find something that works.  Bear with me as I will probably be releasing some gluten free recipes for the next few weeks while I am trying this diet out.  Don't worry though, many recipes that I would normally make are naturally gluten free anyway.  Recipes that aren't can be made to be gluten free with a few tweaks.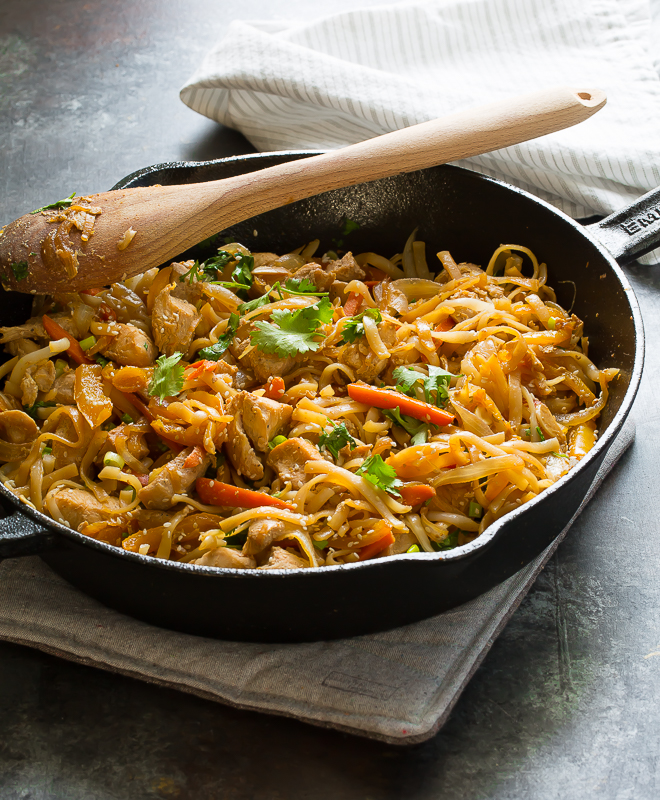 Homemade Pad Thai Recipe
I absolutely adore Thai food.  I was introduced to it by my friend and have been a little obsessed ever since.  Luckily, my husband and son like it too.  Unfortunately, there are zero Thai food restaurants locally.  Not a problem for this mama!  I whipped up my own recipe after doing a little research.  As a plus, I even got to enjoy this delicious pad thai in my pj's!  Who doesn't love to wear their pj's and eat some of their favorite food?  Well, maybe some people wouldn't enjoy that.  For a homebody like me, it is absolute heaven.  So long as I can rope someone else into doing the dishes.  I'm still working on that one…
This homemade pad thai recipe is super simple.  With a few shortcuts, I can make it even simpler for you!  This recipe calls for a good amount of prep work for the veggies.  Cutting carrot matchsticks can be time-consuming.  Or, you can go to the produce aisle and buy them already prepped that way.  You can also usually find onions and other veggies prepped for you as well.  A mandoline is also another option to julienne veggies (matchstick type cut).  Either way, these both are quicker options that can cut down prep time.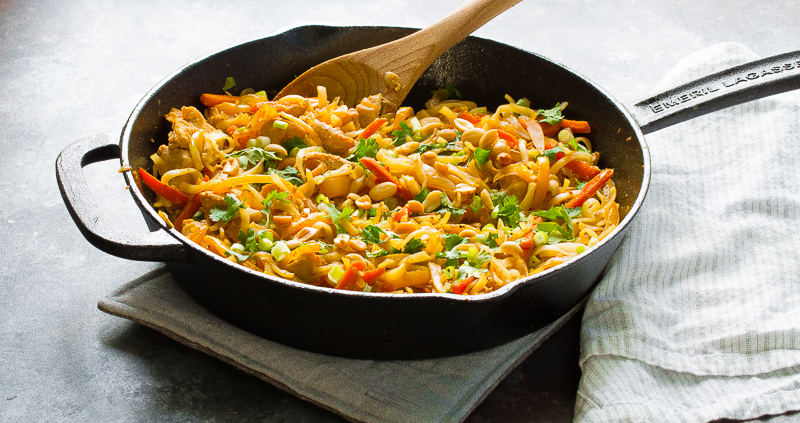 How to Make This Homemade Pad Thai Recipe
To make this homemade pad thai recipe, you need to first gather and wash all produce.  Slice the onion, yellow bell pepper, shallot and garlic cloves.  Add all the produce to a large bowl.  Next, juice your limes and add the juice to the bowl with the veggies.  Add the Tamari soy sauce to the same bowl.  Mix well.  Dice the raw chicken breasts next.  Add them to the same bowl and mix well to ensure the chicken is coated in the sauce as well.  Cover this bowl and place in the refrigerator for at least an hour.
After your veggies and chicken have marinated, add some olive oil to a large skillet and bring it up to a medium heat.  Add the contents of your bowl.  Saute the chicken and veggies until the chicken is fully cooked.
While your veggies and chicken are cooking in the skillet, prepare the rice noodles as the packaging directs.  Set them aside when done.  Once everything is cooked, add the noodles to the skillet and mix well.
Garnish pad thai with cilantro, peanuts, and sesame seeds, and green onions.  Now, it's time for the best part!  Dig in and enjoy!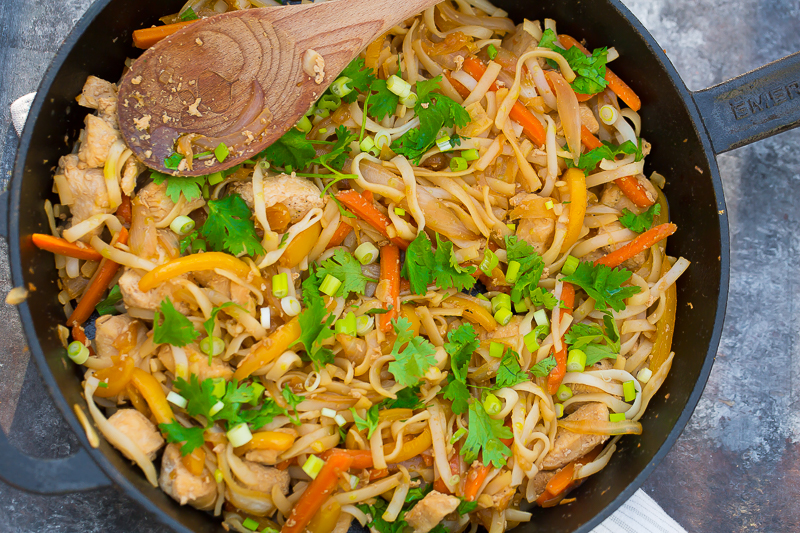 If you are in the market for a new cast iron skillet check out my review and giveaway for the one featured in these images!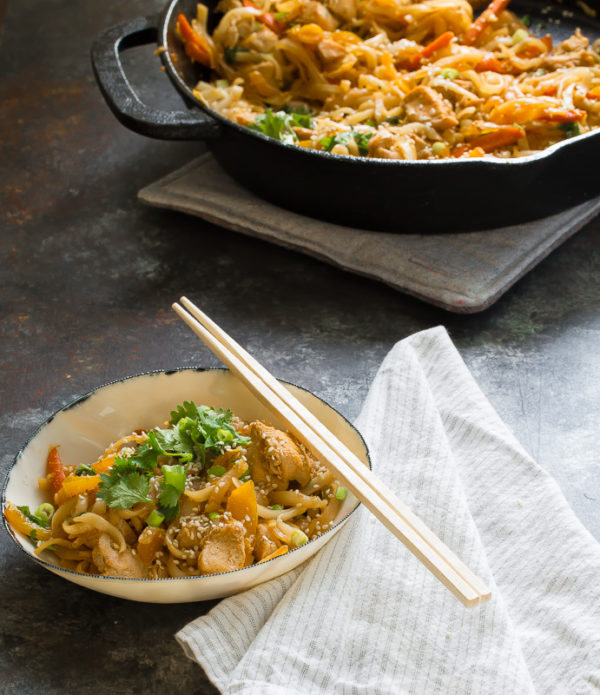 | | |
| --- | --- |
| | |
Slice onion, garlic, bell pepper, shallot, and carrots

Place in a bowl and set aside

Add lime juice to bowl with veggies

Add Tamari soy sauce to bowl with veggies

Dice chicken breasts and add to bowl with veggies

Lightly salt and pepper to taste

Stir veggies and chicken to evenly coat with soy sauce and lime juice

Cover bowl and refrigerate at least 1 hour

Prepare rice noodles as package directs

In a large skillet, add olive oil and bring to medium heat

Saute until chicken is fully cooked and veggies are tender

While chicken and veggies are cooking, slice green oinions

Once chicken is completely cooked, add rice noodles to skillet and toss together

Garnish with cilantro, green onion, sesame seeds, and peanuts