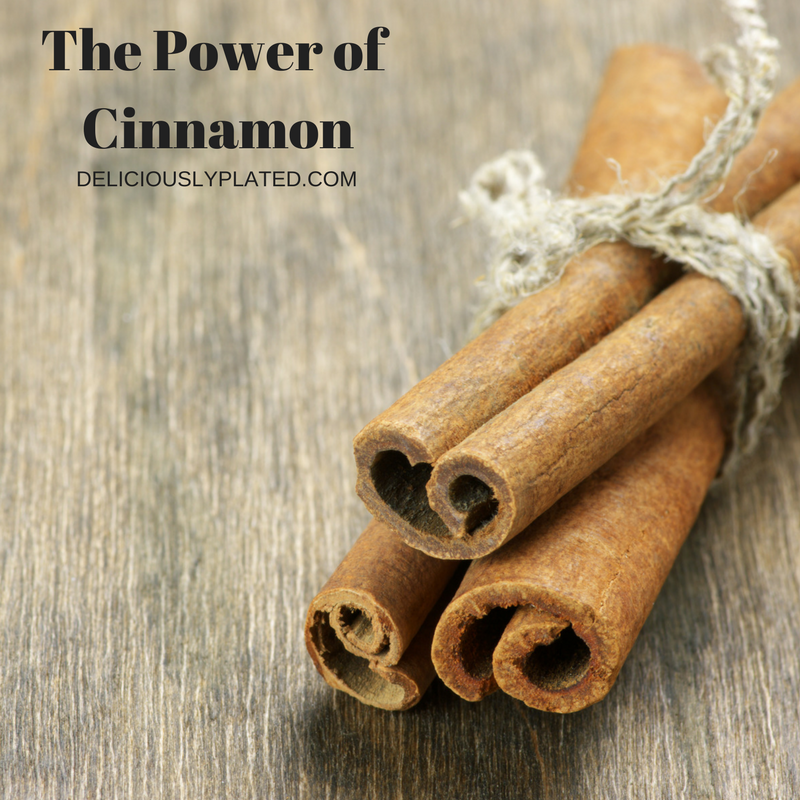 If you love spice you are in luck.  Turns out cinnamon is amazing for you too.  Find out all about the power of cinnamon now!
The power of cinnamon
Nothing evokes more of the feelings of the autumnal and winter months than a kitchen wafting with the sweet smell of cinnamon. Such a warming, earthy and spicy scent, just the smell of it can transport you instantly to a country of exoticness – think Morocco, Egypt, Sri Lanka, or to Christmas mornings of freshly baked cinnamon buns or a festive night of feasting.
For me, I have these vivid memories of coming home from school and rustling up one of my favorite post-school snacks; toasted thick white bread spread with lashings of butter and then dusted in a thick layer of cinnamon sugar. The heat from the toasted bread would slightly melt the sugar and when combined with the butter, would instantly create the beginnings of an oozy cinnamon caramel… so good. Time-hop a couple of decades though and nowadays I would never dream of simply sprinkling a white refined sugar straight on top of some equally white and refined bread; how times have changed! Don't get me wrong though, I'm all about cinnamon toast – read on for a link I've included for an alternative and healthier version of this after-school snack.
Using it in a more "adult way", a friend of mine loves to give her morning cup of joe a sprinkle of cinnamon, creating a sweeter flavor without adding any sugar. So it got me wondering, what has cinnamon been used for in the past and what are the health benefits of cinnamon today?
A short spicy history of cinnamon
Once upon a time, cinnamon was so highly prized that it was deemed more precious than gold; with people throughout the ages using it as currency, starting wars over it and turning to it for its believed aphrodisiacal powers. Native to Sri Lanka (or Ceylon), Chinese manuscripts record the use of cinnamon dating back to 2800 B.C. and further evidence suggests that it was brought to Europe by Arab traders. Stories reign throughout the history of its decadence and importance; the Roman Emperor Nero demanded a year's supply of cinnamon be burnt as a gesture of his remorse for the role he played in his wife's murder, tales were woven by Arab spice traders on the far-out origins of this luxury spice, Christopher Columbus wrote to Queen Isabella claiming he had found cinnamon "in the New World" (alas his samples sent home proved otherwise), and in the 1500's Gonzalo Pizarro, a Spanish explorer, traversed the America's high and low hoping to find a supply of cinnamon that was closer to home. By the 1800's however, things had started to settle down, as other countries such as Indonesia, Borneo, Mauritius, and Guyana started to easily grow it for themselves.
Prized for its opulent and sweet smells, cinnamon was long used by doctors in medieval times to treat sore throats, coughs, and other sicknesses. It was also valued for its meat preservation properties, as its phenols (the chemical compounds in the spice), inhibit the growth of bacteria that are responsible for spoilage.
From Arab merchants to the supermarket shelves
Produced by cutting the stems of the Cinnamomum tree and extracting the bark which is contained inside, when dried, this bark forms strips that curl into rolls and volia; you now have cinnamon sticks. These sticks are then ground down into cinnamon powder.
A far cry from the Arab spice market days, there are types of cinnamon which are more commonly available – Ceylon and cassia cinnamon. Ceylon cinnamon with a milder, sweeter flavor is often more expensive and is still widely produced in Sri Lanka, whereas Cassia cinnamon primarily produced in Indonesia, is darker and has a stronger and more pronounced smell and flavor; usually cheaper as well, it is more mass produced.
The health benefits of cinnamon
Cinnamon boasts a long list of health benefits and has been for centuries. A key element in Chinese medicine and Ayurveda (the alternative medicine practice originating in India), the aromatic spice has been used to treat a range of ailments such as colds, flu, cramps, indigestion, blood clotting, circulatory issues as well as helping to improve cognitive function and memory.
Cinnamon's superfood properties are all thanks to the abundance of the compound called cinnamaldehyde, which is what gives cinnamon its distinct smell, flavor and its powerful health benefits. The most effective dose of cinnamon is typically 1 – 6 grams of cinnamon per day (around 0.5 – 2 teaspoons), just be vigilant with your use however as very high doses of the spice can be toxic. Taken in the correct amount though cinnamon:
Is full of antioxidants

– Chock full of powerful antioxidants such as polyphenols, cinnamon is a powerhouse of protection for your body from oxidative damage caused by free radicals. In fact, in a study that compared the antioxidant level of 26 spices, cinnamon outranked even those such as garlic and oregano, claiming the top spot.
Is anti-inflammatory

– It's these same antioxidants in cinnamon that help the body to also fight infections and repair tissue damage.

Improves circulation and is healthy for your heart

– Studies have shown that even just 120 milligrams of cinnamon per day can help to reduce the levels of total cholesterol, LDL cholesterol, triglycerides as well as helping to lower high blood pressure.
Can lower your blood sugar levels, helping to improve your metabolism and can have a positive anti-diabetic effect

– Cinnamon improves your body's sensitivity to insulin, which plays an important role in the regulation of your metabolism and transporting blood sugar into your bloodstream and cells. By working to decrease the amount of glucose that enters the bloodstream after a meal, human studies have shown that it can lower fasting blood sugar levels by up to 10-29% lending it to have to positive anti-diabetic effects.

Is good for your brain

– Although the effects need to be studied more in humans, cinnamon has been found to help protect neurons, normalize neurotransmitter levels and improve the motor function of mice with Parkinson's disease. It seems cinnamon is responsible for inhibiting the buildup of a protein in the brain called

tau

, which is one of the key trademarks of Alzheimer's disease.
Helps to fight against bacterial and fungal infections

– Cinnamaldehyde, the main active component of cinnamon, and has been shown to help fight an array of bacterial and fungal infections. From respiratory tract infections to helping to prevent tooth decay and reduce bad breath, cinnamon is an all-around fighter.
Spicing up your kitchen with the power of cinnamon
Keen to add more cinnamon spice to your life? Try out these great cinnamon recipes:
Cinnamon Cocktail – Get into the festive spirit with these adult beverages; a range of cinnamon cocktails that make use of a beautiful sweet and exotic cinnamon-infused simple syrup.

Recipes that contain cinnamon:
Spiced Oatmeal Chocolate Chip Cookies