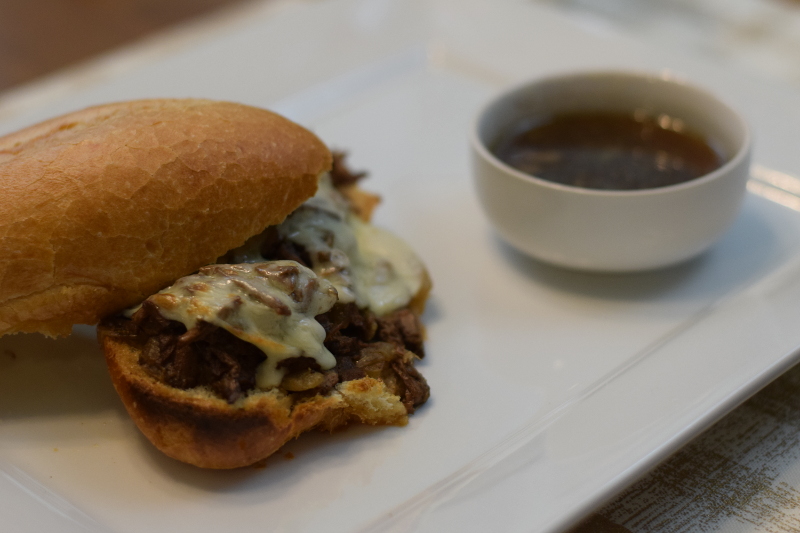 Prior to my son being born I worked full time in the dental field.  At least once a week we, being the other girls I worked with, went out to lunch together.  Seeing that we live and work in a small town restaurant options are limited.  It did not take us long to figure out the  best places to eat and which days to eat there.
My personal favorite is a small steakhouse on Main Street.  Yep, my town still has a Main Street!  Clayton Steakhouse ended up being a frequented place to eat for our group.  Tuesday night their special is prime rib.  This leads to my favorite lunch on Wednesday, the french dip sandwich (made with the left over prime rib)!  Oh my goodness it is so good.  It is tender, juicy, and flavorful!  Everything a french dip should be.
This weeks post is inspired by my lovely lunches at Clayton Steakhouse.  I will admit my version is not quite as good (it is not made from prime rib), but it is still delicious and makes me oh so happy!  By the way this recipe is super easy and can be made in the crock pot as well as a dutch oven.  Versatility at its best!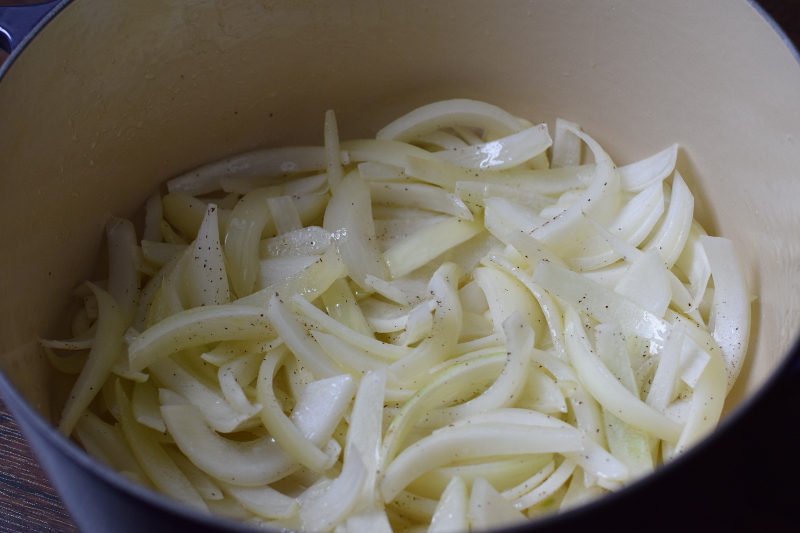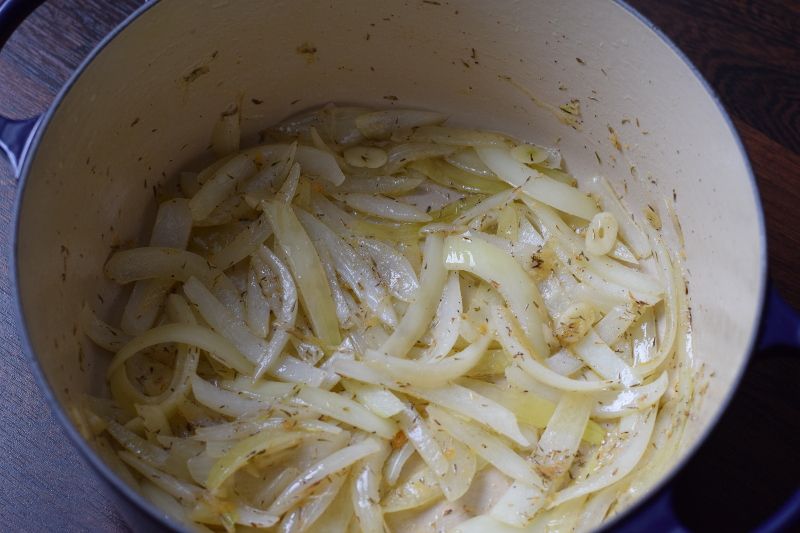 I start by chopping the onions and garlic and sauteing them in butter.  To the onions and butter I add the dried herbs and salt and pepper.  Next the beef is layered over the onions and the worcestershire sauce, beef stock, and bay leaves are added.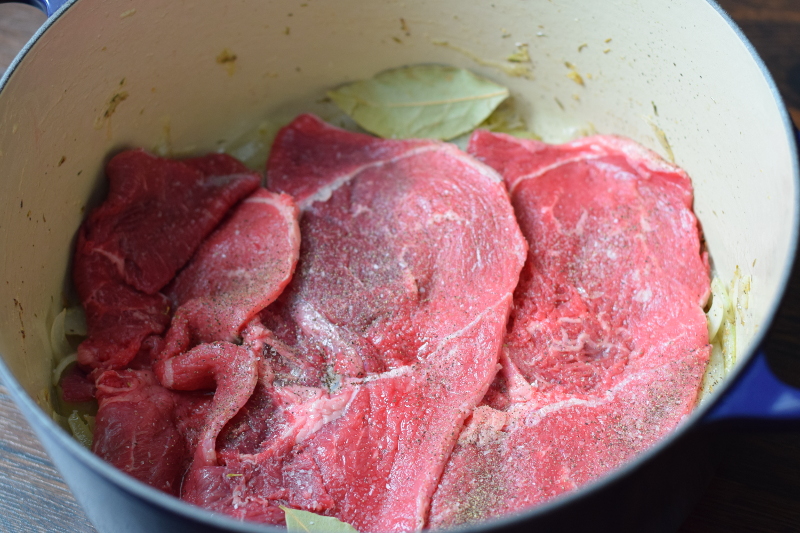 Once the pot is given a good stir cover and bring to a simmer.  Cook on low for 3-4 hours depending on how much beef is being cooked (you can easily add more beef to this recipe to feed more people).   Once the beef is fully cooked and falling apart, shred it with two forks.  Simmer the beef in the sauce for 15 more minutes.  Use this time to butter and toast rolls under broiler.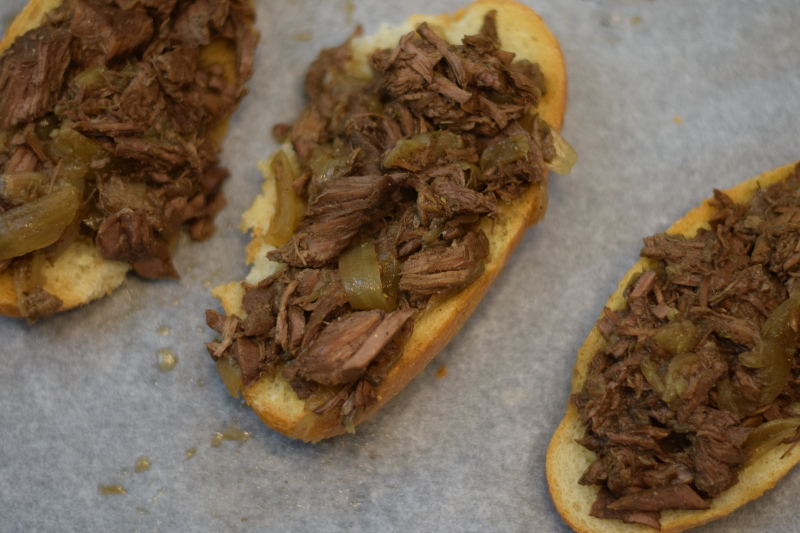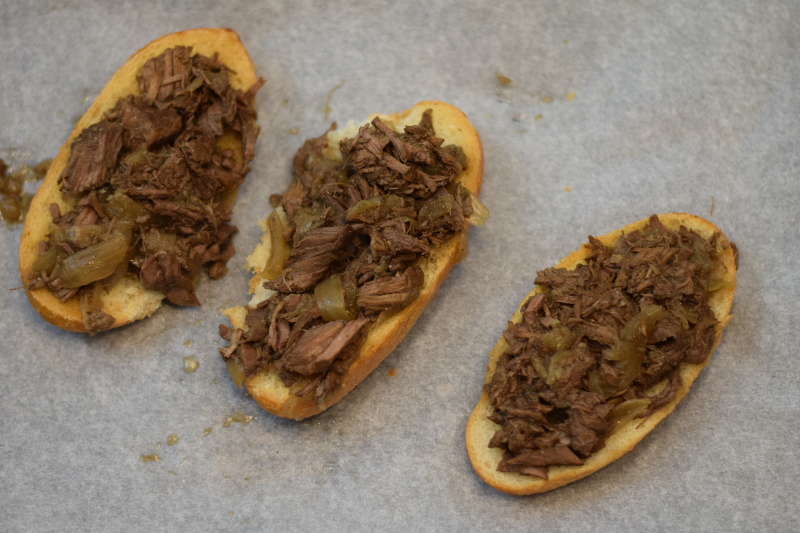 Add the shredded beef mixture to the bottom roll and cover with cheese.  Place back under the broiler until the provolone melts.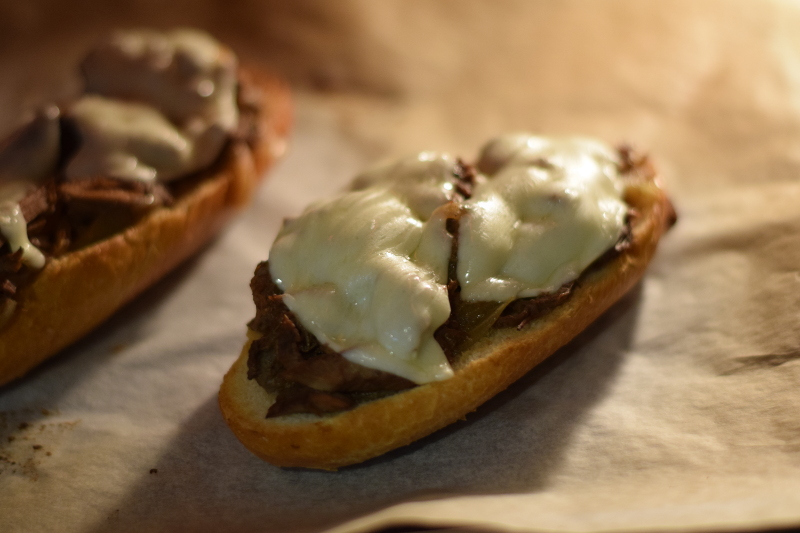 Remove from oven and place top roll on sandwich.  Plate sandwich and  au jus (juices beef was cooked in).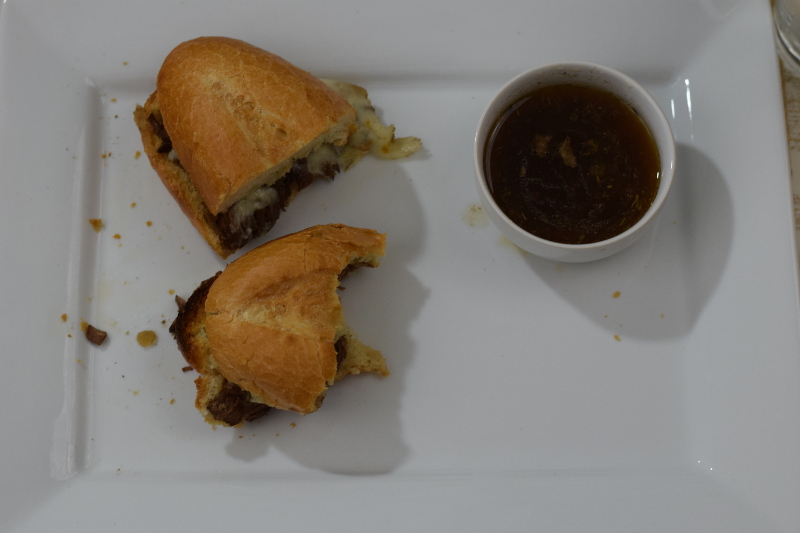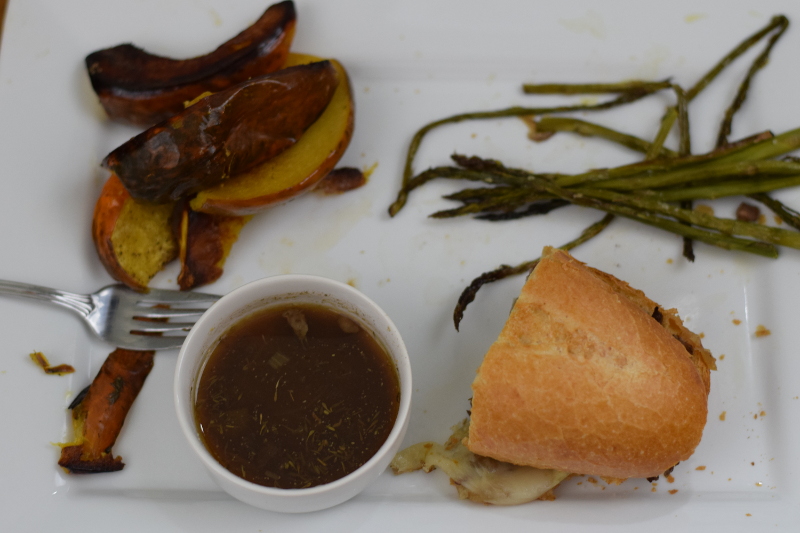 Dip and enjoy!
What is your favorite restaurant inspired home cooked meal?
Ingredients
2-3 lbs sirloin steak

1 lg onion

2 cloves garlic

1/2 stick butter

2 tsp garlic powder

1/2 tsp kosher salt

1 tsp black pepper

1 tsp rosemary

2 bay leaves

2 tsp dried thyme

1/2 cup worcestershire sauce

32 oz beef stock

4-6 rolls (any kind you prefer)

4-6 slices provolone cheese

butter
Instructions
1
In a dutch oven melt butter over medium heat
2
Add onions and garlic and saute' until onions are translucent and soft
3
Add garlic powder, salt, pepper, thyme, and bay leaves
4
Stir and saute' for a few minuets
5
Add beef and layer over onions and garlic
6
Add beef stock, worcestershire, and bay leaves
7
Give pot a good stir to combine ingredients and make sure beef is covered in liquid
8
Cover and bring to simmer.
9
Reduce heat and cook on low for 3-4 hours.
10
Once meat is tender, shred with fork and allow to simmer in sauce for 15 more minuets
11
While letting shredded meat simmer, open rolls up and coat with a small layer of butter
12
Toast under broiler until golden brown
13
Add meat to roll and top with provolone
14
Place sandwich under broiler again and melt cheese
15
Plate and serve! Don't forget to include a side of Au Jus for dipping!
Notes
A sirloin top roast is delicious cooked this way as well. If cooking for a crowd I'd recommend using the roast as it will produce a larger yield. Cooking times may vary depending on the size of your roast.