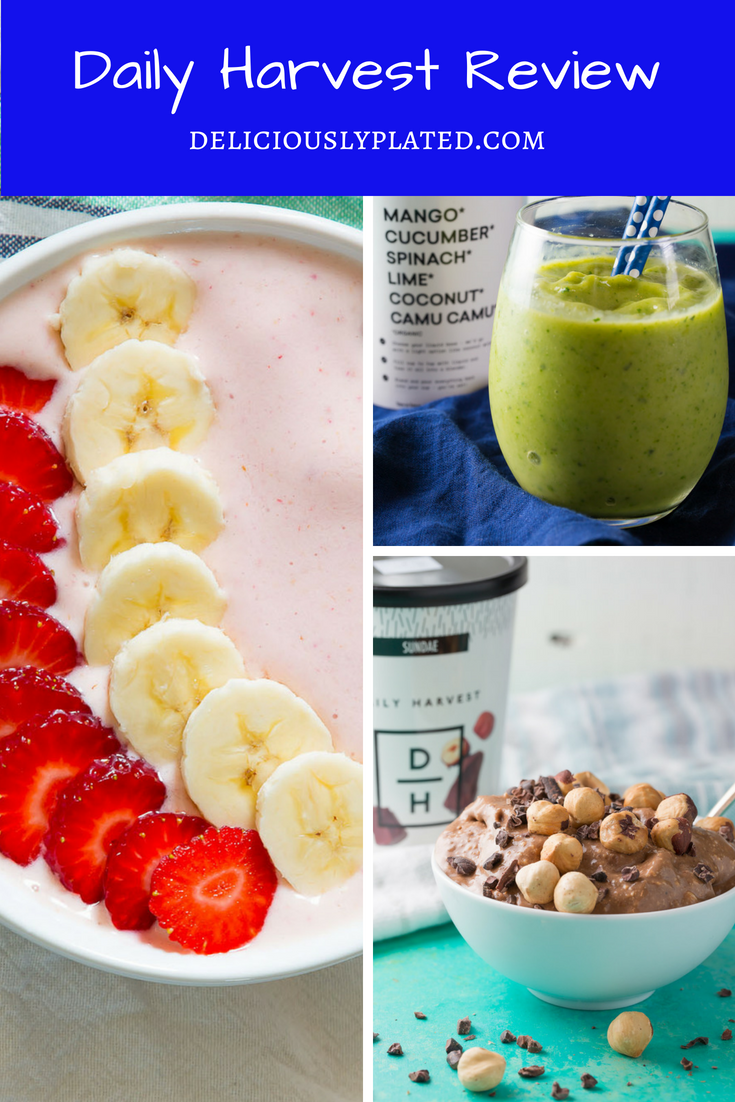 I received six free items in exchange for a review.  All opinions and views expressed in this post are 100% my own.
I have had my eye on Daily Harvest for a while now.  As a smoothie and whole foods lover, I was so intrigued with a  quick, convenient, and healthy solution to my mornings and my occasional sweet tooth.  In addition to smoothies, Daily Harvest offers soups, lattes, overnight oats, chia parfaits, and harvest bowls.  I chose a sundae, four smoothies, and a latte.  Price wise the smoothies are equivalent to my local juice bar, coming in around $7 each.  Conveniently though, I don't have to go the juice bar or spend time making the smoothie from scratch.   Below are my reviews of the products I chose.
Mint + Caco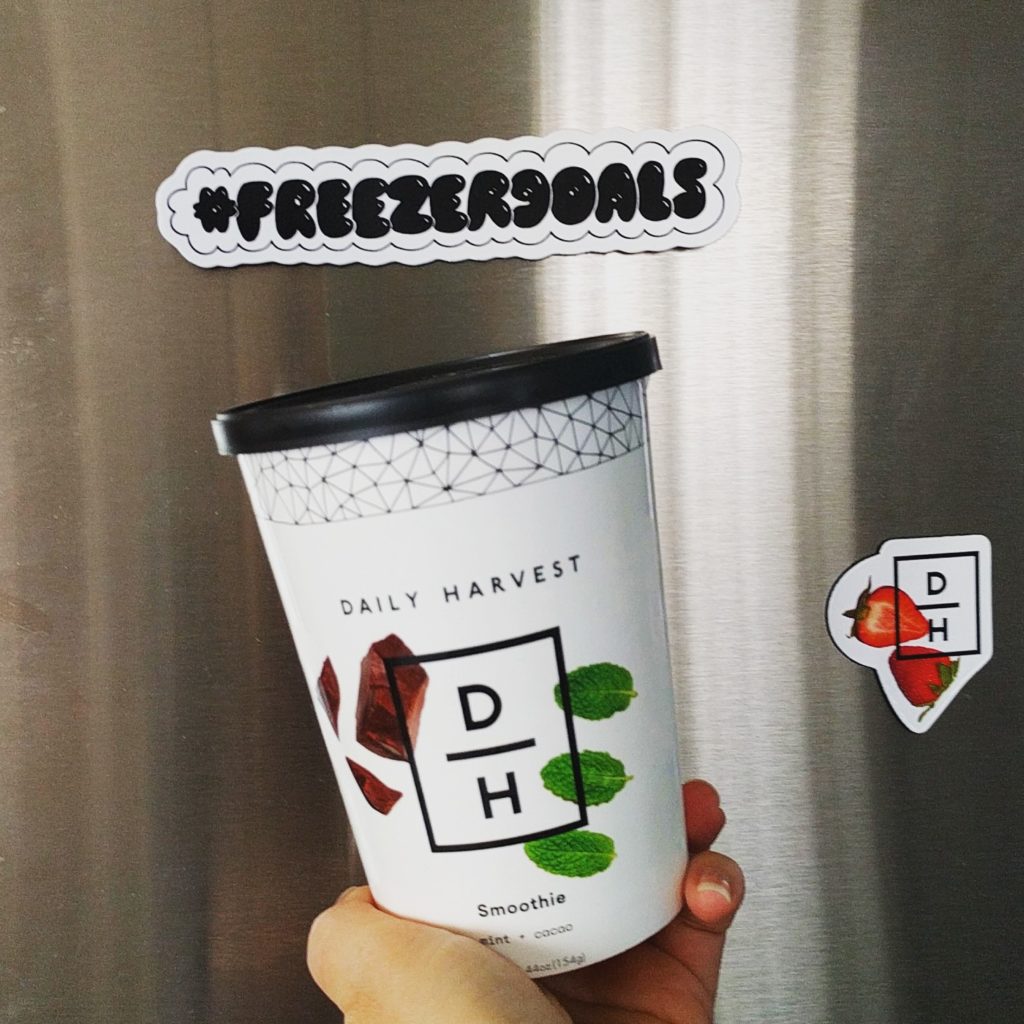 This smoothie was AMAZING.  I did make the mistake of blending it up while my four-year-old was awake though.  After his begging for a sip and my eventual compliance, Logan ran away with my smoothie.  Not that I held a grudge, anytime I can get my kid to consume spinach I am a happy mom.  I certainly understand why this smoothie is on the best sellers list.  The refreshing mintiness paired with the decadent chocolate hit the spot as a sweet treat and gets two thumbs up.
Chocolate Hazelnut Sundae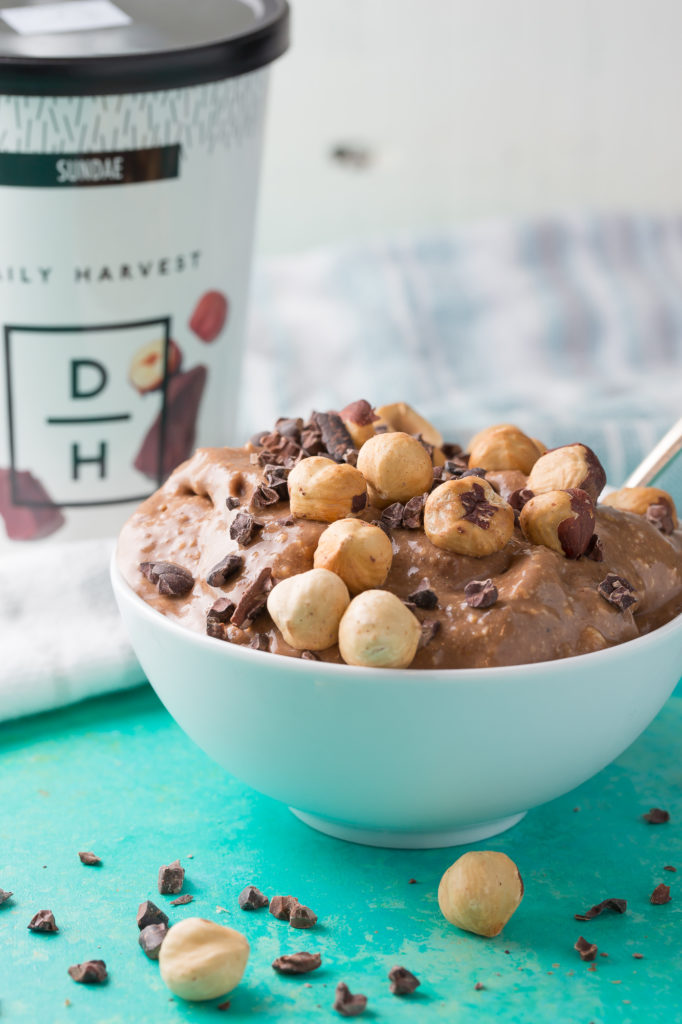 This sundae was OK.  I blended it with 1/2 cup of almond milk as the directions suggested.  Typically I love hazelnut and chocolate paired together, but something in this particular combo turned me off a bit.  Maybe the pea protein, I'm not sure.  This was by far my least favorite of the flavors I chose.  The toppings helped to create the sundae effect, but I don't think this is the best substitute if you are looking for something sweet to satisfy you.  It is, however, a much healthier choice.
Chaga + Chocolate Latte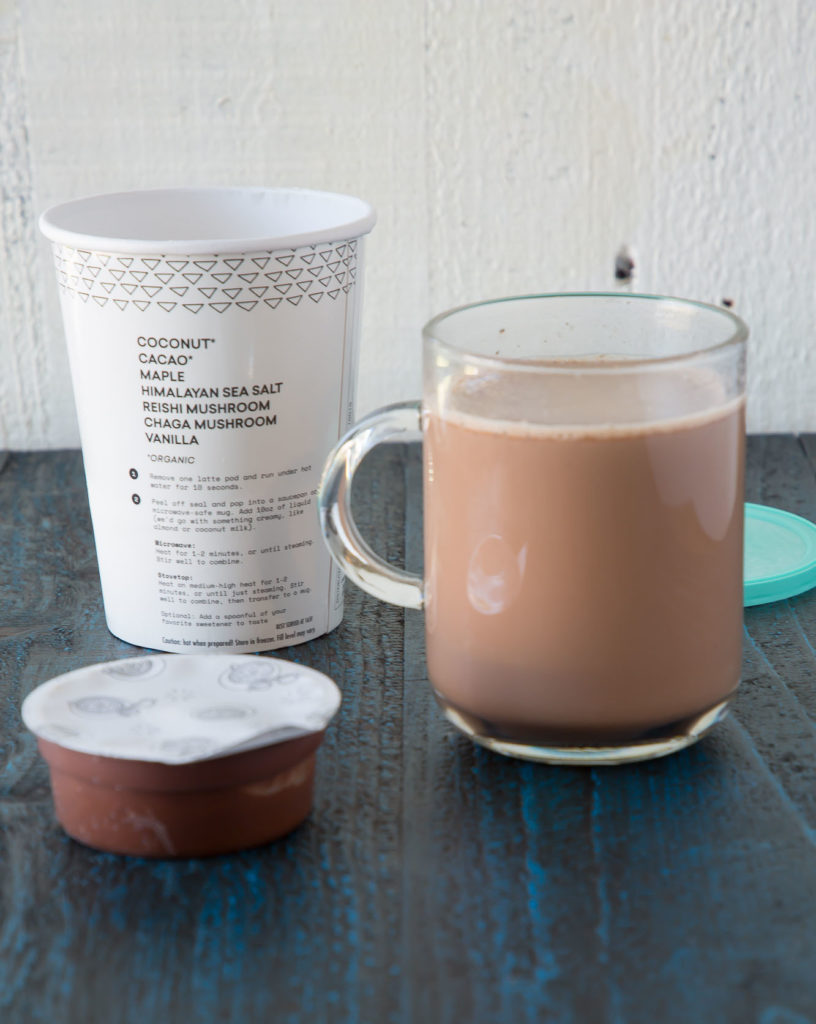 This is not your typical run-of-the-mill chocolate latte.  This creamy version contains two varieties of mushrooms along with Himalayan sea salt, maple, and vanilla.  Mushrooms, you might ask?  Yep.  Chaga and reishi mushrooms are known to inhibit cortisol and relieve stress.  Paired with raw cacao, this is a latte you can feel good about.  Literally.  Next time you need a comforting blissful cup of something warm, try this unique latte.  You will be so glad you did.  P.S.  Even my husband snatched this one up.
Mango + Greens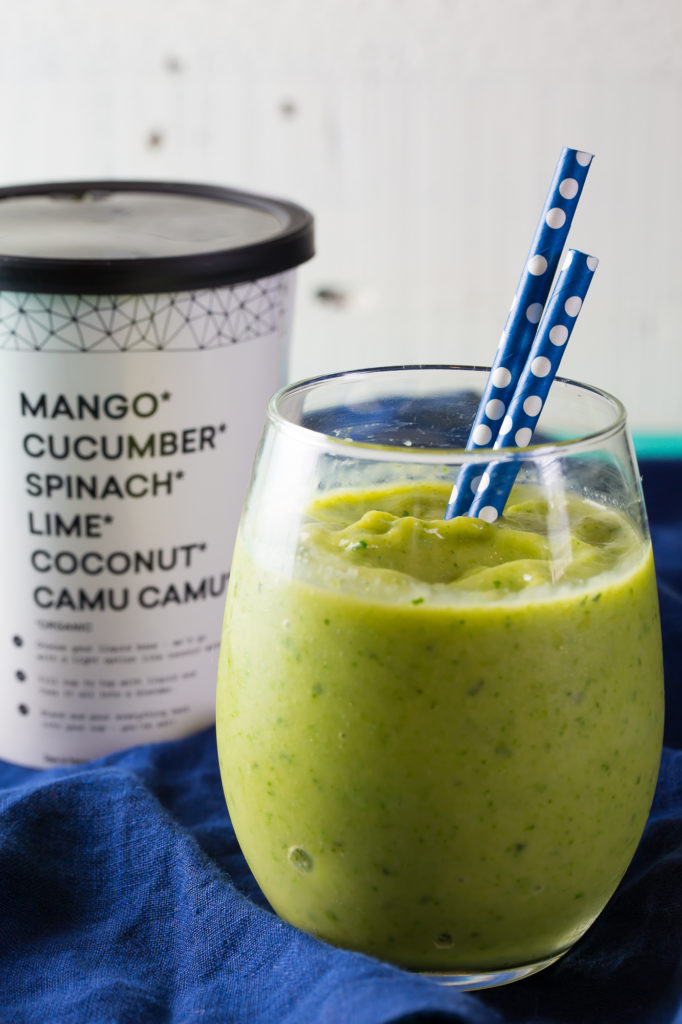 I adored this smoothie!  Tangy and flavorful it was just what I was craving.  A combination of greens, coconut, mango, cucumber, and camu camu this particulate smoothie is bursting with vitamin C.  The perfect immunity booster, this is an excellent option for when you are feeling run down and under the weather.   I mixed this with coconut water, so it was also ultra hydrating.  Perfect for a hot summer day.  I can definitely see why this flavor is a best seller!
Blueberry + Hemp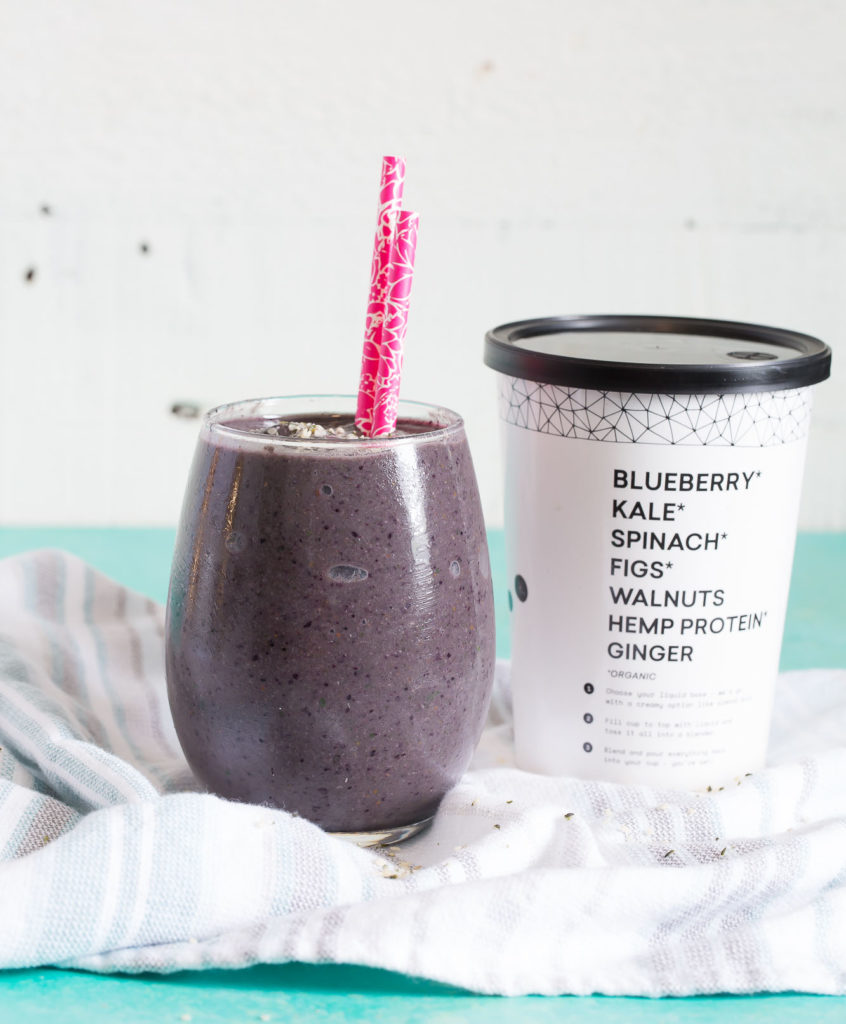 As suggested, I mixed this smoothie with almond milk.  I only had the vanilla flavored variety, so I wasn't sure what the outcome would be.  Too sweet?  Nope, not at all.  Actually, this tasted like a blueberry cake donut.  I know, I couldn't believe it.  I wasn't quite able to put my finger on the flavor, and when my son tried it, he immediately asked if I blended up donuts.  He identified the flavor quickly and hit the nail on the head.  This is undoubtedly a fun and delicious taste the whole family will love.
Strawberry + Peach
For this smoothie, I used lactose-free milk as my liquid.  For a delicious and hearty breakfast, I served this in a bowl with cut up strawberries and bananas.  Super satisfying and filling.  And full of fiber with the various fruits and gluten-free oats.  I also appreciate the addition of flax seed and goji berries.  The goji berries, in particular, are a great addition due to the massive amounts of iron they contain.
I hope you enjoyed my Daily Harvest Review.  Be sure to check out these reviews by Askmen and Top 10 Meal Delivery Services.  Everyone is loving these quick and easy meals!  Give them a try; these are delicious and healthy options for when you are on the go!  Coming in around $7 a piece they are comparable to juice bar prices but with the added convenience of making them at home.  One less stop in the morning?  Yes, please!  Be sure to use my link below when you check out and please share this post!
Would you like to give Daily Harvest a try? Order now and get 3 cups free with your first order!