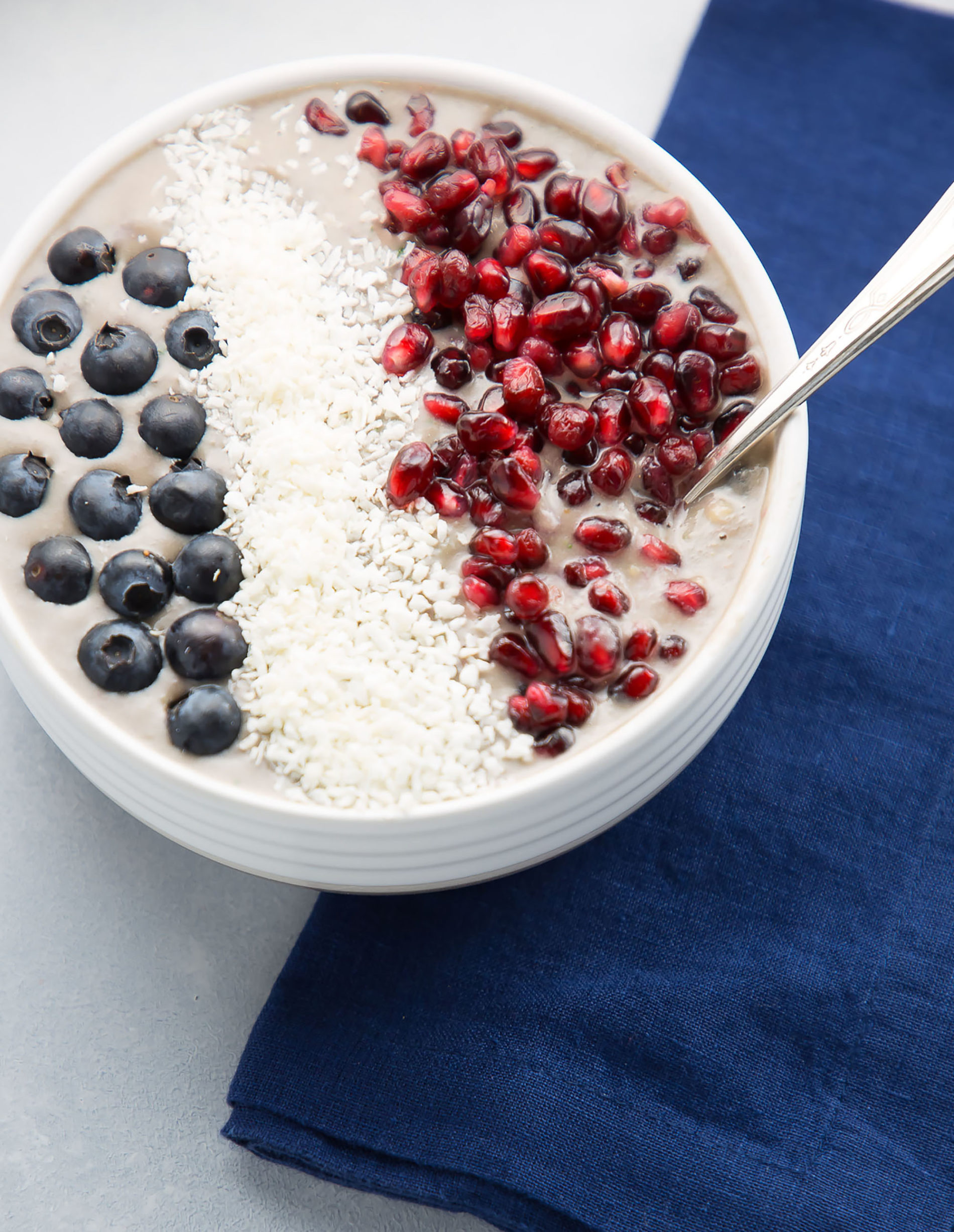 This post may contain affiliate links that help support my blog
This week's feature is an easy and quick breakfast smoothie bowl recipe but first, let's talk New Year's resolutions…
New Year's Eve
It's New Year's Eve!  Are you making resolutions for the upcoming year?  I know I am.  Resolutions are sometimes hard to stick with so I try to keep them obtainable instead of setting myself up for failure.  I know I'll never go to the gym every day.  I know I won't give up chocolate.  You get my point.  What I do like to do is set small incremental goals that are flexible.  Life changes.  It ebbs and flows and I have to be able to accommodate those variances.  I try to look at certain things as lifestyle choices rather than goals.  I believe in healthy eating so, for me, this is easy.  Whole foods and lean meats are the best for my body.  I know this because it's when I feel like I am thriving.  I have the energy to complete my day and keep up with my son.  Heck, I even think of baby #2 some days.  Then by 9pm, I change my mind again, lol.
Goals
My main goals now are more centered around gratitude and truly being present.  I am by definition a type A perfectionist who gets lost in the details of life and stresses myself out to the point I get sick.  This is what I aim to alter.  I resolve to be more focused on the big picture and realize that letting go of the minute details is ok and live a more balanced life.  For me, this is a giant task.  It feels like I'm trying to alter my personality at times.  Some things are out of our control though.  And they should be.  Controlling everything just isn't a burden I want to carry any longer.  So, my resolution will be to relax and focus on what truly matters.
To help me do this I ordered Laura Casey's powersheets goal planner.  Because, yes, I'm type A and I need to have daily reminders to focus on what really matters.  I am hoping this helps me cut out the clutter in my life (and brain) to aid me in achieving my resolution of balance, presence, and gratitude.
Healthy Eating in the New Year
I imagine that some of you may find the healthy eating more difficult.  To you I say, don't give up.  Take it a day at a time and if you falter, that's OK.  Don't be so rigid and hard on yourself.  These habits take time to cultivate.  Don't give up and get right back on that horse!  Because I'm a mom, wife, and business owner I know what it is to be busy.  YOU ARE NOT TOO BUSY TO EAT HEALTHY.  I promise you CAN do it!  This quick breakfast smoothie bowl recipe is just one of many easy breakfasts you can enjoy in the time it takes to brew a pot of coffee.  To be clear I'm not suggesting you have this instead of your coffee.  That would be ludicrous!  I'll never tell you to give up coffee.  I promise!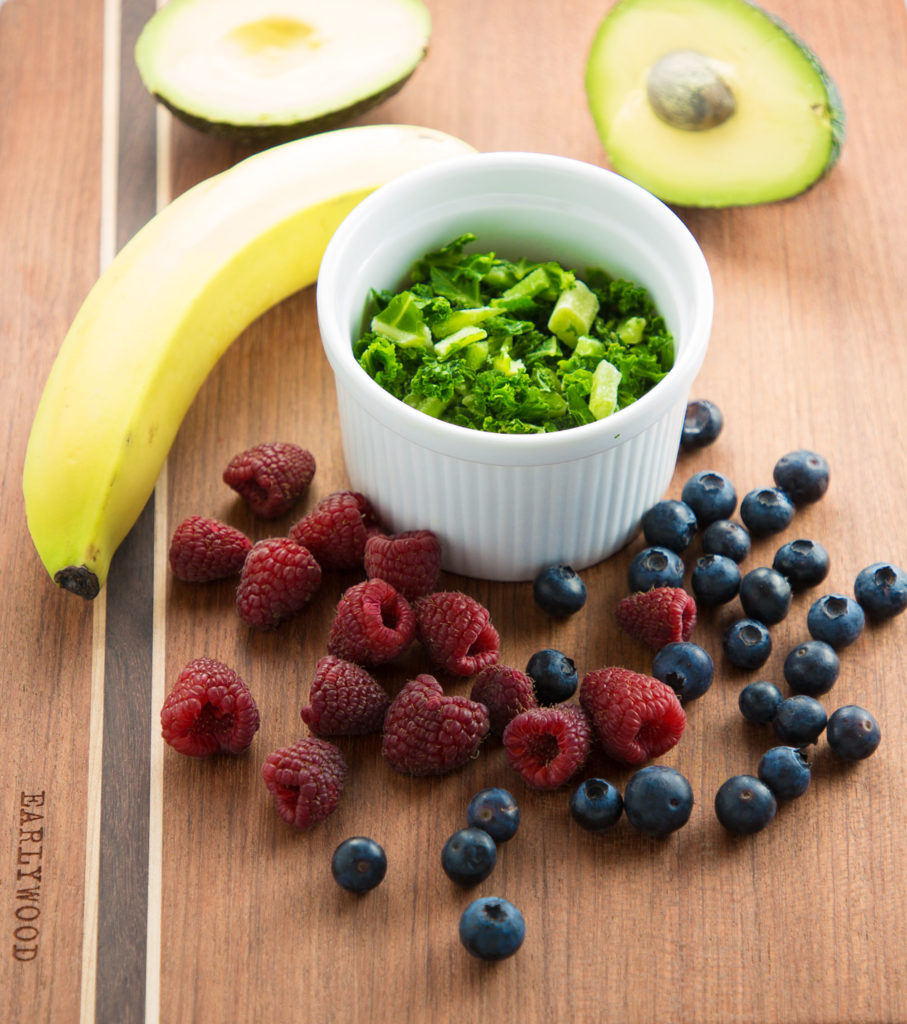 How to Make this Quick Breakfast Smoothie Bowl Recipe
If you have followed my blog (thank you, btw) you saw I created some gift guides.  My husband caught on girls!  Under the tree this year was a Vitamix!  I have shamelessly coveted this appliance for several years now.  I'm a little obsessed with it at the moment and I'm thankful that my family loves smoothies and smoothie bowls as much as I do.
For this quick breakfast smoothie bowl recipe, I start with a base of avocado and banana.  I frequently start with these ingredients because I love the creaminess it lends to the recipe.  Also, the fat in the avocado keeps you fuller much longer.  No one wants to be hungry an hour after they eat breakfast.  To the banana and avocado, I add blueberries, raspberries, coconut milk, and kale.  Mornings are busy.  Keep your freezer stocked with chopped kale and you will cut prep time significantly!  Once you have added all the ingredients to your blender, blend until smooth.  Serve in a bowl (or a cup if you prefer) and garnish with pomegranate seeds, coconut, and blueberries.

A quick and healthy breakfast is obtainable.  And you will stay full until lunch.  If you would like, you can add a scoop of your favorite protein powder.  My son can tell when I don't add it and he asks for his "special ingredient".  I am happy to oblige and he gobbles up a kale smoothie like no one I've ever seen.  I will take the win where I can get it!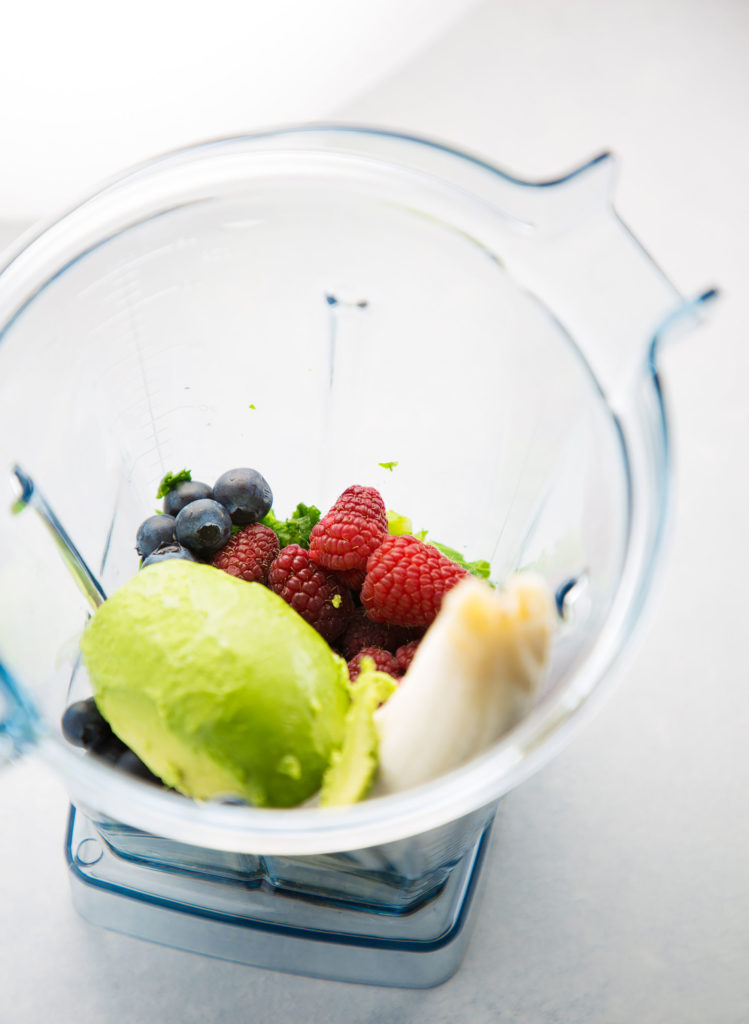 Other recipes you might like:
Garden Fresh Frittata Recipe– An easy make-ahead breakfast for busy schedules
Easy Peasy Snow Pea Salad– Perfect for a quick, healthy dinner
Healthy Meal Prep Ideas– Tips and recipes to keep you on track when you are short on time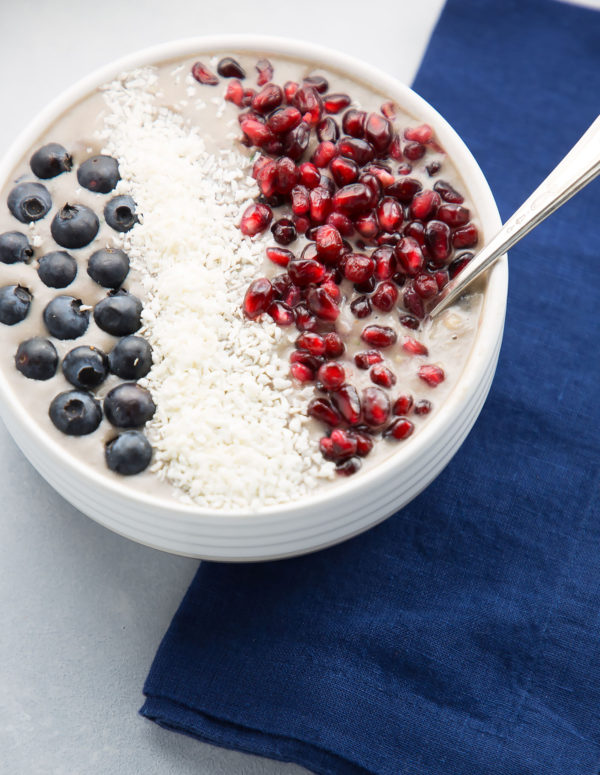 | | |
| --- | --- |
| | |
Add all ingredients to vitamix (or any blender)

Start on low and slowly up the speed until all ingredients are blended and smooth

Transfer to bowl and garnish with coconut, blueberries, and pomegrante seeds
Nutrition Facts
Quick Breakfast Smoothie Bowl Recipe
Amount Per Serving
Calories 413
Calories from Fat 234
% Daily Value*
Total Fat 26g 40%
Sodium 44mg 2%
Potassium 1043mg 30%
Total Carbohydrates 46g 15%
Protein 10g 20%
* Percent Daily Values are based on a 2000 calorie diet.