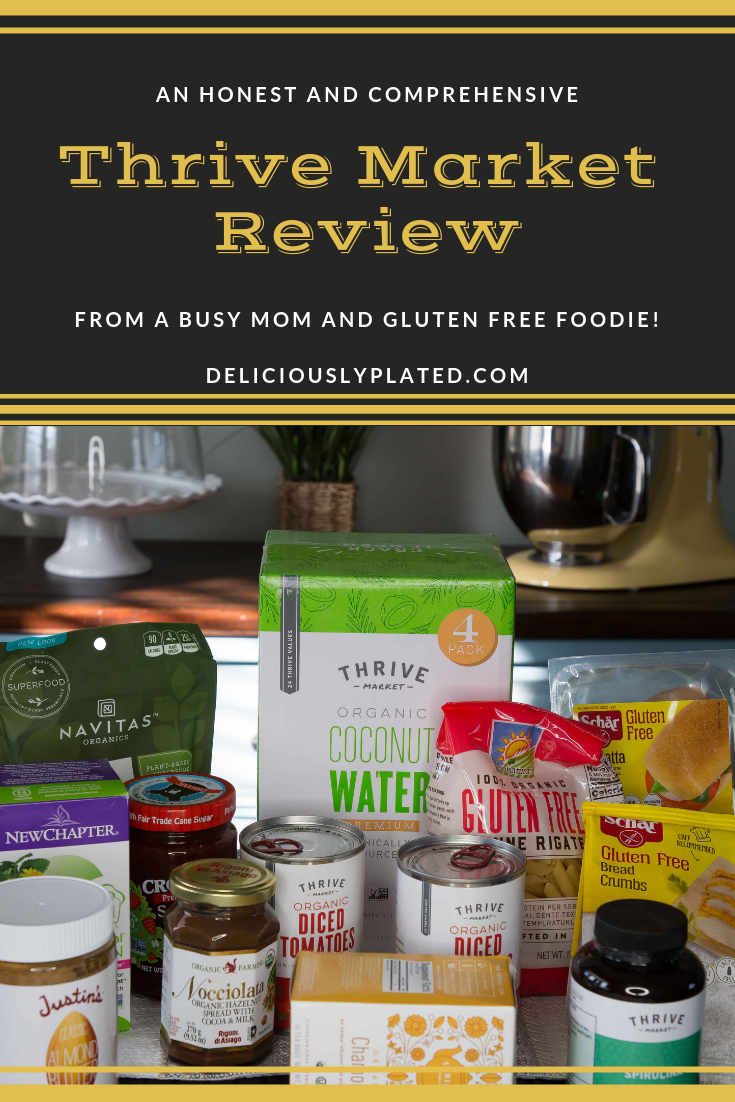 With all of the grocery delivery options available today it is hard to know which one is the right choice for you.  There are many great options but will focus on a Thrive Market review in particular for this post.  Thrive Market is a membership website that delivers high-quality groceries as well as health and wellness supplements, household cleaning products, and beauty products.  They even offer meats if you are interested.
Thrive Market is essentially a full-service online grocer that can provide most of your needs in one trip/delivery.  The only items you cannot order from them is fresh produce.  I prefer our local farmers market for produce, so this is not a problem for me.  If you live in a rural area and do not have options such as Whole Foods, Earthfare, or other natural market options, Thrive Market could be a welcomed addition to your hectic life.
This post contains affiliate links that may pay me a small commission when used.  This will come at no additional cost to you.  Thank you for supporting my blog.
Not interested in reading further?  Click here to go to Thrive Market and Save 25% on your first order NOW
A Brief Background
I have been a member of Thrive Market for almost two years now.  I have tried Instacart, Amazon, and individual stores 'grocery-to-go" programs.  My biggest complaint with these options is the availability of gluten-free products.  For this reason alone, I see a tremendous value in Thrive Market.  I can even shop exclusively gluten-free products with their useful sorting function.  There is also a convenient app so that I can order groceries on the go.  I'm certainly guilty of shopping the carpool line.  Anyone else?
How Does Thrive Market Compare on Pricing?
Thrive Market advertises that they sell at "wholesale" prices.  While I don't know that I'd consider all the products pricing as wholesale, I can save on a lot of products compared to my local grocer.  As per most stores, there are items that I save more on and others that I break even on.  The annual membership fee is $59.95 which is comparable to my local big box clubs annual fees.  The fact that these groceries are delivered saving me time and sanity I find the membership fee worth the cost.   And since all orders over $45 ship free (which is every order I've ever placed), I'm never surprised by hidden fees.
Thrive Market also gives back which is something I respect and value.  For each paid membership they provide a free membership to a low-income family, teacher, or veteran.  How great is that?  I like to support companies who care and who give back to their communities — coming from a military family I value supporting veterans wholeheartedly.
Try Thrive Market With A Free Trial
If you are still on the fence about trying Thrive Market out, don't be.  They offer a free 30-day trial to allow you to check out their products and see if they are a good match for your lifestyle.  If you decide to continue your membership after 30 days, your credit card will be charged the annual membership fee of $59.95.  Be sure not to wait until the last minute to cancel to avoid processing delays and unexpected charges.  As with all software, it needs time to update your records so you are not charged.
Ready to start your Free Trial AND save 25% on your first order?  Click here NOW
Other Facts I Love
I adore the fact that they sell ready-made kits for newbies to acclimate into a new diet.  When I began my gluten free lifestyle due to gluten intolerance, I was so overwhelmed with what I could and couldn't have at the grocery store.  How was I supposed to figure all of this out?  Thrive Market is where I turned.  I ordered the gluten free sampler box and was able to sample so many items without purchasing (and spending) a lot.  It was very helpful in a time of transition.
As a perk, there is often a free gift with purchase as well.  Some days it's a new type of granola bar, other days it is coconut oil or almond butter.  I have found this to be a great way to try new products too.
If it's not apparent by now, I'm a massive fan of Thrive Market's convenience and their vast availability of products.  They have certainly streamlined my scheduled and allowed me to make time for things that are more important to my family and myself.  Even if it is only Mom getting a nap, lol!  Yeah, right.  But quality time with my kids and husband will always trump grocery shopping in my book.
If you've read this Thrive Market review and think this could be a good fit for you, go ahead, sign up!  What are you waiting for?  Use this link and save 25% off your first order!
Still have questions?  Leave them in the comments and I'll do my best to answer them for you!