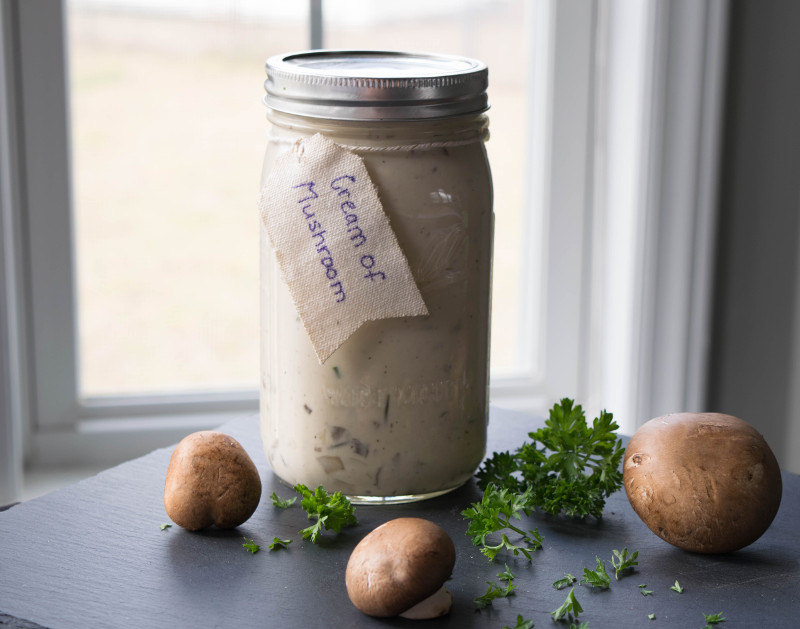 One of my favorite casserole bases is cream of mushroom soup.  It is so flexible and lends so much flavor to any dish it is most certainly a staple in my kitchen.  Whether dinner is a roast, pork chops, or green bean casserole cream of mushroom soup is what I reach for.  This particular version of cream of mushroom is my tried and true favorite.  I stopped tweaking it about two years ago.  It is so delicious you really don't need anything but a bowl and spoon!  I am a little ashamed to say this recipe is why I couldn't taste my Thanksgiving dinner this year.  I like to "sample" as I cook and I failed to think about how hot something is after it cooks for an hour and a half.  Oops!  Multi-tasking fail!  I hear my green bean casserole was delicious though!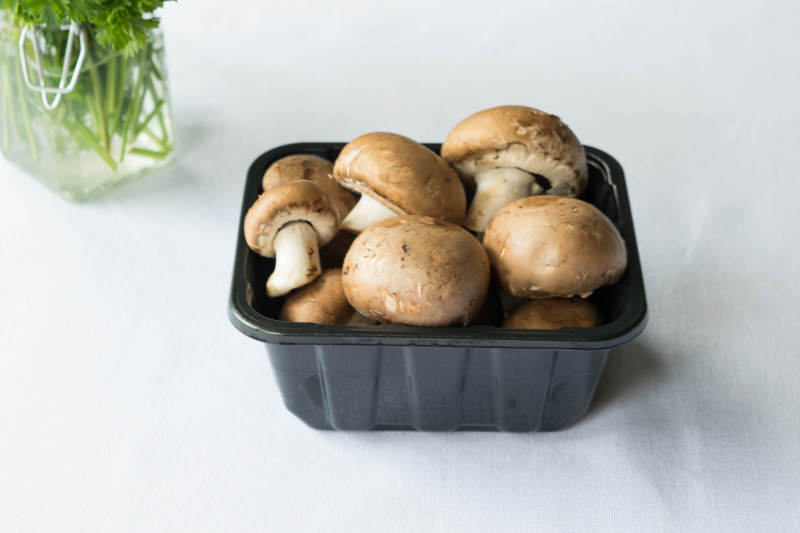 To begin, you will need to gather your ingredients and chop the mushrooms (be sure to wash), onions, and garlic.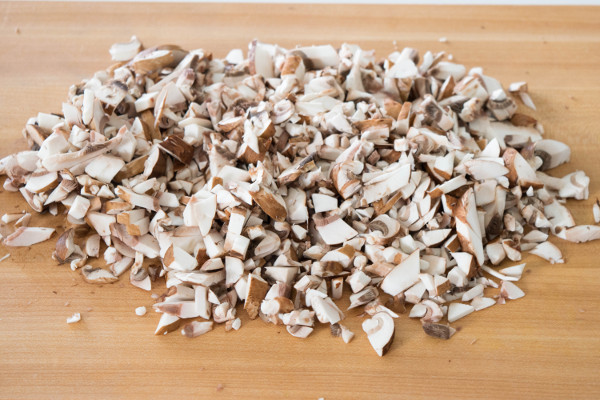 Measure out the spices and set aside.  Wash the herbs (rosemary and thyme) and set them aside as well.  Once everything is prepped, add butter to your stock pot.  Melt and add onions and mushrooms.  About 2 minutes later add the minced garlic.  Saute' until onions are soft and translucent.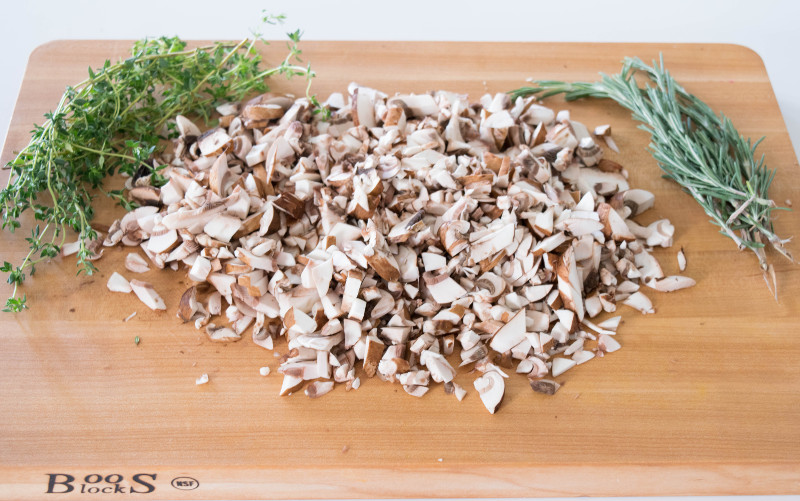 Once the mushrooms and onions have cooked, add the cream, stock, and milk to the stock pot.  Stir.  Now, it is time for the addition of the herbs, salt, pepper, garlic powder, and onion powder.  Stir carefully to incorporate ingredients completely.  Bring to a simmer (medium to medium low heat) and cover.  Stirring occasionally let this simmer for about an hour.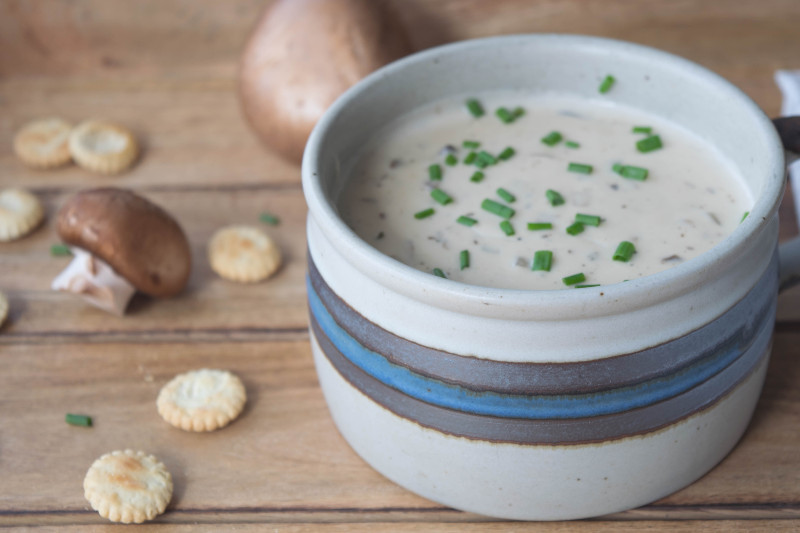 Adore this rustic farmhouse tray?  Get it at Pier 1.
When the hour is up, mix the cornstarch and water to create your slurry.  Take care to get all the lumps out and be sure to mix until cornstarch is fully dissolved in the water.  Pour this into the stock pot while stirring the soup slowly.  Let soup cook uncovered for 15-20 more minutes.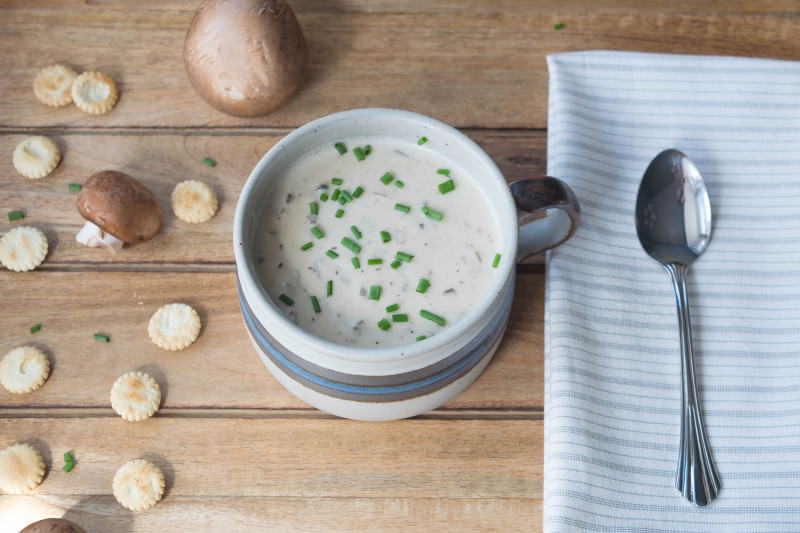 Now it is time to enjoy the fruits of your labor!  Add this to your favorite recipe that requires cream of mushroom or eat it straight from a bowl.  Either way your tummy will love you!
You can store this soup in the refrigerator in an airtight container for up to 1 week.  Freezing is also a great option.
What is your favorite casserole dish that contains cream of mushroom?
Ingredients
3 tbsp butter
10 oz baby bella mushrooms, diced
1/2 onion, diced
fresh thyme, 10 sprigs
fresh rosemary, 2 large sprigs
4 cloves garlic, minced
3/4 tsp salt
1 tsp pepper
2 tsp garlic powder
2 tsp onion powder
2 cups heavy cream
1 cup whole milk
1 cup chicken stock
slurry:
1/4 cup water
1/4 cup cornstarch
Instructions
1
In a stockpot combine butter, mushrooms, onions, and garlic
2
Saute until onions are translucent and mushrooms soften
3
Add cream, milk, and stock
5
Add garlic powder, onion powder, salt, pepper, and herbs
7
Bring to a simmer and cook on medium low heat stirring occasionally
9
Mix slurry in a small bowl and slowly add to mushroom soup to thicken
10
Continue to cook over low heat for about 15 to 20 minutes
Notes
You can double or quadruple this recipe to stock up!