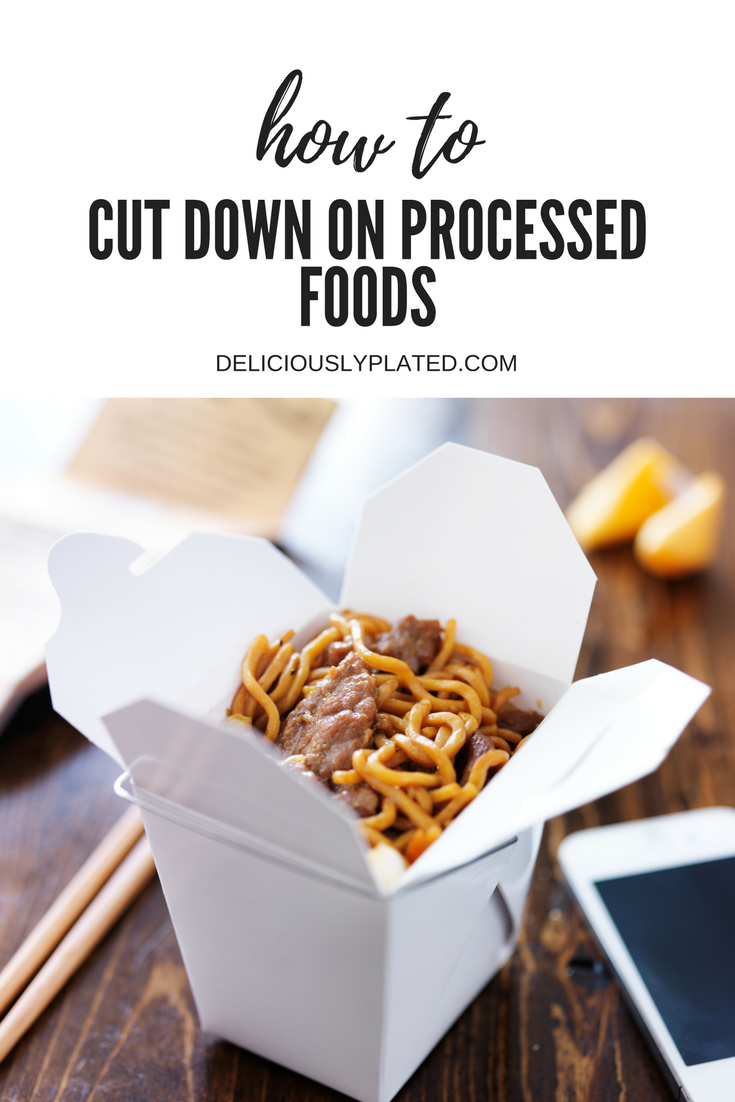 How to cut down on processed foods and start eating more real food
I believe that in the perfect world we would probably all love to have a family vegetable garden out the back, bake our own bread, have fresh eggs from our chickens, and be harvesting honey from our bee hives. But for most of us, achieving even one of those would be a win. We now reach to the supermarket shelf to get these products instead, and much of the food that we can buy has been altered well beyond its original form. Initially, this was with good intentions, as processing foods aimed to make our busy lives just that little bit easier by making our food quicker and easier to prepare and consume. Welcome to the world of convenient, long-life processed foods, which we're not shocked to learn aren't as good for us as the real thing. But what are processed foods, what's so bad about them and how can you start to cut down on your processed food intake and get back to eating more "real" food?
First things first, what are "processed foods"?
Processed foods are essentially foods which are altered from their natural state. Undoubtedly this is pretty broad; using this definition, a jar of good quality organic tomato pasta sauce which you use as a base for your quick and easy Sunday night pasta dish is technically a processed food. But let's face it, there are worse ingredients you could be feeding yourself and your family. Instead of making your Sunday night pasta at home you could've gone straight to the freezer section of your local supermarket and found some frozen, ready-made pasta meals, heating them in the microwave and then thrown them on the dinner table…. Now that's processed.
The spectrum of processed foods
Thinking about this example, it's important to keep in mind the degree to which the food has been processed, as some food is better than others. To get a good idea of this, take a look at the ingredient list of your foods; the more ingredients listed that you can't buy on the shop's shelves, you've never heard of before, or aren't whole foods in themselves, then the more processed the food probably is. Keep in mind this "sliding scale" of processed foods when you're thinking about how you can eat less of them:
Fully unprocessed foods

– The very best in unprocessed food include fresh fruits and vegetables, raw nuts and seeds, eggs, meat and poultry such as chicken, turkey, red meat, fish, and seafood.

Minimally processed foods

— Foods processed at the best time to lock in their goodness or so they're easier to consume – frozen fruit or vegetables, roasted nuts, canned tomatoes, canned tuna, etc.

Moderately processed foods

– These can be thought of as foods which have had an array of ingredients added for flavor and texture. Some additives are better than others (i.e., spices and some oils), but some you should try to avoid (such as sweeteners, artificial colors, and preservatives); think salad dressings, flavored yogurt, fruit juices and cake mixes, etc. These often have a lot of additives in them so keep your eyes peeled and always read the labels.

Heavily processed foods

– Lots of ready-to-eat foods such as pre-made dinners, frozen pizzas, breakfast cereals, canned soup, deli meats, pre-prepared and packaged bakery items and "junk" food such as cookies, ice creams, soda, and potato chips.
What's so bad about processed foods?
The thing with processed foods is that because they have been altered so far from their original state, there is hardly any of the original nutrients left in them. You might feel "full" after you sit down and eat a frozen pizza for dinner, snack on a bag of chips or satisfy your sweet tooth with some chocolate biscuits, but you can be guaranteed that your body won't be getting the nutrients that it needs. A lot of the times there are lots of nasties added to improve the flavor and to keep you going back for more…. ever wonder why it's so hard to stop eating those chips or chocolate biscuits? It's because they've been manufactured and scientifically developed to keep you going back for more by striking the perfect balance of sugar, salt, fat and often flavor enhancers.
How to cut back on processed foods
The number one thing I can say is not to get overwhelmed; if you try to go from zero to hero in one week and change your diet, your cooking repertoire and your grocery list.  Because chances are it'll all be too much. Here are my six top tips for how to cut down on processed foods and eat more "real":
Take little steps

– Don't be overwhelmed with thinking that everything has to be made from scratch at home; even making small changes to a meal by using more unprocessed foods then you would normally is a step in the right direction. Does your family love Taco Tuesdays? You'll be forgiven for not making your own taco shells, but why not forgo the packet seasoning mix that you add to your protein or beans and try making your own instead? Here's an easy recipe for

homemade burrito spice mix

which you can easily prepare in bulk and have on hand at all times
2. Start with the basics – Just like point number one, some things are easier to make than others, and there is some food your family will go through like it's going out of fashion. If these items are easy to make and you eat them a lot, then why not start there. We love granola in our family, with sliced banana and milk for breakfast or sprinkled on Greek yogurt for dessert. Supermarket granola is often heavily processed and packed full of added sugars making it not as healthy as you think. The good news is it's super simple to make yourself – take a look at my Cherry Vanilla Granola Recipe and start preparing granola at home. 
3. Make time to meal prep – We all know how few hours there seems to be in the day. Not having the time to prepare food in advance is by far and large the main reason as to why the majority of us reach for the processed food – it's much quicker to pop that gluten-free pizza in the oven then make one of our own from scratch. Try and put aside some time every week to make those things which you can. Cook up a big batch of pasta sauce and pop some in the freezer, make large qualities of home-cooked soup and freeze that too, make your salad dressings and store them in the fridge for later. With a little bit of the right ingredients and some time, you'll be eating less processed food in no time.
4. Know your ingredients – It's important when you're at the supermarket that you know what to look out for, what processed food ingredients to avoid. I can't stress how important it is to read the labels on food to understand what is going into it. These days we have so many different brands of food to choose from on the shop shelves so don't be discouraged if the first can of tomatoes you pick up has an ingredient list that seems like it's been written in another language; pick up a few more and find the best one with the least amount of ingredients – this is often a good sign that's it not as highly processed.. Some common ingredients you should try to avoid include:
High-fructose corn syrup

Synthetic trans fats

Monosodium glutamate (MSG), otherwise known as a "flavor enhancer"

Artificial sweeteners

Artificial flavors

Artificial colors, particularly those with the code blue 1 and 2, green 3, red 3, and yellow 6

Preservatives including sodium benzoate, potassium benzoate, butylated hydroxyanisole (BHA), sodium nitrates and sodium nitrites
5. Know your nutrition – Take a look at the nutritional panel or food labels on the foods you're choosing. Try to avoid those foods that are high in sugar and salt (sodium) as these two ingredients can often be added to help preserve the life of food. Be careful of those foods that are labeled "lite" or "fat-free" – quite often foods that fall into this category have had their natural fats removed and sugar added instead, to help it taste good! Mayonnaise, salad dressing, and yogurt are notorious for this.
6. Make the cut – It might go without say (but I'll say it anyway), try to cut out fast foods, junk foods, and all those naughty-comfort foods. If you do lapse every now and again it's important to go easy on yourself, don't feel bad or guilty as food should always be enjoyed!