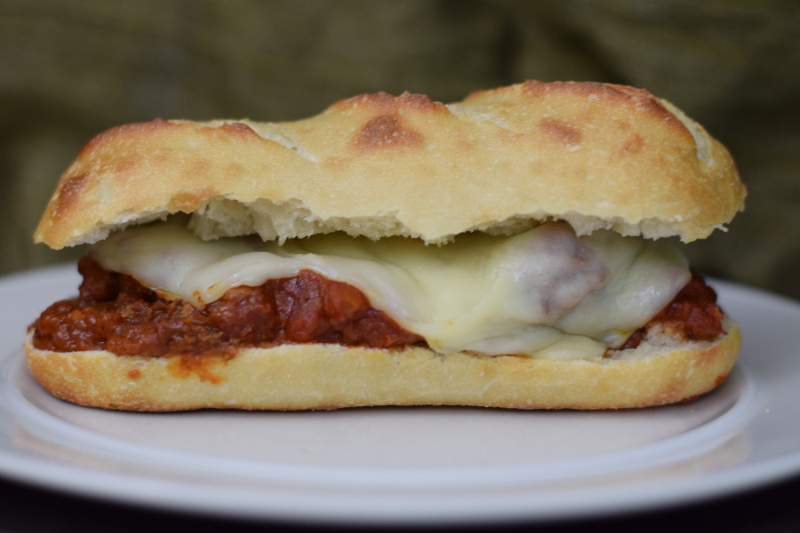 Ready to "Netflix and Chill"?  Before you settle in, whip up this amazing meatball submarine recipe and you and yours will be oh so happy you did!  What is better than relaxing with your favorite TV show/ movie and an amazing sandwich?   Well, a lot I suppose, but for me, some quite time watching something other than Daniel Tiger's Neighborhood is magical.  Don't get me wrong, it is an amazing show for my three year old, but I know how to express my feelings (very well much to my husband's dismay) and how to go potty already!  If you gotta go potty stop and go right away….Flush and wash and be on your way…lol  I've heard this song so much I swear I walk around the house singing it!  See, I need a sandwich and an adult show STAT!  Perhaps a nice adult beverage to go along with it too!
Back to this amazing comfort food.  As usual, I digress.  In my household these "digressions"  are referred to as "Leslie Stories".    So, to begin gather all your ingredients.  To a large skillet add about 1/2 " of olive oil and heat on medium meat.  While the oil is heating, mix the ground beef with the onion powder, garlic powder, salt, pepper, and parsley.  Roll out meatballs, not too large.  Stick between 1-2″ in diameter.  Beat two eggs and place in small bowl for egg wash.  Add breadcrumbs and parm to another small bowl and set aside.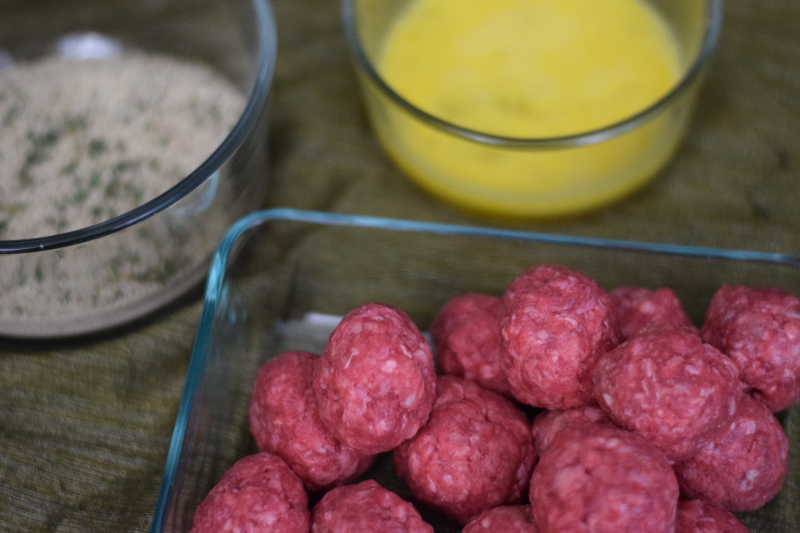 Set up your egg wash and bread crumbs by your meatballs.  With the skillet hot and ready, begin dipping each meatball into the egg wash and then breadcrumbs.  Place in skillet and repeat until all meatballs are in the skillet cooking.  Be sure not to overload your pan.  If your skillet is not very large you may need to do this step in batches.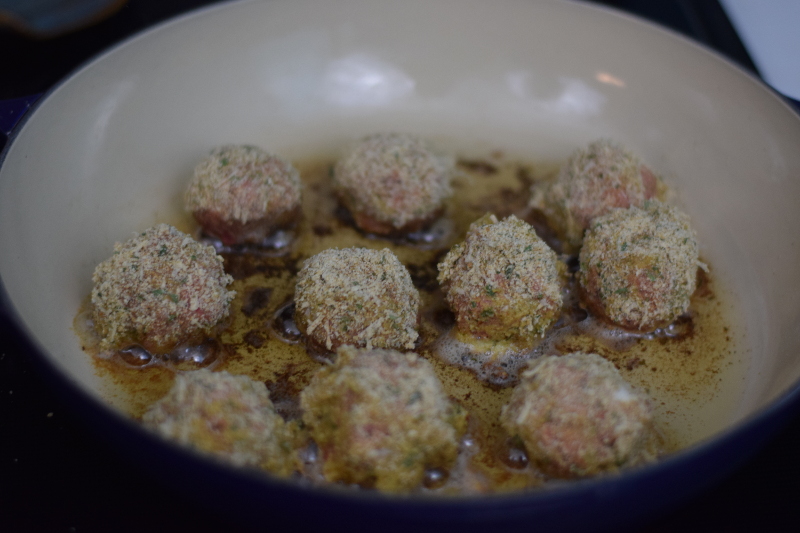 Be sure to flip meatballs to brown all sides.  Drain oil from skillet and pour in the marinara sauce.  If any meatballs are sitting aside from prior batches be sure to add them to skillet now.  Cover skillet and simmer meatball in sauce for about 30 minutes.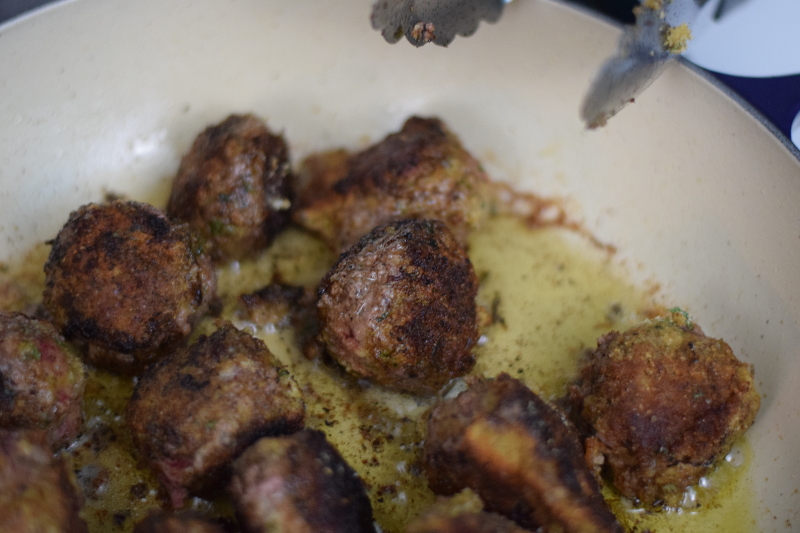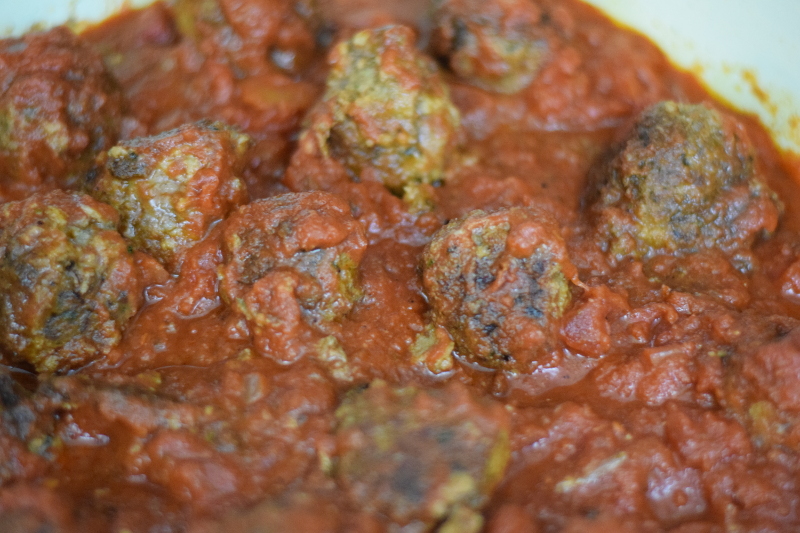 Meanwhile, turn on broiler place sub rolls on baking sheet.  Broil for only a minute or two until golden brown.  Not going for crunchy, just lightly toasted and warm.  Remove from oven when done and set aside.  Once meatballs are done place them in the sub roll and cover with extra marinara and provolone cheese.  Return baking sheet of subs to broiler and cook until cheese is bubbly and melted.  Remove from oven, cool, and get situated with your blanket and remote.  It's going to be a great time!  You might even catch a nap!  I hope you enjoy this meatball submarine recipe as much as we do!
What is your favorite comfort food when decompressing?
Ingredients
1 lb ground beef (I use organic grassfed)
24 oz of your favorite marinara
2 eggs
1 tbsp onion powder
1 tbsp garlic powder
1 tsp salt
1 tsp pepper
1 tsp parsley
3/4 cup Italian brad crumbs
1/4 cup Parmesan cheese, finely grated (microplane)
Olive oil
8 slices Provolone cheese
4 Sub rolls
Instructions
1
Over medium heat, add olive oil (about 1/2") to the bottom of a large skillet. Let heat up while you gather ingredients
2
In a large mixing bowl, combine ground beef, onion powder, garlic powder, parsley, salt, and pepper. Set aside
3
In a smaller bowl, add both eggs and beat
4
In a separate bowl (or plate) mix the Parmesan cheese and bread crumbs
5
Use the ground beef mixture to roll out meatballs. Not too big not too small. Between 1"-2"
6
Place each meatball in the egg mixture and then coat with breadcrumbs
7
Add meatballs to skillet and brown on all sides until almost cooked through (do in batches to avoid over crowding skillet)
8
Drain excess oil from skillet
9
Add all meatballs and marinara sauce to skillet, bring to a simmer and cover
10
Allow meatballs to finish cooking in sauce for about 30 min
12
Set split sub rolls on baking sheet
13
Place under broiler for 1-2 min. until just golden
15
Add meatballs and marinara to subs and cover with cheese
16
Place under broiler until cheese is bubbly and melted
17
Remove from oven, cool, and eat!