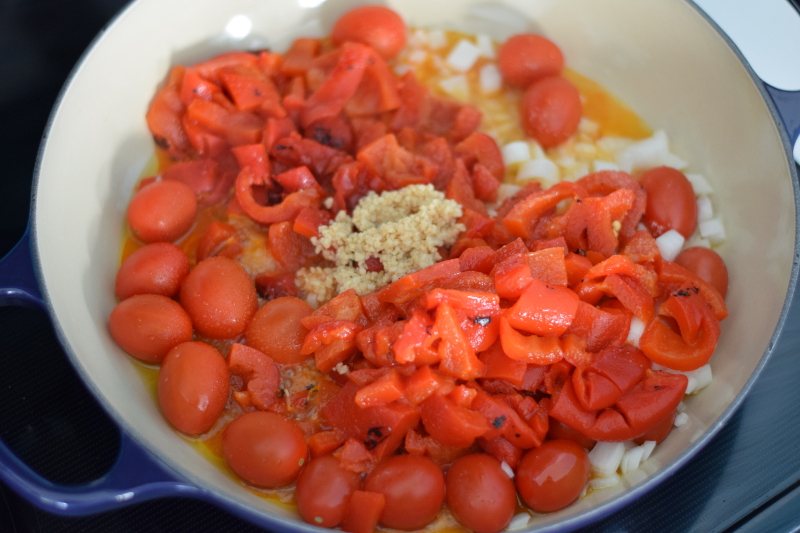 THIS RECIPE IS NOT GLUTEN FREE AS WRITTEN.  I WILL CONVERT AND UPDATE SOON.
Once, during a casual conversation with a professor, they disclosed that as they aged they found that they wish they had purchased less "stuff" and more "quality stuff".   I find myself thinking the same thing lately.  Admittedly, I like my "stuff", but I love my quality items.  I remember when I finally gave up on box stores for kitchen equipment.  I was on my third food processor in two years.  I had already spent the same amount that I would have spent had I simply bought the higher quality product to begin with.  A light bulb came on that day and has never flickered since.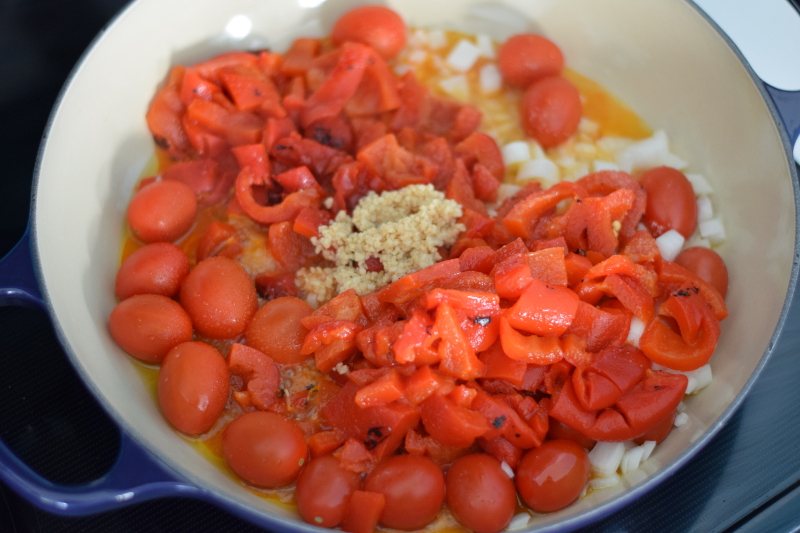 This weekend I purchased a new Le Creuset buffet casserole dish.  Mi Amore!  I absolutely love everything about this dish.  If I'm being honest, it is the only dish I've cooked in since I purchased it last Friday.  Like most Le Creuset, this dish is cast iron with an enamel coating.  I chose the Figue color which is a deep purple and truly gorgeous!  The cast iron is molded in sand, polished, and then sprayed twice with an enamel coating.  The finish is spectacular and chip resistant.  This cast iron withstands an array of temperatures and is oven and stove top safe.   The glass lid is oven safe up to 425 degrees.  This dish is similar to the covered braiser but much lighter.  The glass lid is the biggest difference.  Such a versatile and quality made product!  Can you tell I'm a little enamored with this piece?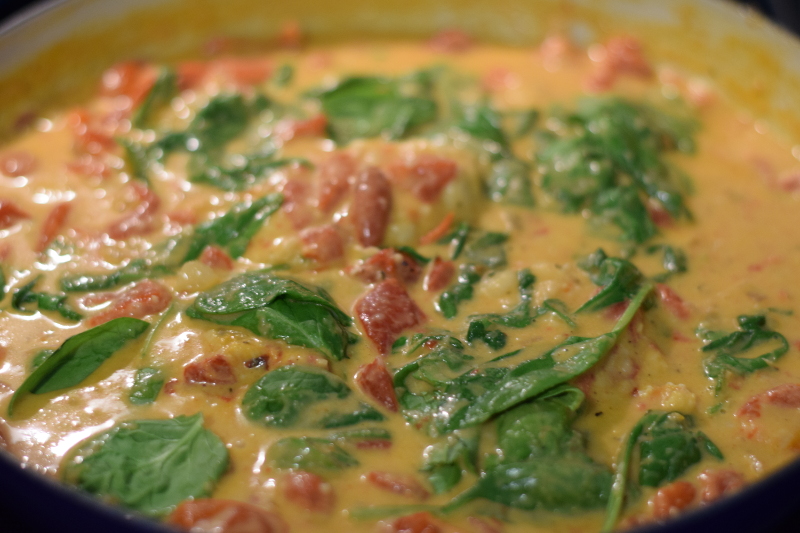 Not only is the quality and appearance of this dish amazing but cooking in this is absolute bliss.  The cast iron holds and maintains heat like no other material.  Last night I made chicken with a roasted red pepper cream sauce and served it over angel hair pasta.  AMAZING!  In some pans I have an issue with the dredged chicken sticking and uneven temperate dispersion.  Not in this pan!  The pan heats evenly and retains the heat for a perfect and evenly cooked meal.
The chicken was so tender I could cut it with a fork.  And the flavor.  My goodness the flavor.  The savory garlic and onions merry perfectly with the roasted red peppers and tomatoes.  Pour in a little stock and cream, finish with some parmesan and the results are heavenly.  I certainly could have gorged myself but I exhibited superhuman strength and only ate one plate.  Pasta is my weakness.  Most days it wins and I'm OK with that!  My son even raved and gave me a high five for such "yummy chicken spaghetti".  Raving accolades and a high five from a two year old?  This HAS to be something special!  lol.  Those of you with kids, especially toddlers, know what I mean!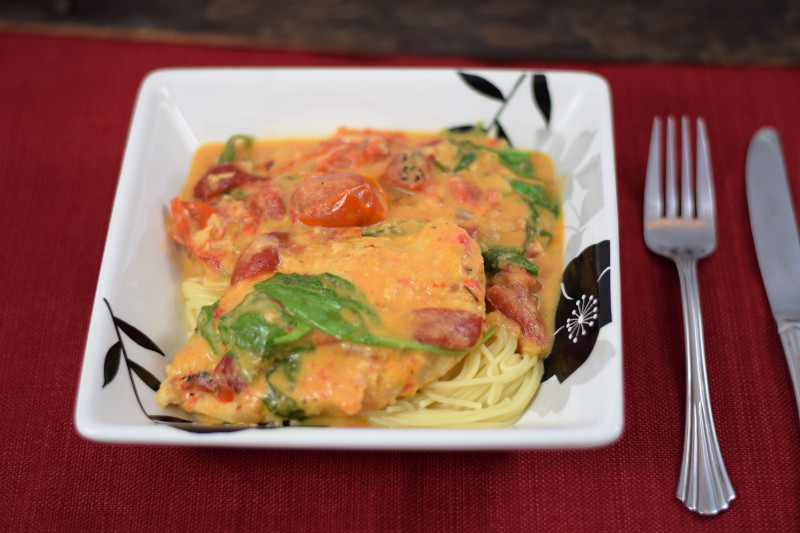 What is your favorite indulgent meal?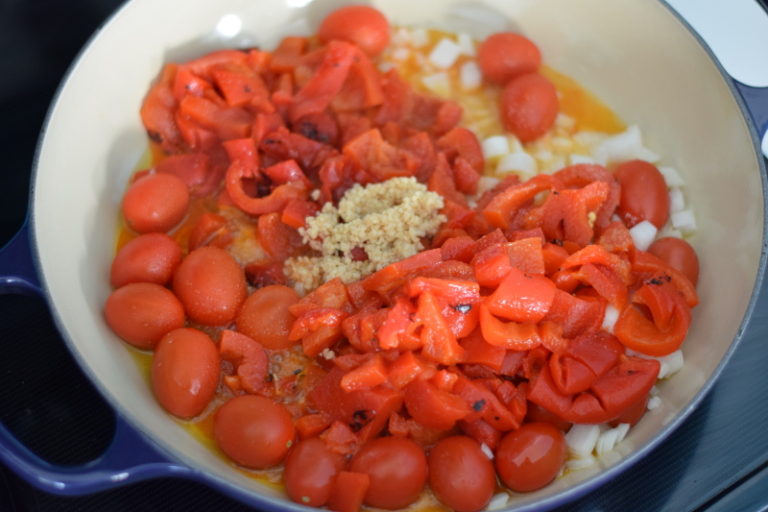 | | |
| --- | --- |
| | |
Once heated, add onion, garlic, salt, pepper, onion powder, garlic powder, and roasted red peppers

While sauteing veggies, dredge chicken in flour

Add chicken to pan once onions are transparent and beginning to caramelize

Sear both sides of chicken and then add chicken stock to deglaze pan

Be sure to scrape up any bits that have stuck to bottom of pan

Place lid on pan and allow to cook on medium low heat for about 25 min, stirring regularly to keep from sticking

While the chicken is simmering, bring water to a boil in stockpot and cook pasta

Add heavy cream and stir until well combined

Replace lid and allow to simmer for about 5 minutes

Fold in spinach and parmesan, cook 5 more minutes
THIS RECIPE IS NOT GLUTEN FREE AS WRITTEN.  I WILL CONVERT AND UPDATE SOON.