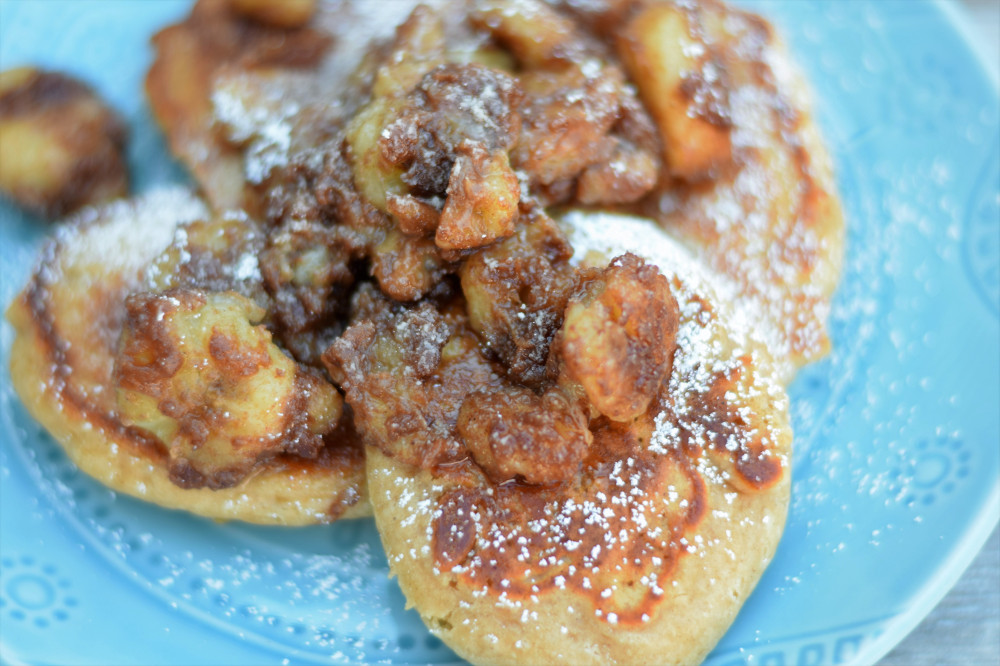 This recipe is NOT gluten free.  I will convert and update soon.
Recently, my husband and I went on our first solo vacation since my son was born.  Never in my life have I been so excited and so dreadful of an event.  Leaving your first born for the first time is difficult, well it was for me.  Explaining to my husband that I didn't want to go would have been harder though!  We needed to get away and honestly it was so nice to have a break and be "Leslie" instead of "Mommy".  Don't get me wrong, I love being "Mommy", but there are days I miss my old identity.
We decided to stay at the Inn at Tabbs Creek in the Chesapeake Bay area of Virginia.  We chose the Chesapeake Suite and it was gorgeous.  This place was more than I could have hoped for.  The innkeepers were so friendly and helpful.  Matthews County is a quaint little area with the most laid back attitude.  I don't think its possible to be stressed in a place like this.  The beach was seemingly untouched and so beautiful.  I have never felt so at ease .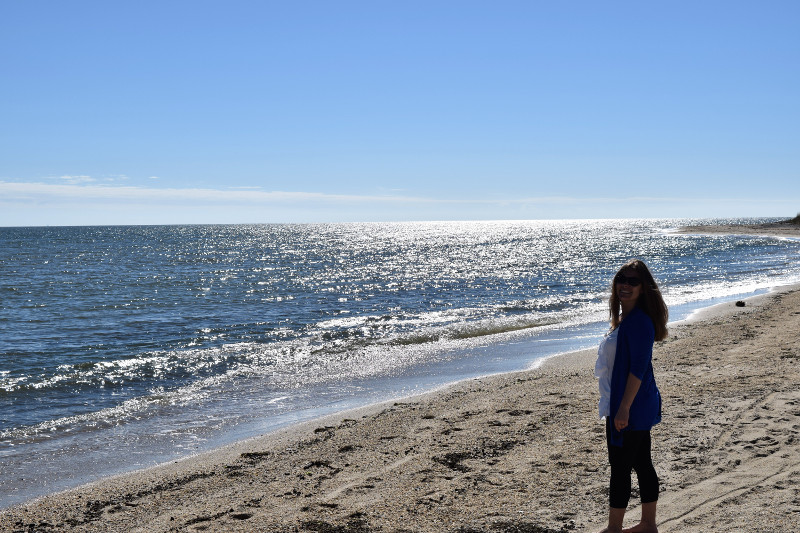 The food and wine in this town is nothing short of amazing.  I am pretty sure I ate my weight in crab cakes!  Zero filler folks.  I mean it, all fresh crab and not an ounce of filler.  We ate lunch on the water and spent the rest of the day winery hopping.  My favorite winery we visited is Good Luck Cellars.  Maggie assisted us and she was absolutely delightful!  If you ever visit this area please go to this winery!  The vineyard is beautiful and the wines are delicious!  I was in my own little heaven.  We ate our way through the county and not once were we disappointed.
The B&B has an amazing Chef as well.   One morning we had these cinnamon and sugar pancakes that were so delicious!  My breakfast this morning is inspired by those little gems.  I added bananas to mine and a little less sugar so I wouldn't feel so guilty.  I can't eat everyday like its vacation, but a girl can dream!  I am thrilled how these pancakes turned out.  My son ate two and I had to insist that he eat an apple if he was still hungry.  The apple is sitting at his place at the table still.  He just wanted more pancakes.  Can't blame the kid for trying!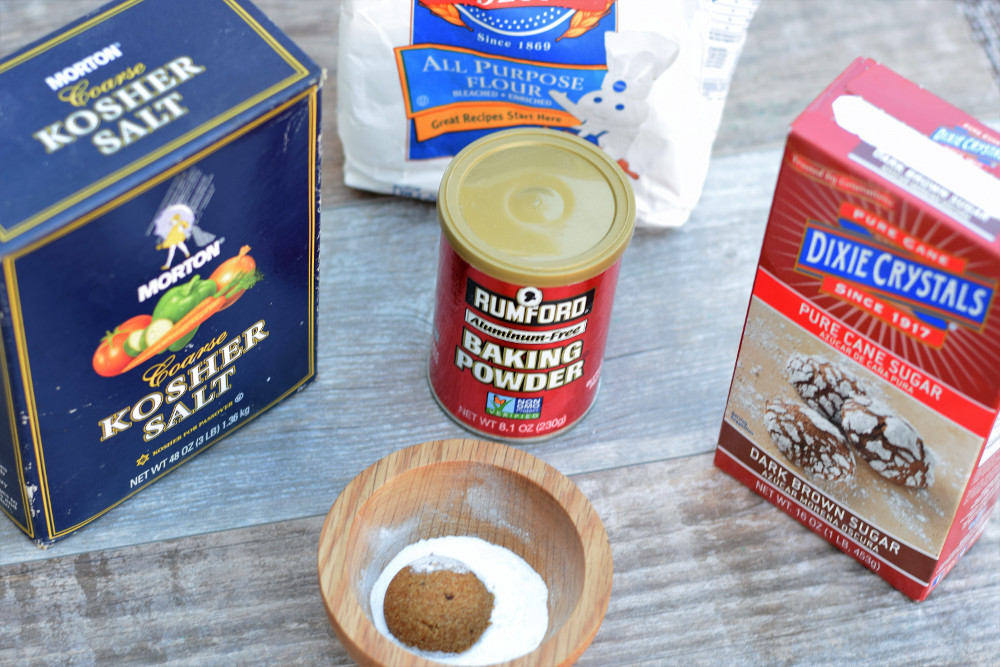 After I started cooking I realized that I did not have buttermilk in the fridge.  Thankfully that is an easy fix.  Did you know you can make buttermilk with regular milk and white vinegar?  It roughly comes to a tablespoon of vinegar per cup of milk.  Give an extra teaspoon or so and allow to sit for 5-10 min.  I cannot tell you how many times this has saved me a trip to the market.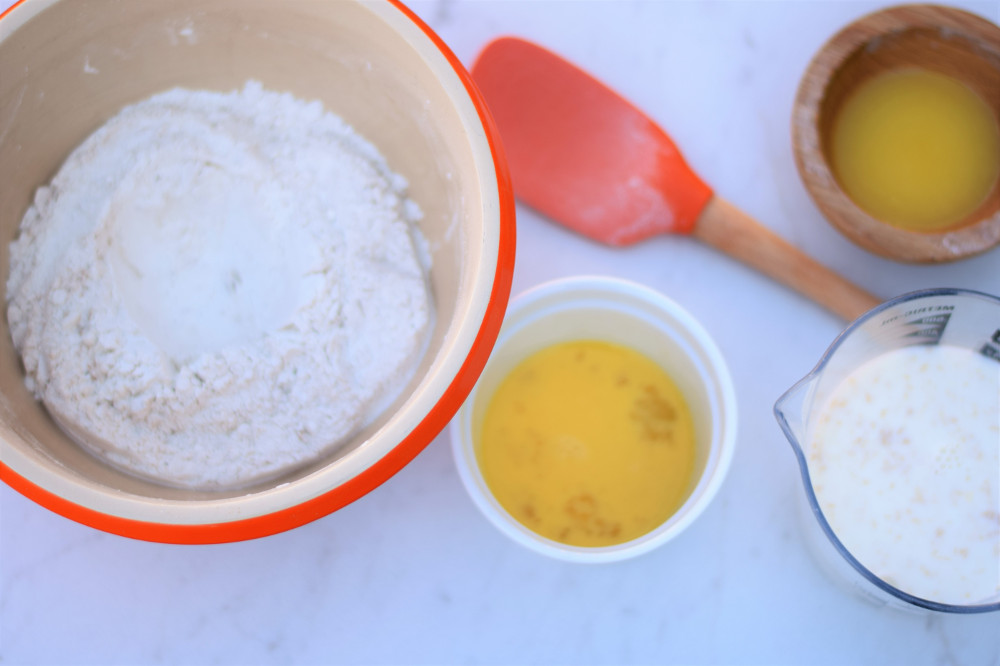 I used a basic buttermilk pancake recipe and added cinnamon and brown sugar to the dry ingredients.  The sweetness is mostly in the topping.  It is easier to control Logan's sugar intake that way (and mine).  While the pancakes are in the skillet cooking use a nonstick pan to cook the topping.  You will need bananas, butter, cinnamon, and brown sugar.  Saute' in pan until all is combined and warm.  Don't overcook the bananas though.  You want them to retain some form versus all mush.  Spoon topping over hot pancakes, sprinkle a little powdered sugar and dig in!  Enjoy!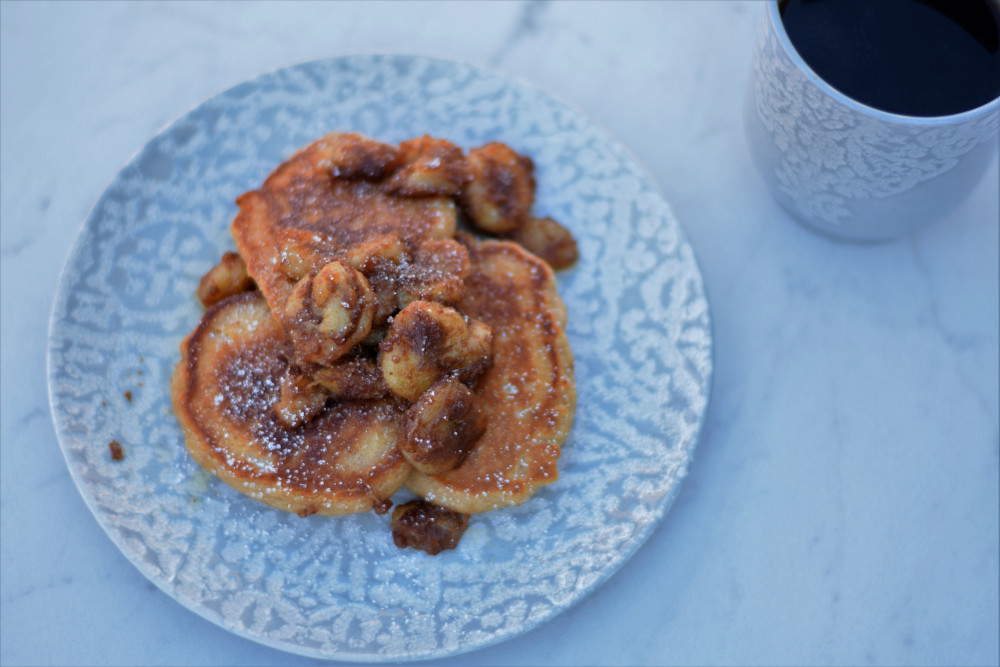 What are some of your favorite vacation inspired dishes?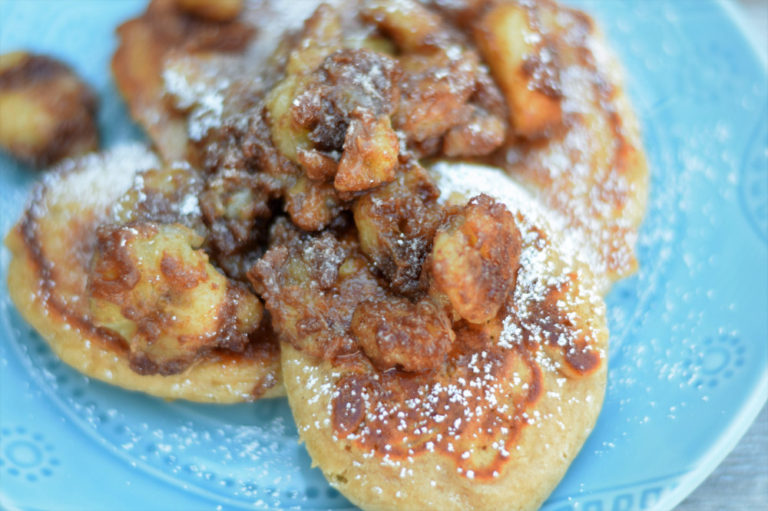 | | |
| --- | --- |
| | |
Mix vinegar and milk in container and set aside

Combine dry ingredients in large mixing bowl

Create well in dry ingredients and add egg, milk, and melted butter

Combine ingredients, careful not to over stir

Allow batter to rest for a few minutes

Heat skillet and coat with baking spray or butter

Add batter and flip once bubbles begin to appear

Hold cooked pancakes in oven on warm
Combine butter, cinnamon, and brown sugar in pan

Add sliced bananas and heat thoroughly

Spoon bananas over pancakes and sprinkle with confections sugar. Dig in!
This is a traditional pancake recipe and is NOT gluten-free. I will convert and update soon.