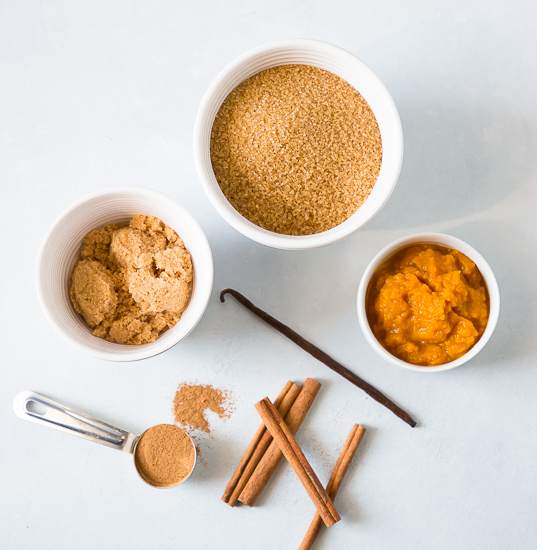 This post may contain affiliate links that help to support my blog.  This comes at no additional cost to you.
It's that time of year…PUMPKIN season!!  Grab the nearest coffee mug, you are going to want to make a cup with this pumpkin spice simple syrup!  But first…
A Peek Into My World….
I know, I know, I promised you gluten free pumpkin brownies with cream cheese frosting.  They are coming, I promise.  Unfortunately, the icing didn't come out so great.  And the brownies were devoured.  Recipe testing at its finest folks.  I am working on tweaking the recipe for the frosting and will have it published very soon.
My sister in law ended up visiting us from Savannah to avoid Irma last week.  Thankfully she missed us here in NC almost completely.  Georgia got a lot of rain, but fortunately, since they were hit by the east side of the storm only, they made out much better than initially expected.  For all of those in Florida, I hope you made it through safely.  It was a wild and rough ride down there.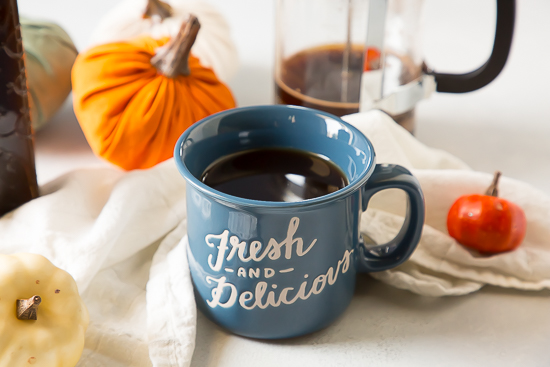 On a positive note, we got to spend some much needed time with my sister in law and my son ate it up!  Aunt Hollie got lots of snuggles and mommy got a break!  LOL.  That's always nice, right?!  What did I do with this break?  I cooked.  And standardized this pumpkin spice simple syrup recipe.  Also, more good news!  I have some big things in store for the blog.  Hopefully, I'll be able to announce them soon as we are still working out the details.  Stay tuned 🙂
It's Fall Y'all
Well, almost.  And you know what Fall means….A PUMPKIN INVASION!  Following suit, I am posting my favorite pumpkin spice simple syrup recipe so you too can enjoy a delicious cup of seasonal coffee while still maintaining your budget.  I don't know about you, but $4 a pop for a small coffee?  Seriously?  It has to be a REALLY rough day for me to give in to that temptation.  While I don't make latte's on a daily basis at home I do use this pumpkin spice simple syrup along with half and a half for a quick creamer in my morning cup of joe.  It's so delicious!  And it actually has pumpkin in it.  Did you know most of the "fast order" pumpkin lattes don't even have actual pumpkin in them?  Crazy!
I'm super excited about Fall.  It is my favorite time of year.  Hoodies, sweaters, and boots OH MY!  I know, I'm a nerd.  But, a seriously happy nerd and I'm OK with that.  The pumpkin patch is one of my families favorite things to do this time of year.  And apple picking.  There are a ton of awesome apple orchards here in NC.  Check them out if you are ever in this neck of the woods.
How to Make This Pumpkin Spice Simple Syrup
It's so easy!  Get out a medium sized pot and add 2 1/2 cups of water.  2 cups of raw turbinado sugar, 1/2 cup of light brown sugar.  Although dark brown sugar will work too if that is what you have on hand.  Add three cinnamon sticks, vanilla bean, and seeds (cut with seeds scooped out), and 1/4 cup of pumpkin puree.  Lastly, add in 1 tbsp of pumpkin pie spice.  If you do not have vanilla beans, vanilla extract, or more preferably, vanilla bean paste may be substituted.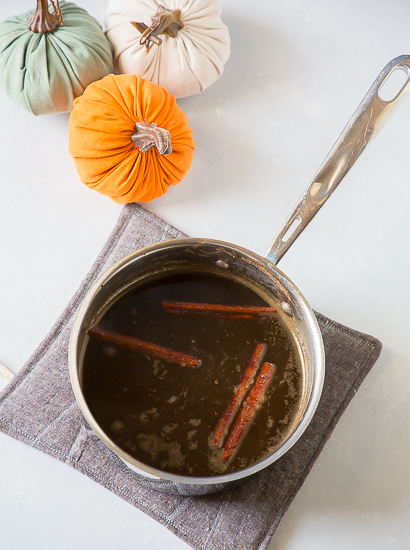 Bring all ingredients to a boil and continue to boil for 10 minutes.  Remove from heat and cool.  Transfer into an airtight container for later use.  This pumpkin spice simple syrup is very versatile.  It can be used in coffee, made into a creamer, latte, or cocktail.  I'm seeing a Fireball cocktail with pumpkin spice simple syrup in my near future!  I've even used this syrup in cookies before.  However you decide to use this recipe I hope you enjoy it as much as I do.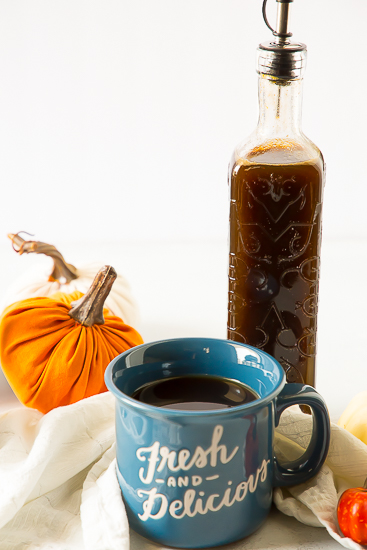 Adore all things pumpkin?  Be sure to check out this delicious Pumpkin Cream Cheese Loaf.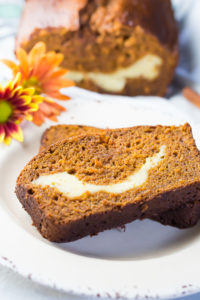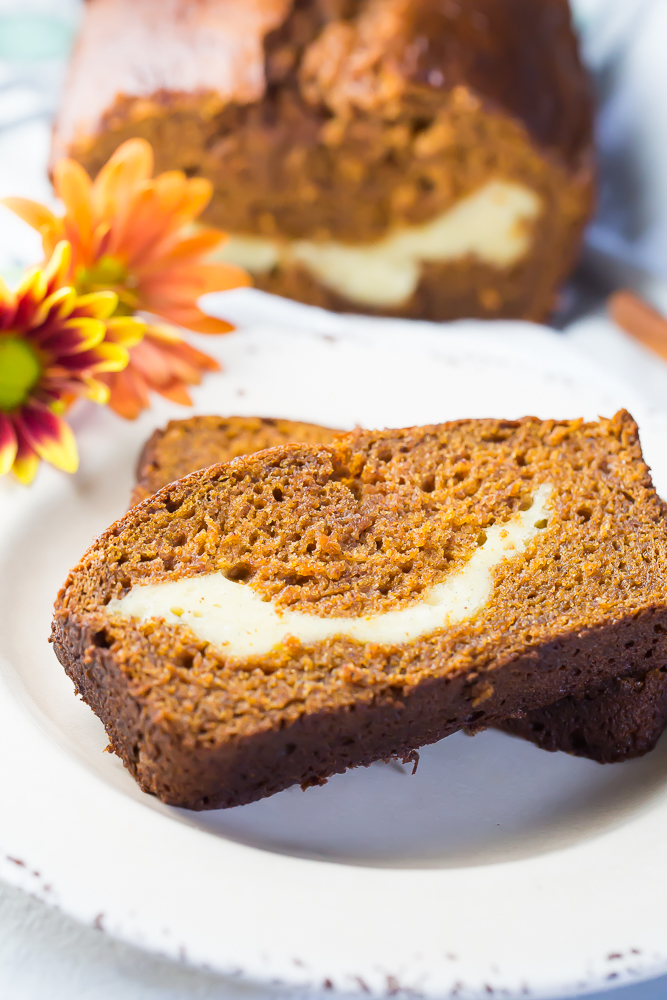 Looking for something warm and cozy for your mug?  This Earl Grey Latte with Lavender and Honey is a treat!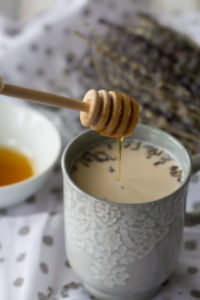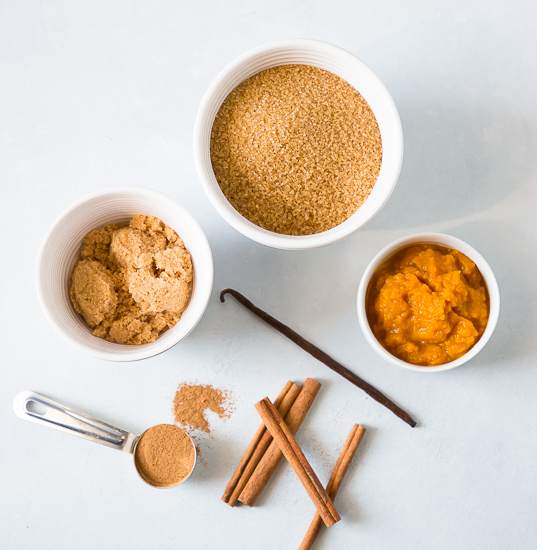 | | |
| --- | --- |
| | |
Add all ingredients into pot except vanilla bean

Slice and scrape the seeds out of the vanilla bean

Bring to boil over medium high heat

Boil for 10 minutes, stirring occassionally

Remove from heat and allow to cool for 10-15 min

Transfer into airtight storage container