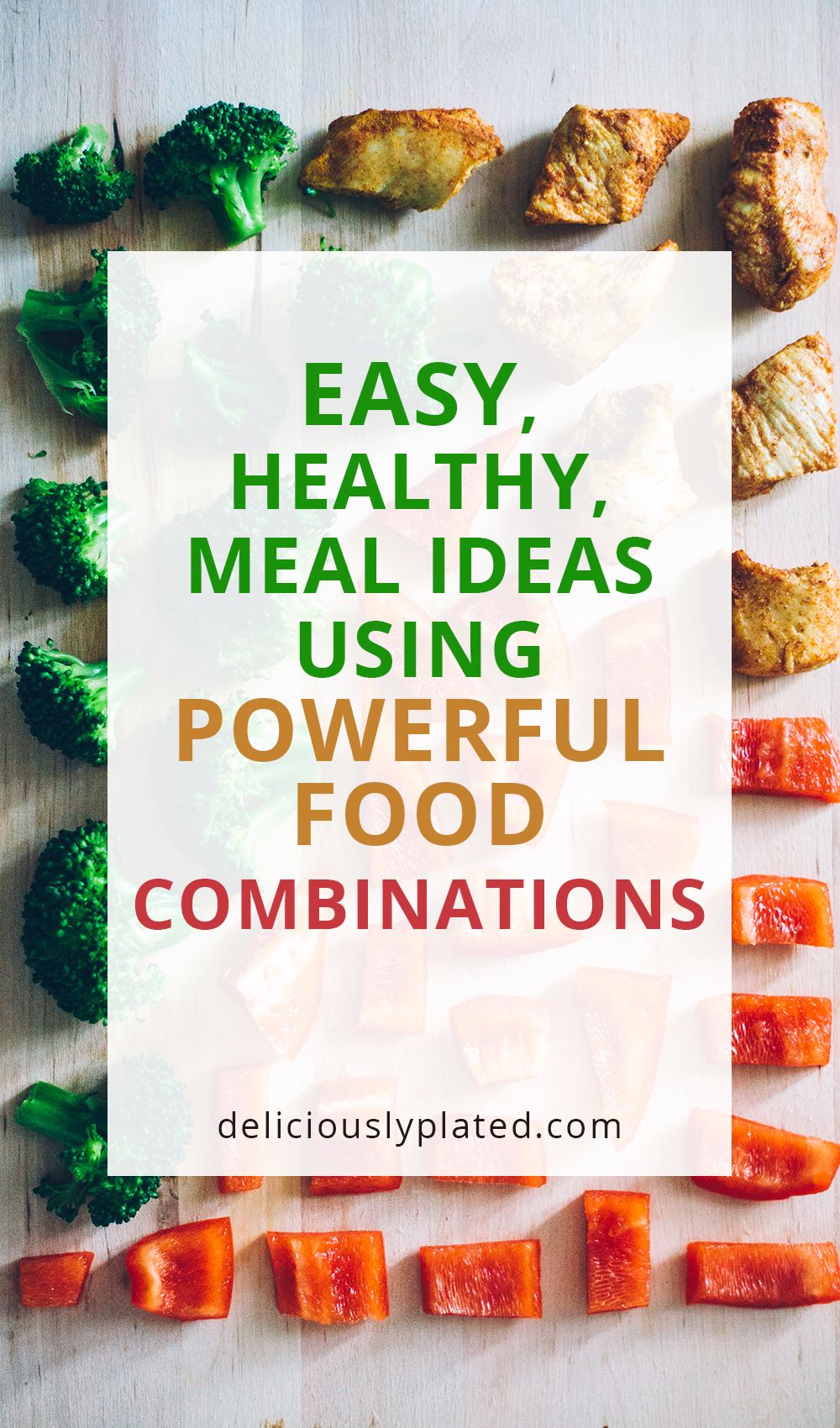 Pumping up the nutrition; Easy, healthy meal ideas using powerful food combinations that improve nutrition
In my previous blog, it was all about food combinations from a flavor point of view, all about the Food matches made in heaven; the science behind fabulous food pairings. This week however I wanted to take a different approach, to look at food combinations from a different perspective; because pairing different foods together for flavor is one thing, but the basic, intrinsic reason that we consume food is as fuel for our body, to provide our bodies with the vital nutrients and energy that is needed in order for us to live a long and prosperous life.
Modern day hunting and gathering
Back in the day, we never used to have such a choice and range of available food always at our demand; our diet and food consumption was by and large based on what was available – what was in season, what we were able to grow, able to process and prepare, or what we were able to store and preserve. Now, we have the incredibly easy (although sometimes maybe stressful dependent if you have a trolley full of screaming children) ability to simply pop down to the local supermarket or jump online to hunt and gather our goods, picking and choosing from a wide range of foods. Fancy organic? No problem. Want salt reduced? Easy. Low fat? Why not. We now have at our beck and call pretty much any food type or ingredient we can dream of, from lands we may not have even heard of, and places that we may never even go.
With the stress and bother taken out of our daily hunting and gathering routine, now we're able to focus more on the nutritional content of food. We know that a diet based heavily on processed foods is not ideal, we know that sugar and salt should be moderated, we know the difference between a "good fat" and a "bad fat".
A short history of nutrition
Nutritional advice has evolved a lot over the course of time, with the first ever recorded dietary advice found etched into a Babylonian stone tablet back in 2,500 BC, recommending that people who were experiencing "pain inside" to avoid eating onions for 3 days. Scurvy, which includes symptoms such as weakness, tiredness, and sore arms and legs which we now know is from a lack of vitamin C, was found to be first described in the Ebers Papyrus, an Egyptian medical papyrus of herbal knowledge dating back to 1,500 BC. The study of vitamins is only a relatively recent topic of discussion, since 1912 to be exact, with Casimir Funk deriving the beginning of the name from the words "vital", because these were considered to be important elements in our diets. In 1940, rationing throughout and after WWII was based on the nutritional principles and recommendations being made at the time. From the fifties to the nineties nutritional advice talked about the Four Food Groups (vegetables and fruit, milk, meat, and cereals) and then it was onto the Food Guide Pyramid.
The fact is that nutritional information is ever changing and evolving, as science continues to develop so do the hypotheses and advice that goes along with it. In the words of Dr. Marion Nestle, Professor of Nutrition, Food Studies, and Public Health at New York University, "the list of nutrients that people are known to require is almost certainly incomplete". So where are we now at with our understanding of nutrients?
Nutrients in a nutshell
Today the common conception is that there are two main types of nutrients – macro-nutrients which are needed in large amounts and micro-nutrients which are needed in smaller amounts. The most known and important macro-nutrients are carbohydrates, fiber, fats, protein, and water. Micro-nutrients include predominantly minerals and vitamins.
Understanding the way that our body breaks down and processes nutrients in food, as well as being more educated and scientifically aware of the nutritional content and value of different foods, means that science has now turned to understanding the relationship between different nutrients and how you can provide the most optimum environment for nutrient absorption and health by teaming the right macro and micro nutrients together. By pairing the right kinds of food together, you can bring out the best in both of them, heightening the nutritional content of each meal.
So what are these great food pairings and food combinations for nutrition?
Iron + Vitamin C
Iron from both meat and non-meat sources is best absorbed when paired with vitamin C. Keep in mind that it's harder for your body to absorb iron when it comes from plant-based sources, so it's more important than ever to ensure your veggie-based iron meal includes a vitamin C rich counterpart in order to optimize iron absorption.
Find them in…
Iron: Lean and organ meats such as red meat, chicken, and liver, leafy greens, salmon, lentils
Vitamin C: Citrus fruits, red bell peppers, kiwifruit, broccoli, tomatoes and berries
For healthy meal ideas think…
Beef, broccoli, and red bell pepper stir-fry with an orange sauce
Leafy green salad with sautéed chicken livers, tomato, onion and bacon
Flourless lentil and red kidney bean chocolate cake served with fresh red berries and kiwifruit
Calcium + Vitamin D
Calcium is only absorbed by the body when we have sufficient amounts of vitamin D – it's the reason that you see milk on the supermarket shelves which has been vitamin D fortified. Your body naturally makes this vitamin when your skin is exposed to sunlight, so spend 20 to 25 minutes in the sun to get your daily dose or see the list of foods below.
Find them in…
Calcium: Dairy products including milk, yogurt, cheese and non-diary substitutes such as fortified soy, rice or almond milk. Broccoli, kale, canned fish (that include the bones such as sardines and salmon), tofu, and almonds
Vitamin D: Canned fish such as salmon, sardines, tuna, and mackerel, egg yolks, fortified cows, soy, rice, or almond milk, and fortified breakfast cereals
For healthy meal ideas think…
Grilled salmon served on lemon wilted kale topped with a soft poached egg
Broccoli and blue cheese quiche
Fortified breakfast cereal served with yogurt and toasted almonds
Homemade vanilla custard sprinkled with almond brittle
Inulin + Calcium
Inulin is a type of fiber which is found most commonly in bananas, asparagus, leeks, onion and garlic. This fiber has been proven to help the body's absorption of calcium when eaten together.
Find them in…
Inulin: Bananas, asparagus, artichokes, onions, garlic, and leeks
Calcium: Dairy products including milk, yogurt, cheese and non-diary substitutes such as fortified soy, rice or almond milk. Broccoli, kale, canned fish that include the bones such as sardines and salmon, tofu, and almonds
For healthy meal ideas think…
Greek yogurt with sliced banana
Garlic roasted artichoke dip served with vegetable sticks
Kale and salmon salad with a garlic aioli
Grilled asparagus gratin
Vitamin E + Vitamin C
Especially good for sharpening your vision, the vitamin C in this combo transforms vitamin E into a product that your body can easily absorb better than just consuming it alone.
Find them in…
Vitamin E: Almonds and peanuts (and their equivalent butters), wheat germ, sunflower seeds, soybean products such as edamame, tofu and tempeh
Vitamin C: Citrus fruits, kiwifruit, guava, red bell peppers, broccoli, brussels sprouts, tomatoes, and strawberries
For healthy meal ideas think…
Fresh fruit smoothie made with almond butter, almond milk, strawberries, kiwifruit, orange and guava
Peanut satay tempeh with red bell peppers, broccoli and edamame beans, sprinkled with roasted sunflower seeds
Healthy Fats + Vitamins K
Help your heart and bones out with this winning combination. Healthy fats include omega-3s, mono, and poly-unsaturated fats which have been found to lower cholesterol, as well as providing the means to help your body absorb vitamin K, a vitamin which is central to building strong bones and help with blood clotting.
Find them in…
Healthy fats: Avocados, nuts (walnuts, almonds, cashews, brazil nuts etc., and of course, raw is always best), oils including olive, almond, canola, flax seed, hazelnut, toasted sesame, and avocado
Vitamin K: Leafy greens such as kale, spinach, and swiss chard, as well as broccoli, cabbage, and brussels sprouts
For healthy meal ideas think…
Salad of roasted brussels sprouts and almonds drizzled with olive oil and a squeeze of lemon juice
Oven roasted olive oil kale chips
Omega 3 + Red Wine
Italian researchers have found that the heart-friendly poly-phenol antioxidants in red wine can increase the absorption of omega 3's, results that were not replicated when they looked at omega 3's combined with spirits or beer.
Find them in…
Omega 3's: Oily fish (trout, salmon, sardines, mackerel), walnuts, flax seeds, chia seeds, and olive oil
Red wine: Well, any red wine, just remember to keep it limited to a glass with dinner
For healthy meal ideas think…
A cheese platter to go with that glass of red wine that includes walnuts, whole-wheat flax seed bread and a balsamic and olive oil combination for dipping
Make a red wine marinade for your omega-3 rich fish by combining red wine, minced onion and garlic, simmering over a low heat for 2 minutes and then pouring the chilled marinade over your fish fillets.
Sources:
https://www.cleaneatingmag.com/clean-diet/food-pairings-that-improve-nutrition
http://www.shape.com/healthy-eating/meal-ideas/10-powerful-healthy-food-pairings
https://www.bustle.com/articles/165401-9-surprising-ways-pairing-different-foods-nutrients-together-can-affect-our-health
https://en.wikipedia.org/wiki/Nutrition
https://en.wikipedia.org/wiki/Marion_Nestle