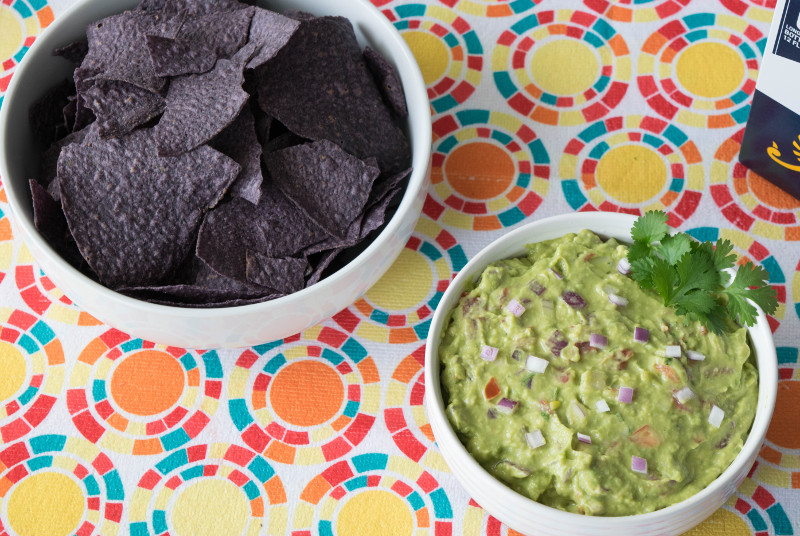 Cinco de Mayo: The History
According to History.com Cinco de Mayo is the celebration of the Mexican Army defeating the French at the Battle of Puebla.  This battle was a part of the Mexican-Franco war that took place in 1861-1867.  Currently, this celebration focuses more on Mexican culture and heritage.
The Present:
For most of my 20's Cinco de Mayo was celebrated at restaurants and bars.  Let me tell you, it was fun!  Guacamole, chips, tacos, enchiladas, you name it, my friends and I ate it!  And tequila, of course,  who could forget those margaritas?  Well into my 30's now, and a mom, I've slowed down considerably!  Cinco de Mayo is more like taco Tuesday.   I still plan on indulging in a margarita and some great food.   However, that hangover on May 6th is NOT invited to the festivities.  My three year old just isn't sensitive to hangovers, lol!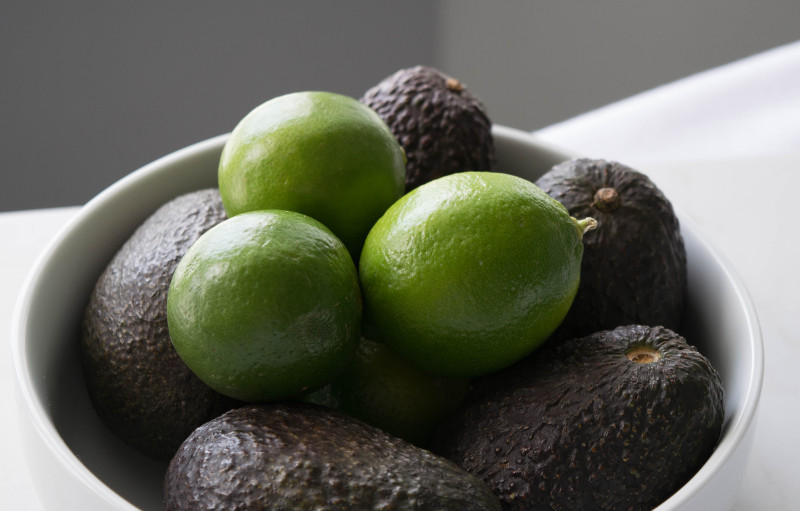 This year, I can't wait to try Cookie + Kate's Spicy Watermelon Margarita.  This sounds so amazing and it will be the perfect beverage to sip while I devour this guacamole.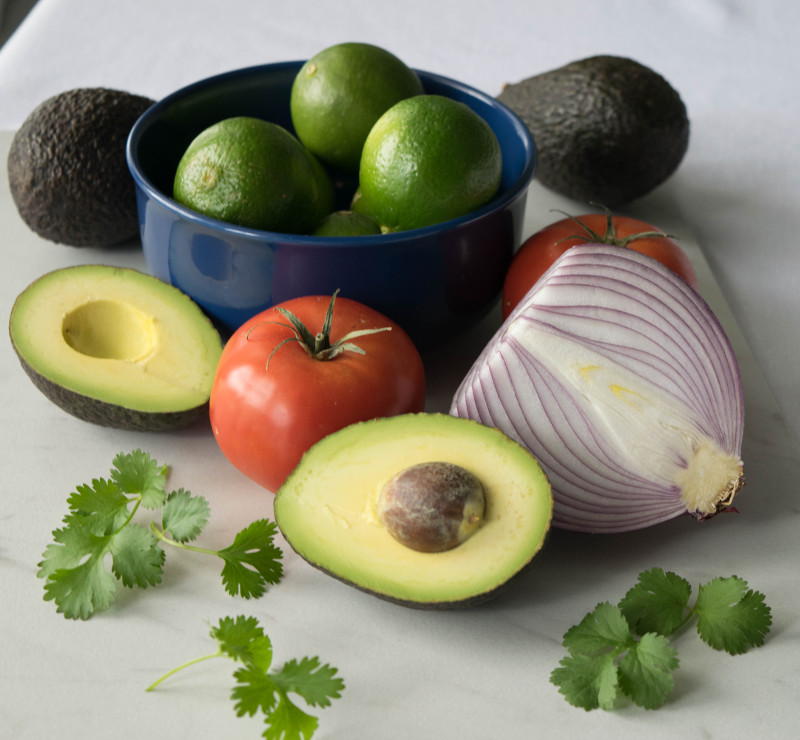 The Guacamole:
When purchasing avocados for guacamole be sure to check the ripeness.  I prefer very ripe avocados which will yield to gentle pressure when squeezed.  Avoid hard or obviously over mushy avocados.  Overly mushy will more than likely be internally bruised and brown.  One that is ripe will provide a deliciously creamy texture and great base for your dip.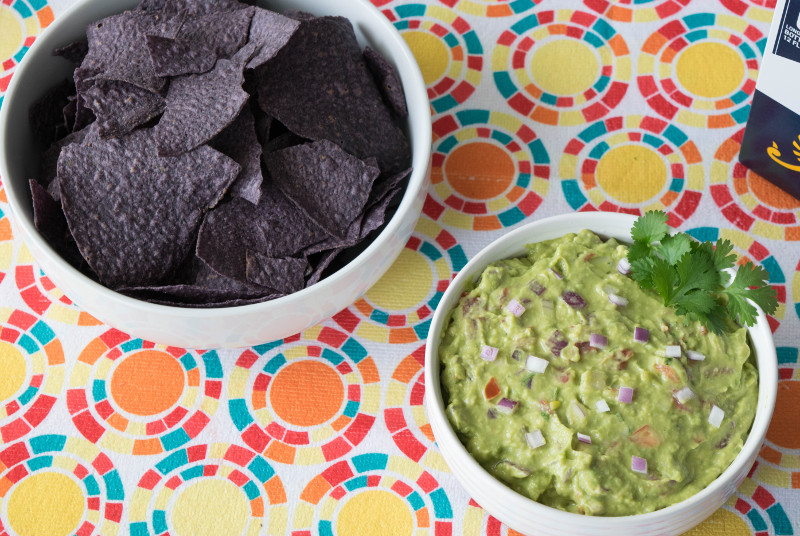 Once you have purchased your ingredients and head home the fun can begin.  Wash all your produce and gather your mixing bowl, knife, and scrap bowl.  Carefully dice your onion, jalapeño, and tomato.  Run a rough chop through your cilantro and set aside.  Cut your avocados and scoop out the green flesh.  Add the avocado to your mixing bowl and with your immersion blender, blend a few areas until smooth.  I prefer to leave some chunks of avocado in tact for the texture.  If you prefer a smoother or chunkier texture you can blend all of the avocado smooth or skip this step all together.
Add the tomatoes, jalapeño, lime juice, onion, and salt to avocado mixture.  Stir to incorporate and then add 3/4 of the cilantro.  Stir.  Put guacamole in your serving bowl and garnish with the remaining cilantro and some red onions.  Add some tortilla chips and Dig in!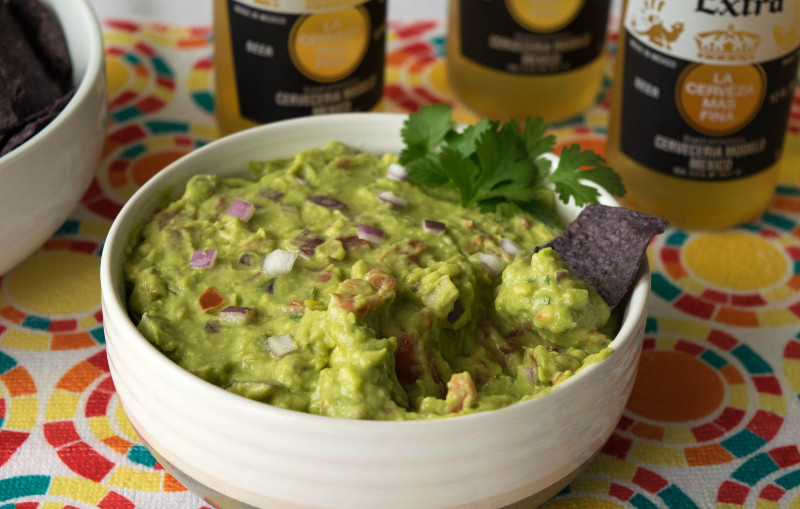 What is your favorite Cinco de Mayo treat?
This post contains affiliate links.  By using these links you help support my blog.  Thank you.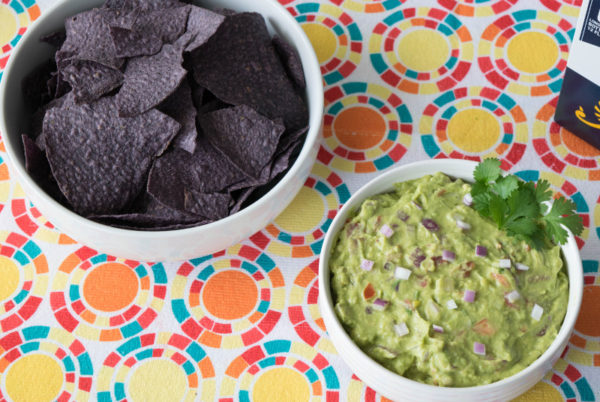 | | |
| --- | --- |
| | |
Add avocado to mixing bowl and, using immersion blender, blend until semi smooth

Add onion, salt, lime juice, tomato, and jalapeño. Mix with spoon

Serve with tortilla chips