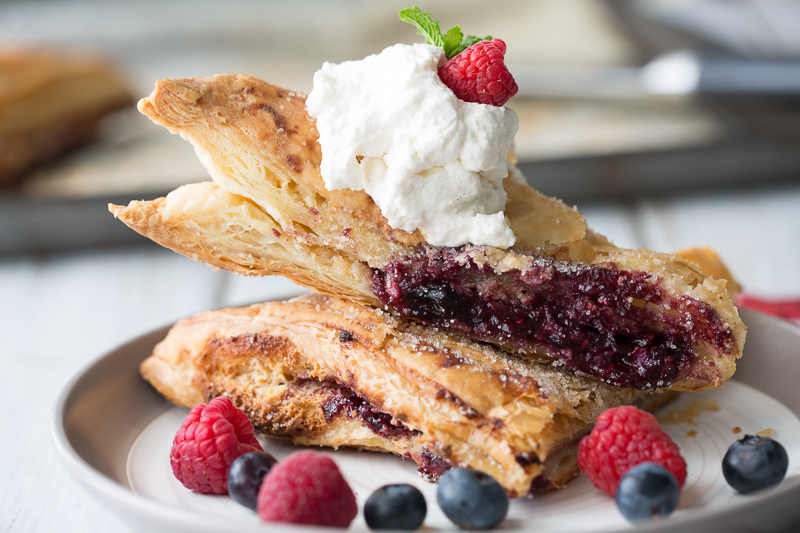 This post may contain affiliate links that help to support my blog
THE dessert for your next cookout…
Another festive holiday is almost upon us.  In a few short weeks, it will be July 4th.  Along with fireworks, there will be cookouts galore!  And with cookouts come desserts.  These blue raspberry cheesecake turnovers are the perfect sweet, flaky, and gooey treat to bring along to your next cookout.
Summertime…
It seems crazy to me how quickly time flies by now that I'm an adult.  Having children seems to make time go even faster.  I'm not sure if it is because we are so much busier or we just now long for more time as we understand that time is limited and more valuable than anything else.  As a child time seemed to drag on.  I remember everything seeming to take FOREVER.  Now, months fly by and I wish it slow down!
It certainly does not seem that it should be the middle of summer already.  I am, however, enjoying it more than when I worked outside of my home and before I had my son.  Now, I get to play water guns and have water balloon fights.  They even have this awesome system that blows water balloons up 25 at a time.  I think its called Bunch of Balloons.  You can get them just about anywhere now.
You simply screw this contraption with 25 water balloons on to your water hose and when they are filled they slide off and drop to the ground.  Tell me that isn't an improvement to filling them individually and trying to tie them afterward!  Kids these days don't know how good they have it!  There, I officially sound old now!  HAHA!
In fact, my kid actually informed me that my nephew, who is now 11, said I was old.  How lovely.  Kids say the darnedest things…
Back to these amazing blue raspberry cheesecake turnovers…
Last weekend we were stuck inside due to rainstorms.  In efforts to amuse my son, we were playing in his kitchen when he decided he wanted to cook with real ingredients.  Adorable!  He is an awesome little sous chef.  I scoured my fridge and pantry to see what I had on hand.  Berries..check   Puff pastry…check  cream cheese…check.  Sounds like all systems are a go!
We quickly gathered our ingredients and got to work.  I first figured out what Logan could do to help.  Washing berries, making sure there are no stems attached still, and pouring ingredients into the bowl are easy to carry out tasks for him.  While Logan washed the berries I got out the puff pastry, butter, and cream cheese to thaw and soften.
Once washed, the berries went into a small pan with sugar, brown sugar, butter, LorAnn Oils Madagascar Vanilla Bean Paste, 4 Ounce
, Simply Organic Ground Cinnamon, 2.08 Ounce
, and lemon juice.  Allow this to cook down until the berries break down and the mixture thickens.  Add 1 tablespoon of cornstarch and cook until consistency thickens further.  Take off the heat and allow to cool.
While the berries are cooling start on the cheesecake mixture.  Gather the cream cheese, vanilla bean paste, sugar, egg, and cinnamon.  With a mixer, mix cream cheese and sugar until creamy.  Add egg and mix.  Now add the vanilla and Simply Organic Ground Cinnamon, 2.08 Ounce
and mix thoroughly.  The fruit mixture and cheesecake mixture are now ready.
Assemble the turnovers..
Layer parchment paper on a large baking sheet.  Roll out the room temperature puff pastry and cut into triangles.  Eight triangles should now be cut and ready to be filled.   Spread the cheesecake mixture over the pastry followed by the berry mixture.  Fold over the top of the pastry and brush top of turnovers with melted butter.  Bake in a 350-degree oven for 40 min.  After 35 minutes in the oven brush the turnovers with melted butter again and sprinkle with raw sugar.  After the last 5 minutes of baking in the oven, your turnovers are done!
While the blue raspberry cheesecake turnovers are cooling whip the heavy cream.  Add a dollop of fresh whip cream to the turnover for garnish.  Feel free to add sugar or vanilla to the cream for flavoring/sweetening.  I chose not to sweeten my whip cream since the turnovers are already sweet enough for my taste.  The choice is yours ;P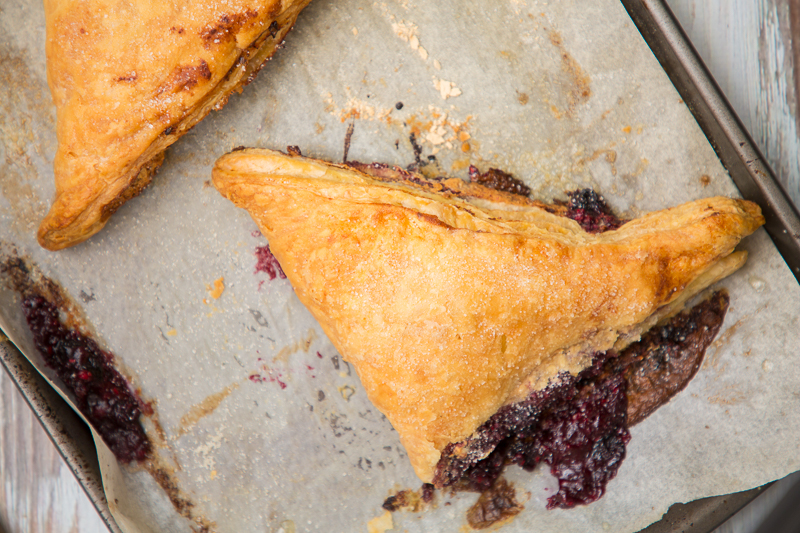 Eat these blue raspberry cheesecake turnovers…
When you first bite into these blue raspberry cheesecake turnovers you will experience the buttery, flaky crust.  Next will come the explosion of flavor the warm berries provide.  The Simply Organic Ground Cinnamon, 2.08 Ounce
rounds out the sweetness of the berries and leads to the velvety layer of cinnamon spiced cheesecake that melts in your mouth.  All of this deliciousness is finished by another layer of the buttery crust.
The result is pure heaven.  Seriously.  Not too sweet but definitely sweet enough.  This dessert won't weigh you down and like other heavy dishes.  It really is the perfect cookout dish.  You can even make them the day before.  If you do, I recommend warming them just a bit before you serve them.  There is just something about those warmly spiced berries that make me smile.
If dessert isn't your thing this potluck potato salad is another great option to take to your next cookout.  This recipe is always a winner.  Make a double batch if you are hoping for leftovers!  In fact, double the turnovers or leave some at home if you are wanting leftovers.  These turnovers will disappear in the blink of an eye.  Feel free to hide one for yourself, I did.  Good thing too, my husband and son got into these and it was like magic.  Poof!  They were gone…
I find the laundry room is a great hiding place.  No husbands or kids will willingly step foot in there.  At least mine won't.  If yours do, please send detailed instructions on how you accomplished this monumental task.  Really, I'm not joking….Please….
Have an awesome week everyone and I hope you all love this recipe as much as we do!  These turnovers truly are simple summer desserts that will knock the socks off of any crowd.  Who doesn't want to be the one who brings the tastiest and prettiest dish to the cookout?  Enjoy!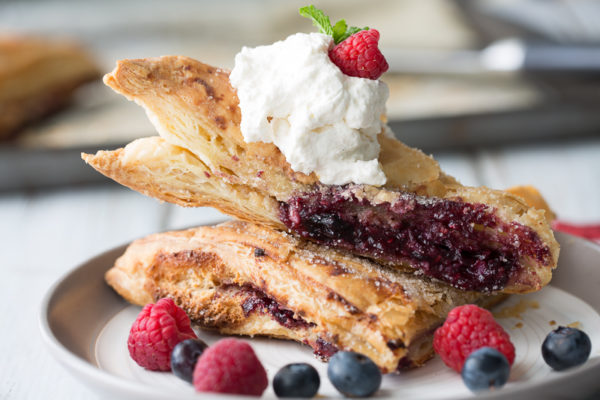 | | |
| --- | --- |
| | |
Take puff pastry, cream cheese, and butter out of the refrigerator/freezer to thaw and soften

Preheat oven to 350 degrees
In a pan, add sugar, brown sugar, vanilla, berries, lemon juice, and cinnamon

Cook about 10-15 minutes, stirring occasionally, until the fruit breaks down and the filling thickens

Stir in the cornstarch and cook for another 5 minutes or so until filling is nice and thick

Take off heat and set aside to cool
While the berry filling is cooling gather the cheesecake ingredients

In a large mixing bowl, combine cream cheese and sugar

Mix with hand mixer until creamy

Mix until creamy; set aside
Line baking sheet with parchment paper

Cut pastry into 8 triangles

Layer each triangle with cheesecake filling then berry filling

Fold the triangle over creating the "turnover"

Brush top of turnover with melted butter

Bake at 350 degrees for 35 minutes

Brush turnover with more melted butter and top with raw sugar

Bake for another 5 minutes

Remove from oven and cool