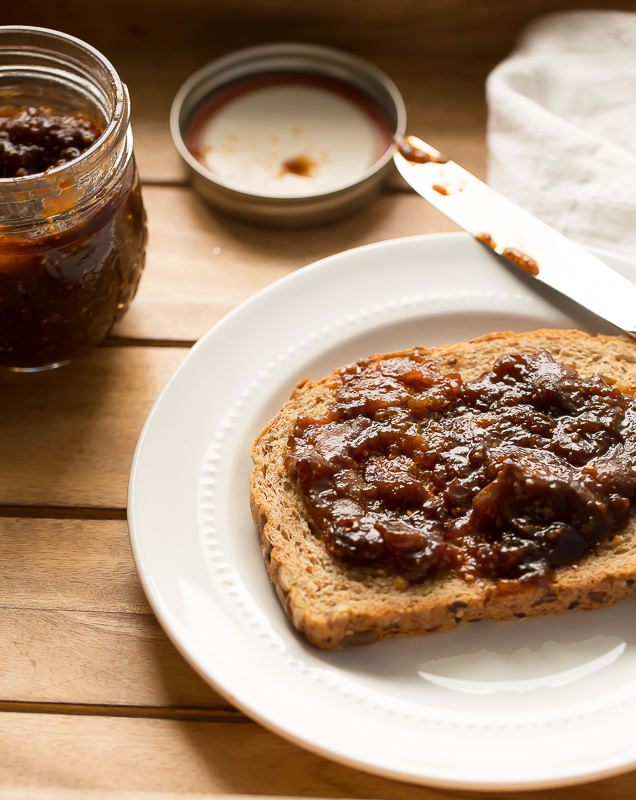 This post may contain affiliate links that help to support my blog.  Using these links comes at no additional expense to you.  Thank you.
This week's featured recipe is a yummy homemade balsamic fig jam.  I just know you will love it as much as my family does!
A peek into my world…
You always hear about sleep regression in infants.  My question this week is "does this happen at say, three and a half as well"?  Seriously.  My son has all but stopped sleeping and become super grumpy and clingy.  School starts next week and this mamma is concerned.  I am not sure if he is experiencing anxiety with such a large change coming up or what.  He says he is so excited and has never had an issue with making friends.  I'm baffled.  Hopefully, next week won't be as difficult as this one has.  This little boy (and his mamma) need to sleep.
Gluten Free?
So far, my new gluten free lifestyle hasn't really been that difficult.  I have avoided going out to eat since that seems like it will likely be the most difficult part.  Thankfully, I already incorporate a lot of veggies and fruits into my diet so my day-to-day hasn't changed that much yet.  I'm hoping to find a good gluten free pasta so I can still enjoy my favorite dishes.  If anyone has a recommendation please leave it in the comments!!  Thank you!
Farmer's Market
This past weekend began with a fun filled trip to the farmers market.  Much to my enjoyment, we are easing into fig season folks.  This is fantastic.  I LOVE figs.  So do my husband and son.  I quickly decided to buy a pint.  Mind you this pint was literally overflowing!  Excited with my score I moved on to find more amazing produce.  Much like most trips I purchased my weight in produce.  This drives my husband insane.  Poor guy.  I mean well.  But every single time I go to the farmer's market, I buy too much.  Before I could make my pork roast and figs they started to soften and turn.  What can I do with almost spoiled figs?  Make jams of course.  Almost spoiled fruit is the sweetest and makes the perfect jam and preserves.  I know this because it's my go to way to save produce that has been neglected for a day too long.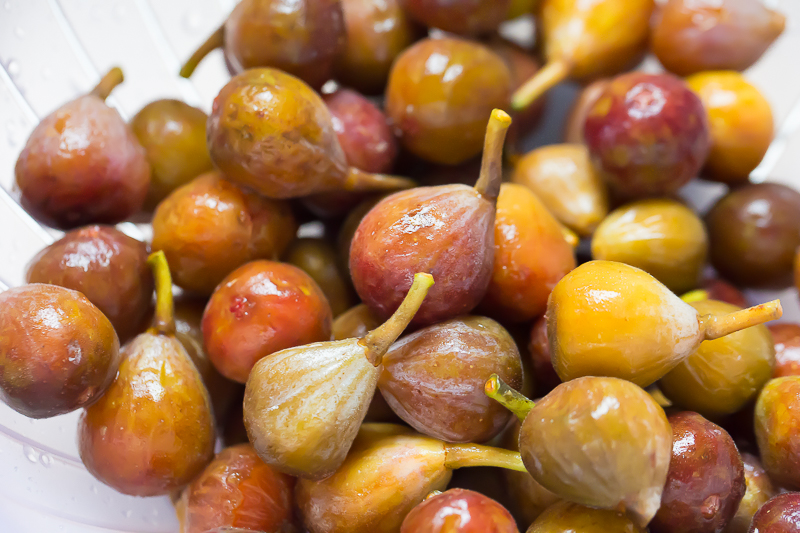 Oops
I saved these poor figs from the compost pile by whipping us up some delicious fig jam.  With a twist of course.  Because I still wanted my pork roast I added some balsamic vinegar to the jam for a nice zest and tang.  The balsamic pairs quite nicely with the sweetness of the figs.  And it would go fantastic with the natural saltiness of a pork roast.  This way, my "sauce" is ready whenever I am.  Sounds good to me!  I love quick and easy crock pot meals and that is just what I'll do with these preserves.  Well, it is one thing I will do with this balsamic fig jam.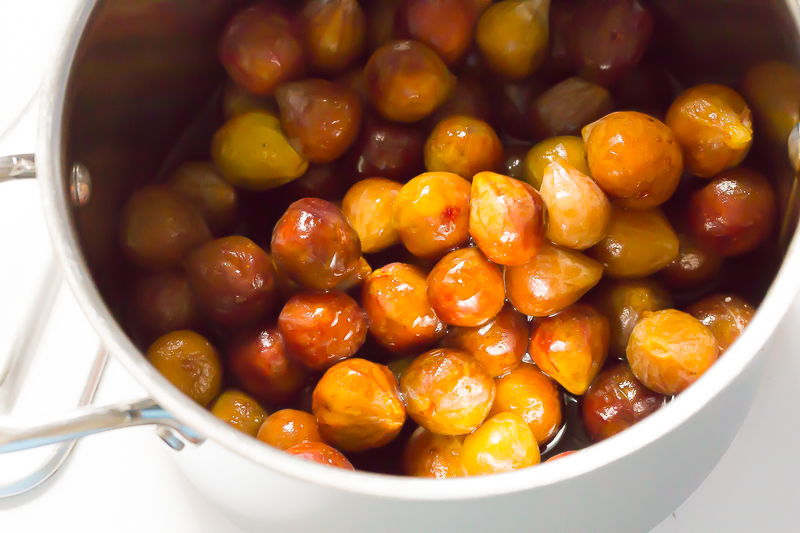 See, once I made these balsamic fig jam I was hungry.  I remembered I had a block (wheel?) of brie in the refrigerator and Baked Brie happened too.  And I spread it on some toast for breakfast the next morning.  This stuff is good.  I will definitely be sharing the pork roast and baked brie recipes this fall or winter!  The brie is actually a great holiday appetizer idea too.  Classy and more importantly, my favorite, easy.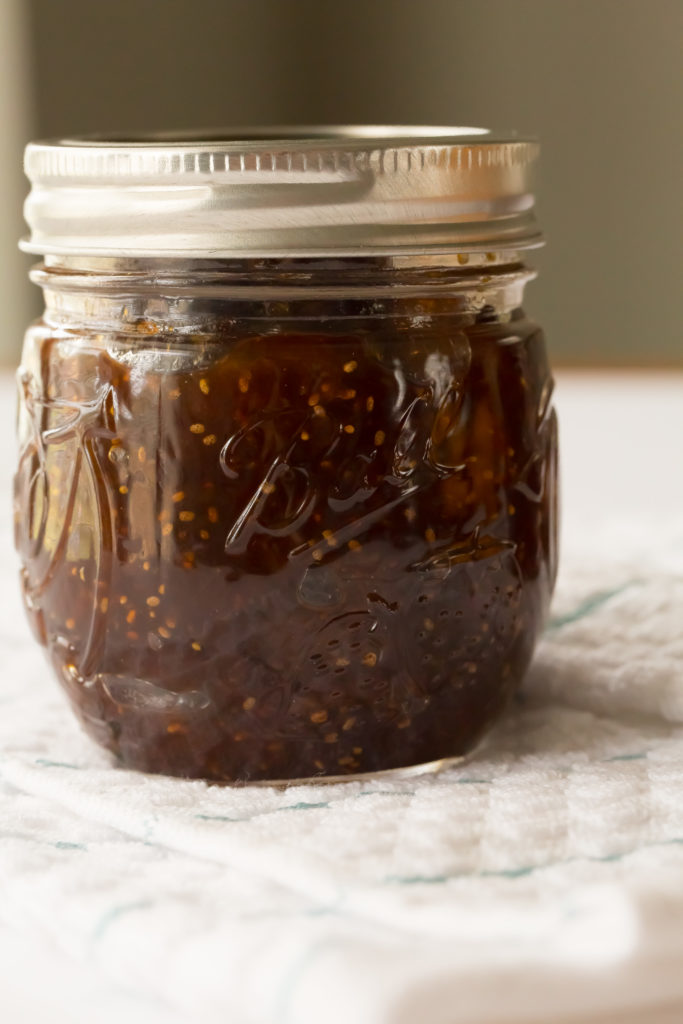 How to make this balsamic fig jam
Back to this amazing and tasty balsamic fig jam.  To begin making these, set your figs on the counter and forget about them for a couple days.  HAHA!  No really, let them ripen and start to soften.  Notice I said start.  Once the figs have begun getting soft, wash them and put them in a stockpot.  Add 1/2 cup honey, 1/2 cup sugar, and 1/4 cup balsamic vinegar to the stock pot as well. Muddle all ingredients together.  A potato smasher actually works great for this!   Cook covered over medium low heat and allow fruit to fully break down.  This will take about an hour.  Be sure to stir occasionally.
Once the balsamic fig jam has cooked for an hour or so and the fruit has fully broken down, turn the burner off and remove stock pot from heat.  Add 1 tbsp of black chia seeds and stir.  Allow the jam to thicken and cool.  Once cooled, add to ball jam jar.  Refrigerate and/or freeze your jars.  Jam with keep in the refrigerator for up to 2 weeks.  In the freezer, the jam should easily last 6 months.  I recommend keeping one in your fridge and storing the rest in the freezer until they are needed.  That way none of this delicious jam goes to waste.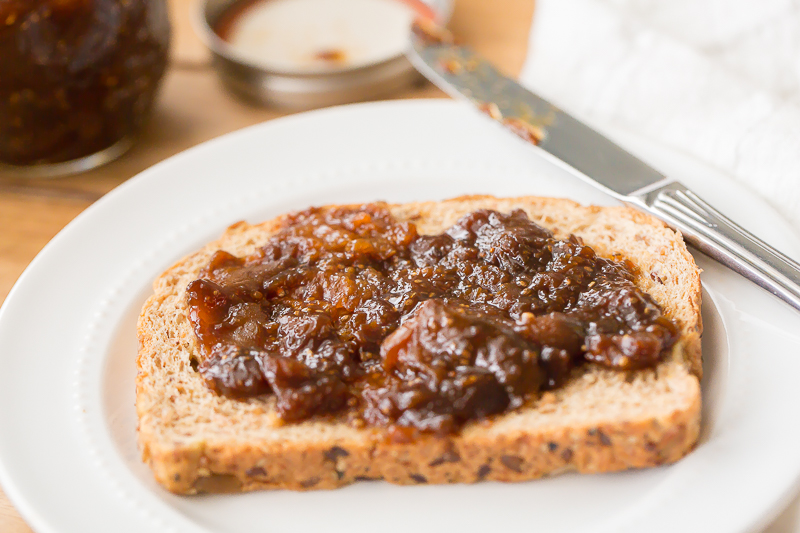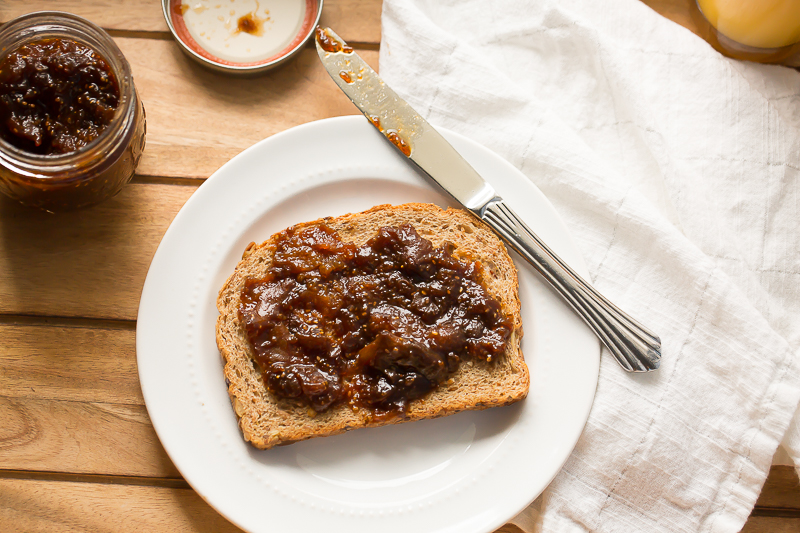 Now it is time to dig in and enjoy this jam however you would like!  It's so versatile.  Let me know your favorite way to serve it!
If you like this recipe, you may also like blueberry lavender jam, banana pancakes, and cherry vanilla granola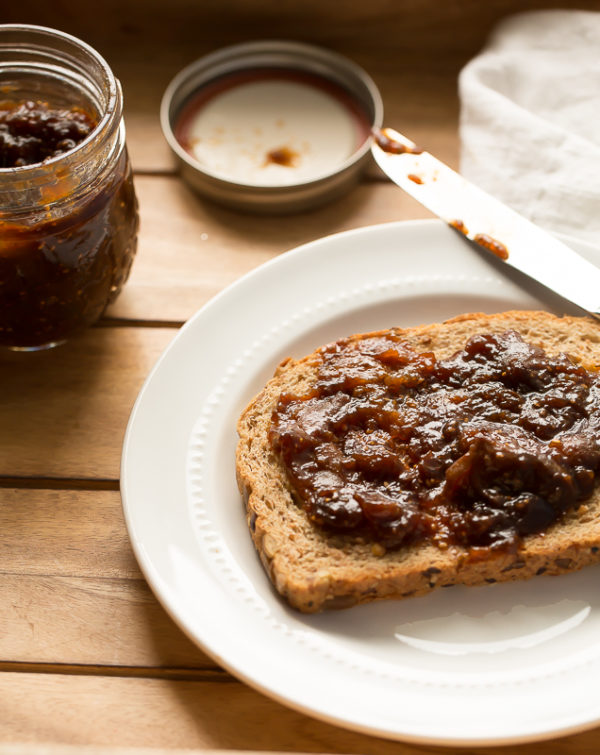 | | |
| --- | --- |
| | |
Add figs, honey, sugar, and balsamic vinegar to stock pot

Cook covered on medium low for about an hour (until all the fruit has broken down)

Allow jam to cool and thicken

Add jam to jars and refrigerate or freeze