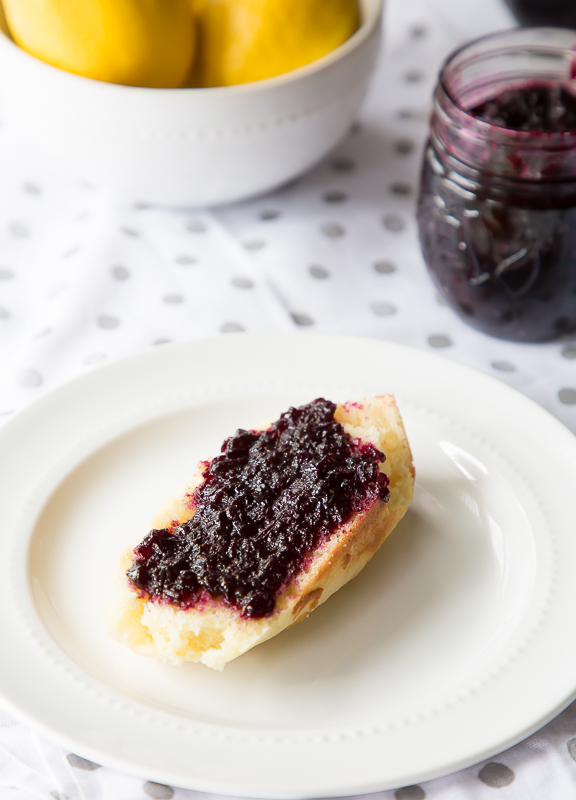 This week I am featuring my homemade blueberry lavender jam.  I know, not a typical flavor pairing, but it is oh-so good!  Try it and I promise you will love it too!
A peek into my world this week
The biggest thing in my world this week is hands down that I signed my son up for preschool.  For three amazing years, he has been with me day in and day out.  Now, he is growing up and wanting the camaraderie of other children.  Being an only child for the first 7 years of my life, I appreciate his need for more stimulation and friends.  But still, guys, I'm so sad.  He's my buddy!  LOL.   Logan is so excited and cannot wait for the first day of school.  I, on the other hand, am silently dreading it.  Knowing that I'll be doing everything I can to fight back the bittersweet tears.
My mom said when I started school I walked right in and never even looked back.  She never went home that day, but stood outside the classroom window (where I couldn't see her) and watched me play while she cried.  I never quite understood why until now.  I am so proud of how Logan is progressing and growing up, but I want to freeze time so much.  To stay in the days and weeks where I was enough and he wanted to play and cuddle all day.  Obviously, that isn't an option.  A mom can dream though, right?  This year he will only go to school two days a week, so we both have time to ease into it.  Ok, mostly me.  I get to ease into it.  He would go every single day to play if he could I feel quite sure.
In other news…
The solar eclipse this week wasn't visible in its totality here but it actually got quite dark.  My son thought it was super cool.  All our neighbors were outside checking it out.  Now my boys want a super telescope to see astrological stuff more often.  I just love when they do stuff together 🙂  Admittedly, I like the idea of a telescope to have for family use as well.  Sounds like more fun times are ahead.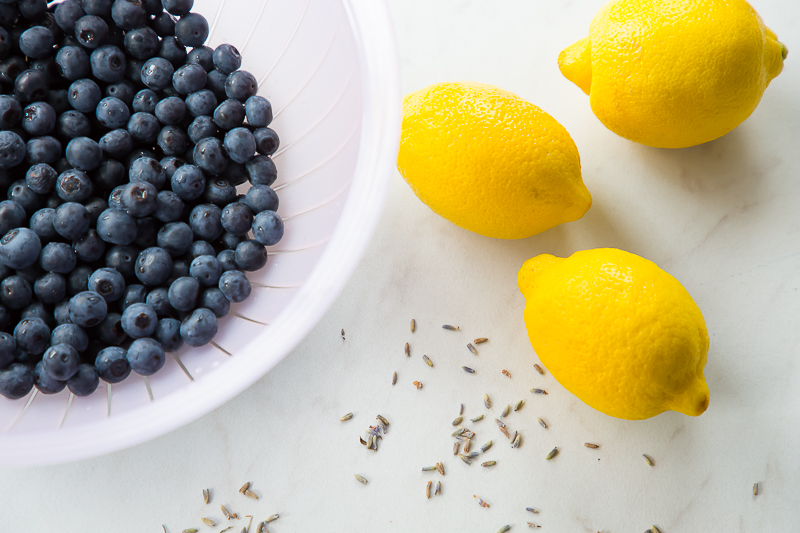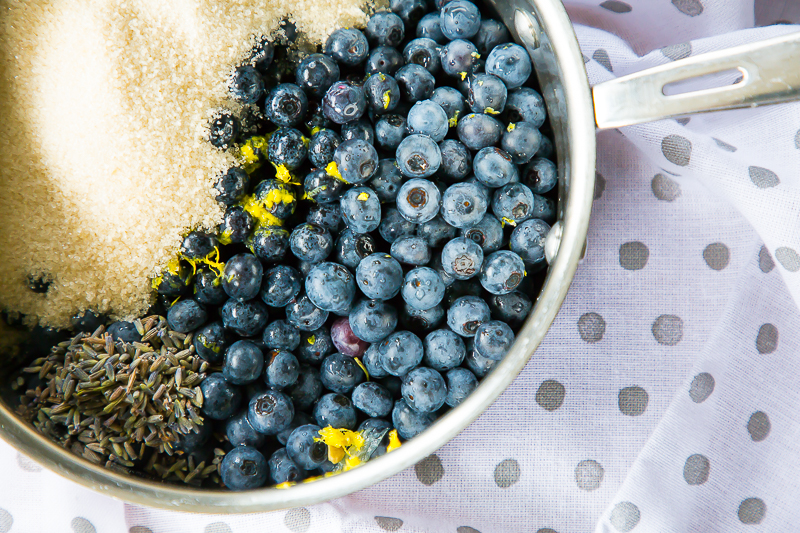 How to thicken blueberry lavender jam, or any jam
Homemade jam is amazingly simple.  There are a few different ways to go about making homemade jam.  I choose to leave out the pectin.  If my jam is "loose" I opt for a tablespoon of chia seeds to thicken it up.  Chia seeds have a natural gelling ability and pack a strong nutritional punch.  Chia seeds contain healthy omega-3 fatty acids, carbohydrates, protein, fiber, antioxidants, and calcium.  This particular batch did not require thickening, but the same recipe has in the past.  Go figure.   If the jam isn't quite thick enough or gelled enough for you, just add a tablespoon of chia seeds after jam has cooked and cover.  Keep pot on the stove but turn the heat down to low.  After about 15 minutes, remove from heat and turn off stove.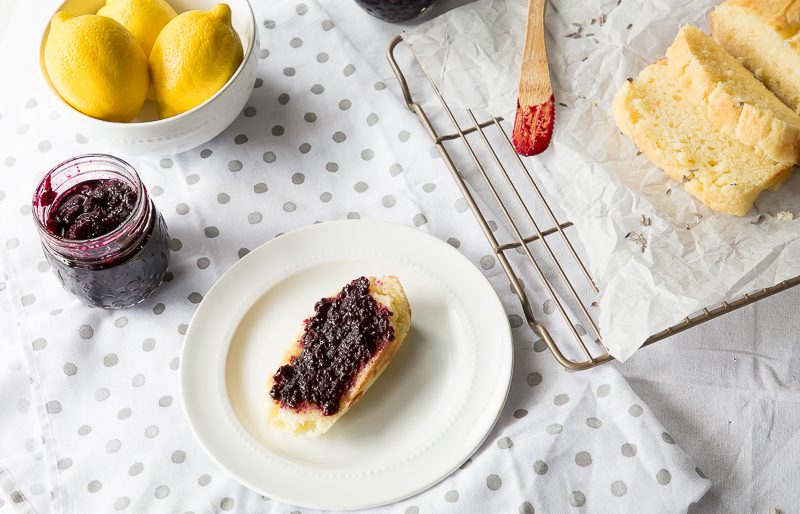 How-to make Blueberry Lavender Jam
I start this recipe with 18 ounces of blueberries from my local farmer's market.  This is where I have found the most flavorful berries at this year.  As a plus, the farmer's market seems to have the best price as well.  I also purchased a lemon and dried lavender for this recipe. Sugar (and water) I had on hand.  Gather all your ingredients and wash the berries and lemon.   Yes, the lemon.  Since we are using the zest this is an important step and shouldn't be skipped.
Next, add all ingredients to a medium-sized pot.  Muddle the ingredients so that all flavors will combine evenly and be sure to squash all the berries so they breakdown as well.  Cook this over medium heat for 45-50 minutes, stirring occasionally.  Once the jam has cooked, remove from heat and allow to cool for about 10 minutes.  Add the blueberry lavender jam to Ball  jam jars and store in freezer or refrigerator.   Jam with keep in refrigerator for up to 2 weeks.  In the freezer, the jam should easily last 6 months.  I recommend keeping one in your fridge and storing the rest in the freezer until they are needed.  That way none of this delicious jam goes to waste.
How to eat this jam
One of my favorite ways to consume this spread on lemon pound cake.   Oh my goodness, the combination of these two is so good!  So be sure to whip up your favorite lemon pound cake when you plan on making this jam.  It will be the perfect dessert.  This jam is also great spread on biscuits, english muffins, bagels, or a piece of toast.  And, be sure to reach for this blueberry lavender jam next time you make a bowl of vanilla ice cream.  It's a perfect ice cream topping!
Tools needed for this blueberry lavender jam recipe
Microplane zester to zest lemon
Medium sized pot to cook jam in
Colander for washing fruit
Ball jam jars for storing jam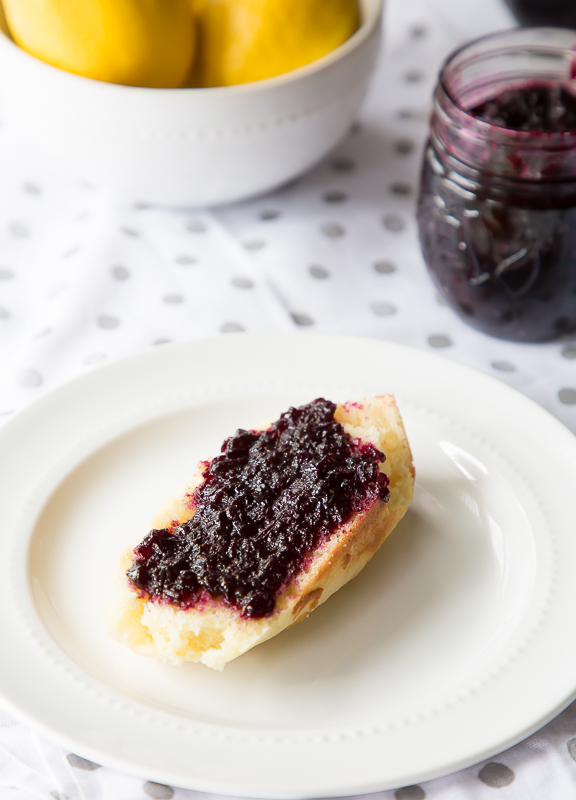 | | |
| --- | --- |
| | |
Wash blueberries and lemon

Add blueberries, lemon zest, lemon juice, water, dried lavender, and sugar in a medium sized pot

Muddle together all ingredients

Cook over medium heat for about 45-50 minutes or until the fruit has broken down

Remove from heat and allow to cool for about 10 minutes

Spoon into jam jars and store in refrigerator or freezer