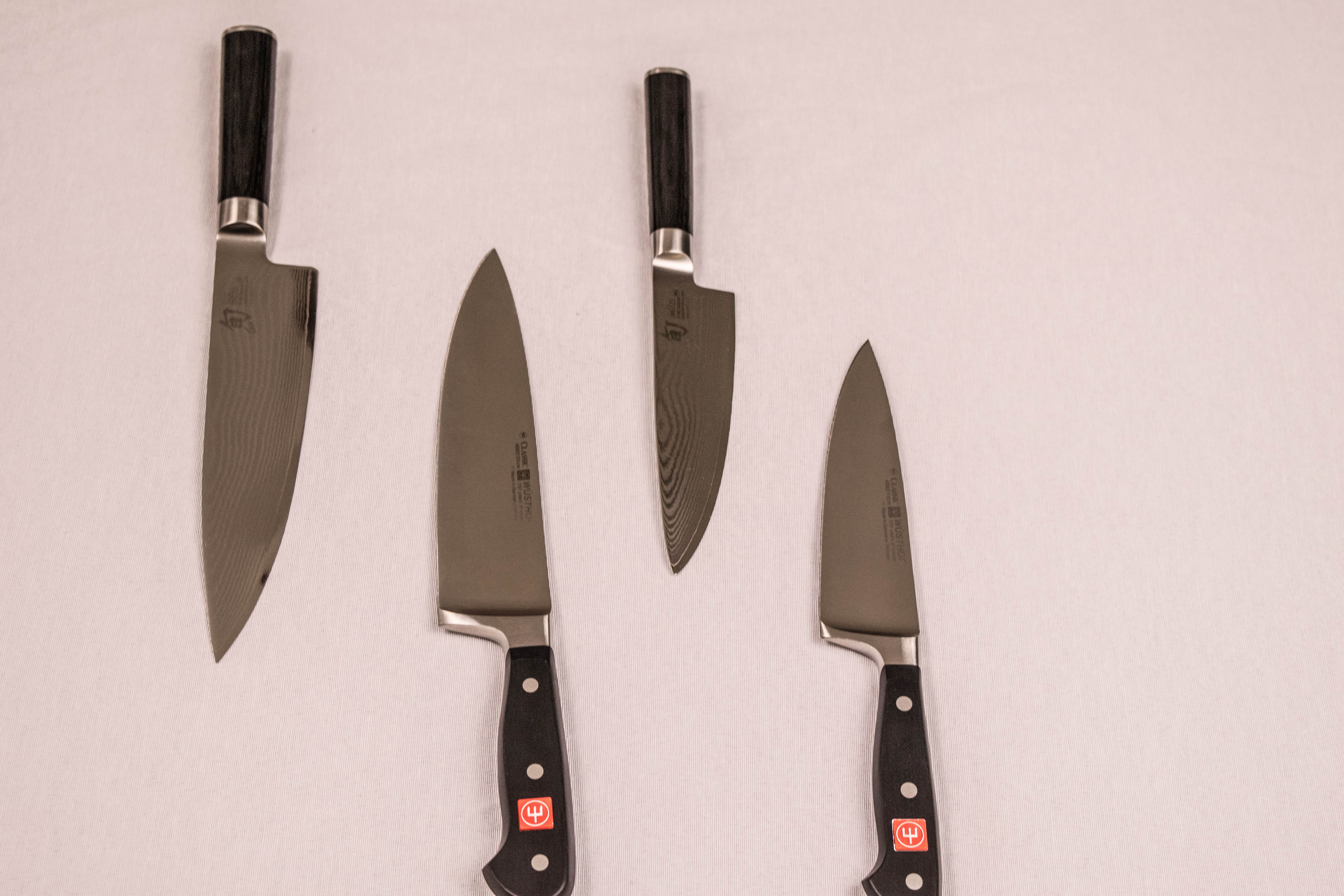 This post may contain affiliate links that help to support my blog.  This comes at no additional cost to you.
Is it really worth the money to invest in a set of good knives for your kitchen?
In a word, Yes, absolutely.   I get asked this question a lot by family and friends.  It always surprises me for some reason.  Would you build a deck with say an old bow saw? Would you cut your grass with scissors?  Of course not.  A good knife is essential in a kitchen, any kitchen.  And nothing is more dangerous than a dull knife regardless of its brand!  A dull knife will be more challenging to work with, and you can slip cut yourself much easier if you are struggling with a dull blade.
A few months ago I purchased 2 Shun Classic knives.  I chose a 6-inch chef knife as well as an 8-inch chef knife.  The same day I also bought a 6 inch and 8 inch Wusthof Classic chef knife.  For the past five years, I have been using a Henckels knife block set I purchased when I began culinary school.  I will say that I LOVE my Henckels knives so much it pained me to think of cheating on them!  A little ridiculous, I know.  It is who I am.  Fast forward to today, and it has been roughly 3 and a half months.  I feel like I have given each knife ample attention to be confidently opinionated and provide an honest review.
Shun Knives:
The Shun knives are admittedly more attractive than the "all business" German cutlery with which I am more accustom.  The blades are SUPER sharp out of the box.  They have a very fine edge that only measures 16 degrees.  This makes for a super fine edge which will be amazingly sharp.  Unfortunately, an edge this fine will not stay sharp for long periods of time.  Sharpening will be required more frequently and will depend on the amount of use.  For the average home cook, 3-4 times a year is probably sufficient (according to the retailer).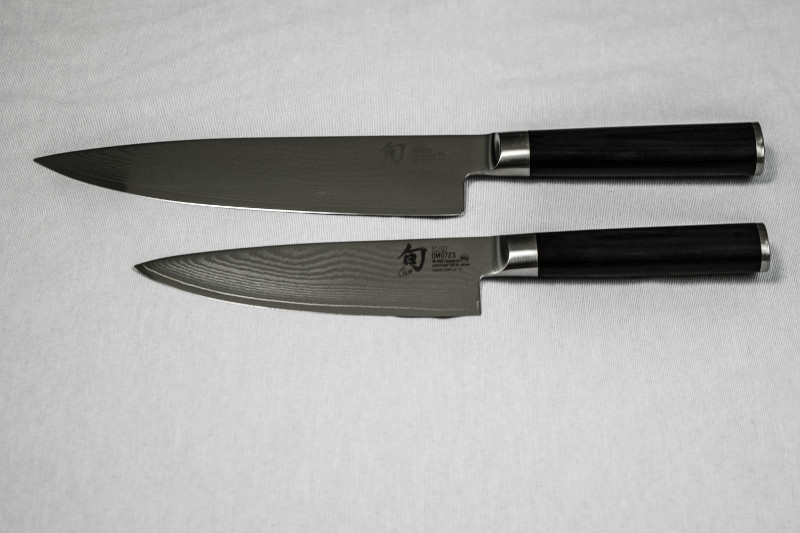 Shun knives are constructed of 2 types of metal, VG10, and high carbon stainless steel.  By sandwiching these metals together, Shun has created a stronger, lighter, and more stain resistant knife.   The sandwiching of the metals also creates a beautiful pattern on the blade.  The lightness of the knife really is impressive and such a nice feature anytime you have a lot of knife work.  Another gorgeous feature is the wooden handle.  The handle is made of PakkaWood and is uniquely shaped for ultimate comfort and stability.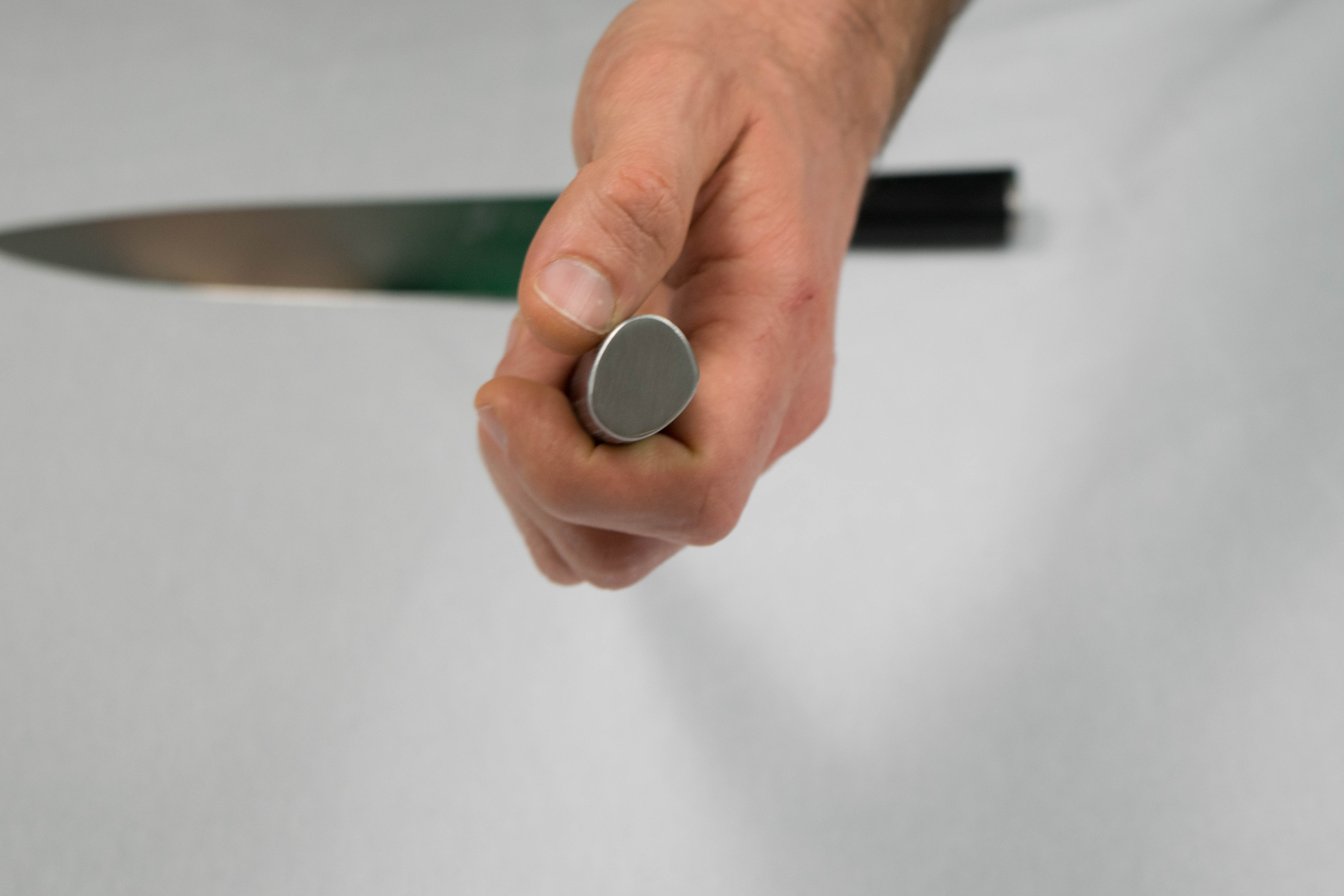 Enough about the technicalities.  How do they hold up?  Well, honestly not as well as I'd hoped.  What started out as love has taken a turn towards slight disappointment.  Both Shun knives show significant wear already.   The tip has broken off, and the blade edge has chipped in multiple places.  Despite being dishwasher safe, I only clean these knives by hand and dry immediately.  NEVER put your knives in the dishwasher.  The detergents are harsh, and the extreme temperatures are hard on the blades as well.   I also use a recommended cutting surface and store these knives in my knife block.  There is no reason, in my opinion, that these knives should already have this type of damage.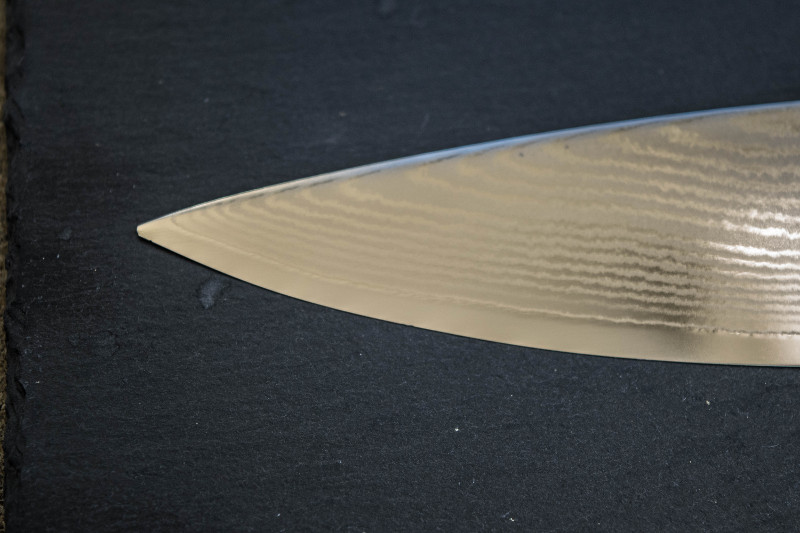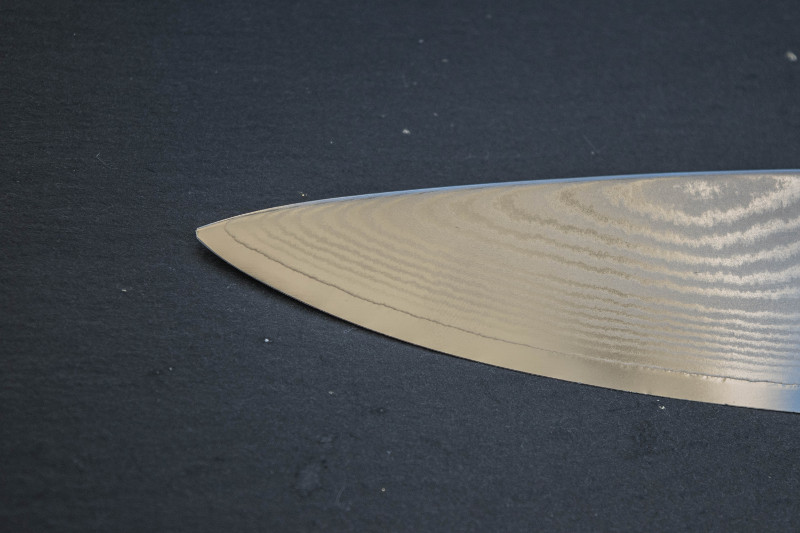 Recently, I emailed Shun about the warranty and have been advised that I can send both knives in for inspection and if they decide the damage is to no fault of mine they will replace the knives.  If they deem the damage my fault, they will sharpen and attempt to correct damage, but that is the only action they will take.  I have not yet decided if I will send them in or not.  The process will take approximately 4-6 weeks.  I will keep you all updated.  Thus far I can say my customer service experience has been positive.  They were very responsive and positive in their email.
UPDATE: Fast forward a year and a half, and I am still using these knives.  I look at the chips as adding character and reach for these knives any time I have a lot of chopping to do.  Lighter and more comfortable, these are a great option for me.
Wusthof Knives:
Wusthof, a German-based company, makes the second knife included in this review.  Their knives boast a 22-degree angle edge, and it is recommended to sharpen these right out of the box to attain full sharpness.  I am actually sporting a cut on my palm from grazing the tip last night while cooking.  Needless to say, after three months they are still super sharp!  These knives have a wider angle which aids in edge retention, so these stay sharp much longer.  I still do not need to sharpen these knives after daily use for three months.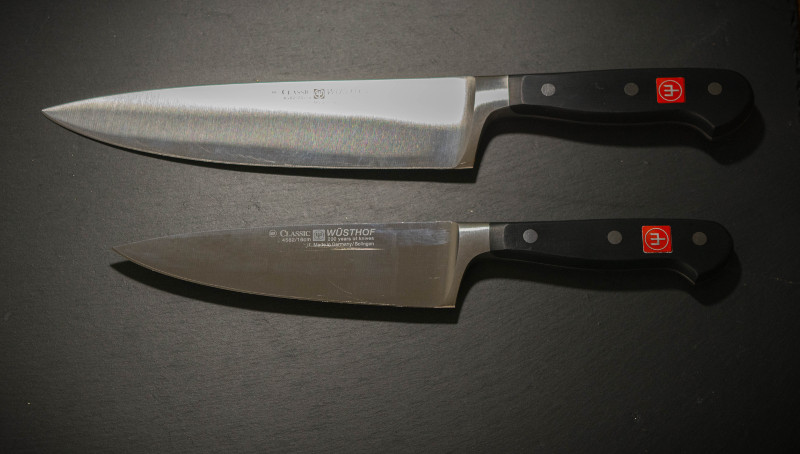 Wusthof Classic blades are forged from a single piece of high-carbon stainless steel.  Like Shun, they are stain resistant.  The handle is made of a synthetic material so there is no need to worry about bacterial buildup.  Wusthof knives are of considerable weight but are oh so effective!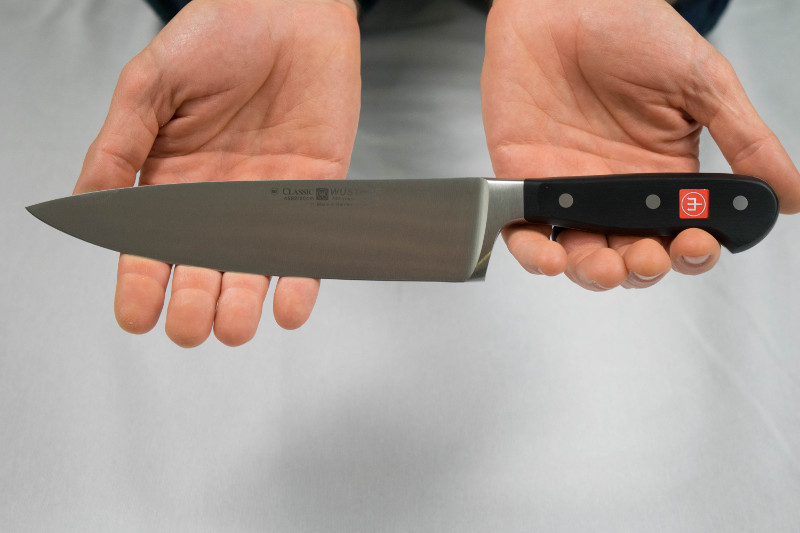 How have these held up?  In a word, wonderfully.  There is no wear whatsoever.  No scratches, dings, or discoloration.  The Wusthof knives still look new out of the box.  I cannot come up with a single complaint about these knives.  Trust me, I tried!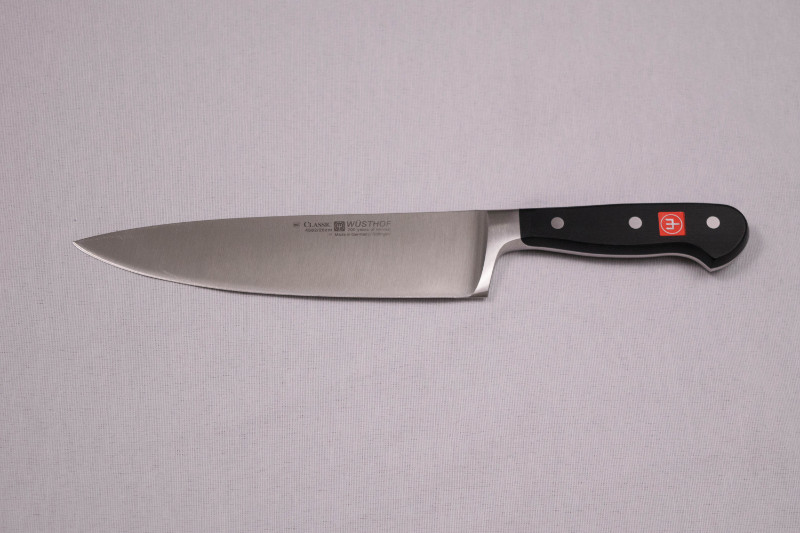 It has become clear that I still prefer German cutlery.  Still,  the beauty and sharpness of the Shun knives are impressive.  Unfortunately, I do not feel like they are the best choice for my kitchen since they are showing wear so early on.  The 8 in Wusthof retails for around $130, and the Shun retails for $145.   The 6 in Wusthof retails for approximately $110, and the Shun comes in at about $130.  For the money, I feel like the Wusthof knives were the best purchase.  Both Wusthof and Shun knives are available on Amazon.com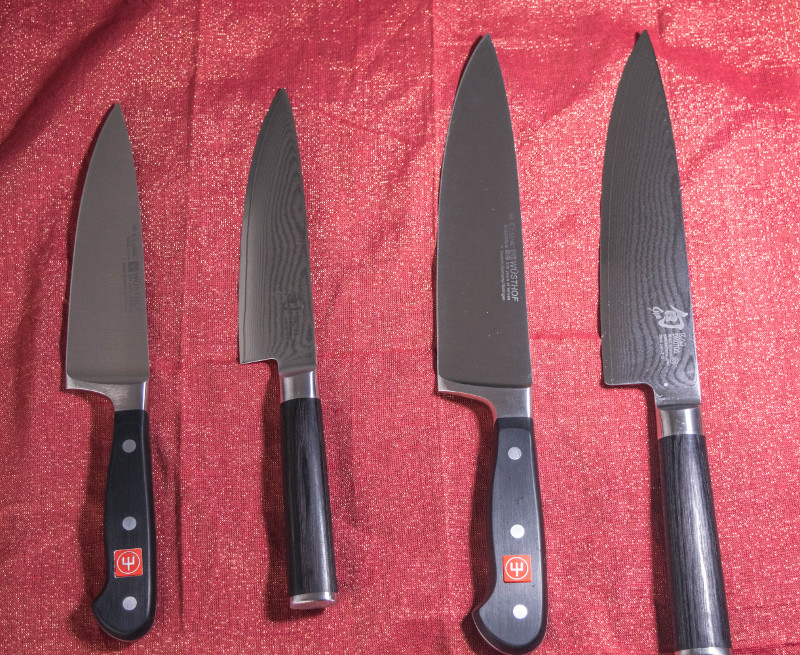 At the end of the day, it really comes down to individual preference.  What fits well and feels stable in your hand is important.  What performs best and holds up to your daily routine is what is best for your kitchen.  Take care of your knives, and they will take care of you!  Cheesy, I know, but very accurate.
UPDATE: I use both brands of knives daily.  For more massive cutting, think butternut squash, I still reach for my Wusthof knives.  For marathon chopping sessions I reach for the Shun set as it is much easier to use since it's lighter and the handle is more comfortable.  Both sets are still in fantastic shape and will be in my kitchen for a long time.
Be sure to check out my How To Choose The Best Cutting Board article too!