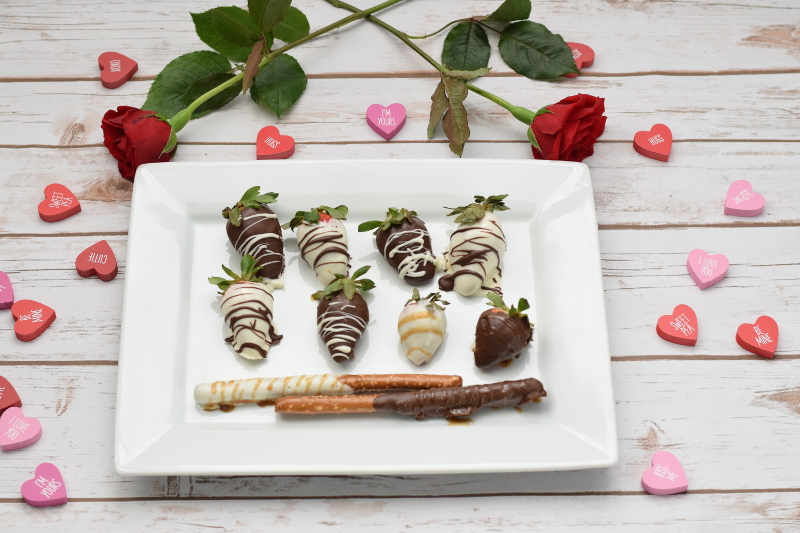 The History:
So, it seems that the history behind Valentine's day is a little murky.  According to the History Channel, there are several trains of thought when it comes to deciphering the origins of this popular day of romance.  One theory involves Saint Valentine, who was a Catholic priest who lived during the third century in Rome.  Around this time Emperor Claudius II outlawed  marriage for young men because he believed a single man made a better Roman soldier.  Valentine saw this decree as an injustice and performed marriages for young lovers in secret.  For these actions, Valentine was captured and sentenced to death.
There are many other theories for the origins of Valentine's Day such as the Pagan festival, Lupercalia.  Lupercalia celebrated Faunus, the Roman god of agriculture.  During this celebration sacrifices were made for fertility and purification.  Single women would place their names in a large urn and the men would draw a name from the urn.  This resulted in a pairing that typically led to a marriage.
The Present:
Nowadays, Valentine's day seems to be what most people refer to as a "Hallmark" holiday.  Candy.  Card. Flowers.  Whew, if you can remember those three things you are good to go!  It does seem a little skewed though.  Men really do get the raw end of the deal.  This year we are going to eat wings, my husbands favorite.  I can't say I'm overjoyed about this, but hey you have to compromise to have a happy marriage.  Since he picked what to eat I get to pick the movie (we got a babysitter and he has the day off)!  He really lucked out.  The only movie playing I want to see is Star Wars.  This Valentine's day is going to the dude's in my house!
The Treats: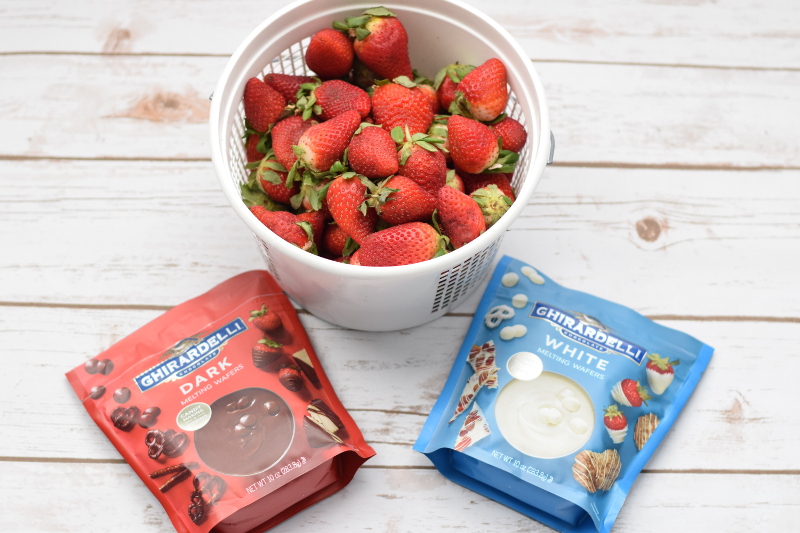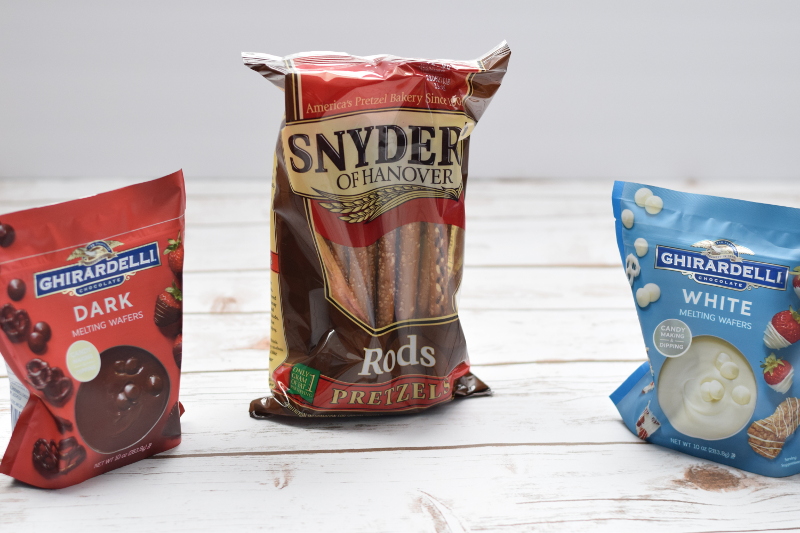 Making these goodies is so easy and they really make your Valentine feel like you went the extra mile!  It's so simple my three year old made some for our neighbors little girl.  Yes, he is starting early.  No, I'm not ready for it yet.  He even made her a card to go with her treats!  This kid already has moves, lol.  I'm going to be in some real trouble in a few years.
First, you will need a mini crock pot or double boiler to melt the chocolate wafers.  Make sure you have your baking pan covered with parchment, strawberries, and pretzels ready to go.  Begin dipping your strawberries and pretzels once the chocolate has melted and is silky smooth.  Lay each treat on the parchment so the chocolate can harden.  I forgot to add the parchment this go round and now I have a lot of chocolate covered pretzel pieces instead of rods.  Oh, well.  They will still taste amazing!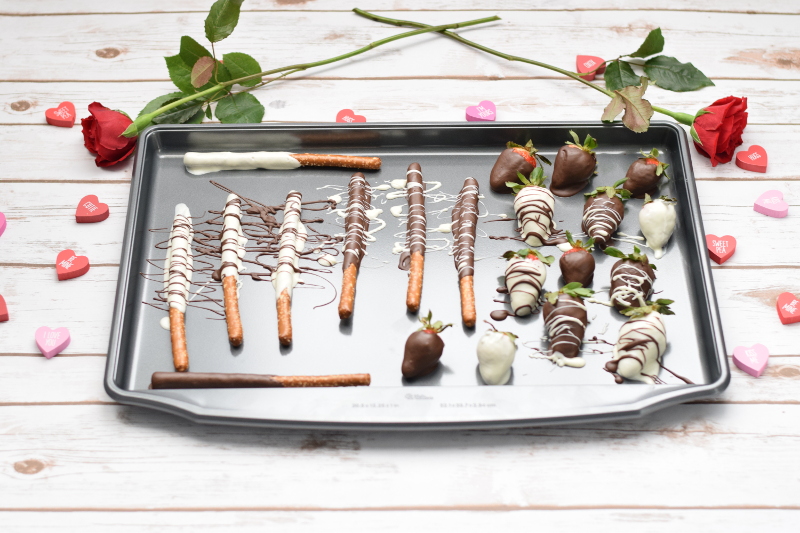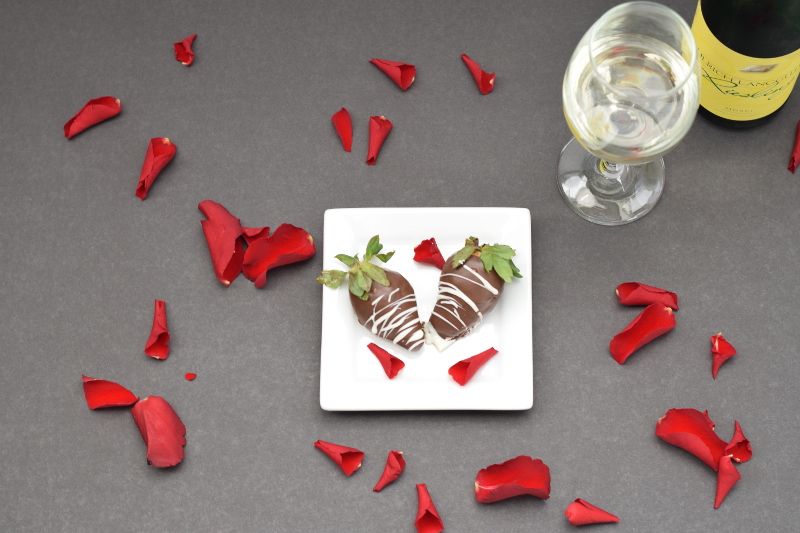 Decorating the strawberries and pretzels is optional.  I enjoy the aesthetics of having both white and dark chocolate on my treats.  Adding caramel to some of them adds an amazing touch as well!
To make the caramel sauce you will need to bring the brown sugar, butter, milk, and vanilla bean to a boil, stirring occasionally.  Allow mixture to boil for about 5 minutes and set aside to cool.  Be sure you remove pot from burner.  The caramel sauce needs to cool to harden.  Once cool, pour sauce into a squeeze bottle and decorate your berries and pretzels.  If you have left over sauce,  it is WONDERFUL on vanilla ice cream!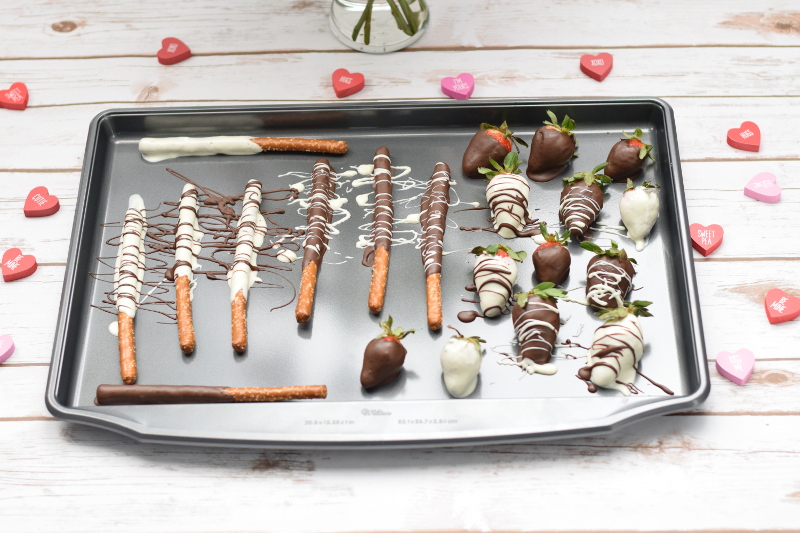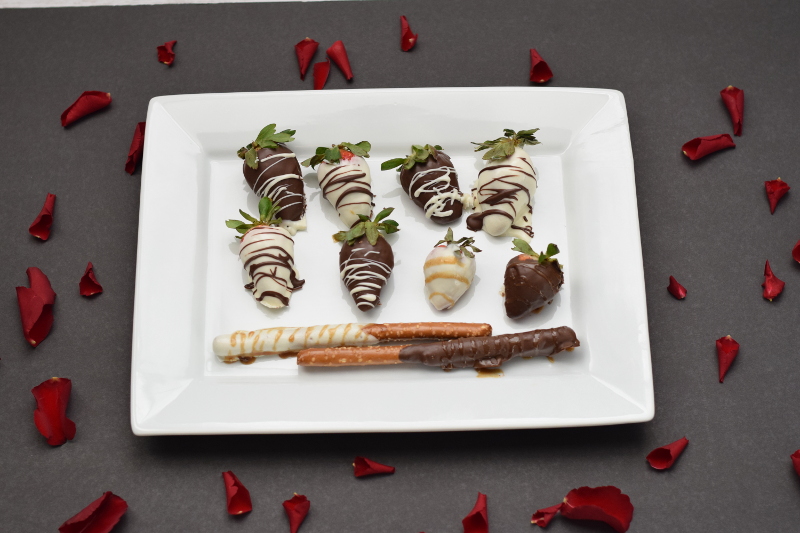 I hope you all enjoy this homemade treat with your loved ones!  Happy Valentine's Day everyone!
How do you celebrate Valentine's Day?
Valentine Treats: Chocolate Covered Strawberries and Pretzels
Print Recipe
Ingredients
Chocolate Covered Strawberries:

Fresh strawberries, whole

Ghirardelli melting wafers, white chocolate

Ghirardelli melting wafers, dark chocolate

Chocolate Covered Pretzels:

Ghirardelli melting wafers, white chocolate

Ghirardelli melting wafers, dark chocolate

Pretzel rods

Caramel Sauce:

1/2 cup brown sugar

1/8 cup whole milk

1 madagascar bourbon vanilla bean, split and scraped

1/2 stick salted butter
Instructions
1
Melt chocolate wafers in a mini crock-pot or double boiler
2
Once melted, dip berries in and place on parchment paper to cool and harden
4
You may drizzle opposite chocolate for contrast and decoration
6
Add all ingredients to a sauce pan
8
Allow to boil for 5 minutes, stirring occasionally
9
Remove from heat and let sit to thicken
10
Once cooled, add to squeeze bottle and decorate treats
Notes
*If you do not have a double boiler you can make one with a pot of water and a metal or glass mixing bowl. Simply add water to pot and place bowl on top of pot. Do not allow bottom of bowl to touch water. Do not allow water to come to boil. Once chocolate is melted and silky smooth remove pot from heat. Leave mixing bowl on pot to keep chocolate warm.