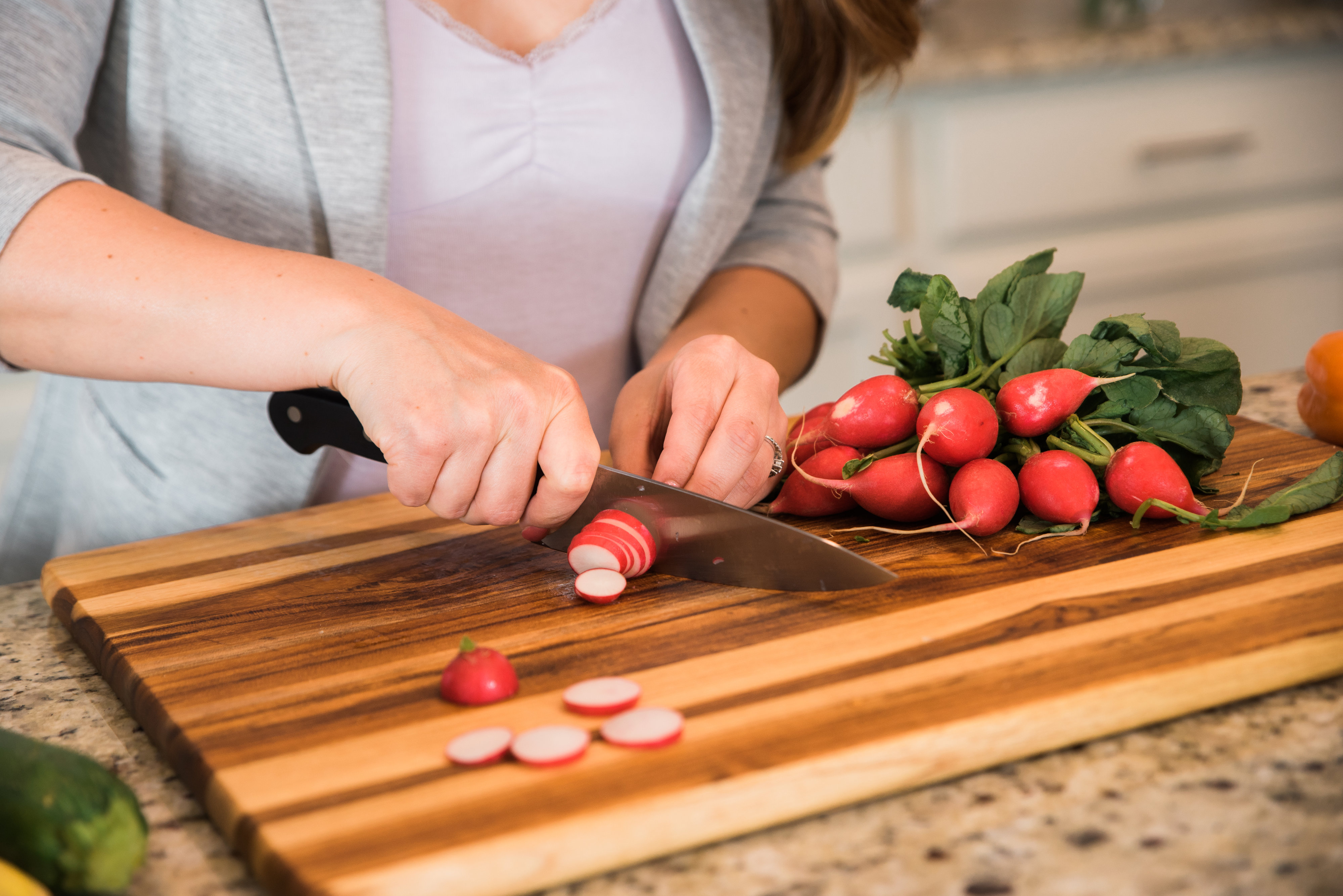 This post may contain affiliate links that help to support my blog.  This comes at no additional cost to you.
A Cutting Board Review
It can be a little mind-boggling and overwhelming when you purchase a new cutting board.  Or not, I suppose.  I have been accused of overthinking things a time or two!  But, if you have invested in a great set of knives, you want to do all you can to take care of them, right?  Maintaining the integrity of your knives edges can go a long way in making them last for years to come.  To accomplish this, there are several cutting board options to consider.  Maple, teak, and poly boards are what I will focus on in this review.
Wood versus Poly:
Maintenance, other than the obvious, is the most significant difference between wood and poly cutting boards.  Poly boards require no maintenance and are dishwasher friendly.  Wood boards need initial oiling and periodic oiling throughout their lifetime. Naturally, wood boards are not dishwasher friendly.  Be very careful when handling raw meats on wood boards.  Be sure that there is a functional layer of oil to protect the board.  You don't want those juices from raw meat to be absorbed into your board.  I choose only to use poly boards to be extra safe when working with raw meat.  Sanitation is an essential aspect of selecting the right board for you.
End Grain versus Edge Grain Wood:
End grain boards are made of end pieces set vertically and pressed together to where Edge grain boards are pressed with pieces set horizontally.  The end grain boards will resemble the end of a piece of wood (think butcher blocks) and are gentler on knives.  Edge grain boards will look more like the side of a portion of wood.  I chose edge grain boards for my review because I prefer them.  End grain boards can dry out more. However, they are also easier on knives and can "self-heal" score marks since the blade can slide between wood fibers since they are vertical.  Edge grain boards are considered more economical and, in my opinion, more attractive.
Maple Boards:
For the sake of this review, I chose a John Boos maple cutting board.  As far as brands go, this company is well known and has an excellent reputation for long-lasting and high-quality products.  On the Janka scale of hardness, maple scores 1450.  This is the hardest board of the review.  With a higher Janka rating, the maple board will not score as much as softer woods.  This means knife cuts will not show as much on this board versus the softer teak board that I will discuss later.  Being purely aesthetic these score marks do not affect the function of the board.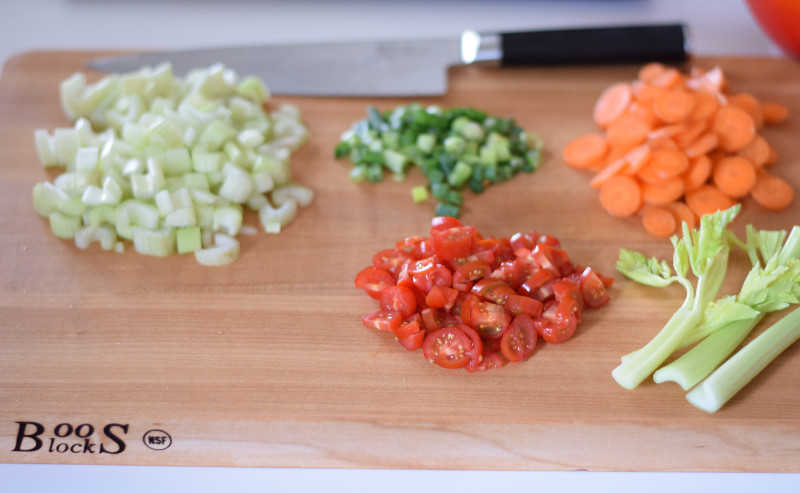 As far as knife edges are concerned a maple board will require more edge maintenance such as sharpening and honing.  The life expectancy of a maple board is amazingly long. Especially if you oil and wash according to the manufacturer recommendations.  Boos boards are known for fantastic quality and often handed down from generation to generation.  If you continue to oil after each use initially and at least once a month later in life this board can last a lifetime (or two).  Both sides of this cutting board are flat may be utilized.
I love the aesthetics of this board.  The maple is beautiful and being a thick 1-inch cutting board I have no doubt it will last for many years to come.  After three months of use, it is showing very little wear.  The biggest drawback is that it is heavy.  If possible, I would recommend leaving it out on your counter to make it more convenient for daily use.  Gorgeous and functional, it will be one of your favorites. The larger size makes prep a breeze. Costing only $45 for an 18x 12 board this is an excellent investment and guilt-free buy.
Teak Boards:
This beauty by Madeira ranks 1100 on the Janka score.  The softer wood will show more score marks, but again, this is purely aesthetic.  Personally, I don't mind the indentations as they add a rustic touch to my kitchen.  Teak is beautiful, and the edge grain board is even more beautiful in person in my opinion.  Since teak is softer, it is easier on knives less maintenance and sharpening will be required.  This is a better option if you use Shun knives or any other thin knife.  The blades are less likely to chip on the softer wood.  And who wants to invest so much money on a great set of knives for them to chip?!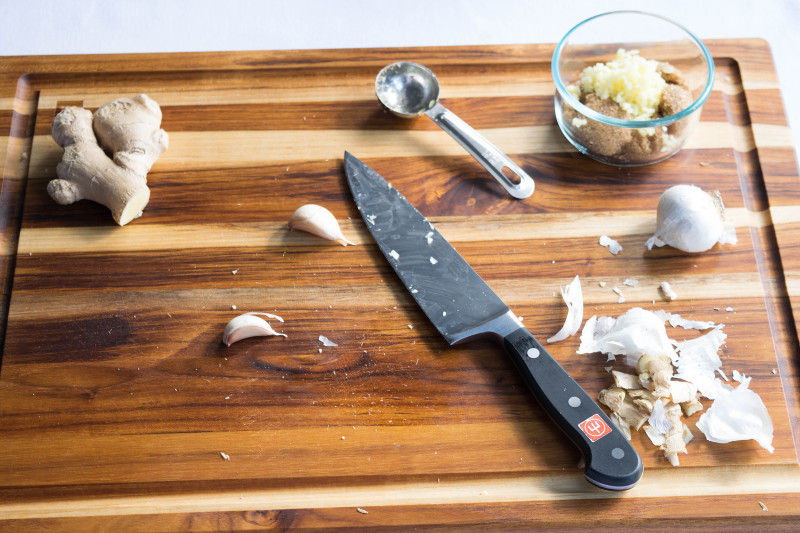 Being a 1/2 inch board this could be more prone to cracking than a thicker board.  Oiling regularly and never submerging the board in water will go a long way in keeping it beautiful and crack free.  Also, be sure to use gentle soaps to wash and dry off immediately.  Oiling after every use initially will help build up the protective layer as well.  I use Boos Block Mystery Oil and Board Cream.  These keep my boards looking beautiful and protected.
This teak board has become my favorite.  Being 1/2 inch instead of 1 inch thick means, it is much lighter and more convenient for daily use.  Also, this particular cutting board is two-sided.  One side features a channel to collect juices when carving meats.  Great perk!  Who wants to lose all those yummy juices?  Aesthetically speaking the board cannot be beaten.  Given a choice, this is the board I reach for every time.  Coming in around $50 I feel like this is a fantastic value and an excellent board.
Poly boards:
Poly boards are great on knives.  Remember, softer surfaces mean less wear and tear on blades and more on the board itself.  Since these are inexpensive, replacing them when they are old and scored is not such a significant issue.  When considering the aesthetics, these boards aren't much to look at.  They ARE dishwasher friendly though!  Such a big perk in my busy household.  I will always keep these around for meat.  Poly boards are more sanitary than wood when it comes to meat in my opinion.  They are also great for quick uses when you don't want to wash and oil a wooden board.  Also, no maintenance is required for poly boards which is a great perk.  I believe poly boards have their place in every kitchen.  I like this cutting board from OXO.
Other Boards:
There is a wide range of different boards available.  Wood boards span across the Janka scale.  The primary takeaway is the softer the board, the more wear and tear the board will show (not necessarily a bad thing), but the easier the board will be on your knives.  Unfortunately, softer wood boards are maintenance intensive.  Trying to strike a delicate balance is the best strategy.  Composite boards are now available on the market as well.  I've found those to be very hard on my knives and did not personally recommend them.  Bamboo is also a popular pick, but it did a number on my Shun knives.  I discussed the issues I have with these fantastic knives in my Knife Review.
I hope this helps you choose the right board(s) for your kitchen!