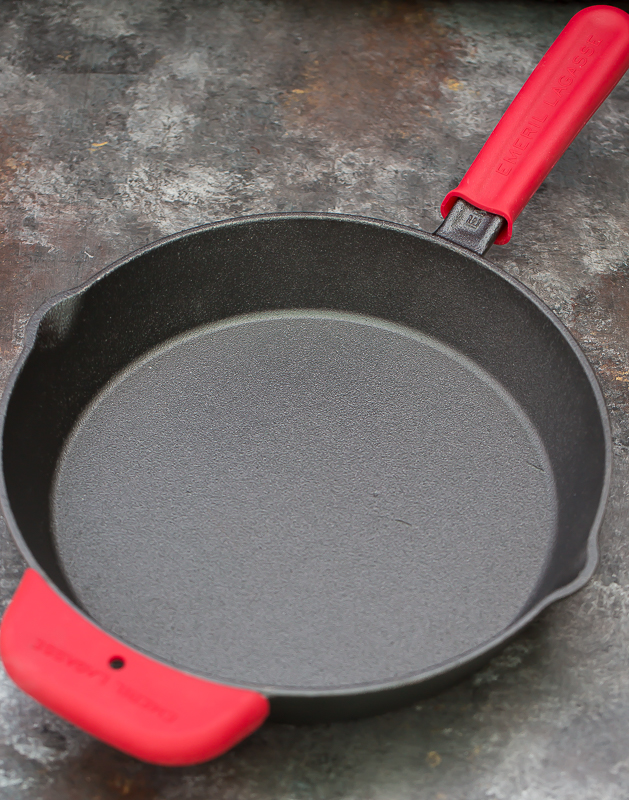 Last month I had a representative from Sam's Club reach out and ask if I'd like to review a new cast iron skillet from Emeril Lagasse.  Having owned some other products of his, I agreed to do the review.   I was provided a skillet to review and one to give away to one of my lucky readers.  The following cast iron skillet review is my honest and complete opinion for the Emeril Lagasse cast iron skillet.
What I Will Cover In This Cast Iron Skillet Review:
Overall first impression
What I love
What I don't love
How the cast iron skillet performs
How to care for the skillet
Overall assessment after use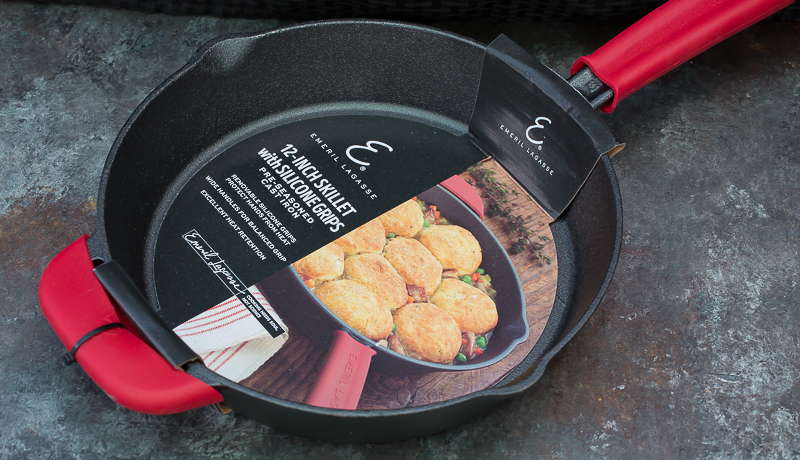 Overall First Impression
Upon arrival, I was shocked at how large this cast iron skillet is.  With a diameter of 12 inches, Emeril Lagasse sure chose a family friendly size!  In addition to being large in diameter, the skillet is also deep.  Perfect for a multi functional piece of kitchen equipment.  Whether you are making a protein with pan sauce or frying up something good, you will certainly have room.
What I Love
This skillet comes pre-seasoned for immediate use.  This is great for an impatient person like myself.  When I get a new toy I want to use it immediately, not spend time prepping it for use.  I also absolutely adore the 12-inch diameter and the depth.  The large size makes cooking for a family super easy.  Price-point.  Wow, do I love the price-point.  Coming in at only $20, this skillet is an obtainable piece of kitchen equipment for most families.
The cast iron skillet also comes with silicone grips that are perfect for protecting your hands while cooking on the stovetop.  Keep in mind the grips do need to be removed prior to oven use.   The versatility in being able to cook using the stovetop and/or the oven is also phenomenal.
What I Don't Love
Well, I will say the skillet is quite heavy.  This is to be expected from a large cast iron skillet though and just comes with the territory.  As far as something I did not like about this particular skillet compared to other cast iron skillets, there really isn't anything major.  I tried to find something, I really did.  I will update this after I cook with this skillet more.  Then, I can update you on how this particular skillet holds up after continued and prolonged use.
Upon use, I did find the silicone grips difficult to slide on and off.  Especially when the pan is already hot.  Not really suprisng though because if they slipped on and off easily that could cause a safety issue.  You don't want them slipping off when you are holding the pan.  All in all, this isn't really an issue.  Just be ready to tug if you need to transfer the skillet to the oven after using it on the stove.  To avoid the issue if the recipe calls for stove and oven usage, don't use the silicone grips.  They are absolutely wonderful if you are only cooking on the stovetop.
How the Skillet Performs
I've never used a pre-seasoned cast iron skillet before but I can tell you I am a fan!  Even without seasoning the skillet the food did not stick!   For those who hate scrubbing and cleaning like I do this is amazing.  The christening meal I prepared was homemade pad thai.  I will admit I did expect the chicken and vegetable to stick at least a little.  I was pleasantly surprised when my pad thai turned out terrific.   After using this skillet the first time, I did season it as recommended.  Just to ensure a great experience time after time.  To season the skillet I coated it in Crisco as recommended and baked it upside down at 350 degrees for 1 and 1/2 hours.  Be sure to place some foil or a large baking sheet underneath to catch the drippings.  No one wants to scrub their oven!
How to Care for the Skillet
Since the skillet comes pre-seasoned for the initial use, all you have to do is simply wash the skillet with warm soapy water and dry immediately with a lint free cloth.  Be sure to allow skillet to cool before cleaning to avoid warping the cookware.  Use a food scraper to remove any food debris after cooking.  Washing with a mild soap is optional but be sure to at least rinse with water and dry immediately after cleaning.  Add a coat of vegetable oil after drying to prevent rusting.
If you find your food is sticking, re-season your skillet.  You can season your skillet by cleaning with mild soap and a nylon bristle brush.  Dry with a lint free cloth and coat entire pan with vegetable shortening.  Place foil or a baking sheet on the rack underneath the skillet to catch any drippings.  Bake upside down at 350 degrees for 1 and 1/2 hours.
Overall Assessment After Use
So, I already told you I made pad thai for my first meal in the skillet.  The skillet performed wonderfully.  Not a single ingredient stuck.  I honestly was shocked.  Grateful, but shocked.  All my prior cast iron skillets have had issues sticking initially.  Even after I'd seasoned them.  I am a huge fan of this pre-seasoned pan for that reason alone.  I can handle the maintenance seasoning but apparently, I'm not so great at it initially, lol.  A lot of time is saved not having to prep the pan for usage which as a busy mom I certainly appreciate!
All in all, I can say I did enjoy cooking with this pan and will continue to use it regularly.  I adore the fact that it is deep and large enough to prepare family meals in.  The price point is family friendly too!  Coming in at right under $20 it is a budget friendly buy.  This Emeril Lagasse cast iron skillet is available for purchase online or at your nearest Sam's Club.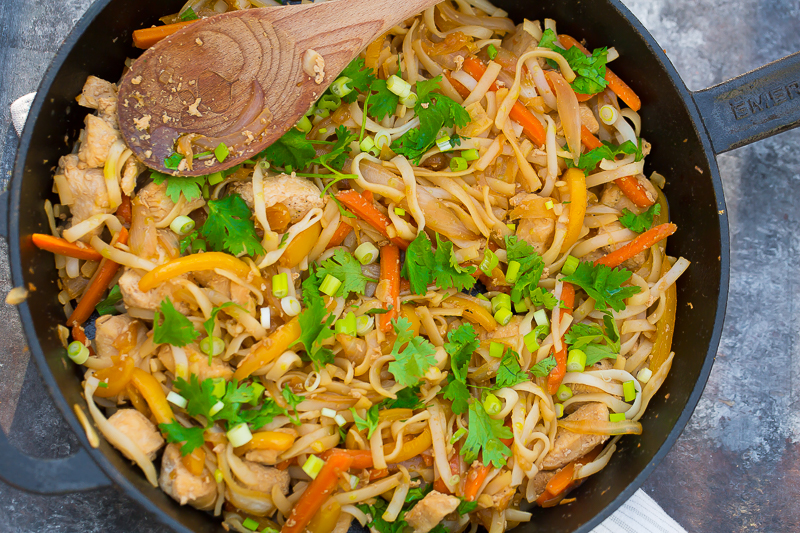 Find out how to make this amazing Pad Thai!