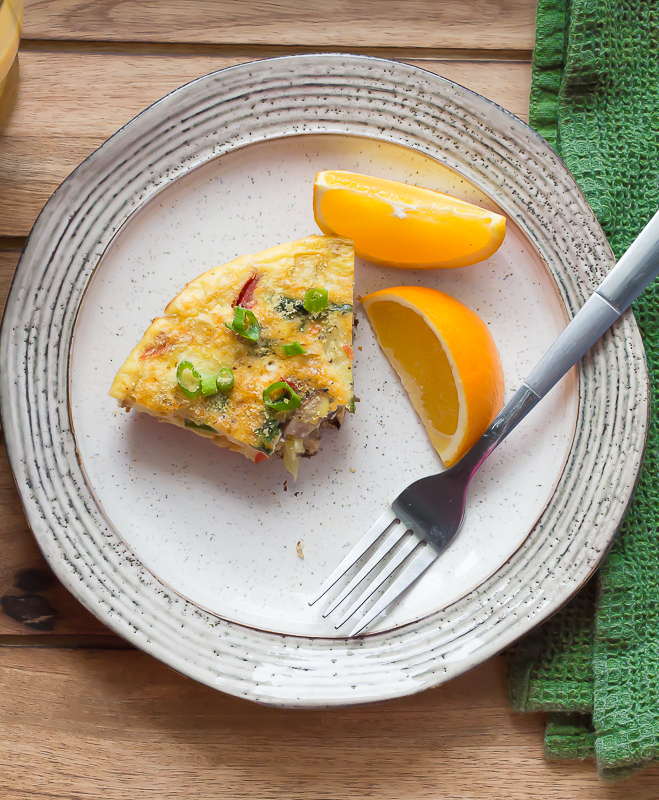 Sponsored by Frontier Co-op
Why do I cook meals like this garden fresh frittata recipe?
For as long as I can remember I have loved to cook.  My earliest memories involve me cooking for my dad while my mom was pregnant with my brother.  Born out of necessity and continued because of love, cooking is truly my passion.  The ability to take fresh, nutritious ingredients and create a delicious and enticing meal for my loved ones keeps me cooking.  It is my love language.  For me, cooking is as much about gratitude and giving back as anything else.  When I was offered the opportunity to partner with Frontier Co-op for this post I was ecstatic.  Not only does this company produce an amazing product, they truly care.  That makes a difference.
A little bit of background on Frontier Co-op
Frontier Co-op is a company with a global impact.  Founded in 1976, they were early advocates of the organic movement.  They are the first U.S. company to offer Fair Trade spices.  In addition, they participate in Well Earth, which is a sustainable sourcing program.  Frontier strives to improve our world by donating to countries like India, Madagascar, and Sri Lanka to improve farming, water quality, and to provide hot meals for children.  They also provide outstanding resources to all of their employees.  Based in Iowa, this company also has a 57% female employee base.  And they offer on-site daycare options.  For these reasons, I personally use these spices and have for a very long time.  I have always supported companies like Frontier Co-op who have shown that they care about more than just profit margins.
On to this garden fresh frittata recipe…
So, now that you know why I chose to work with Frontier Co-op I'll get on with this delicious garden fresh frittata recipe.  But first, I'll address a question that many asked me when I was testing this recipe.  What is the difference between a quiche and a frittata?  Basically, the difference between a frittata and a quiche is the way they are cooked and the fact a frittata does not have a crust.  A frittata is started on the stove in a skillet whereas a quiche bypasses the stove and goes right into the oven.  Both can be made with or without meat, cheese, or any other ingredients.
Now that you know the difference between a frittata and a quiche let's talk ingredients featured in this recipe.  I chose to fill this frittata with summer produce and leave out any meats or cheeses opting for a vegetarian option.  I do LOVE cheese and a perfect substitute is Nutritional Yeast.  This has a sharp and zingy flavor that much resembles parmesan.  In fact, in the vegetarian and vegan world, it is a common cheese substitute.  I am personally not a vegetarian, however, I incorporate vegetarian meals into my weekly meal plans.  Frittatas are an excellent way to sneak tons of veggies into your daily meals.  They truly are low maintenance meals and any produce can be substituted for the ingredients I have chosen.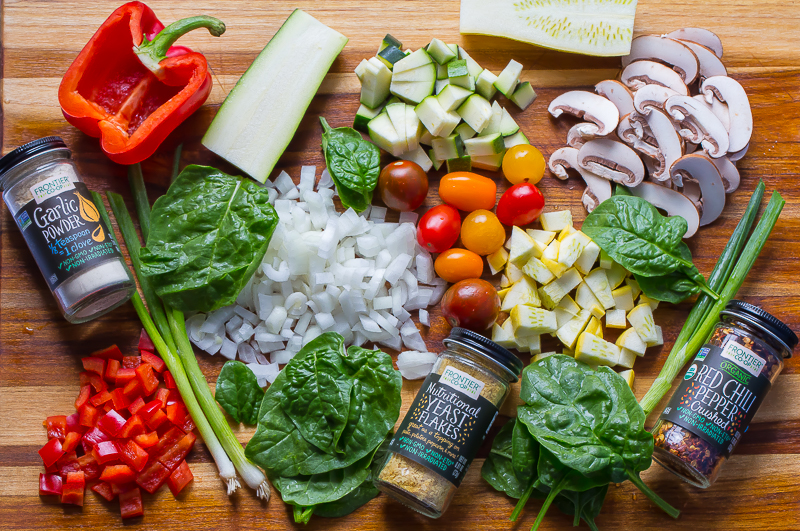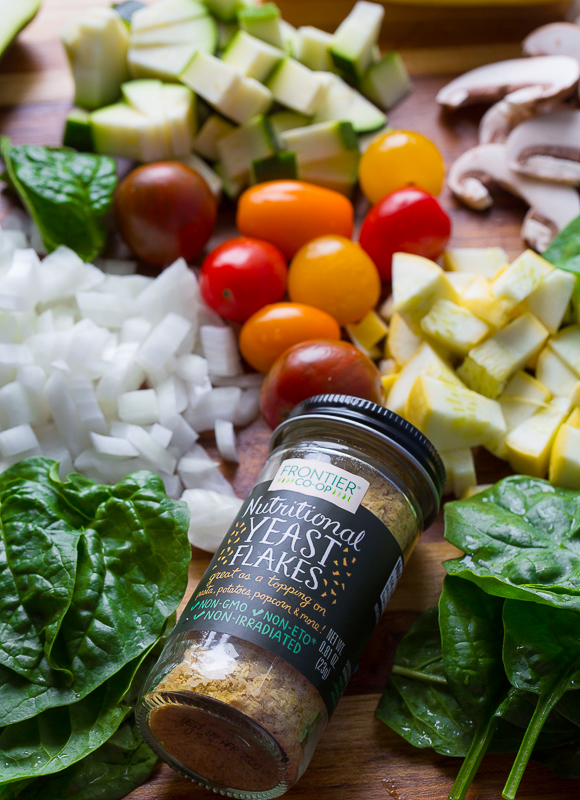 How to make this garden fresh frittata recipe…
I prefer to use my cast iron skillet when I make frittatas.  These skillets are perfect because they gracefully go from the stove to oven without a hitch.  Preheat your oven to 350 degrees.  Begin by gathering all produce and washing it.  Once washed proceed by dicing the red bell pepper, onion, yellow squash, and zucchini.  Set these aside and slice washed mushrooms.  Set these aside as well.  Place your cast iron skillet on the stovetop and heat 1 tablespoon of butter over medium high heat.  Once butter has melted, add the diced onions, bell pepper, squash, and zucchini.  Also, add the sliced mushrooms.  Sauté these veggies over medium-high heat until the onions are translucent.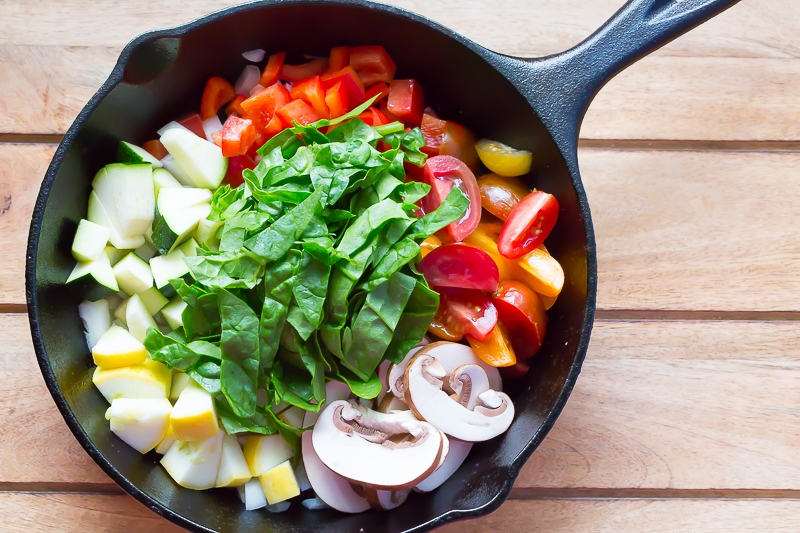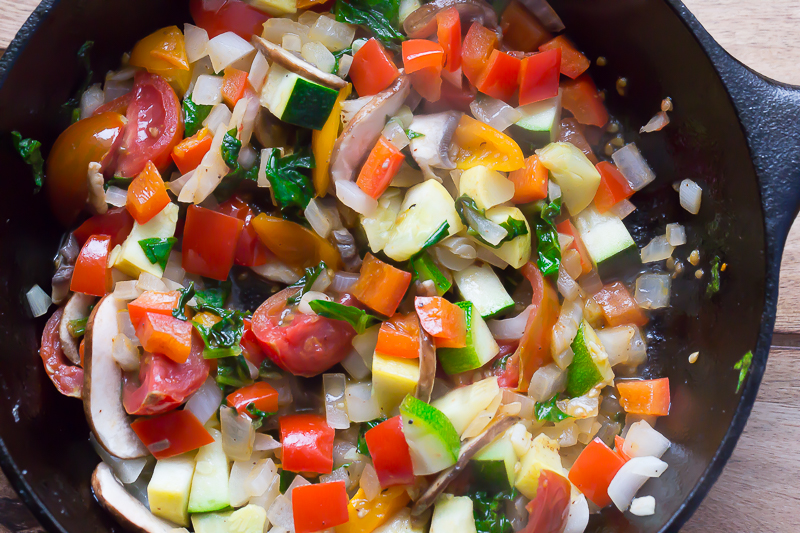 While waiting for the veggies to cook in the skillet, gather your eggs and crack each one into a mixing bowl.  Beat the eggs well with a fork.  Once veggies are cooked and onions are tender and translucent, add the spinach to wilt.  Promptly add the beaten eggs and turn heat down to medium.  Cook frittata over medium heat until the sides have begun to set.  Turn burner off and place skillet into the oven for 8-10 minutes until center of the frittata has set.  Remove from oven and cool for 5-7 minutes.  Garnish with nutritional yeast; Slice and serve.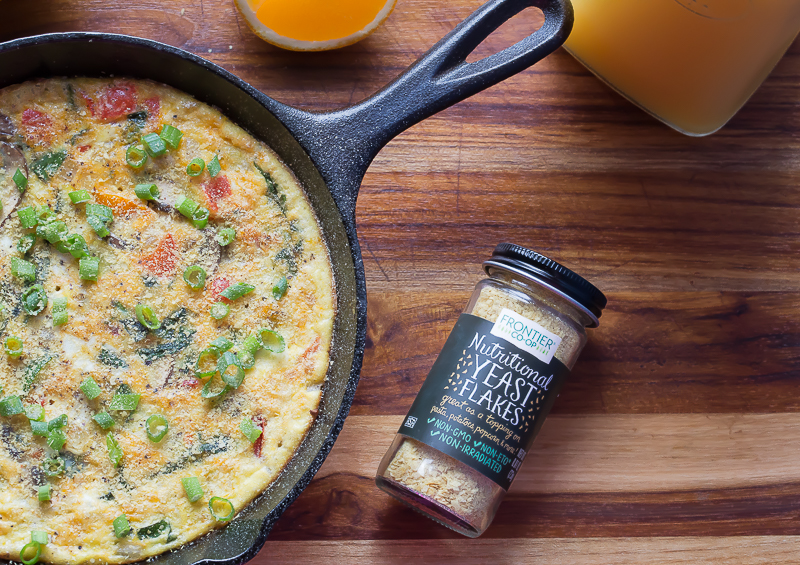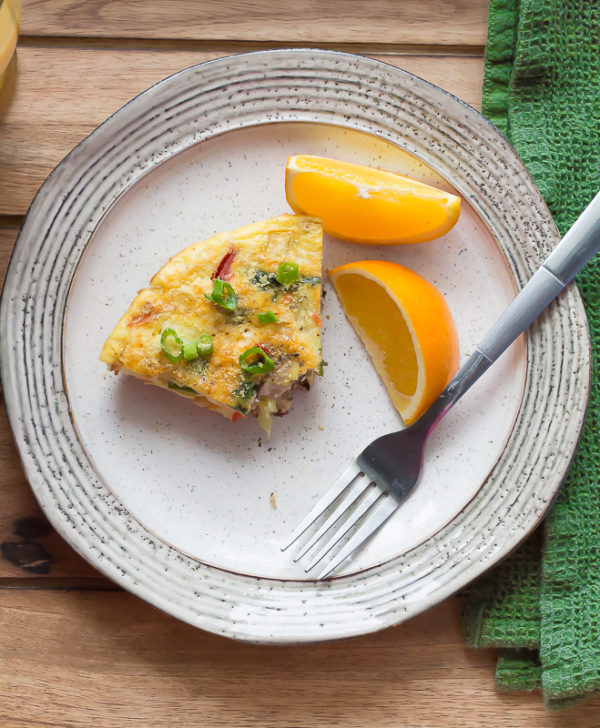 | | |
| --- | --- |
| | |
Preheat oven to 350 degrees

Dice onion, bell pepper, zucchini, and squash

In a small cast iron skillet on medium-high heat, melt butter

Add all veggies except spinach

Saute until onions are translucent and tender

While sauteing veggies, add eggs to a mixing bowl and beat thoroughly

When veggies are almost ready, add spinich to skillet and wilt

Reduce to medium heat and cook eggs until the sides begin to set

Transfer skillet to oven and cook another 8-10 minutes or until eggs are set

Remove from heat and cool for 5 minutes

Sprinkle nutritional yeast on top
Nutrition Facts
Garden Fresh Frittata Recipe
Amount Per Serving
Calories 104
Calories from Fat 54
% Daily Value*
Total Fat 6g 9%
Cholesterol 16mg 5%
Sodium 95mg 4%
Potassium 180mg 5%
Total Carbohydrates 13g 4%
Protein 4g 8%
* Percent Daily Values are based on a 2000 calorie diet.