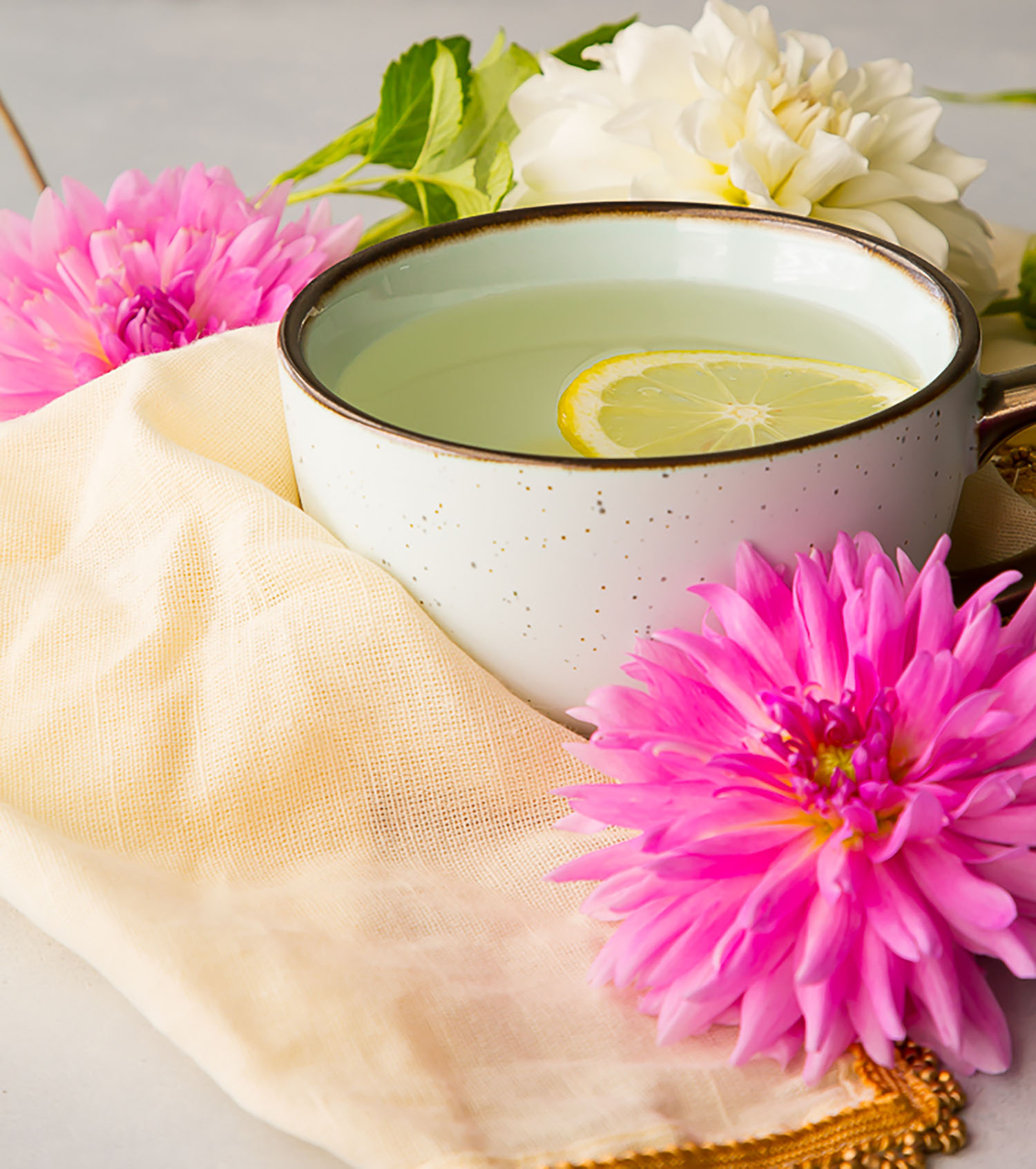 Since it's officially cold and flu season I'm sharing my favorite get well tea with fresh ginger root this week!  But first…
Sneak Peek Into My World
Whew, Halloween is over and the rest of the year is going to fly by us.  I hope you all had an amazingly scary time trick-or-treating with your kiddos.  I know we did.  Our festivities started with a Halloween party at preschool, then a parade and trick-or-treating downtown, followed by a nap.  Then after Logan's MUCH needed nap, we went trick or treating in our neighborhood.  The amount of candy is unreal.  I must say I'm pretty impressed with my child's restraint.  He has limited himself to 1-2 pieces of candy a day.  Can I just say I'm loving not having to be the bad guy and impose the candy limits.  Some days I really feel good about my parenting skills!  Of course other days, he tries to put me in time out and tells me to be nice!  Or he tries to pee somewhere in the parking lot.  That will make you question your skills, lol! Boys….
Cold and Flu Season is Officially Upon Us: Stock Up On These Natural Remedies
This time of year is tricky in North Carolina.  We have had our first few touches of frost, and today the high is 77 degrees.  Mother Nature is a very confusing and wishy-washy person!  The flu is already showing its ugly head and colds are a dime a dozen.  Fortunately, we are all well at the moment.  My son and I have been sick this year, but we have already beat it and moved on.  I'm sure he brought the germs from school.  Everyone kind of passed the cold around at the beginning of the school year.  Maybe it has something to do with the fact that I cannot keep his germy hands out of his mouth!  Ugh, three-year-olds.  And of course, they share ALL the germs they get.   Not necessarily what you want them to share, oh well.  At least he's sharing, right?!
This article may contain affiliate links that help support my blog.  Using these links come at no additional cost to you.  Thank you for your support
I do what I can to keep us from getting sick.  I'm a big fan of manuka honey, garlic, and ginger.  Not together mind you.  These are great additions to add before running straight to the Doctor for antibiotics though.  Not everything is caused by bacteria and taking antibiotics unnecessarily can be harmful.  We need the good bacteria to keep the bad ones in check, and sadly antibiotics kill all bacteria.  If you do go on antibiotics be sure to take a good probiotic as well.  This will help keeps things a little more balanced.  Remember, so much of our immunity is in our gut, and we don't want to deplete all the good bacteria!  When we do a vicious cycle starts, and we keep getting sick more and more often.
Garlic: A Natural Antibiotic and Antiviral
Garlic is a great natural antibiotic and antiviral too.  I like to mince raw garlic and add olive oil, salt, pepper, dried oregano, basil, and fresh diced tomatoes to make a bruschetta-like dip.  This is yummy with gluten-free saltines, and when I take it at the first signs of feeling sick, it really kicks a cold to the curb.  If I miss my window and still get sick eating, this does seem to shorten the duration of the cold.  Either way, win-win.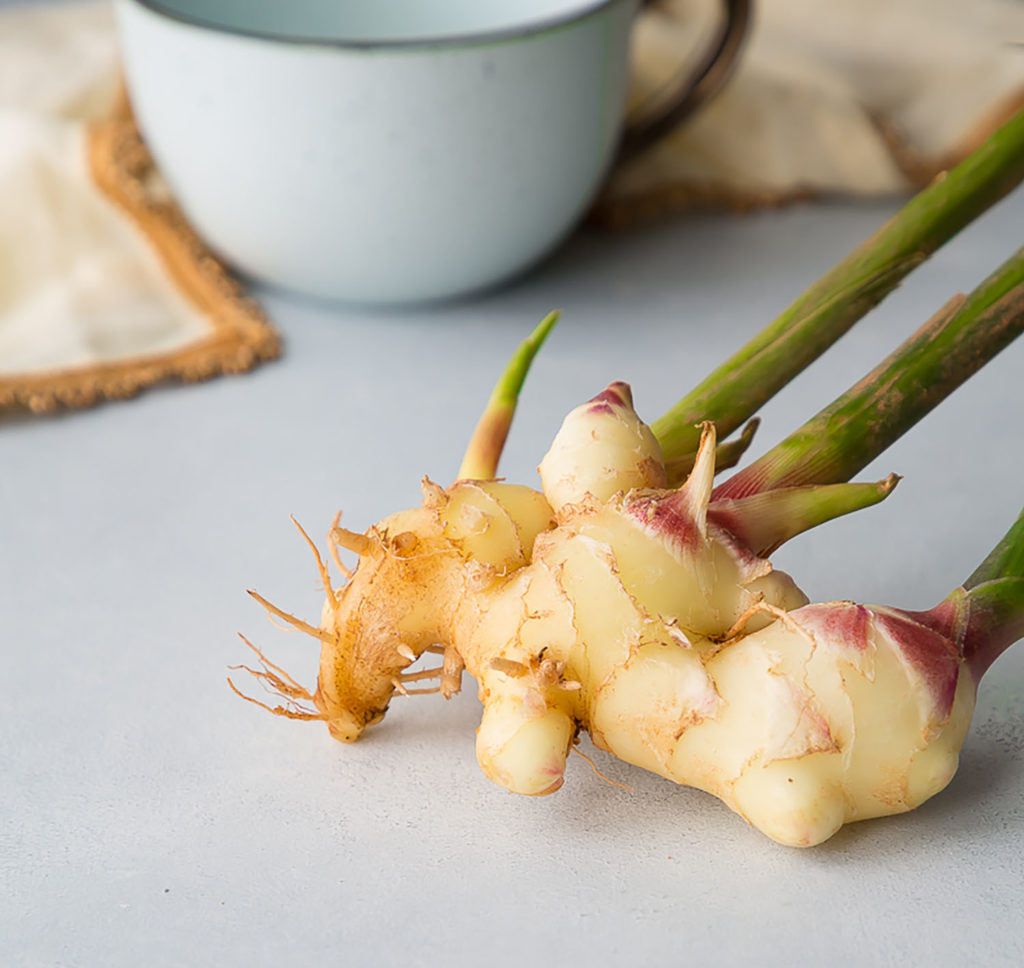 Ginger: Why You Should Add it to Your Medicine Cabinet
Ginger has been used to treat nausea, help digestion, and fight colds and cases of flu.  Gingerol is the medicinal compound in ginger root and has been identified as a powerful antioxidant anti-inflammatory.  One of the most effective options for nausea is ginger, and there are studies out there that indicate its effectiveness rivals prescription drugs.  Which would you rather take?  I definitely reach for my ginger when I am not feeling well.  Much more often than prescriptions.  As a powerful anti-inflammatory, this magical root can even help muscle pain!  The antibiotic properties in gingerol are what help inhibit the growth of the invading bacteria and consequently allowing us to avoid becoming sick.  Catch it early, drink some get well tea with fresh ginger root, and find yourself feeling better in no time!
Manuka Honey: This New Zealand Honey is Amazing
I'll be honest; I've never met a honey I didn't like.  It's sweet and silky textures just speak to me.  Manuka, however, is in a class of its own.  This variety of honey boasts four times the nutritional content of other kinds of honey.  This is due to the increase in enzymes (measured by the UMF) that are only present in this variety of honey.  The increased amount of enzymes give the honey its "magical" powers.  When shopping for manuka be sure to get something with a UMF of 10-14 for daily maintenance.  Anything below that is non-medicinal, and anything above needs to be taken in certain quantities.  If you get the higher quantity UMF factor, it will have higher antibacterial properties, but be sure only to take it when you are sick and no more than 1 tbsp (3 tsp) a day.  UMF 15 is great for when you are just getting sick.
Good for when you are sick:  Happy Valley Manuka Honey UMF 15   Manuka UMF 15
Manuka Honey Throat Lozenges: YS Ecobee Farms Manuka Honey Lozenges  Wedderspoon Manuka Honey Lozenges
A little more about manuka honey is that it is now being used to treat wounds, burns, staph infections, MRSA, IBS, IBD, allergies, and sinusitis.  I really could go on and on about this stuff.  It's literally a gift from the bees!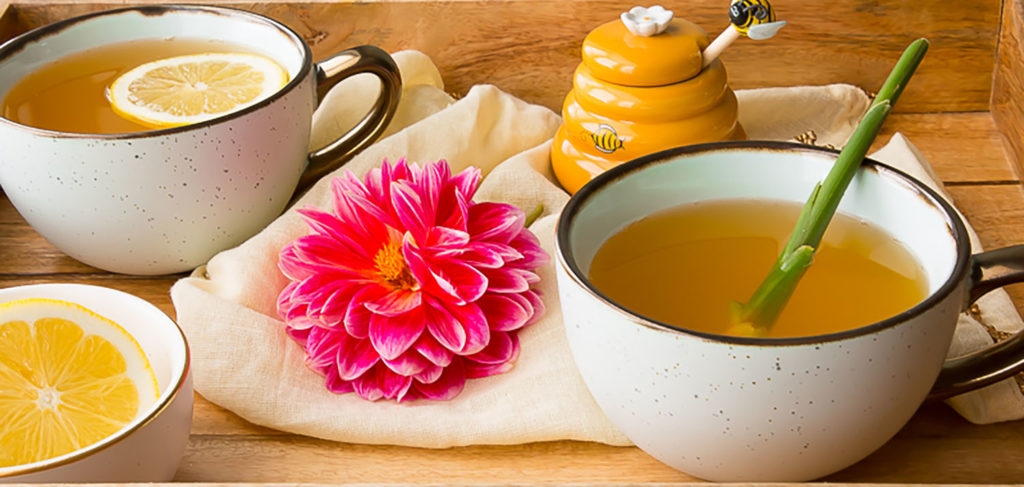 Get Well Tea with Fresh Ginger Root
When I have a cold or sinus infection I really enjoy this ginger tea.  Not the kind you get at the grocery store in a box on the tea aisle.  The fresh stuff works so much better!  Fresh ginger root is extremely inexpensive too.  And a little goes a long way.  To make this tea I begin by peeling and slicing a few chunks of ginger root and adding them to my tea kettle. Then, fill the kettle with water and bring to a boil.  This way I can keep the kettle warm and have get well tea all day.  You can make this by the cup if you would like, but this is just easier.  My husband loves this get well ginger tea too so I always have to make a larger quantity.  Once the tea has boiled (or your kettle whistled) turn the heat down to the lowest setting.  Allow to the tea to steep for 5-10 minutes.  Pour the ginger tea into your mug and add a teaspoon of honey and the juice of 1/2 a lemon.
The honey will soothe and comfort a sore throat.  If you reach for manuka honey, you will be adding another powerful and natural antibiotic and antiviral ingredient to the mix.  At the first sign of sore throats, I hand out manuka honey by the spoonful.  In addition to the honey, the lemon will deliver a powerful dose of vitamin C to help boost your immune systems.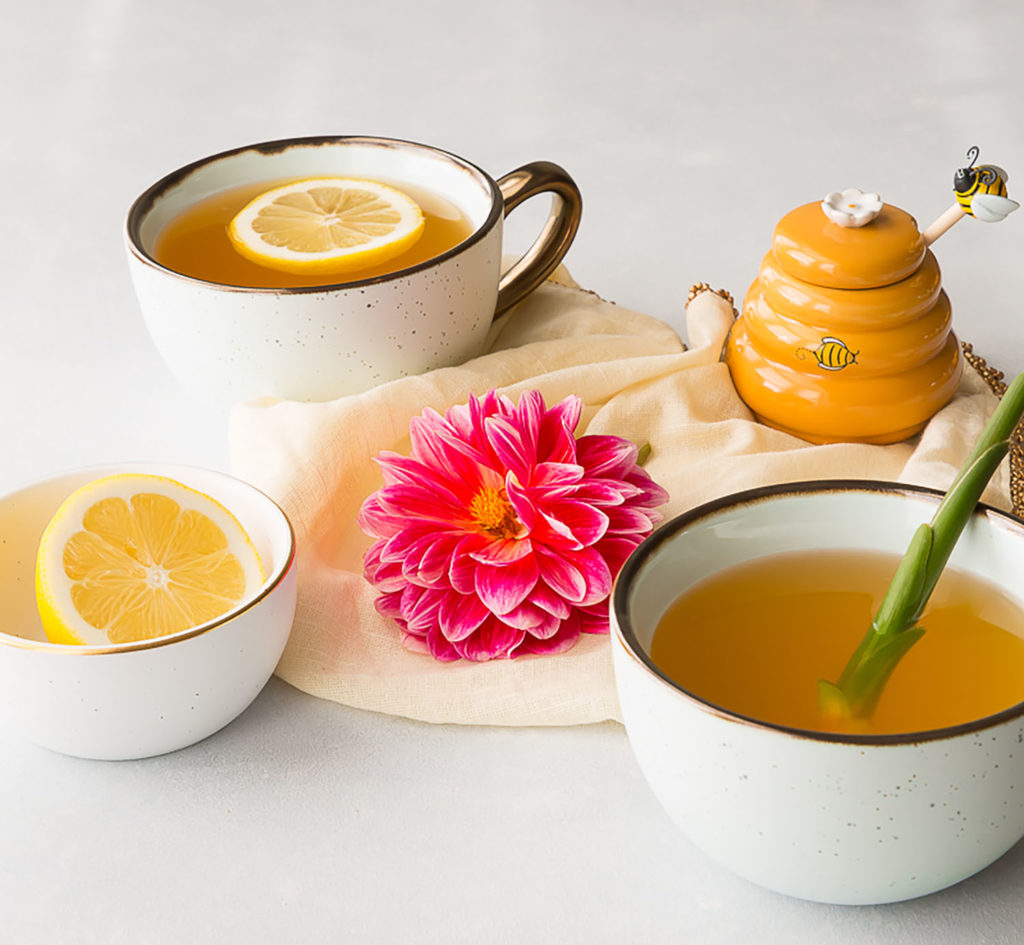 I hope you enjoy this cozy mug of tea as much as we do!
Other comforting recipes:
30 Gluten-Free Soups and Stews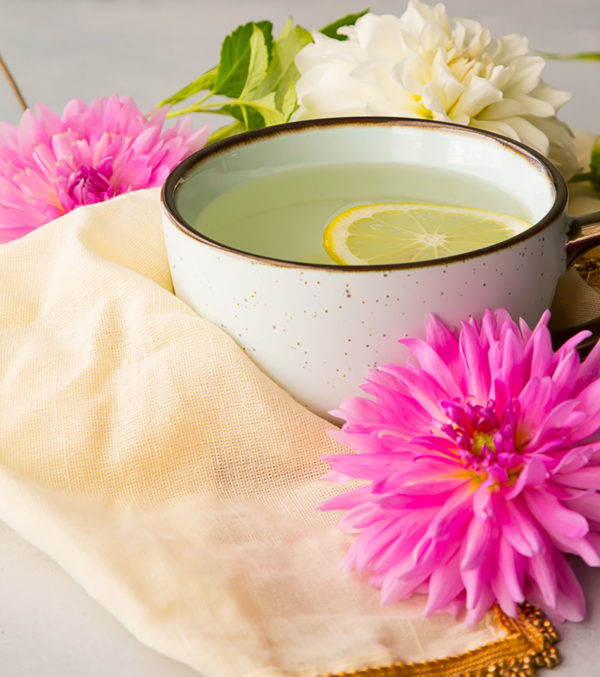 | | |
| --- | --- |
| | |
Peel and slice ginger root into thick chunks

Add 6 cups of filtered water to your kettle (or pot)

Add sliced ginger root to kettle (or pot)

Reduce heat to the lowest setting (or warming zone if your stove has one)

Cover and let tea steep for 5-10 minutes (the longer it steeps, the stronger the ginger flavor will be)

Add 1 tsp of honey to each mug

Divide the lemon juice between the mugs
If you do not have honey on hand, this is delicious with just the ginger and lemon as well.  I've included pics with the honey and without.