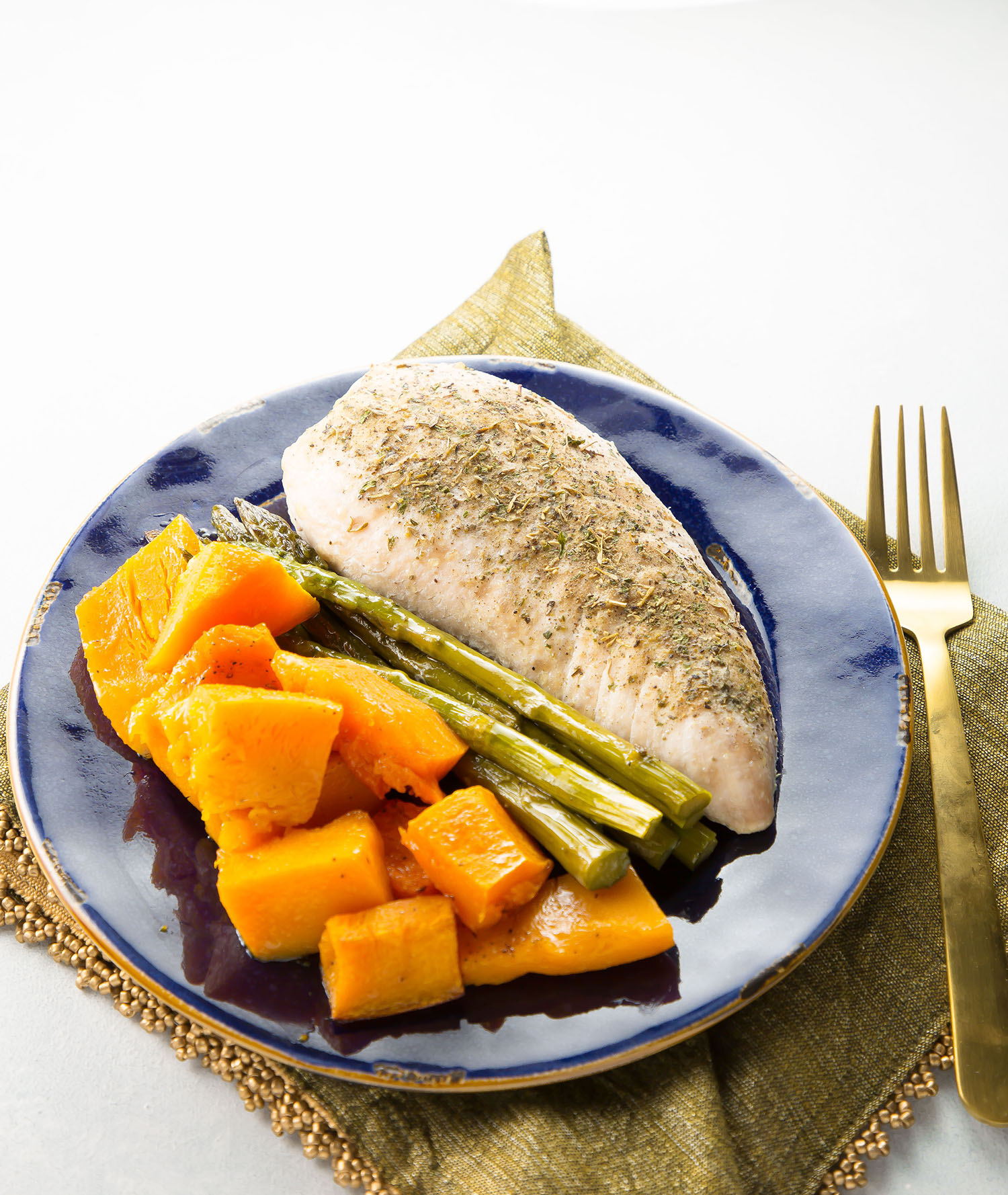 This roasted turkey with asparagus and butternut squash is the perfect balance of delicious and nutritious!
To say that I love Thanksgiving would be putting it mildly.  I absolutely adore the massive spread of turkey.  Not to mention all the sides and desserts!  Unfortunately, life tends to be too hectic for that type of dinner to be a daily reality.  I suppose that is good, in all honesty, because I know my waistline couldn't handle that spread daily either!
For those normal busy, crazy, hectic days this one pan turkey dinner is amazingly simple and delicious. Flavors are reminiscent of a Thanksgiving day spread, but with none of the mess! Well, very little mess at least.  The cleanup will take less than 5 minutes, I promise!
You will need a medium-sized butternut squash for the squash medallions. Begin by peeling the squash and then by laying the peeled squash on its side to slice 3/4″ medallions.  Arrange the medallions on a lined baking sheet.  Lightly drizzle olive oil over the medallions and season with salt and pepper.  If you are looking for a simpler prep, simply purchase the squash already cubed.  It really is a matter of preference.  I do both depending on the time I have.  For meal prepping I always purchase cubed since it saves so much time.
Next, gather the turkey tenderloins from the fridge and place on baking sheet.  Drizzle a small amount of olive oil over them and season with salt and pepper.  Add a few sprigs of thyme and rosemary for flavor.  If you don't have fresh herbs you can substitute dry herbs.  This is supposed to be a simple meal so don't stress yourself if you cannot obtain the fresh herbs.
Add the asparagus to the pan and drizzle a small amount olive oil over them and season lightly with salt and pepper.  Yes, I season and coat everything with olive oil separately so each is coated evenly.  Add a few extra sprigs of herbs.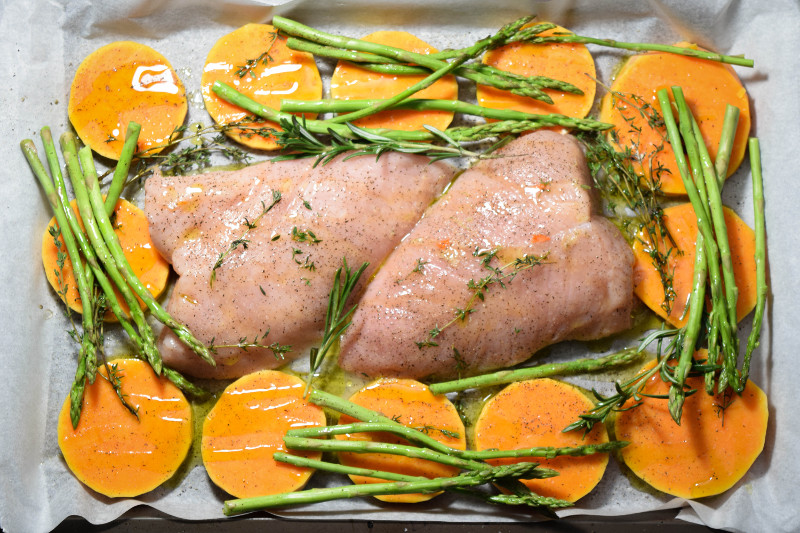 Place baking sheet in an oven preheated to 400 degrees.  Cook for 30 minutes.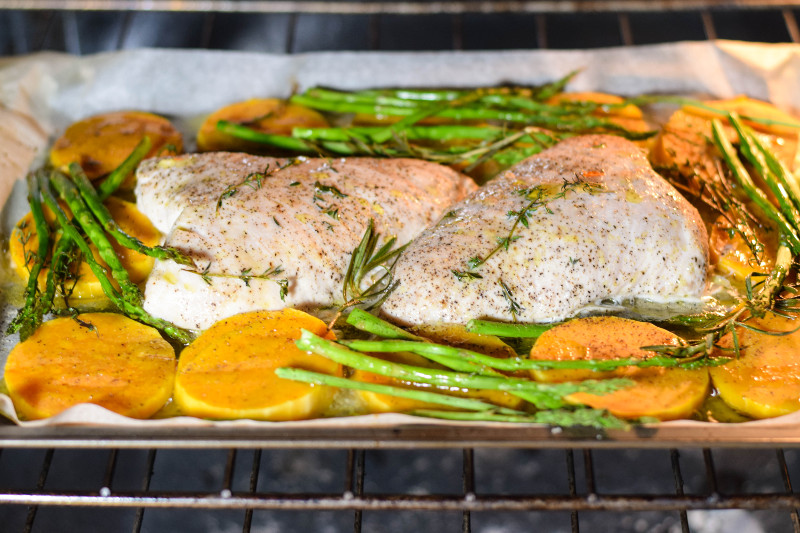 By adding the asparagus at the same time as the meat and squash I will get crispy asparagus.  If you do not like your asparagus crispy then withhold it until the final 15-20 minutes depending on thickness of stalks.  Check at 30 minutes to see if turkey is cooked thoroughly.  Poultry should measure 165 degrees Fahrenheit.
This recipe is one of my favorites for a healthy meal prep dish.  For more meal prep recipes and ideas check out my healthy meal prep post.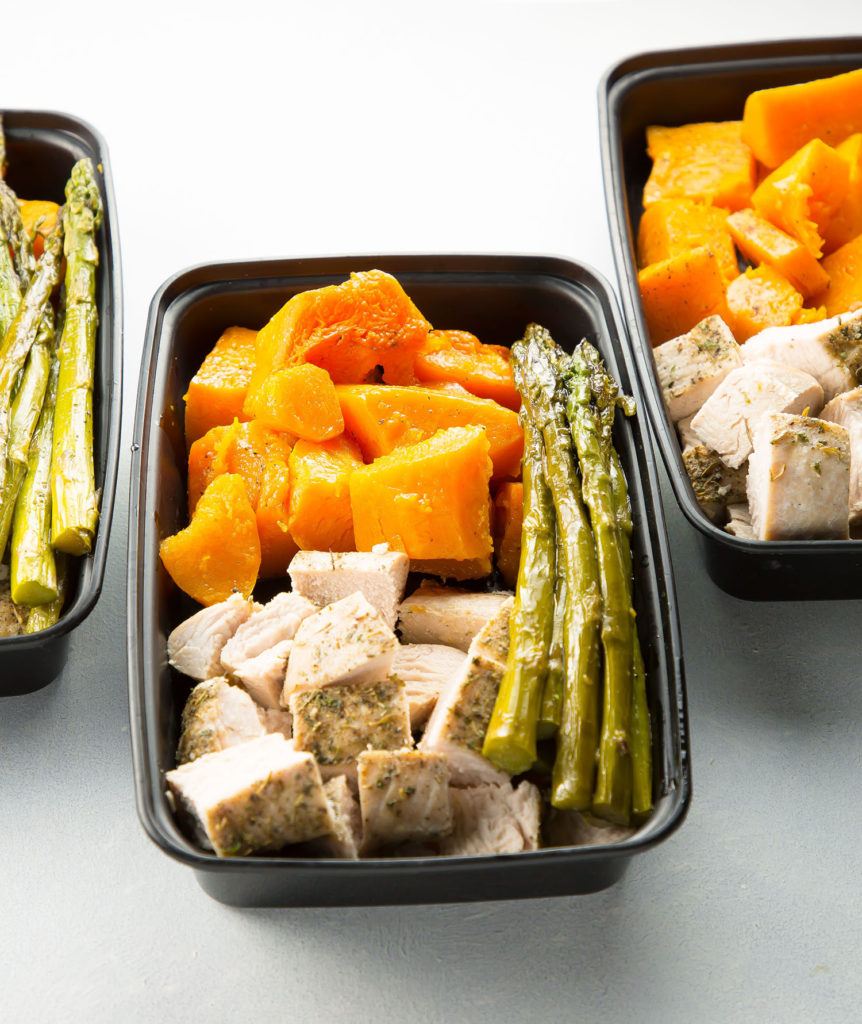 What is your favorite one pan meal?
One Pan Roasted Turkey with Asparagus and Butternut Squash
Print Recipe
Ingredients
1 large bunch asparagus, washed and trimmed
1 medium to large butternut squash, sliced into medallions
1 pack of butterball turkey tenderloins
olive oil
salt
pepper
fresh thyme, 4-5 sprigs
fresh rosemary, 2-3 sprigs
Instructions
1
Preheat oven to 400 degrees
2
Line baking sheet with parchment
3
Arrange squash medallions around outer edge of baking sheet
4
Drizzle with olive oil and season with salt and pepper
5
Add turkey to and drizzle with olive oil
6
Season with salt, pepper, and a sprig of fresh thyme
7
Add asparagus to pan and drizzle with olive oil
8
Season with salt and pepper
9
Add a few sprigs of fresh rosemary on turkey and veggies
Notes
Be sure that your turkey is cooked thoroughly. It should read 165 degrees when done. If you do not like your asparagus crispy, add it to the pan about 15 minutes into baking. *This post contains affiliate links that help support my blog