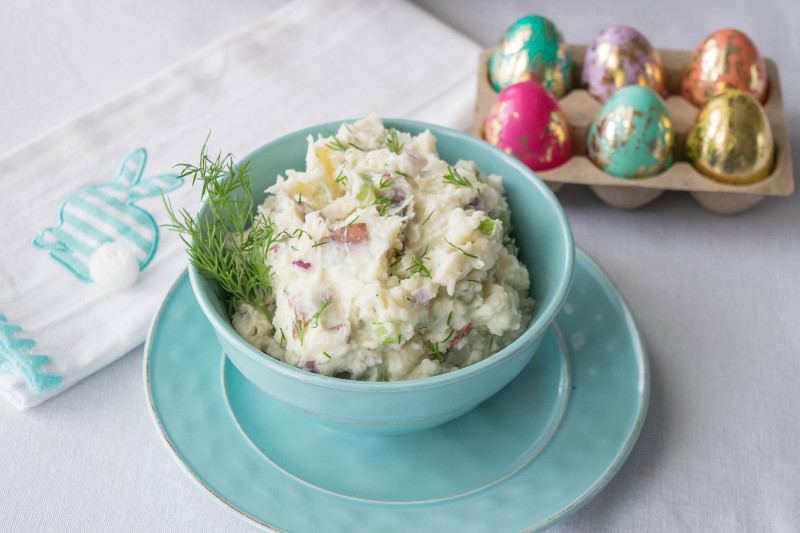 The weather is warming up and you know what that means potlucks!  This potato salad is my go-to contribution for potlucks.  I also LOVE this for Easter dinner.  My ham always ties up the oven so it is nice to have sides that do not require the oven.  Also, baking/roasting really heats up the house and I do not like to be hot!  lol.  Too bad, so sad for me.  I live in the south.  It will be hot, that you can count on for sure.   Like all mayo based dishes be sure to keep this cool while serving.  No one wants food poisoning this spring and summer!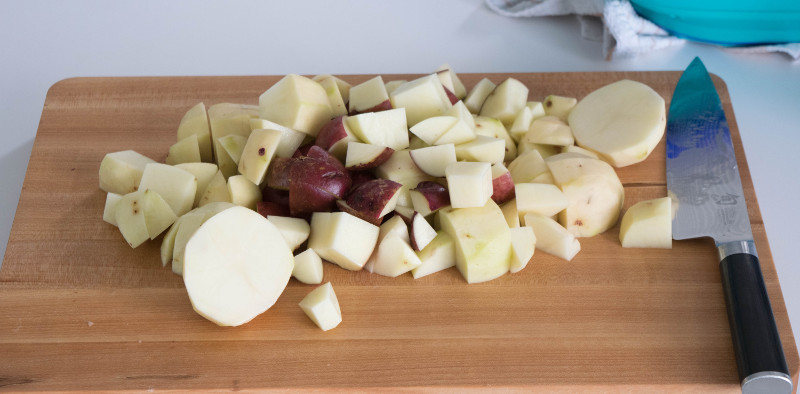 Begin by washing your potatoes thoroughly.  Peel about half of them and give them a rough dice.  I know, peeling potatoes is the worst ever, right?  I promise it does make a difference.  Too many peels in the salad will not taste or look good.  Add potatoes and water to a large stockpot.  Bring to a slow boil and allow potatoes to cook until they are tender enough to pierce with a fork.  Be careful not to cook them so much they all fall apart.   We are not quite going for a mashed potato consistency.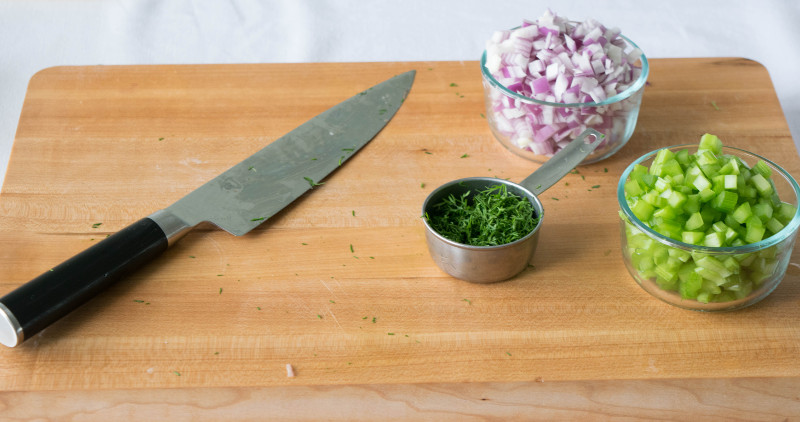 While the potatoes are cooking on the stove wash your celery and dice it.  Dice the red onion and the dill as well.   Love the aesthetics of this Shun knife?  Check out my review of it here.  Shun knives are super sharp and lightweight!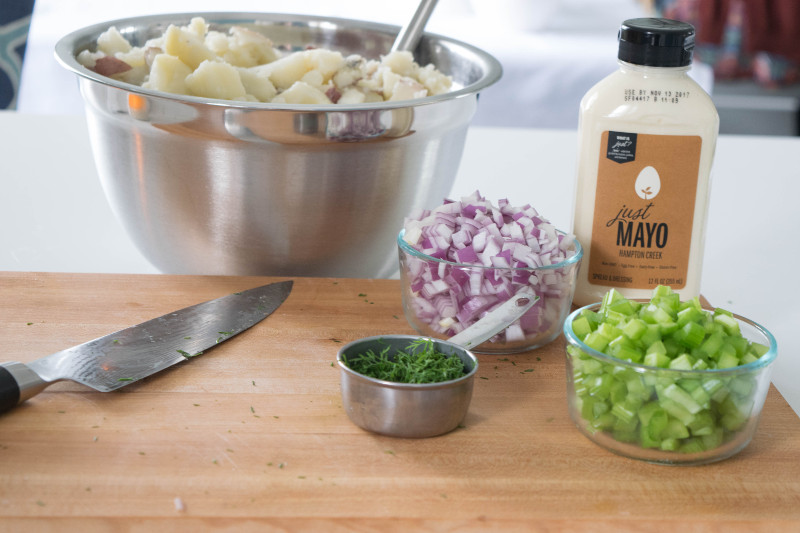 Drain the potatoes and allow them to cool.  To a large mixing bowl, add the potatoes, mayo, garlic powder, celery, onion, and dill.  Add salt and adjust to taste.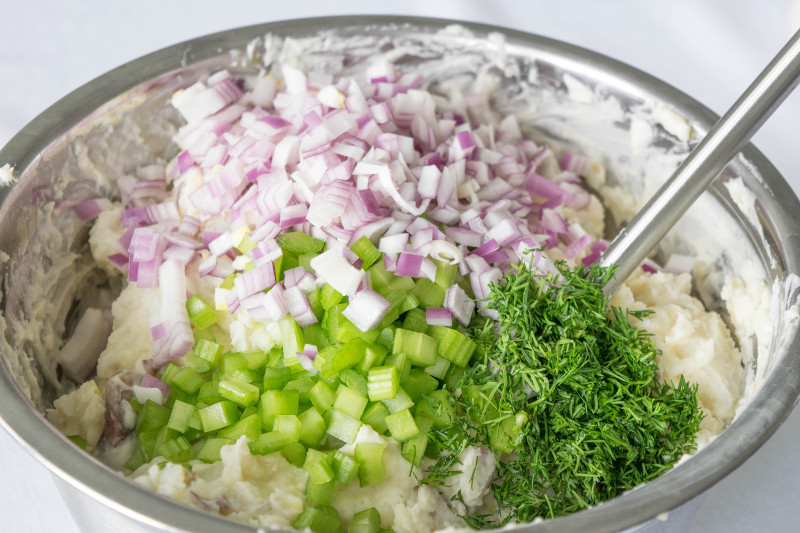 Mix thoroughly to combine all ingredients.  Transfer the salad to a serving dish and garnish with fresh dill.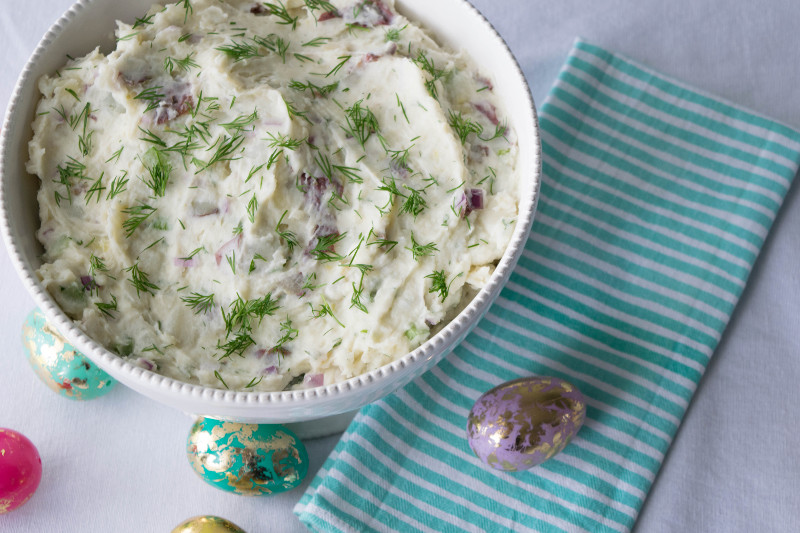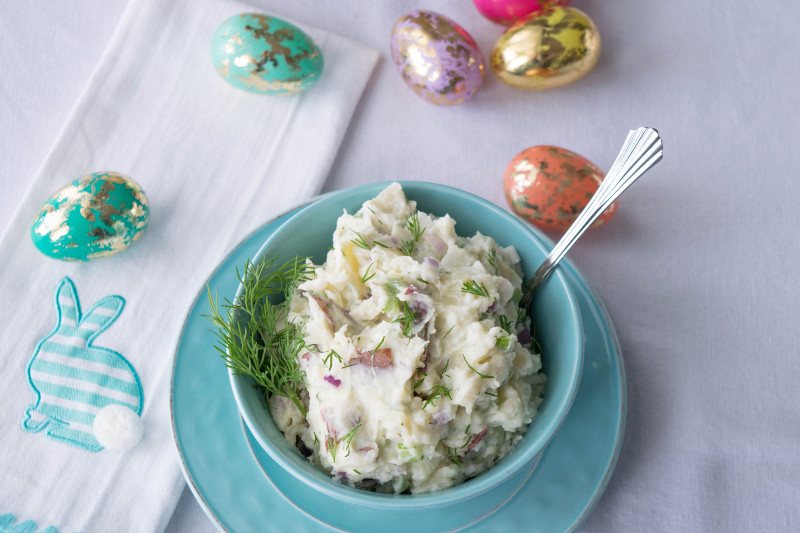 What are your favorite potluck dishes?
Ingredients
6 lbs red potatoes, (half peeled) diced
1/2 red onion, small dice
4 celery ribs, small dice
4 tbsp dill pickle juice
2 tsp kosher salt
12 oz mayo
1 1/2 tsp garlic powder
1/4 cup fresh dill
Instructions
2
Peel half of the potatoes
4
Add potatoes to a stockpot of water and cook at a slow boil until tender
5
While potatoes are cooking, dice celery and onion. Set aside
6
Drain cooked potatoes well
9
Mix in celery, pickle juice, onion, salt, and garlic powder
10
Mix well, garnish with fresh dill, and refrigerate