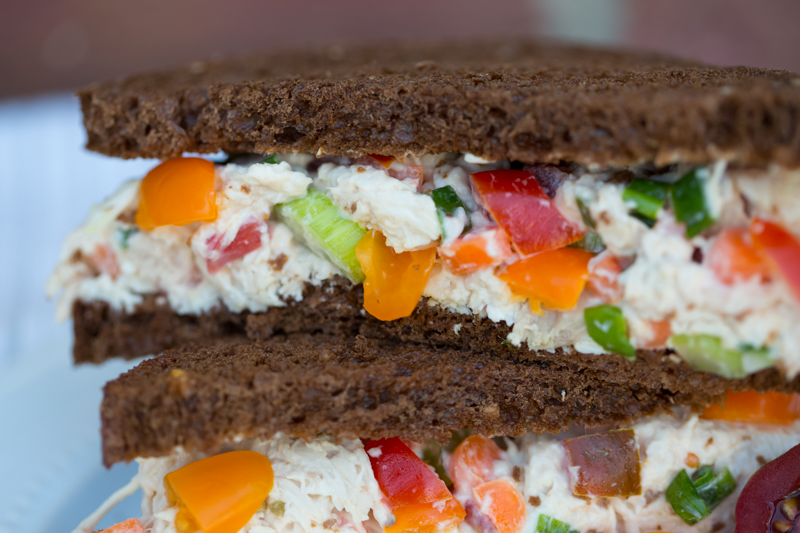 Growing up I absolutely adored my mom's chicken salad.  Later, I realized that it was simply mayo, canned chicken, and dill relish.  Canned meat is popular, however, it is not for me.  I absolutely cannot bring myself to consume or feed my family canned meat.  Yuck.  End of story.  Love you Mom, lol.  I was her picky child, can you tell?
This rejection of my childhood chicken salad led me down a long road of experimenting with different recipes for the perfect version.  Well, my perfect version at least.
I start with fresh shredded chicken.  This recipe uses a pack of Perdue Harvestland perfect portions.  I always have these on hand.  They are so easy to cook up in a pinch!  If time is an obstacle (when is it not) a store bought rotisserie chicken works just as well.  Also, this is a great way to utilize leftovers from a roasted chicken made earlier in the week.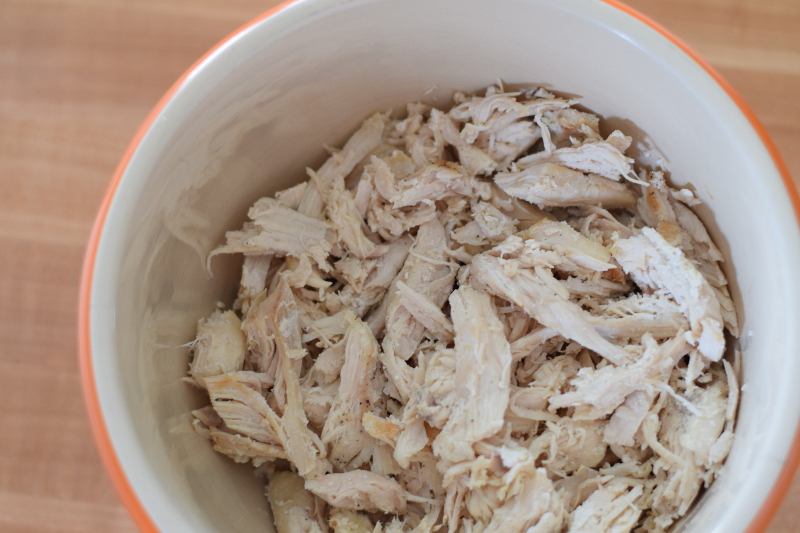 Now that we have our chicken squared away lets talk mayo.  Everyone knows that a southern woman has a mayo that is "her" mayo.  I am no exception.  I am partial to Duke's with olive oil.  Use whatever brand is your favorite.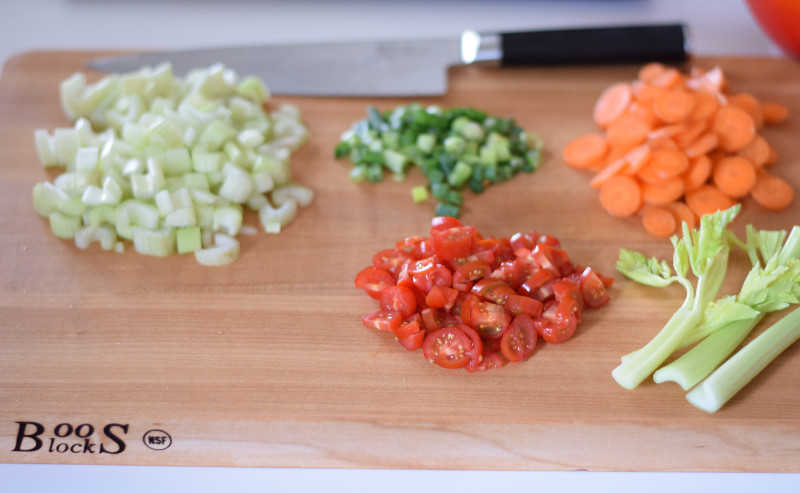 I have found that a combination of carrots, tomatoes, green onions, and celery come together to make the best chicken salad.  Oh, and don't forget salt and pepper of course.  The amounts of each can be altered to suite your needs.  If you are utilizing leftover chicken or only making a small batch of chicken salad you may not need as much as this recipe calls for.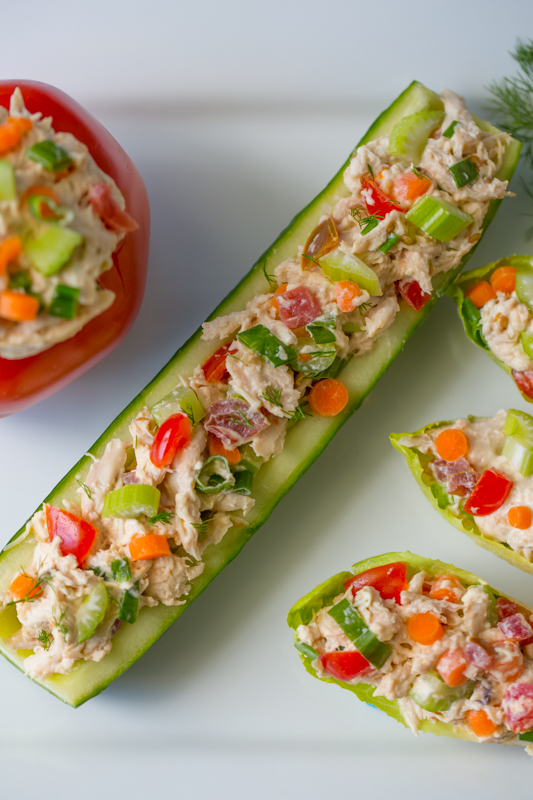 When I worked in North Raleigh a Fresh Market was right around the corner.  It was  one of my favorite lunch places.  They had a absolutely delicious chicken salad stuffed heirloom tomato that was a weekly favorite of mine.  I have taken this concept and created low carb versions of this.  Not that I don't love this salad on a croissant or fresh ciabatta roll.  It is almost bathing suit season though and like most women I know I'm trying to cut back on the carbs to shed the holiday pounds.  Full disclosure, I ate the ciabatta roll with another meal anyways.  LOL.  Oh well!  Sweets I can turn down, bread is my downfall.  Especially fresh baked bread!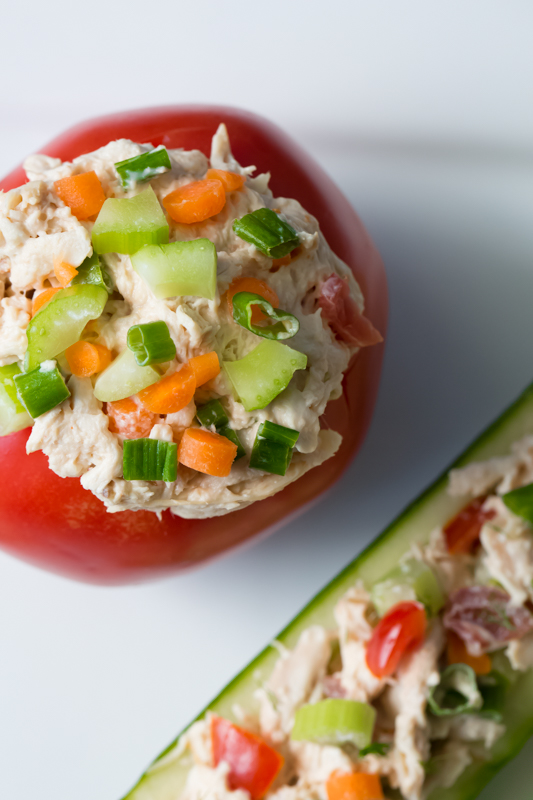 In addition to the stuffed heirloom tomato I also filled a cucumber boat with chicken salad.  I love the crunch and range of textures this provides.  So fresh tasting!
What are your favorite low carb lunches?
Ingredients
5 chicken breast, shredded* (I used 1 pack of Perdue Harvestland Perfect Portions)

3/4 cup mayo

1 cup organic celery, chopped

1 cup organic carrot, chopped

1/3 cup organic green onions, chopped

1/2 cup organic grape tomatoes, chopped

1/4 tsp black pepper

1 tsp salt

Cucumber, for stuffing

Heirloom tomato, for stuffing

Endive cups, for stuffing

Fresh dill, for garnish

Fresh parsley, for garnish
Instructions
1
Season raw chicken breast with salt and pepper
2
Saute' chicken breast over medium low heat until cooked thoroughly
3
While chicken is cooking gather and wash veggies
4
Chop celery, carrots, green onions, and tomatoes, set aside
5
Check chicken (once at 165 degrees its done)
6
Take off heat and set aside for about 5 minutes to cool
7
With two forks, shred chicken
8
Add chicken to mixing bowl
9
Add mayo and salt and pepper to mixing bowl, mix thoroughly
10
Add chopped veggies to mixing bowl, mix thoroughly
11
Refrigerate mixture or eat immediately (I prefer to refrigerate for about an hour)
12
If stuffing tomatoes, endive, or cucumber you will need to wash and prep these
13
To prep tomato use paring knife to cut top off and scoop out the fleshy inside
14
To prep cucumber, wash and cut lengthwise down the center
15
Scoop out the fleshy seeds inside
16
Stuff endive, tomato, and cucumber with chicken salad
17
Garnish with fresh dill and or parsley
Notes
*Any shredded chicken can be used. A store bought rotisserie chicken or leftovers work great with this recipe!