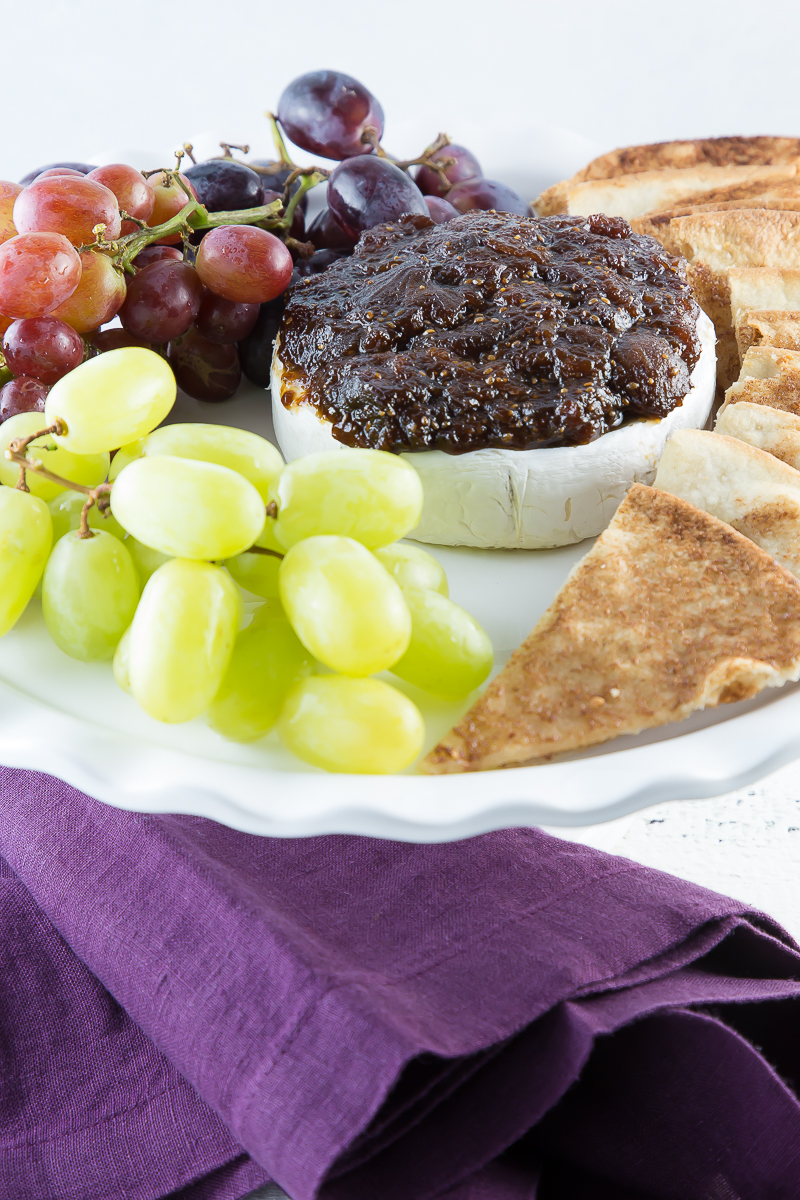 This post contains affiliate links.  By using these you are helping to support my blog.  I will get a small commission off purchased items.
The holidays are coming up so quickly so I thought I'd share my go-to recipe for holiday entertaining, baked brie with balsamic fig preserves.  Simple and oh-so-delicious!
A Peek Into My World
So, last week was my 5 year wedding anniversary and I shared the first meal I ever cooked for David when we were dating, mushroom risotto.  I also told you he had a surprise date night planned for me.  The surprise was awesome!  He signed us up for a cooking class at SurlaTable!  I have been after that man for years to tag along with me to one of those classes.
This particular class focused on Cooking with Wine.  We made steak au poivre with roasted potatoes, a roasted beet salad, and vanilla ice cream with fresh figs poached in a red wine sauce.  OH MY GOODNESS.  I have poached pears many, many times.  Figs?  Nope, not once.  These were AMAZING!!  And, as icing on the top, we also had an indulgent chocolate creme de pot.
The class was so fun and much better than the typical dinner and a movie date.   Definitely, a night catered to me, lol.  My husband was a terrific sport too.  He even learned how to separate egg yolks!  He doesn't have to do much in the kitchen at home.  The majority of his cooking is done outside on the grill.  Which I so appreciate in the summer.  Who wants to heat up their house to cook in August?  Not me.
I Finally Bought an Instant Pot
One of the perks of taking a class at SurlaTable is that you get a discount coupon to shop after class.  Can you guess what I did?  Yep, I shopped.  I finally purchased an Instant Pot to see what all the fuss is about.  I made a few things to play around with it and help figure out the settings.  So far I've made several soups, risotto, short ribs, and a cheesecake.  Yep, a cheesecake.  The Instant Pot is definitely handy to have around.
I think I prefer my dutch oven for soups, but for the short ribs and risotto, I really enjoyed the Instant Pot.  Much easier.  I like to make large amounts of soup at once and freeze it for later.  Especially during the fall and winter.  It makes for easy dinners and lunches.  And if you are sick, bam.  Comforting, homemade soup is only a few minutes away.  The Instant Pot doesn't allow me to make large batches.  It does, however, allow me to make smaller batches much quicker.  That is a plus in my book any day.
Holiday Entertaining
Can you believe there are less than 15 weeks before Christmas?  I certainly can't!  Where did the year go?  For my entertaining, I like to keep things simple.  Complicated things keep you in the kitchen and away from your guests.  A few of my favorite things to make is baked brie with pita chips, nut and fruit boards, and charcuterie boards.   Today, I am sharing my current favorite baked brie recipe, baked brie with balsamic fig preserves.  It is so delicious.  The tang from the balsamic and sweetness of the figs pair perfectly with the warm creamy brie.  Add cinnamon pita chips (gluten free of course) and you have an impressive (but simple) appetizer.  We all love simple, right?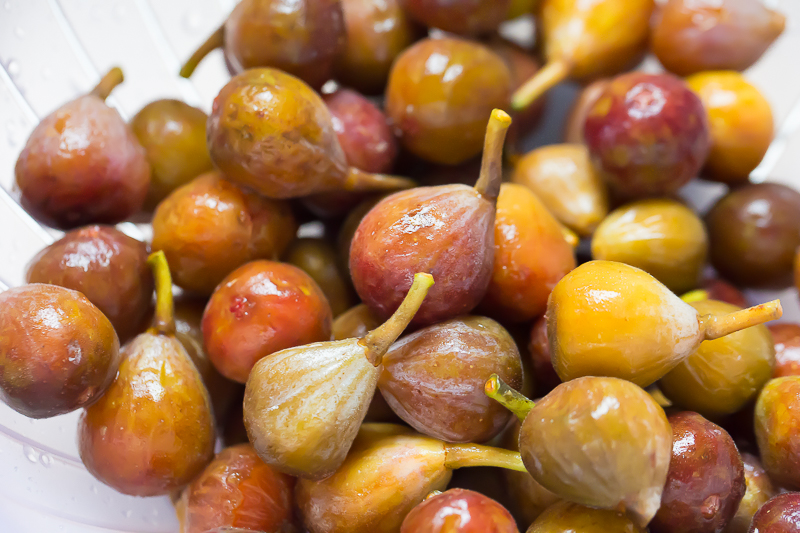 How to Make Baked Brie with Balsamic Fig Preserves
The fig preserves can be made ahead of time.  I always make a big batch when figs are in season and store the preserves in my freezer until I need them.  Remembering to pull them out of the freezer the day before is truly the hardest part of the recipe.  For me at least. If you do not already have these jams/preserves made I'll walk you through the process really quick.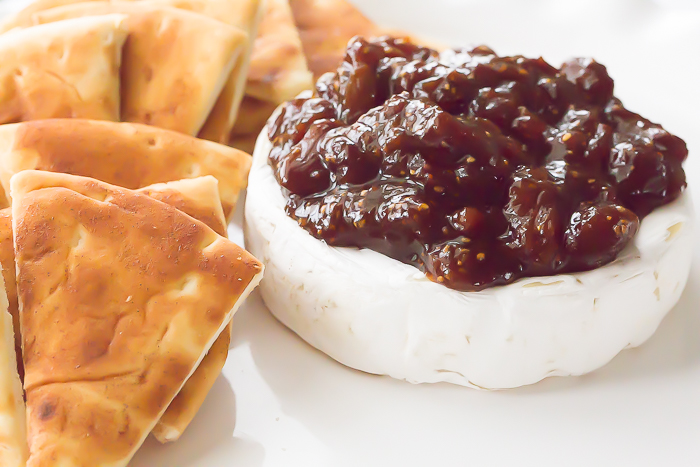 To begin making these, set your figs on the counter and forget about them for a couple days.  HAHA!  No really, let them ripen and start to soften.  Notice I said start.  Once the figs have begun getting soft, wash them and put them in a stockpot.  Add 1/2 cup honey, 1/2 cup sugar, and 1/4 cup balsamic vinegar to the stock pot as well. Muddle all ingredients together.  A potato smasher actually works great for this!   Cook covered over medium-low heat and allow fruit to fully break down.  This will take about an hour.  Be sure to stir occasionally.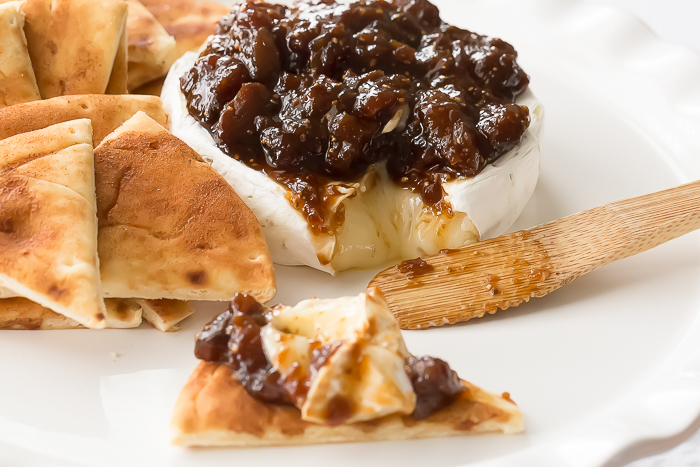 Once the balsamic fig jam has cooked for an hour or so and the fruit has fully broken down, turn the burner off and remove stock pot from heat.  Add 1 tbsp of black chia seeds and stir.  Allow the jam to thicken and cool.  Once cooled, add to ball jam jar.  Refrigerate and/or freeze your jars.  Jam with keep in the refrigerator for up to 2 weeks.  In the freezer, the jam should easily last 6 months.  I recommend keeping one in your fridge and storing the rest in the freezer until they are needed.  That way none of this delicious jam goes to waste.
How to Bake Brie
Take the brie out of the refrigerator and set it on the counter.  Preheat your oven to 350 degrees.  Line a baking sheet with parchment and place the brie in the center.  Bake for 8-10 minutes.  To avoid over-baking and melting the cheese, I recommend checking it at 8 minutes.  If it is not soft to touch let it bake a little longer in small time increments.  The goal is to get the inside ooey gooey and melty but keep the outside structure intact.  The result is AMAZING!!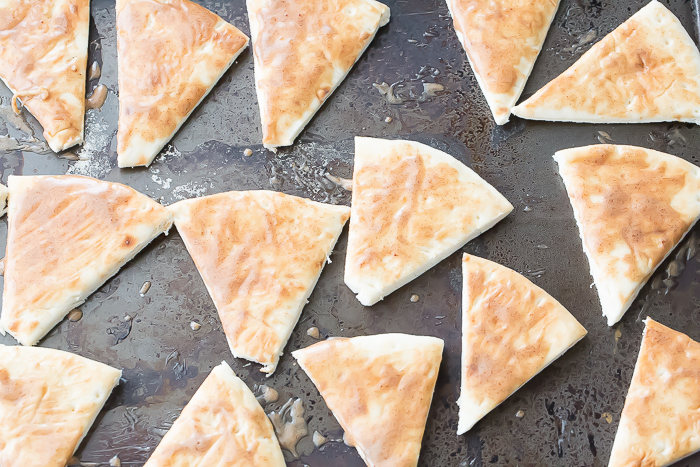 I like to serve this with pita bread.  This gluten-free pita bread recipe is great!  Or you can find a gluten-free pita at the store.  Either works just depends on how much time you have.  I like to coat my pita with a mixture of melted butter, cinnamon, and vanilla bean paste.  It makes a subtly sweet treat to hold the baked brie.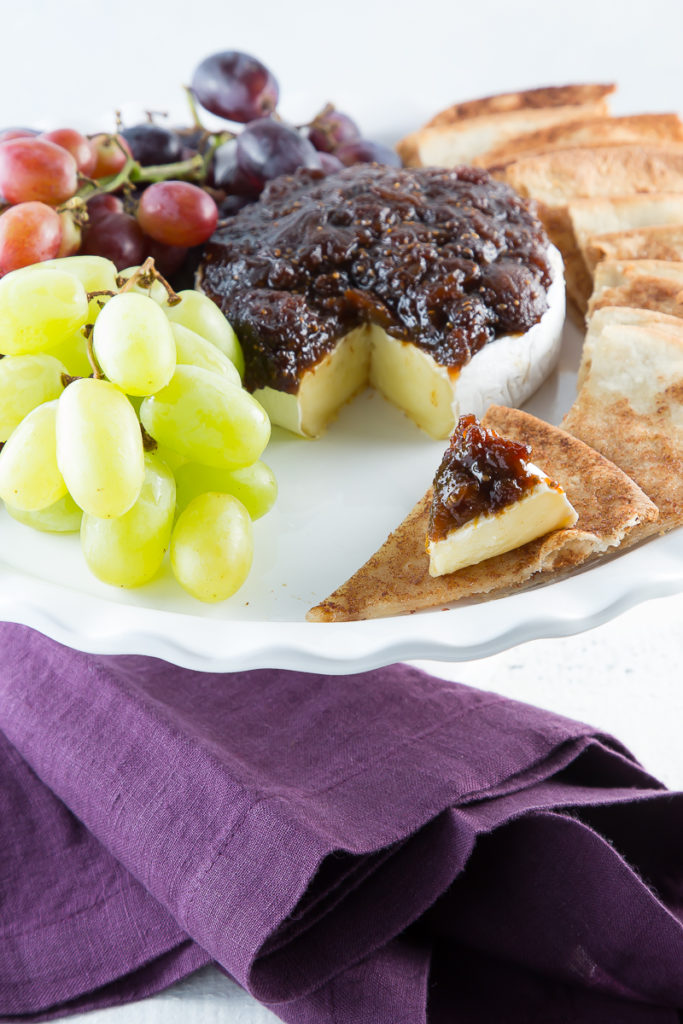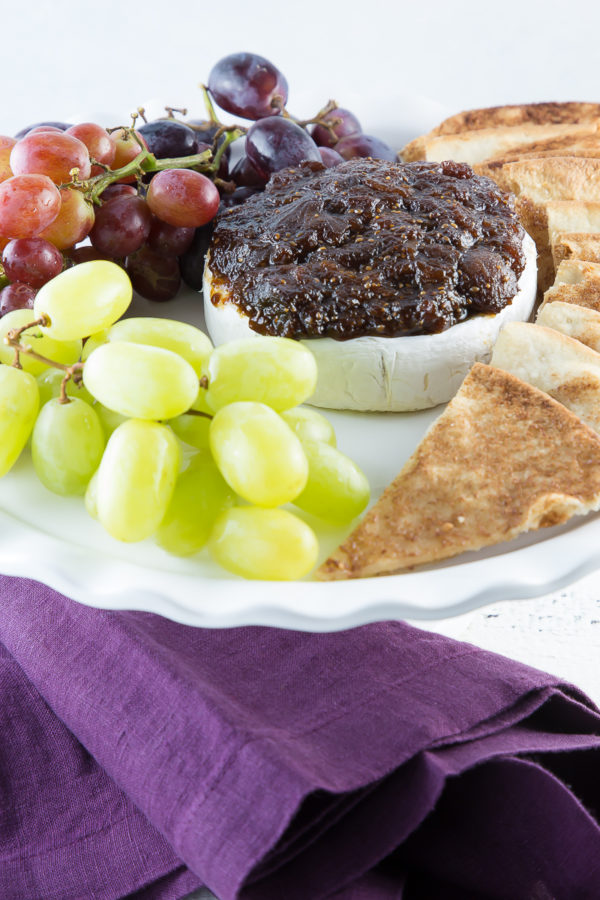 | | |
| --- | --- |
| | |
Balsamic Fig Jam/Preserves
Add figs, honey, sugar, and balsamic vinegar to stock pot

Cook covered on medium low for about an hour (until all the fruit has broken down)

Remove preserves from heat

Allow preserves to cool and thicken

Add preserves to jars and refrigerate or freeze
Preheat your oven to 350 degrees

Place Brie on baking sheet lined with parchment

Allow to come to room temp while oven is preheating

When oven is ready, bake the brie for 8-10 minutes

Check the brie at 8 minutes. If more time is needed add 2 more minutes and check again

Top brie with preserves and serve

I prefer my preserves to be a little warm so I warm them a little in a small stockpot prior to topping the brie

Serve with grapes, gluten free pita chips, or anything else you would like

Preheat oven to 350 degrees

Line a baking dish/sheet with parchment paper

Bake Brie for 8-10 minutes (be sure not to overcook, we want the shape to remain intact)

Meanwhile, warm the preserves

Remove brie from oven and allow to cool for a few minutes