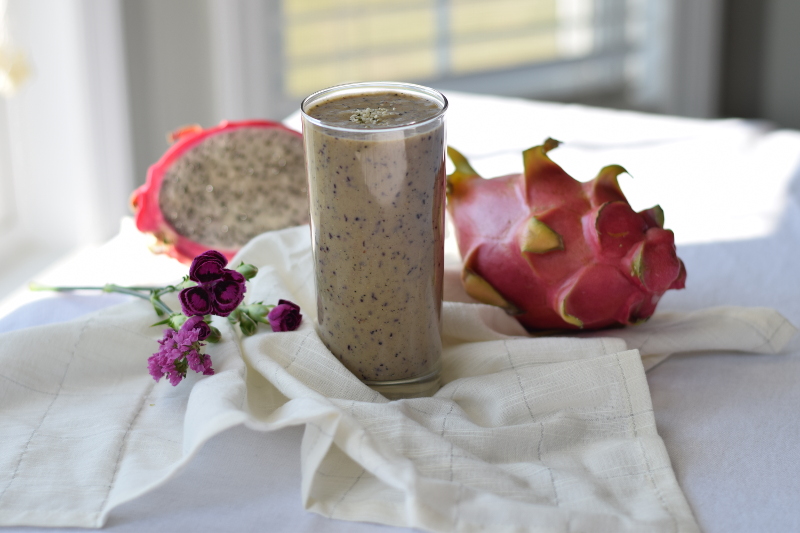 On a recent trip to the grocery store I found an exotic little gem of a fruit called dragon fruit.  Having no idea what to do with it, I purchased one.  The bright pink skin and crazy spiked appearance had intrigued me.
With the dragon fruit in hand I headed home to do some research.  Ok, honestly, I googled.  But hey, everyone does it!  It feels like cheating when I call googling research.  I remember the tedious hours I spent in the library with the card catalog when I was younger.  That was research!  Man, feeling my age at the moment.  I have digressed.  Back to the subject at hand.  Dragon Fruit.
I found out that this amazing fruit packs a powerful nutritional punch.  One serving of dragon fruit (3.5 ounces) contains 52 Calories, 1.1 gram of Protein, .4 grams of Fat, 11 grams of Carbs, 3 grams of Fiber, 34% of your recommended daily intake of Vitamin C, 10.6% of the RDI of Iron, 2.7% of RDI of Thiamine, and 2.9% RDI of Riboflavin.  In addition, dragon fruit contains antioxidants that help protect cells from damage.
You may be curious how to get into one of these beauties.  This video does an excellent job explaining how to cut the fruit.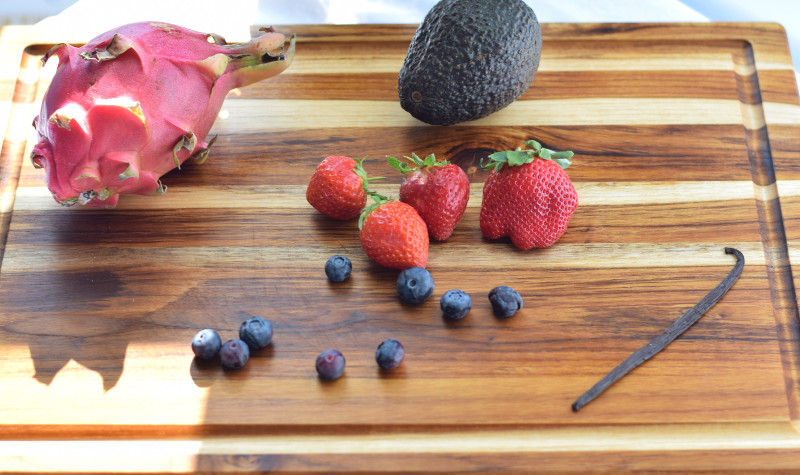 After my googling session I decided to make a dragon fruit smoothie and raided my fridge for ingredients.   Avocado is an obvious must (to add creaminess), banana, blueberries, strawberries, a vanilla bean, kale (hide those veggies where you can mom's), cinnamon, and coconut milk.  The result of this concoction is delicious!  It's thick enough to pass as a smoothie bowl but still thin enough to drink it from a straw.  Perfect!
With the addition of the berries and kale this smoothie is full of fiber and amazing nutrients.  Certainly a guilt free as well as dairy free breakfast (or snack).  We all need more of those, right!
I chose to use an immersion blender for this recipe.   A blender, Ninja, or Vitamix will work just the same.  I will say that if you are using frozen berries you might want to use at least a blender.  An immersion blender isn't usually the best option for larger frozen chunks.  Also, if you don't keep vanilla beans on hand, 1 tsp of vanilla extract can easily be substituted.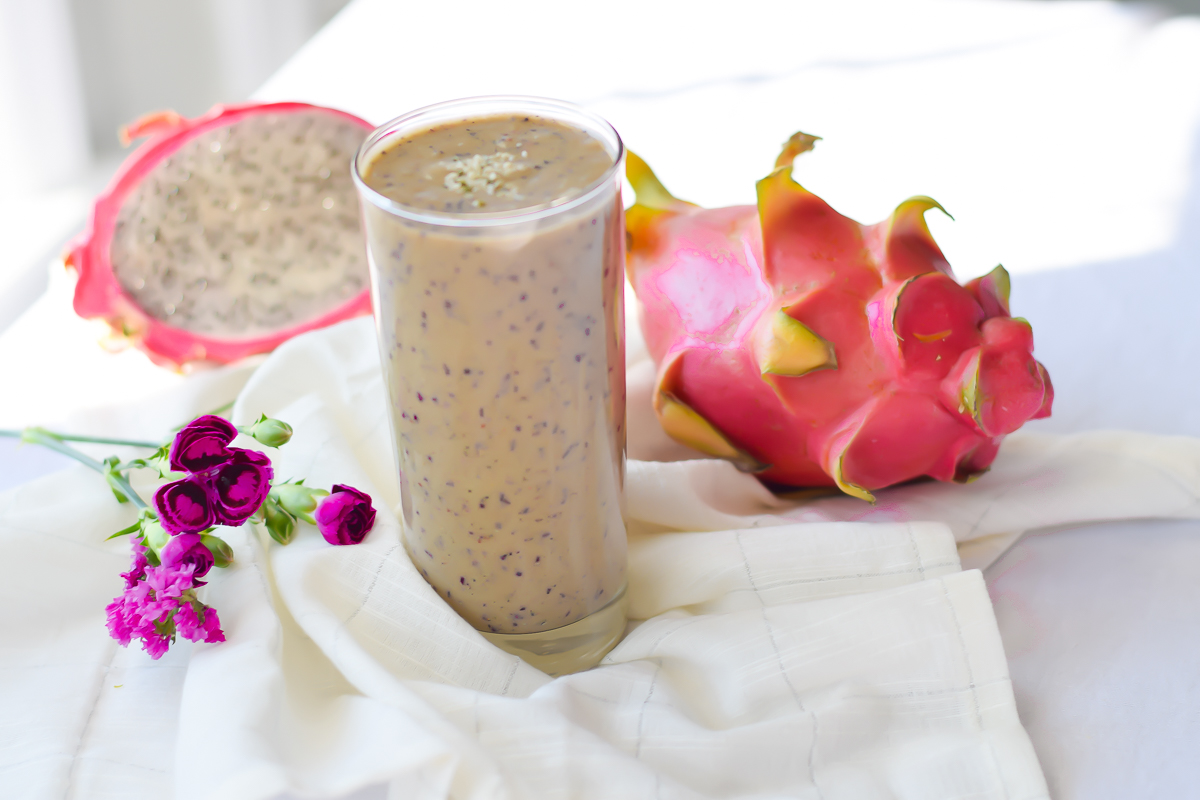 What is the most exotic thing that made its way into your grocery cart?
Ingredients
1/2 avocado

1/4 cup kale

1/2 dragon fruit, cubed

5 strawberries, hulled

1/4 cup blueberries

1 vanilla bean, split and scraped

1 banana

1/2 cup coconut milk

hemp seeds, garnish
Instructions
2
Layer fruit in tall container
3
Add kale, vanilla, and cinnamon
5
Using immersion blender, blend until creamy and smooth
7
Garnish with 1 tbsp of hemp seeds
Notes
If using frozen berries reach for a blender, Ninja, or Vitamix rather than an immersion blender. You can also substitute 1 tsp vanilla extract if you do not have a vanilla bean on hand.